Hey guys, Savannah here. A couple months back you read a little about my HD
®
Sportster
®
build - and I'm here to tell you a little more about what I did with this bike, and what I do at S&S.
First off, I'm in the Marketing Dept here at S&S. I handle the social media, like
Facebook, Instagram, Twitter, and YouTube.
I get to attend all the fun events, like Sturgis, Daytona Bike Week, Mama Tried, Born Free, and more, and take photos! I revamped the clothing line, (be sure to check out our new stuff, especially the
limited flannels
with
Dixxon!
) All in all, it's a pretty great job.
So last winter, I wanted to finish up my Sportster
®
- I had already started the process of chopping it, and then I moved across the country to start here at S&S, so I got a little sidetracked. Right about the time I started, Michael Lichter hit me up about being a part of the Motorcycles As Art show at the Sturgis Buffalo Chip - what an incredible honor! This year's show was all builders under the age of 35 - and titled Old Iron, Young Blood. Of course I said yes! Then I realized the task ahead of me - not just finishing my bike, but making it a show piece! Not sure I knew what I was in for..
I brought the bike into my house, specifically my kitchen. Why?? Well, it's cold outside in Wisconsin! Being from California, I was NOT used to the below 0° temps up here in the midwest. Plus, I lacked a 220v hookup in my garage, and I just so happened to have an electric range.. With a 220 plug!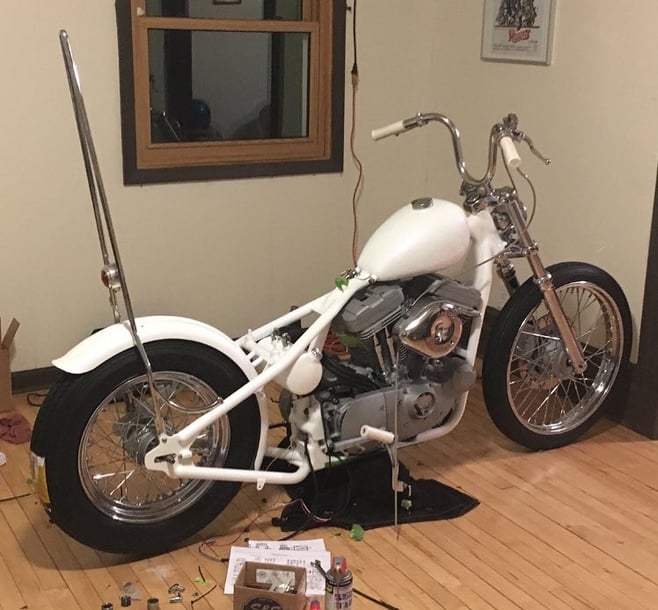 I worked all winter with the help of some friends, learning as I went along. I had never taken apart a motorcycle engine, at least not anything further than a carb rebuild. I stripped the entire bike down to the frame, re welded every single joint on it, ground all the welds and customized it to my liking. I cut out the gusseting in the neck for a nice clean look, made sure the hardtail was on properly, and molded everything smooth - bodywork I have done, but even with experience, this was a daunting task.
I tore apart the whole engine.. A perfectly good, running engine.. Why??? In the name of horsepower, that's why! I took my stock 1200 with about 26,xxx miles, and cracked the case apart. I powdercoated everything S&S silver, and set about rebuilding for a few more ponies. I used the Hooligan Kit - 1200cc cylinders and pistons, .485 cams, and paired it up with Super Stock heads. I stuck on a Super E carb, and our standard Teardrop air cleaner. This combo gave me the extra power I was looking for, while maintaining a nice smooth ride, and getting rid of the black cylinders with machining that just didn't fit the look of the bike. I cut down the sprocket cover for a simpler look, and threw on a Chopper Dave's ignition cover to hide the Hi-4n ignition. (the Hi4n is meant for a big twin motorcycle, but with a little massaging and the right tuning I was able to use it) I bolted everything together with chrome hardware to add a little contrast. I used a Led Sled chain conversion kit to get rid of the belt - now everyone has their own opinions, but the look of the 530 chain combined with the confidence in knowing it was much sturdier cemented my decision.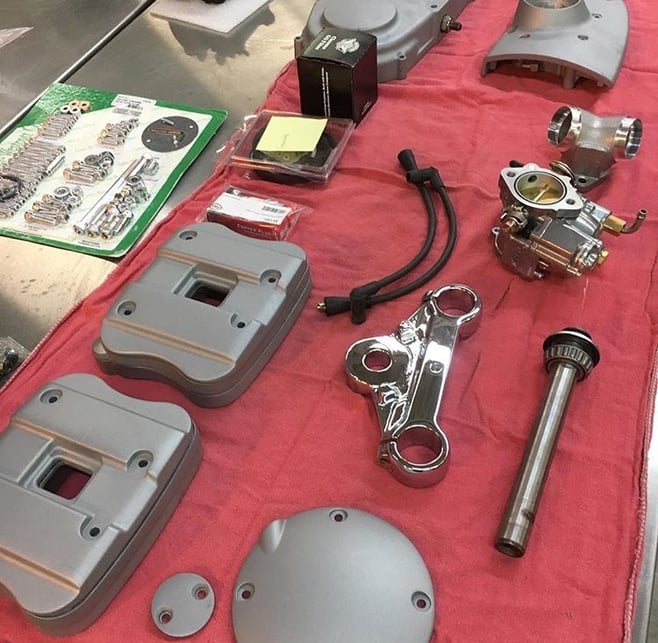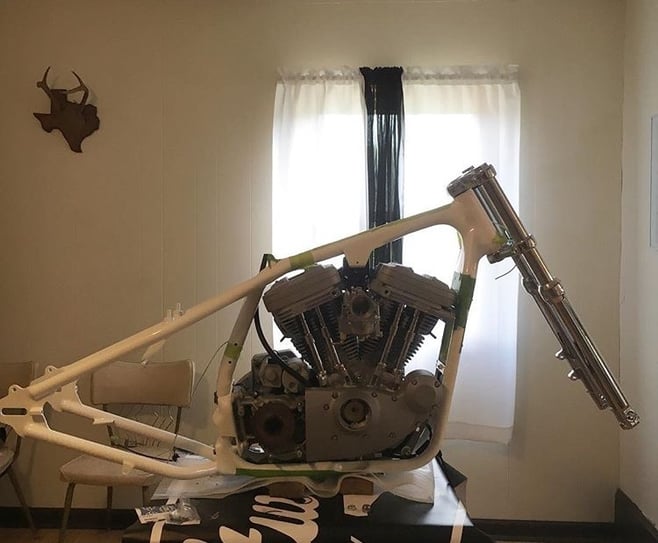 As for the tins, I used a Throttle Addiction mid-tunnel Wassel style tank, along with a Lowbrow Customs Sting Ray rear fender - the 4.5" for the classic chopper look. The frame now boasts a Road 6 Customs hardtail section - one of my favorites, utilizing the axle plate style of the choppers of days past. I again went with Led Sled for the kickstand and the oil tank. The bars are from Zombie Performance, although I had him send them in separate pieces so I could get the angle just right (short people problems!). For the controls I went with the vintage style controls from TC Bros, and Hippy Killer grips and pegs, in white. I had AIH Chrome in Iowa show chrome the bars, along with the shaved triples, shaved front fork lowers, and the custom sissy bar I made with help from my best friend and welder, Skippy.
I used a Biltwell Model B taillight, and Biltwell mirror too. All of the cables - throttle, and brake lines, I used Magnum DIY in silver braided - I really wanted as little black as possible interrupting the flow of the bike. For exhaust, I went with Paughco upswept headers, and some cool cocktail shaker styled mufflers. Rounding out the classic chopper look is a one-off seat, and pillion pad, in white leather, from Saddlemen. (They do amazing custom work, your butt will thank you for it!) For a little bit of legal, I used a small speedometer from Tucker Rocky and mounted it low on the frame.. Hey, you have to have one, but they didn't say it needed to be easy to read! I had the stock 21/16" wheels relaced, and powdercoated the hubs silver, to match the engine.
I finished up the bike with some paint - I borrowed a local paint booth, and set out to spray the bike. Yes, I did it myself! (a previous job I held was painting collectable toys!) I used House of Kolor white base, with a violet dry pearl over the top. I topped it off with a high solids clear, resulting in a crazy deep clear coat. In regular light, the bike appears stark white, but under the warm sun the purple pearl pops out and really brings it to life.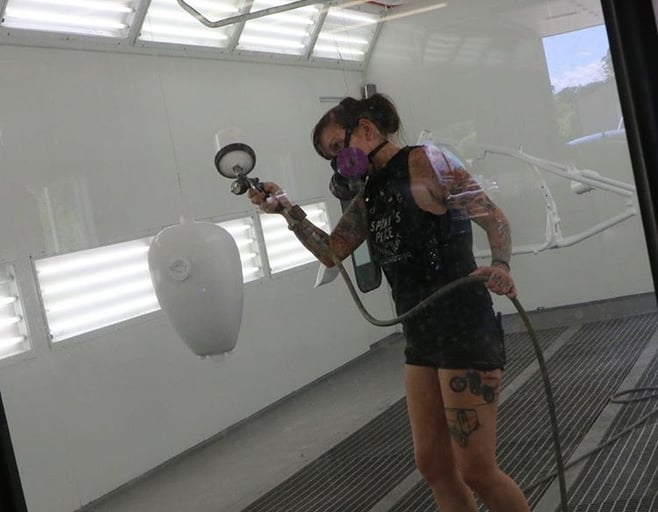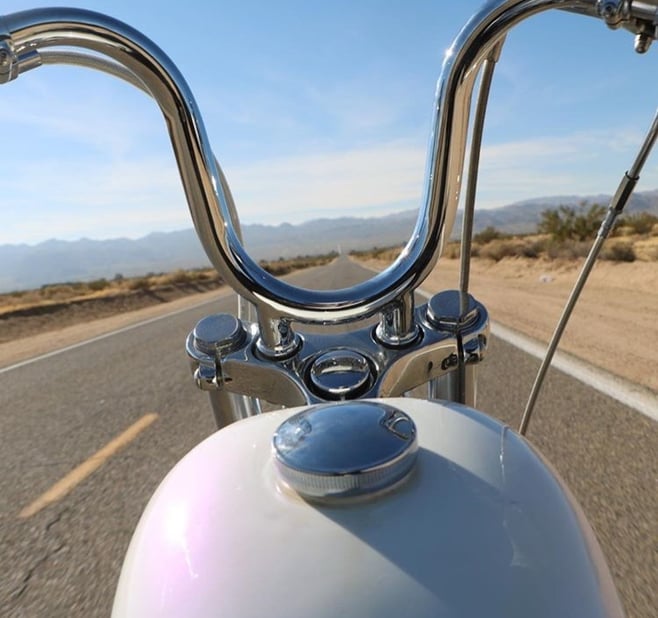 I finished up the bike just in time to make it to the Buffalo Chip for the show - literally, I installed the seat in the trailer on the way there! All that mattered to me was it looked good, and it RAN! Beautifully, I might add. She purred quite well, and the extra horsepower left me anxious to get my break in miles over with!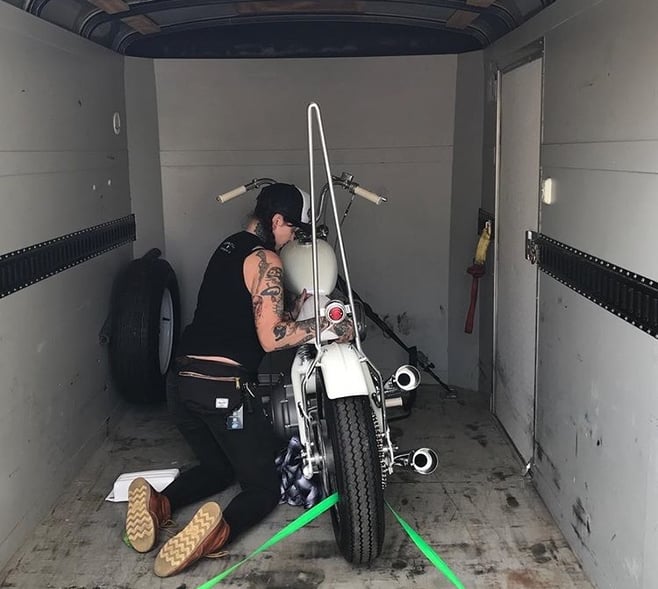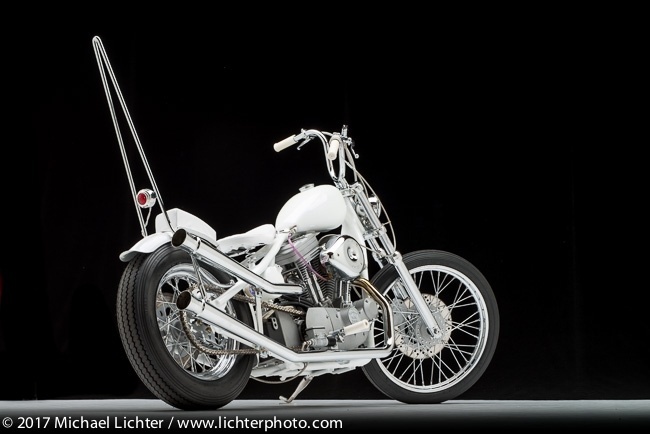 The bike stayed in the show during the rally, but once I got it home I was able to do the proper break in procedure - you know the deal, heat cycles, and playing nice for the first 500. I took the bike out to Babes Ride Out and killed the break in miles and more, finally getting to open it up out in the desert and really learn what the engine upgrades did.. And I now CAN'T wait to get it out of storage (once again, it's living in my kitchen for the winter!)
photos by Virginia Cagney of Black Iris Photo, for Progressive Motorcycle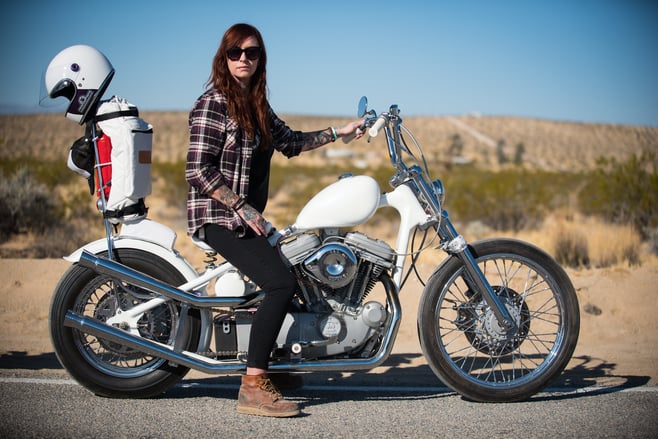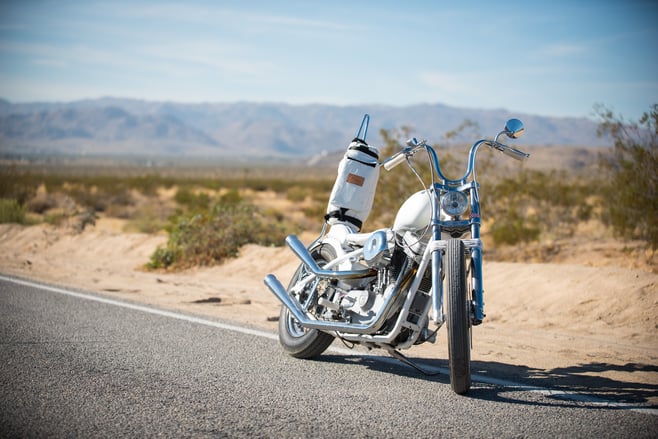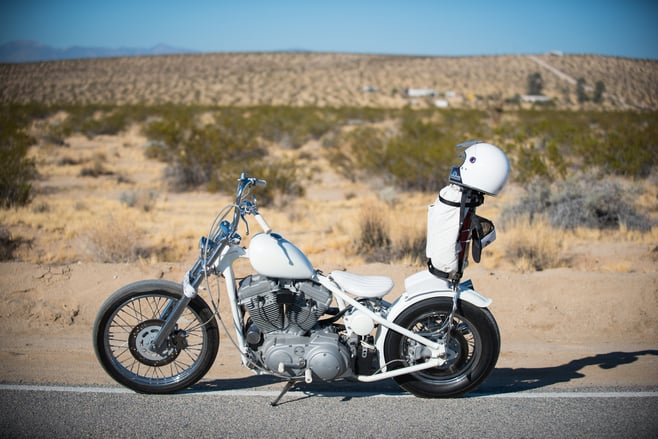 Now you see why I named it KitchenMade…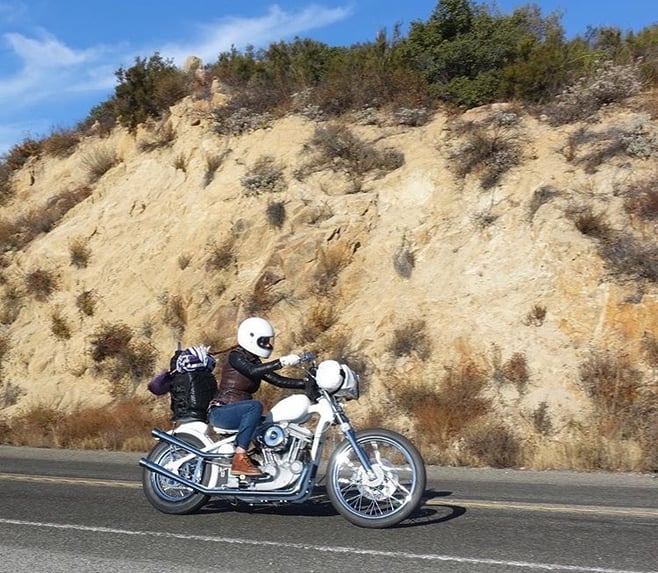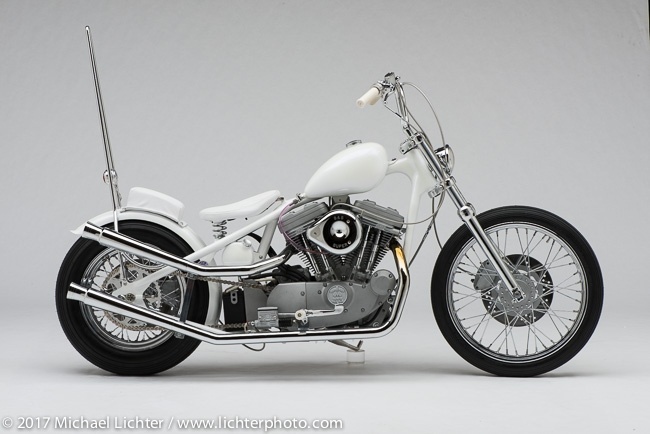 Parts used:
Teardrop Air Cleaner
Hippy Killer Grips and Pegs
Avon Speedmaster Front Tire
Led Sled Customs Chain Conversion Kit
Led Sled Customs Oil Tank - Smoothie
Biltwell Model B Taillight
Shinko Rear Tire
Special thanks to Michael Lichter and the Sturgis Buffalo Chip / Motorcycles as Art show, and Marilyn Stemp for the motivation to get it show-ready!
See more of my bike on the S&S Instagram page (@sscycle) and my page, @themouseandthemoto