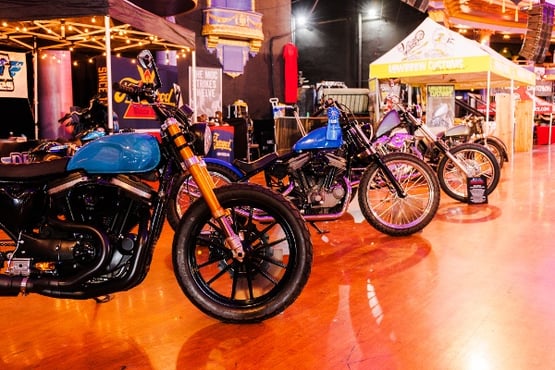 Winter is rough for motorcycle people. We push the riding season until we can't feel our fingers and then reluctantly park our bikes, hook up battery tenders, and stare lovingly at them before turning away with a tear in our eyes. The next several months are often a fever dream of cold temps, snow, and fluttering calendar pages. Some of us are a little luckier and are able to spend the chillier months with our bikes, although wrenching instead of riding. It's not quite the same, but it's not a bad use of time either, and that's kinda how the 100 Day Sportster Throwdown between S&S employees was born.
To get caught up, click here:
https://info.sscycle.com/performance-times/100-day-sportster-throwdown
https://info.sscycle.com/performance-times/100-day-sportster-throwdown-midpoint-panic
One hundred days seemed like a lot when we dreamt this up. By midway through the timeline, it was clear we really needed two hundred, and it got dicey towards the end. Much like the early two-thousands TV stuff, the last two weeks of the build-off were pure chaos, late nights, and maybe some tears. During the last week of the build, we opened up voting to our social media fans, and you guys picked the winner. How did it play out? Well, Jon's Hardtail ex-Hooligan took the win with Cody's Faux Chop in second and Dave's Street Scrambler third. Special thank you to all of you that commented, voted, and cheered us on. This is the final update for this series, although we may see some tweaks in the spring, and we're all pretty excited to get some miles on them.
Jon's Spray Paint Glory - 1st Place: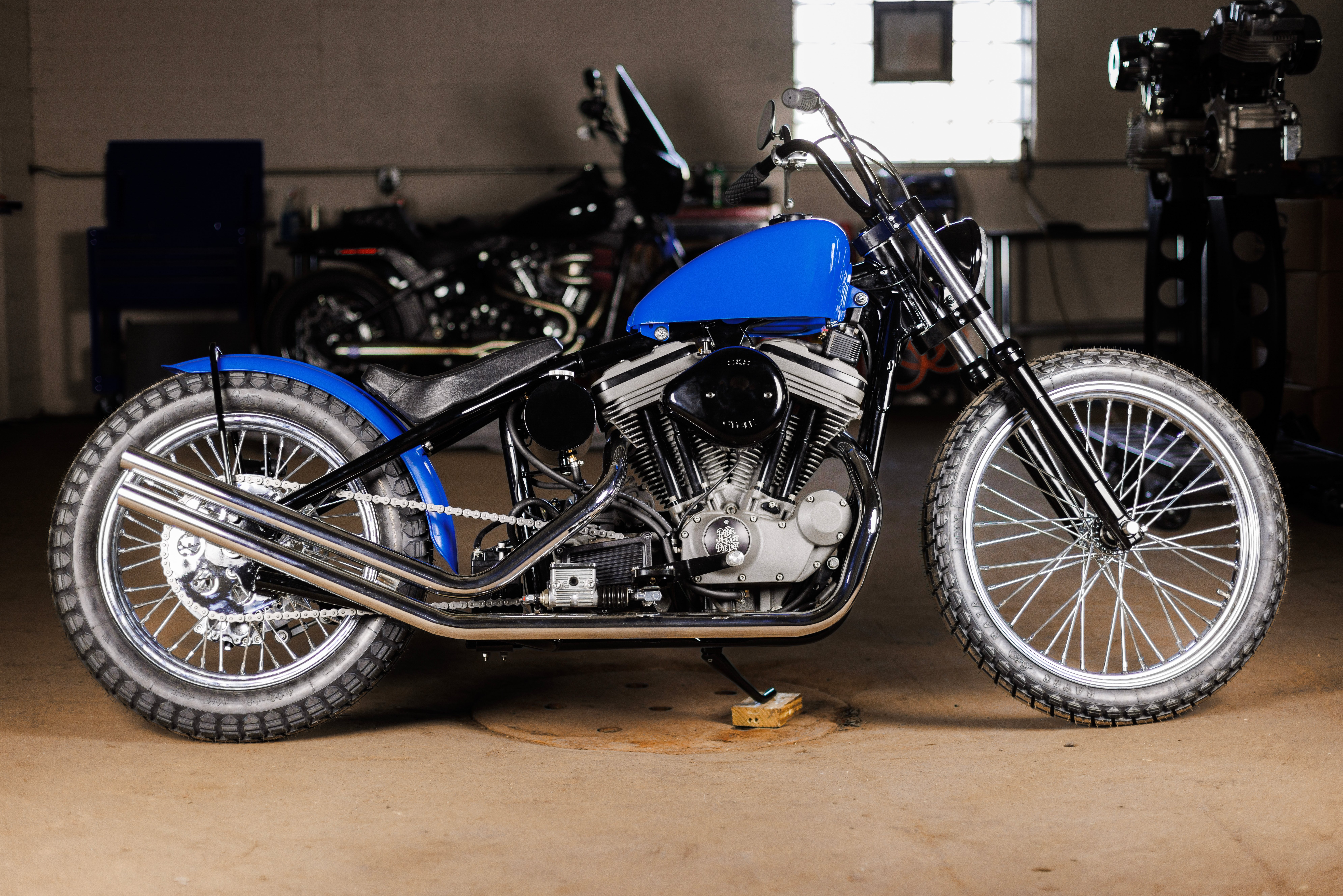 This machine started as a 1991 Sporty that had been stripped to its bare minimum and converted from a Hooligan race bike. After years of abuse and a few hospital visits, the bike was idled and sat for quite some time. When we dreamt up the Throwdown, it was tagged back in for chopper duties. A TC Bros hardtail unit was grafted to the rear in the last update and since then, the finished welded frame powder coated gloss black, "The quality of the TC Bros products are excellent and look amazing after installed," Jon stated after powder coat. Jon kept the blue factory tank from the race bike and painted a skinny rear fender to match. While Dave and Cody were slaving away mixing paint, setting up a booth, and eventually color sanding, Jon threw some paper on the floor and sprayed it away. That irony and his final win was not lost on Dave and Cody.
Jon built the bike back up after powder, plumbed the oil lines to the TC Bros oil tank, and used a YTX14AH battery in the diminutive battery tray. Simple wiring with little more than a headlight and taillight made electrical work fairly simple. He shaved the seat down a bit to transition better into the chassis and ran a Barnett Clutch cable up to TC Bros bars. No front brake meant only throttle cables down to the CV carb remained to sort out. Pipes from TC Bros feature a kicker to aim exhaust gasses up, bolted up nicely to the motor and frame, and promised to amplify exhaust sounds more so than baffle them.
The rear brake from Lowbrow Customs would be responsible for stopping duties and is activated by the factory pedal. Wheels in 18" rear and 21" from TC Bros are wrapped in classic styled Bates rubber for a vintage look that Lowbrow Customs helped support with. Simple lines and crisp styling with a nearly double factory Hp lump in the middle turned out to be a crowd favorite. "This was a fun but challenging build," stated Jon. "I knew going in the hardtail was going to be a lot of work, but luckily we have an awesome team at S&S to fall back on when needed. Once the hardtail was welded, it was all about getting that low, tight stance which should make for a fun little ripper with its monster engine and long swoopy pipes."
Cody's Faux Chop - 2nd Place: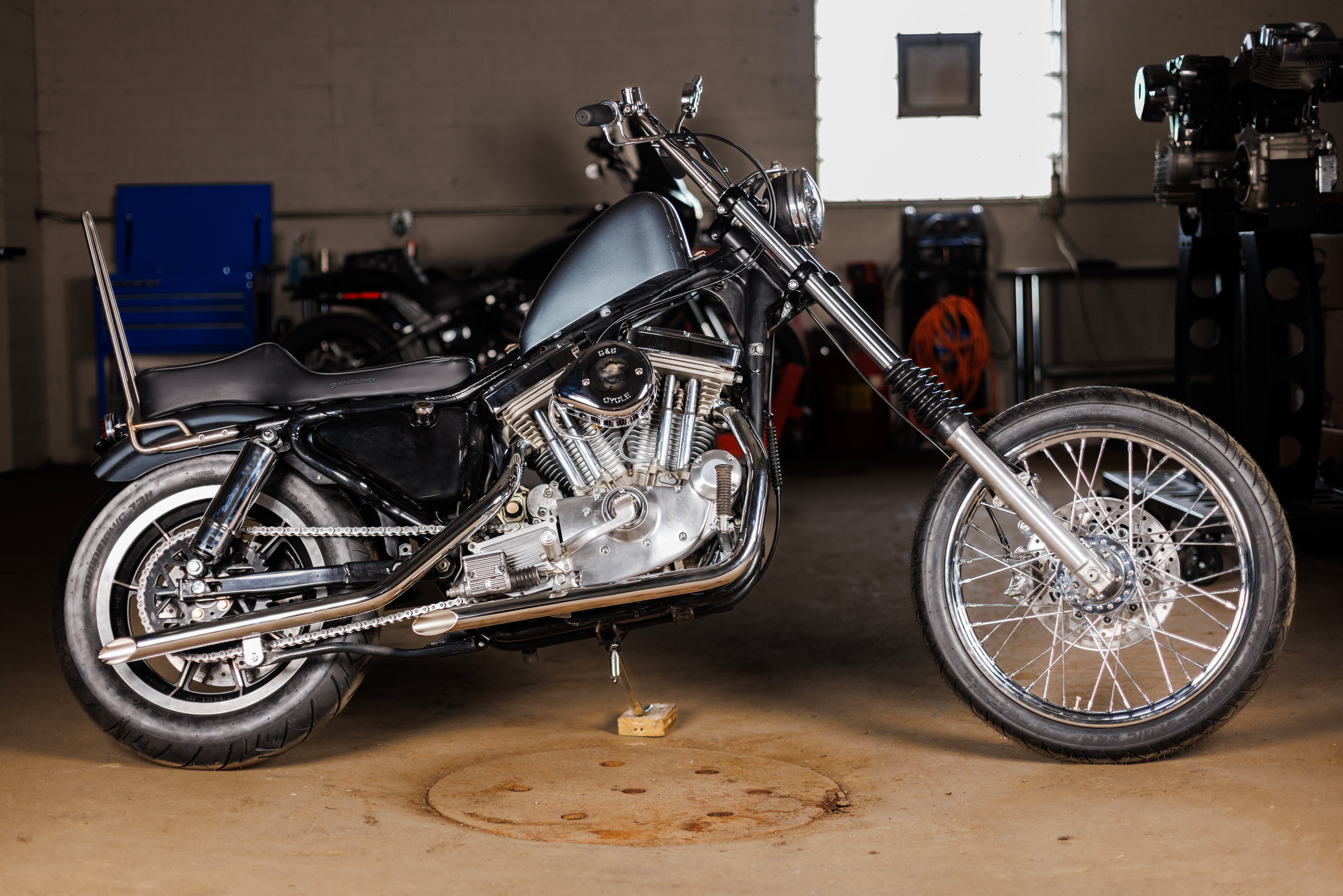 This was Cody's second Sporty build and by far the most complex. Beginning with a tattered 92 Sporty (his birth year), Cody envisioned a 70's style long bike with a few modern touches, and he pretty much hit it on the head.

Having swapped in a TC Bros high mount tank and 6" over extended fork tubes, and 2" longer Trackerdie damper rods combined with Progressive Suspension classic styled rear shocks, the bike was already taking shape in the last update. Since then, he's bolted in an S&S Hooligan kit with 1250cc cylinders and 500 cams, as well as an S&S chrome rocker box kit. Combined with the Super E carb, that should make a fair amount of power. Drag pipes and a Barnett clutch buttoned up the powertrain.

The tank required inserts to be welded into the top tube, and the bike went over to Dave's garage for that work (fun fact, we actually worked a bunch on each other's bikes). Once back at the marketing team's secret lair, the brake system was plumbed, and the narrow PM caliper saved the day when the 21" wire wheel caused clearance issues. The Rear stayed with the factory caliper and wheel.

The heavily trimmed factory fender (he actually stole it off Dave's bike when no one was around) and the tank saw minor bodywork and a couple of coats of Porsche Venetian Blue buried under a bunch of clear. Cody color-sanded both pieces himself and had a local detailer polish for the final finish. Electrical is relatively simple, with just a few basic wires and most of the factory harness eliminated.
The seat is a Saddlemen throwback that is surprisingly right out of their catalog and is bookended by a Prism Supply stainless sissy bar. Cody intends to carry a fuel cell and maybe other gear on it. The bars are also stainless and from Prism, and the final touch is a peace sign mirror he found in Dave's shop.
"While I am usually a function over-form guy (my everyday bike being a dual sport tire 2015 Triumph Scrambler), I was heavily inspired by what most people are calling the norcal or Frisco Chopper look. Some purists would argue these aren't real choppers, but personally, I think they deserve their own niche subgenre for carrying through a lot of the same design aesthetics as the hardtail variety. Stripped down to the essentials, swing arm intact, tall front end, and usually stock rake to amplify that look, these bikes are designed to be ridden comfortably over the cobbly streets of someplace like San Francisco; while I am not in Cali anymore, I will always be a west coast boy at heart, and some of our roads out here in rural WI can be just as precarious, so this seemed like the perfect build concept for some fun on our twisty two-lane highways while still gaining the classic chopper vibes I was looking for." -Cody
Dave's Street Scrambler - 3rd Place: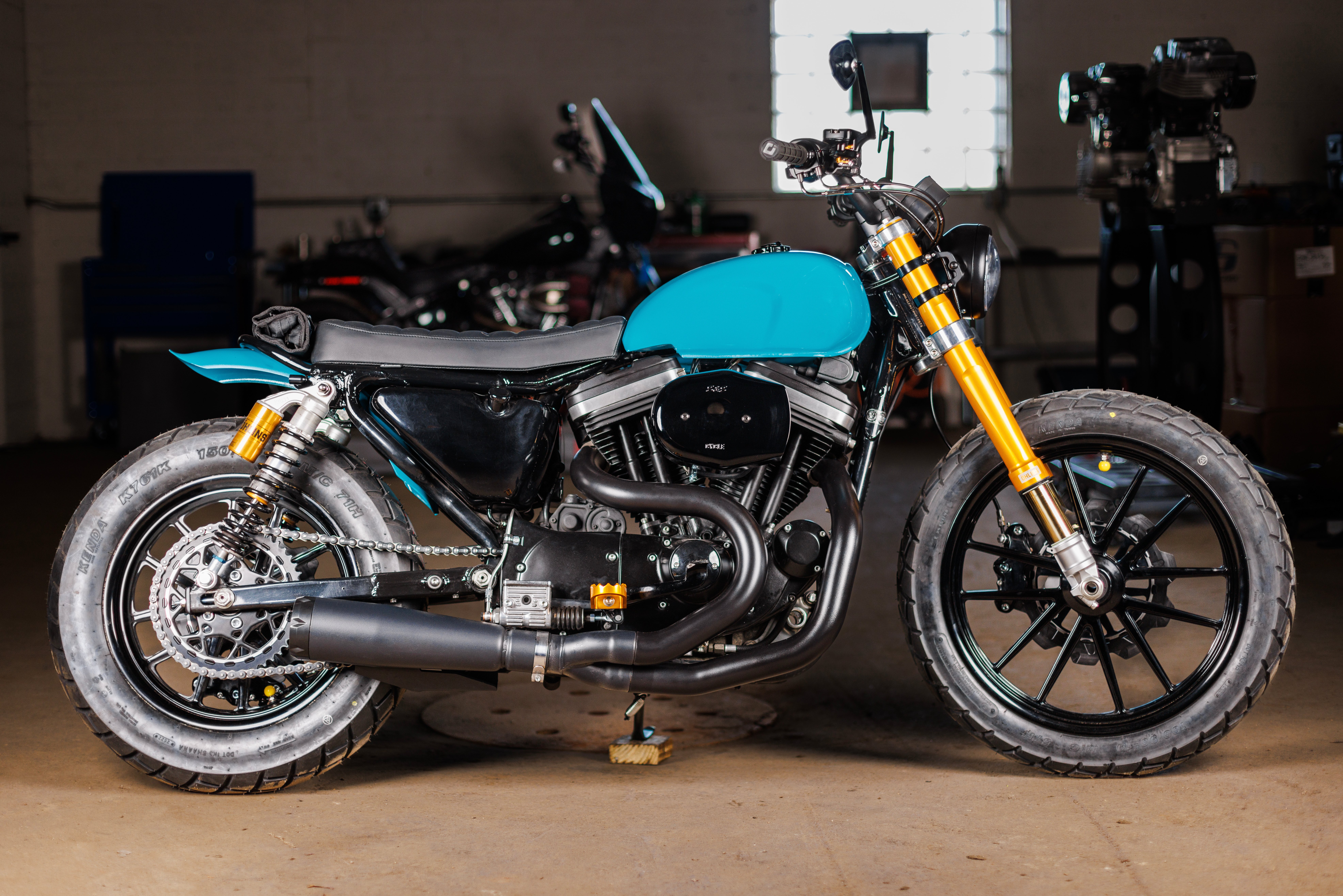 This wasn't his first Sporty build as his resume includes Cafe's, Bobbers, Scramblers, and high bar bakes all with the venerable 4-cam motor. "A few years back, Jon and I built the Death Tracker around the last 1600cc Sportster motor S&S produced, I kinda thought that a giant motor wrapped in a nickel frame was the silliest thing I could do with a sub $2000 Sportster, but I think this one may actually be dumber" shares, Dave.
Starting with a dilapidated 1993 883 Sportster that had been handed around the company like a hot potato, Dave saw the potential through the oily motor and prevalent rust spots. Although the original plan was more of a simple build, the bike quickly escalated, and a discarded pair of Ohlins forks from an early Gixxer dramatically changed the build direction. Brock's performance out of Ohio is really to blame, as they had in stock a magical set of triple trees that would adapt the errant forks to a bike that absolutely did not deserve them. Combine that with the Ohlins 13" piggybacks that previously lived on Jon's build (now a hardtail), and the bike took a decidedly top-shelf direction.
Lyndall Hooligan wheels and rotors originally slated for another project added to the high zoot build. The forks forced a radial mount caliper, and a pair of Performance Machine 4 piston units that had previously done time on a bagger project was a good fit. Dave welded a tab to the swingarm in the rear and plumbed it with brushed stainless hard line and braided hoses. Big shout out to Dennis Kirk at this point in the build, as gaskets, banjos, and brake lines all came from DK and in the nick of time.
The motor was next, and Dave naturally swapped in a 1200cc S&S Hooligan kit. The bike already had a Super E carb, so it only needed a bit of jetting to be right as rain. The air cleaner is a rare S&S Stealth unit and is topped off with a black powder-coated Tribute cover. The pipe is a mish-mash of discarded header parts and a shortened S&S Super Street Muffler. Dave cleaned up the blond motor, and rattle canned it a satin black for a subtle look. The clutch is Barnett, and other than a 530 chain drive conversion, the balance of the drivetrain was left stock.
Using absolutely zero of the factory bodywork, Dave hacked off the factory fender struts (only to realize they had already been hacked and then ghetto welded back on) and used a hoop from Alchemy Parts in the UK to add to the Scrambler feel. The lone fender is a ribbed unit from Lowbrow and is roughly half of its original length. "We've used a lot of parts from Lowbrow and are fans of the quality of their stuff. This fender is probably double the gauge of the factory unit and will likely outlive the bike." says Dave.
The tank is the opposite end of the quality scale and is a Hondaish knockoff procured from amazon, with its structure only slightly thicker than paper. This is where the 100 Day thing forced some hard decisions. Too late in the build to change direction, Dave notched the flimsy tank for the rocker box and set it low on the backbone to hit his desired look. Some questionable welding and a few layers of POR15 to keep the liquids on the inside, and the tank was ready for paint.
"I've painted a few things in the past, but nothing that had to show quality, so I was dicey on the results right up until I wasn't," shares Dave from his makeshift plastic tarped paint booth. Using a mid-garage PPG paint and a purple gun from Harbor Freight (not kidding), Dave shot the tank and fender a Porsche Miami Blue and then buried it in clear. The results were pretty much what you might expect until his detailer son Ryan came to the rescue with color sanding and buffing tools and techniques that bright the bodywork from mediocre to legit in an afternoon.
Controls include ODI bars, grips, and clamps, which fit the vibe of the performance front end very nicely. Speedo is another Alchemy Parts product, as is the LED headlight. Dave kept all of the factory electronics, although in LED form. Switches are more modern style HD, and levers are ghetto fab'd Amazon units. Billet foot controls are courtesy of Boosted Brad at Death Metal Racing.
Although Dave admits getting his ass handed to him in the Throwdown, he's looking forward to spending some time on the local twisties and returning the favor to his choppery competitors.
Thanks to everyone that came along for the proverbial ride on this one. It was a fun exercise in low buck bike building and kept us from realizing it had been months since we'd been able to ride. Look for all three bikes to be at Born Free in June as well as terrorizing the midwest all summer.
Support our Sponsors: