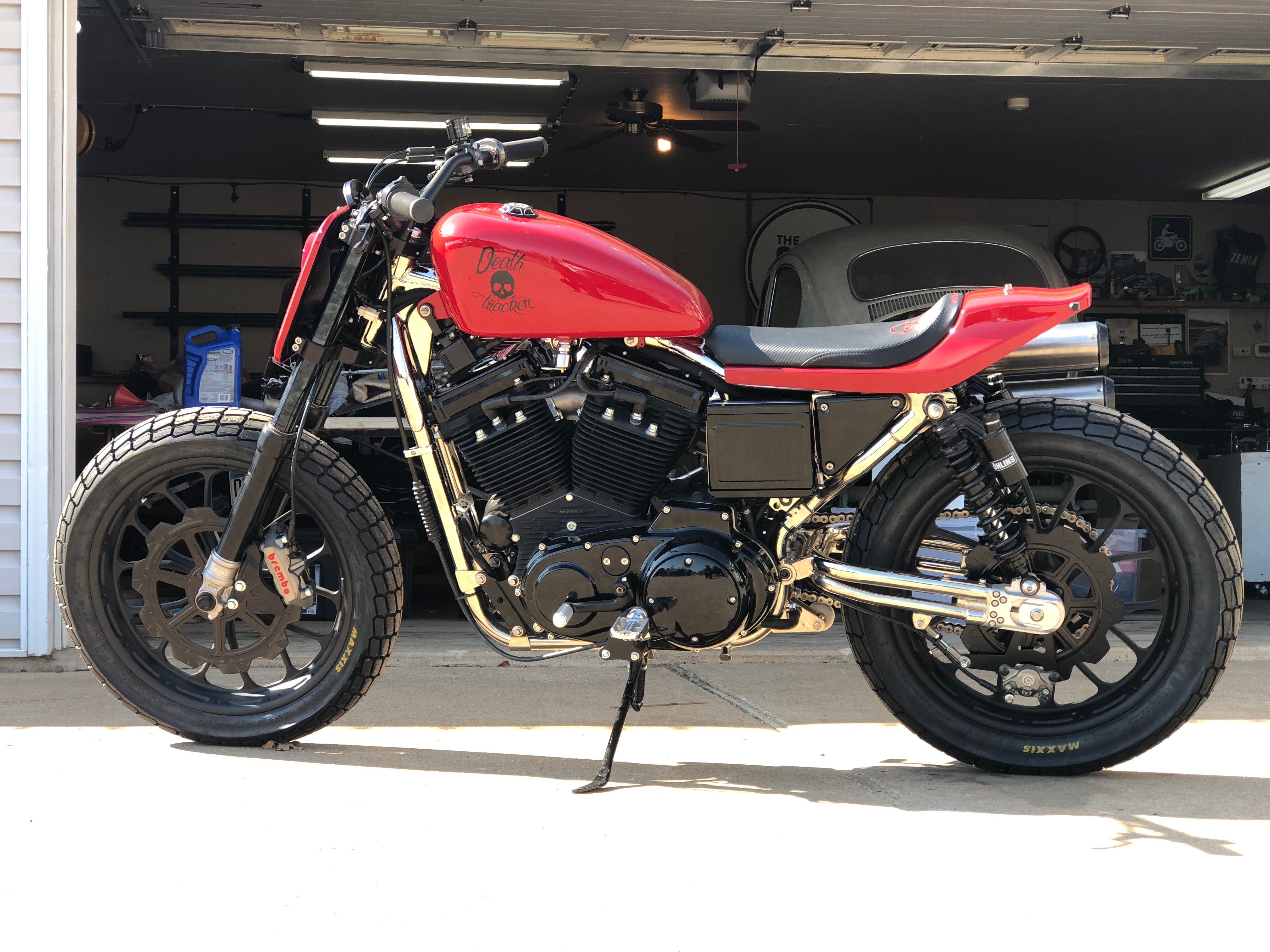 Building bikes has been a staple of the S&S brand since before there was an S&S brand and that sixty plus year tradition of customs continues to this day. The latest generation of builds run the gamut of styles from choppers to race bikes to performance baggers and naturally the venerable Sportster. This particular story begins with a dilapidated 1996 883 Sporty, laying unloved under a blue tarp in a sunny SoCal backyard.
On a fluke, we picked it up while the crew was attending Born Free in the summer of 2019. Naturally, we had big plans for a Hooligan style build and glorious, left turn based slides on the gas and spraying a ten foot rooster tail the entire corner. Sadly, too many projects in the pipeline would have the bike abandoned again, this time in the S&S exhaust facility and shortly after its engine was "reassigned" to another project.
After languishing for nearly a year and now making it to the top of the motorcycle to-do list, we put together a plan, celebrating the soon to be discontinued SB100, our 1600cc monster of a Sportster engine. We originally designed this beast as a drag race and salt flat platform and for good reason we rarely see them in street bikes. The last road-going build we put one of these in was for the infamous Rusty Butcher, a rider with a well documented history of racing, jumping and general full throttle shenanigans. He showed up after his first ride with our big motor, hands shaking and swearing the bike was trying to kill him. Well over triple the factory Hp and a lightning fast power delivery in a relatively small bike is a wicked combination.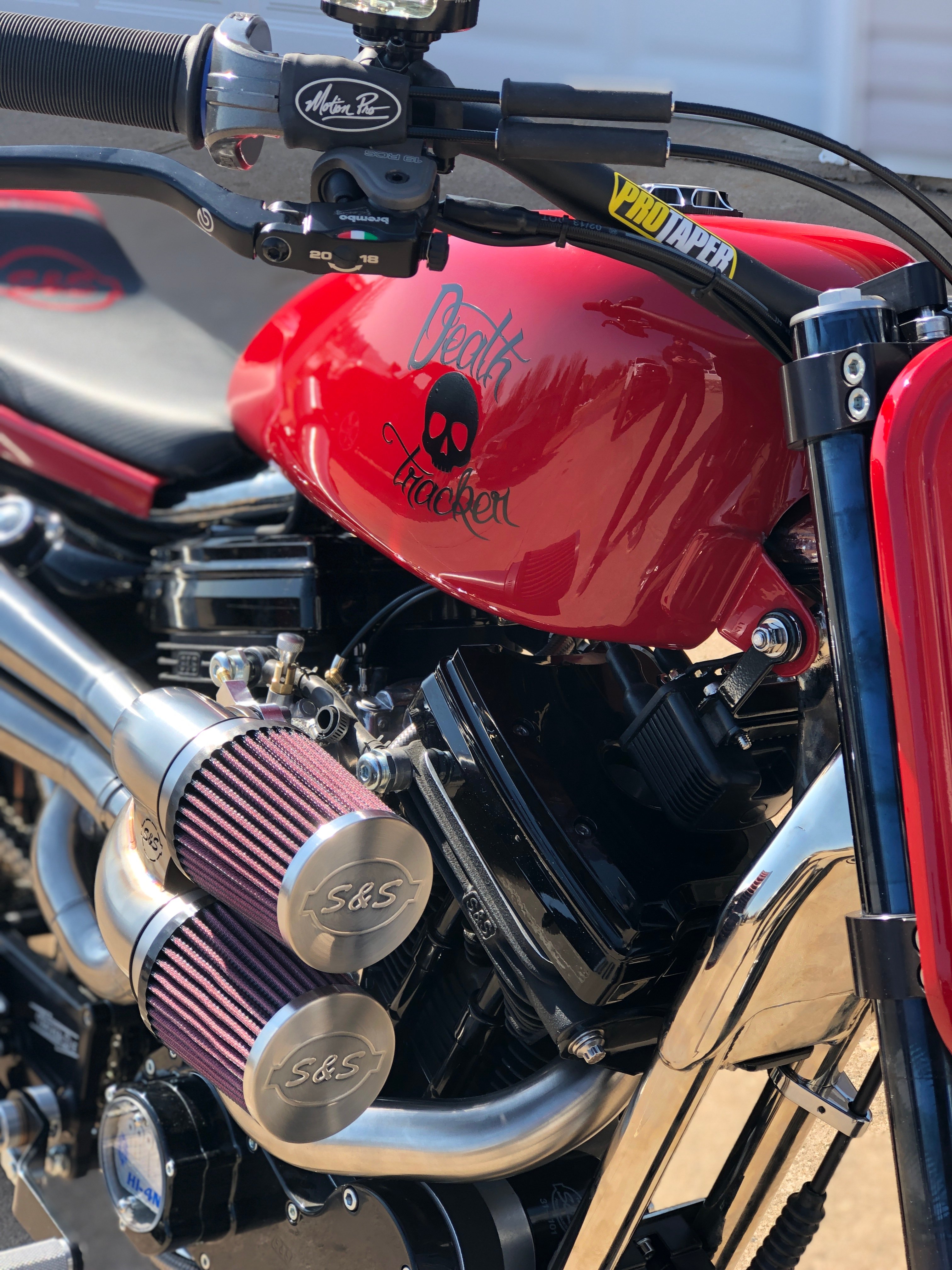 Back to the build at hand, we've always loved the nickel plated frames that adorned vintage trackers and knew at some point we'd do something similar. A set of
Ohlins
forks and
Blackline shocks
flagged for another project had become available and the PM wheels we had used on a previous tracker sat covered in dirt in the corner of our R&D facility. It didn't take long for the ultimate street tracker concept to come together and for the team to start spinning wrenches.
The sporty frame was detabbed, stripped, polished and nickel plated by AIH Chrome in Dubuque Iowa. The finished product was almost too nice to put a motor in! Once it came back, a set of custom billet triple trees were machined to adapt the Ohlins forks. "We essentially recreated the front end used on the Indian flat track race machines and adapted it to a Sporty, states Jon Montgomery, in-house builder for S&S.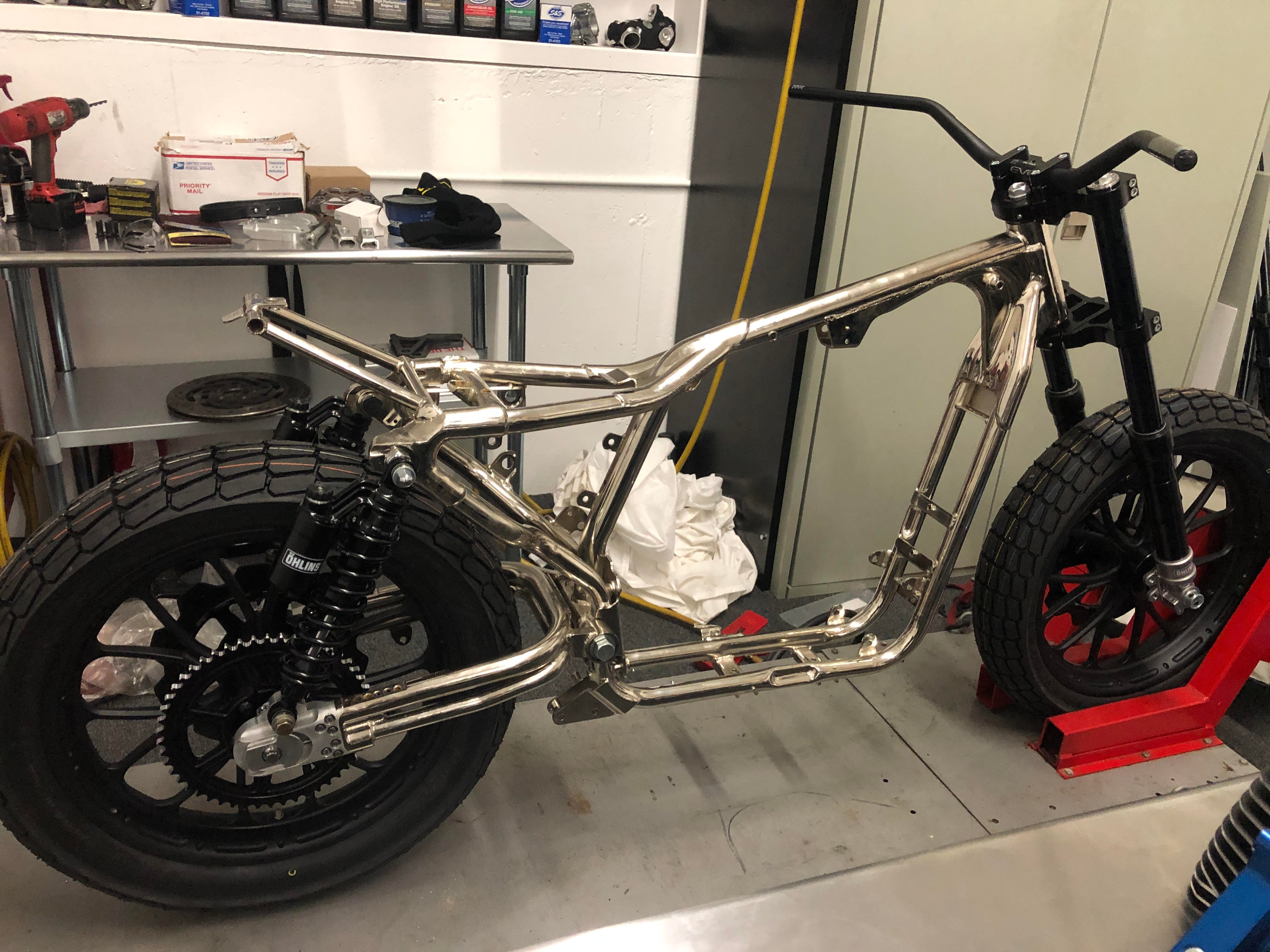 The swing arm is a one off by
Chassis Design
in California that keeps the stock length, but allows for adjustable shock positions, and incorporates billet axle adjusters as this motor is fully capable of stretching the factory units. Next up where wheels and a set of
Performance Machine
hoops that had done rotating duty on a previous race bike. PM calls these Hustler's and they nicely recreate their race wheels, without the punishment of special disc and sprocket fitment. Wheels were stripped and coated using the same powder we use for our engines for a durable, clean look. Brake rotors are blacked out units by
Lyndall
and calipers are
Brembo
, with a radial up front and a two piston in the rear hung by a laser cut steel bracket we created here at S&S. Factory master does the work in the rear and a
Brembo radial master
with a custom reservoir handles the front.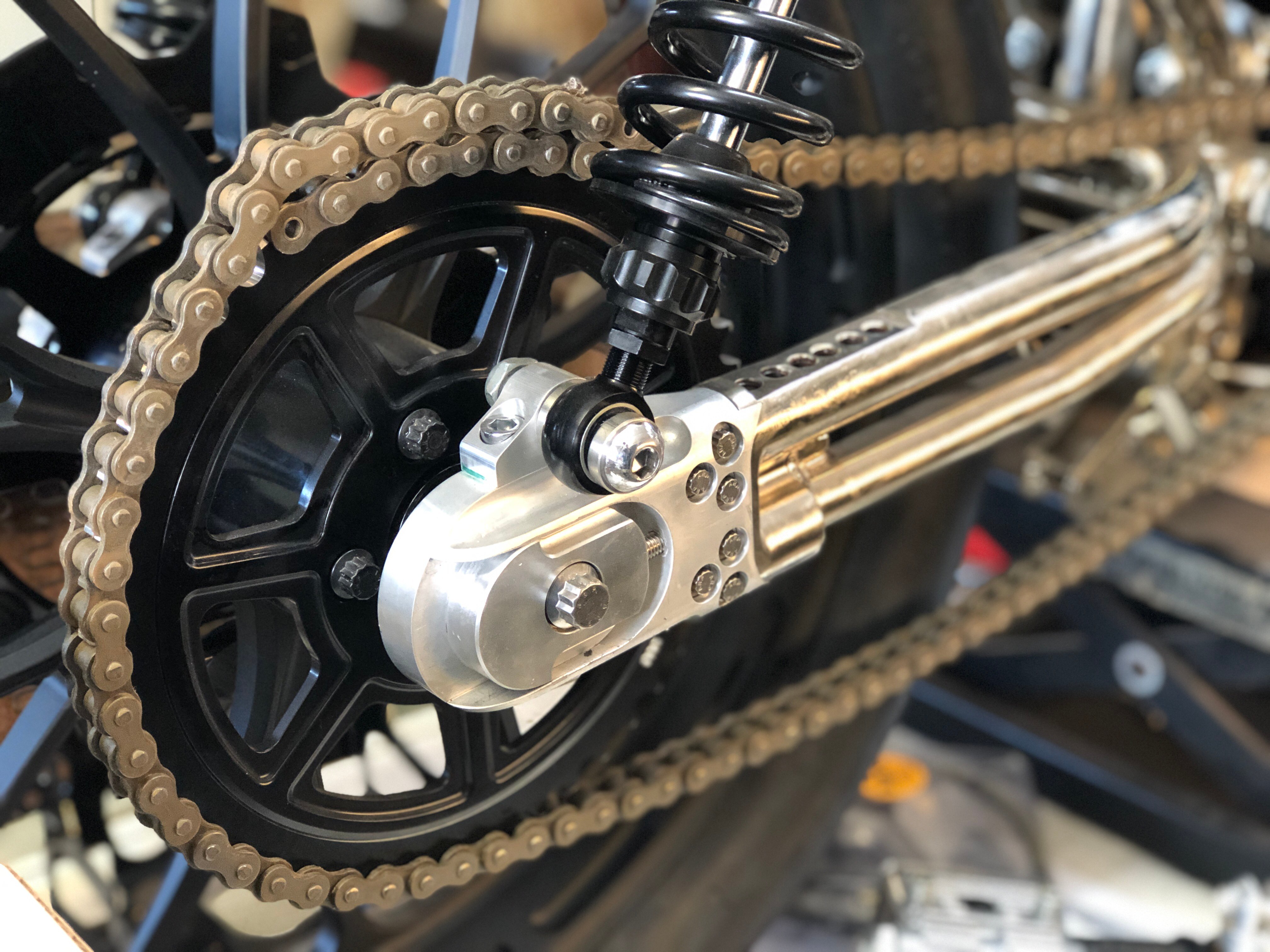 The S&S SB100 is one of the last of its kind through our factory. This 1638cc motor was originally developed in the late 90's and designed specifically for land speed and drag racing applications. During that time very few S&S employees were even allowed to ride the development bikes. The first run of engines would go on to run consistent 10s in the quarter and 175mph at land speed events.
The square motor configuration (4" bore & stroke) produced excellent power in a high revving platform and this one is equipped with 600 cams, roller rockers and a modest 10.3:1 compression ratio. These motors will dyno in the 110 to 120 Hp range and usually pretty close to that in torque. A factory 883 of the same era would be lucky to see low 40 Hp at the wheel.
After a run through the S&S powder coat facility, the final SB100 was hand assembled by our engine build team and then saw a series of QC tests before it was spooned into the bike. Factory trans is a cartridge unit and plugs in nicely, clutch is a
Barnett Scorpion
using their mid weight springs. Carb is a
Super G
breathing through a stainless
Tuned Induction intake
with dual filters and naturally exhaust is an S&S
Hooligan high pipe
with a fiberglass shield to keep the right leg from getting too hot.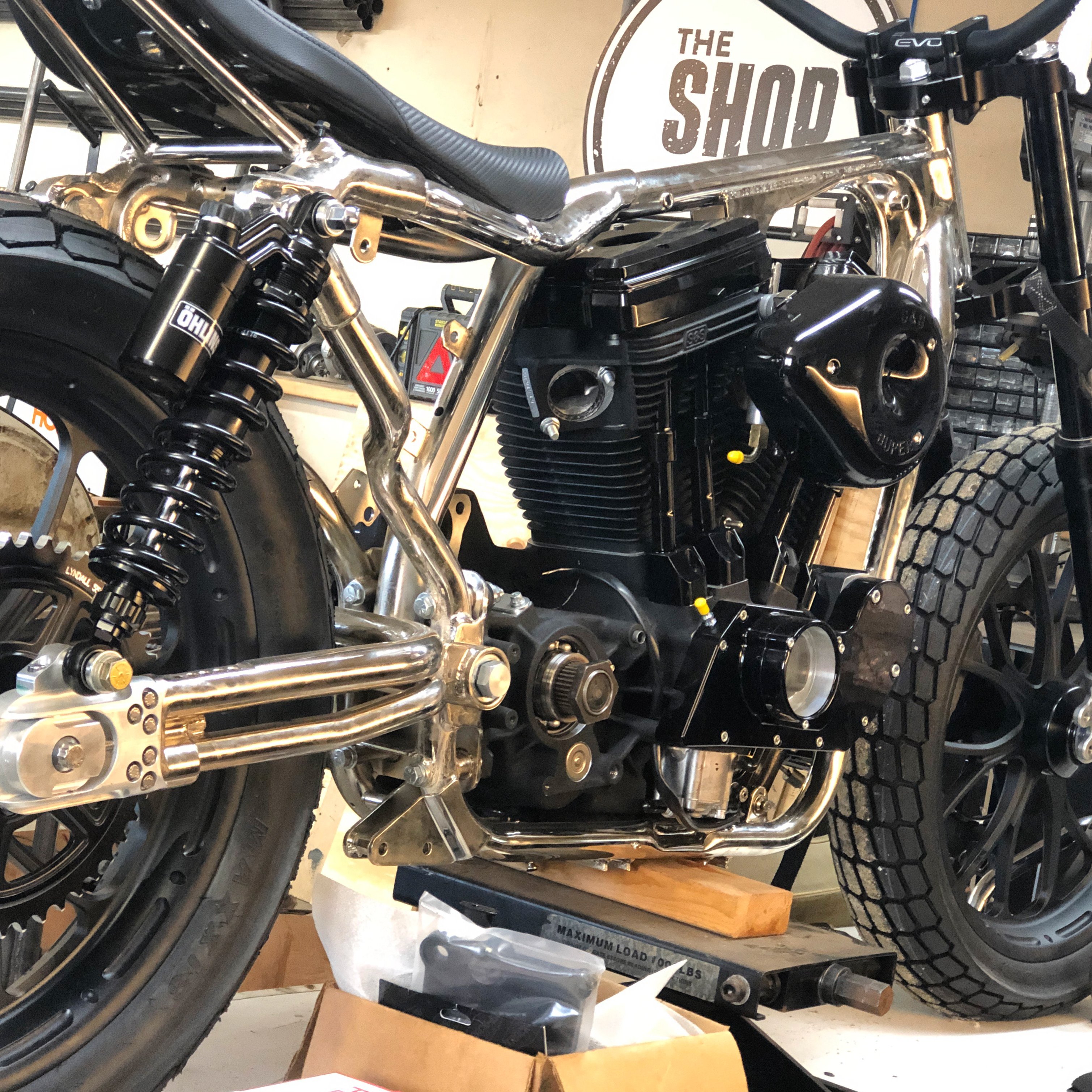 Ignition is an
S&S Hi4N
and the entire harness was built from scratch. "We wanted everything on this build to be next level, even the fuse box and with that in mind, we integrated the
Motogadget
unit along with their dash into the bike" says David Zemla, assistant bike builder. The Motogadget unit is solid state and uses CAN Bus style communications with the electronic dash. A decidedly high tech approach for an old school style bike, but hard to pass up the irony of an app driven 1996 Sportster (yes, you can power it up with your phone!).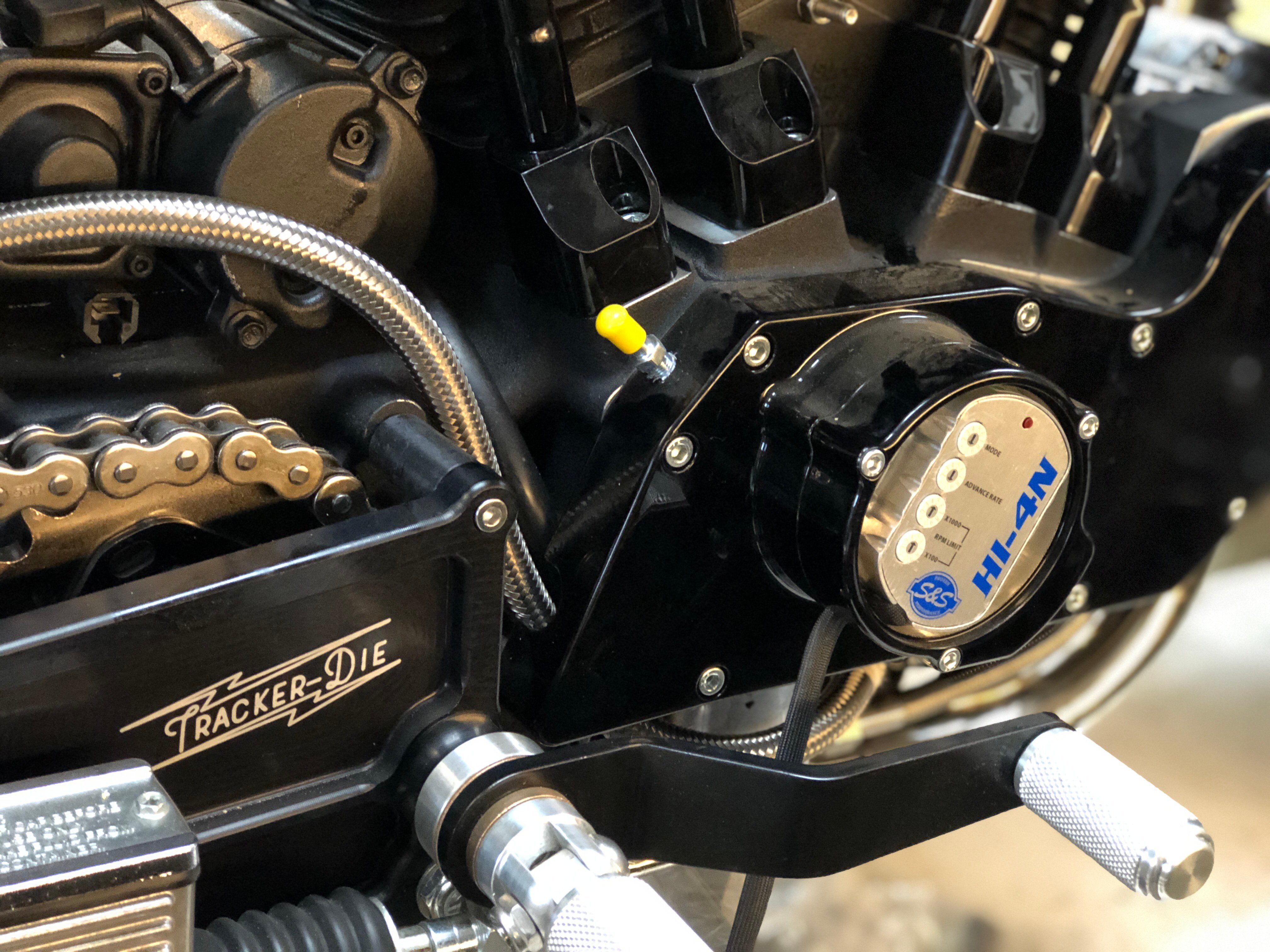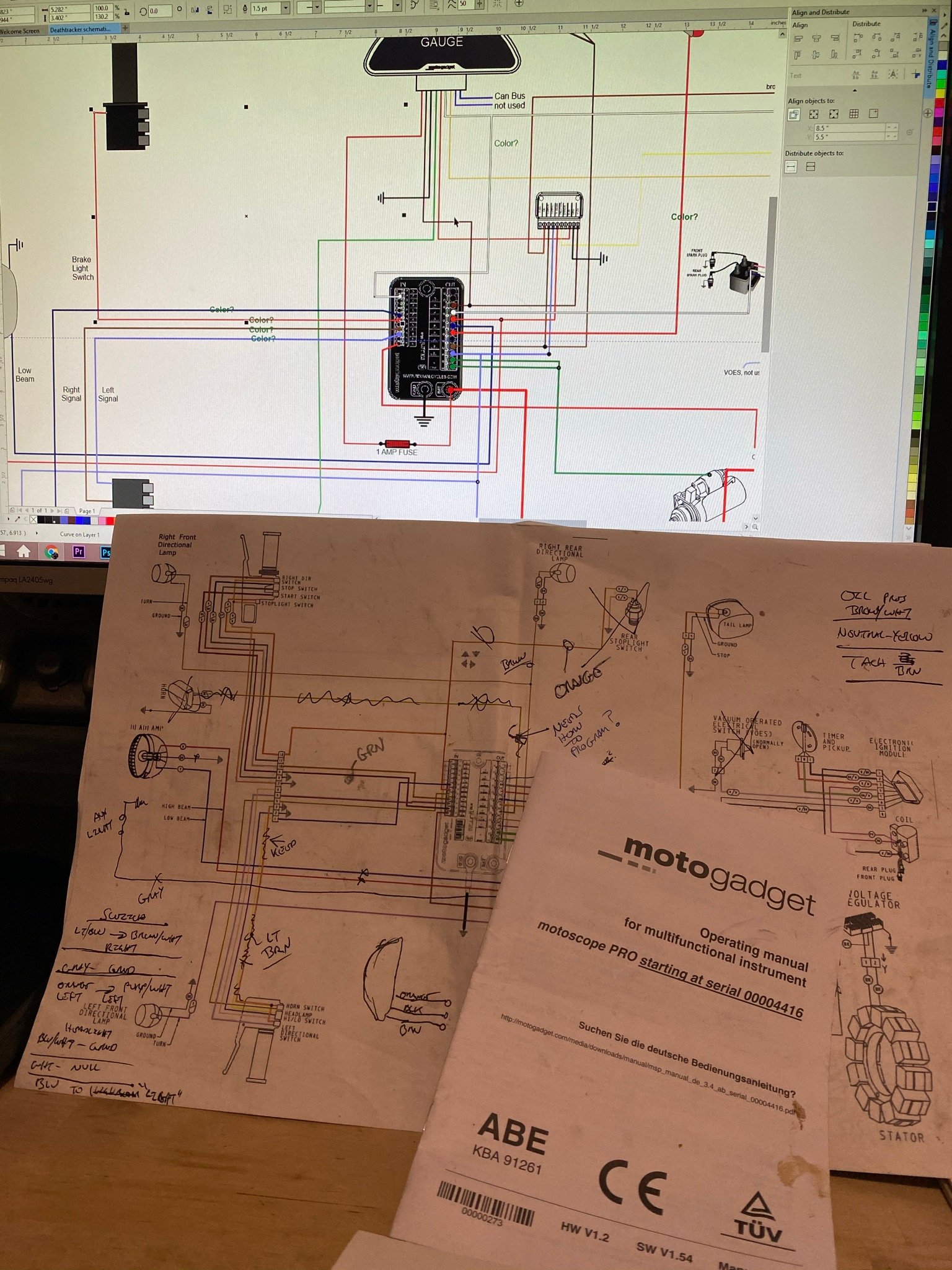 Controls proved to be a challenge as the bike came with forwards and would need mids to be right. TC Bros came to the rescue with a set of their
foot controls
and we plugged in
Biltwell Stainless Mushman pegs
to not only match the frame, but provide a solid footing when trying to hang onto this beast.
Grips
are also Biltwell and Barnett created a magical cable that tied the Motion Pro throttle housing to the S&S G carb. A simple light and signal switch on the left keeps the
Protaper handlebar
layout looking clean.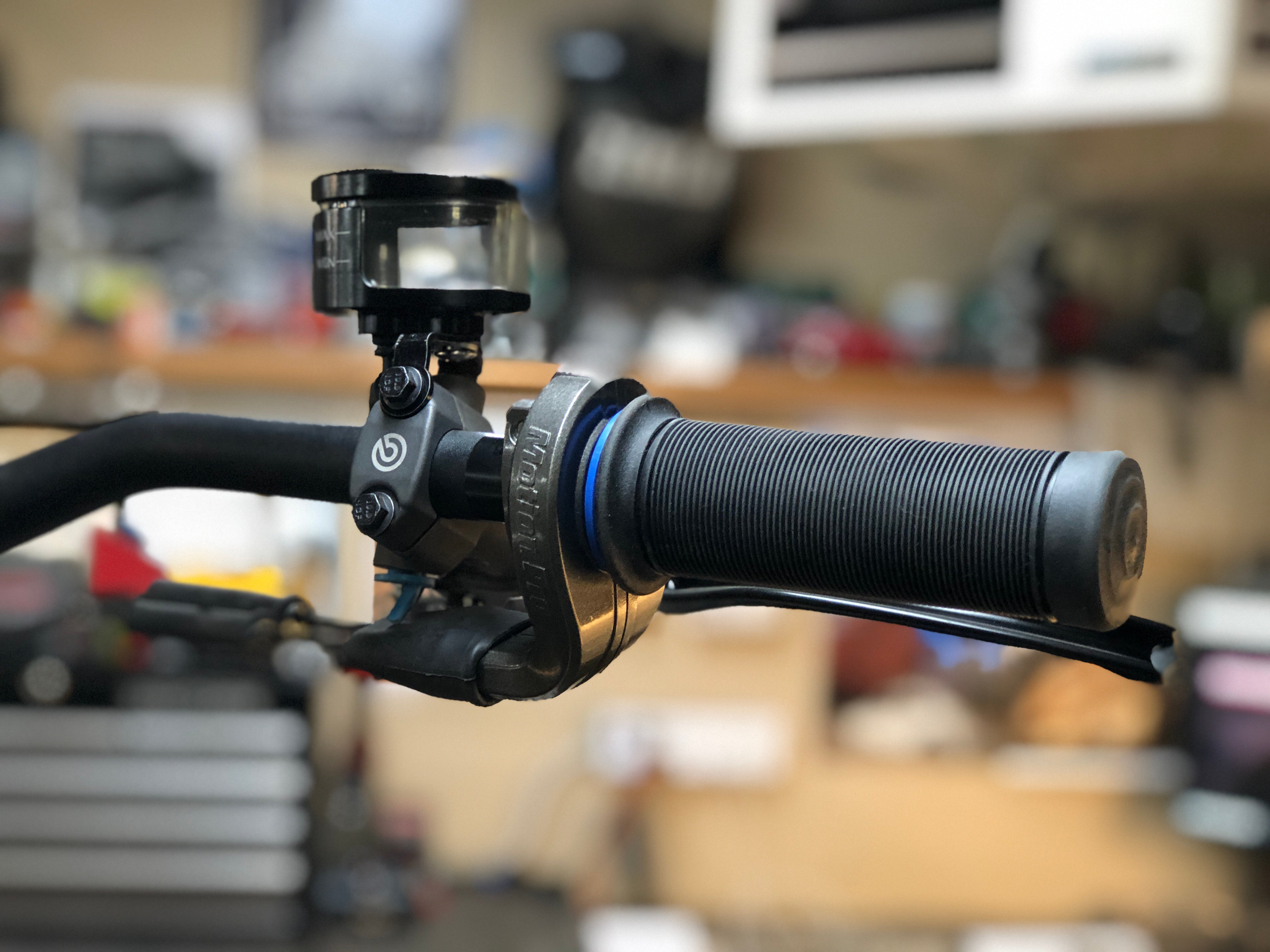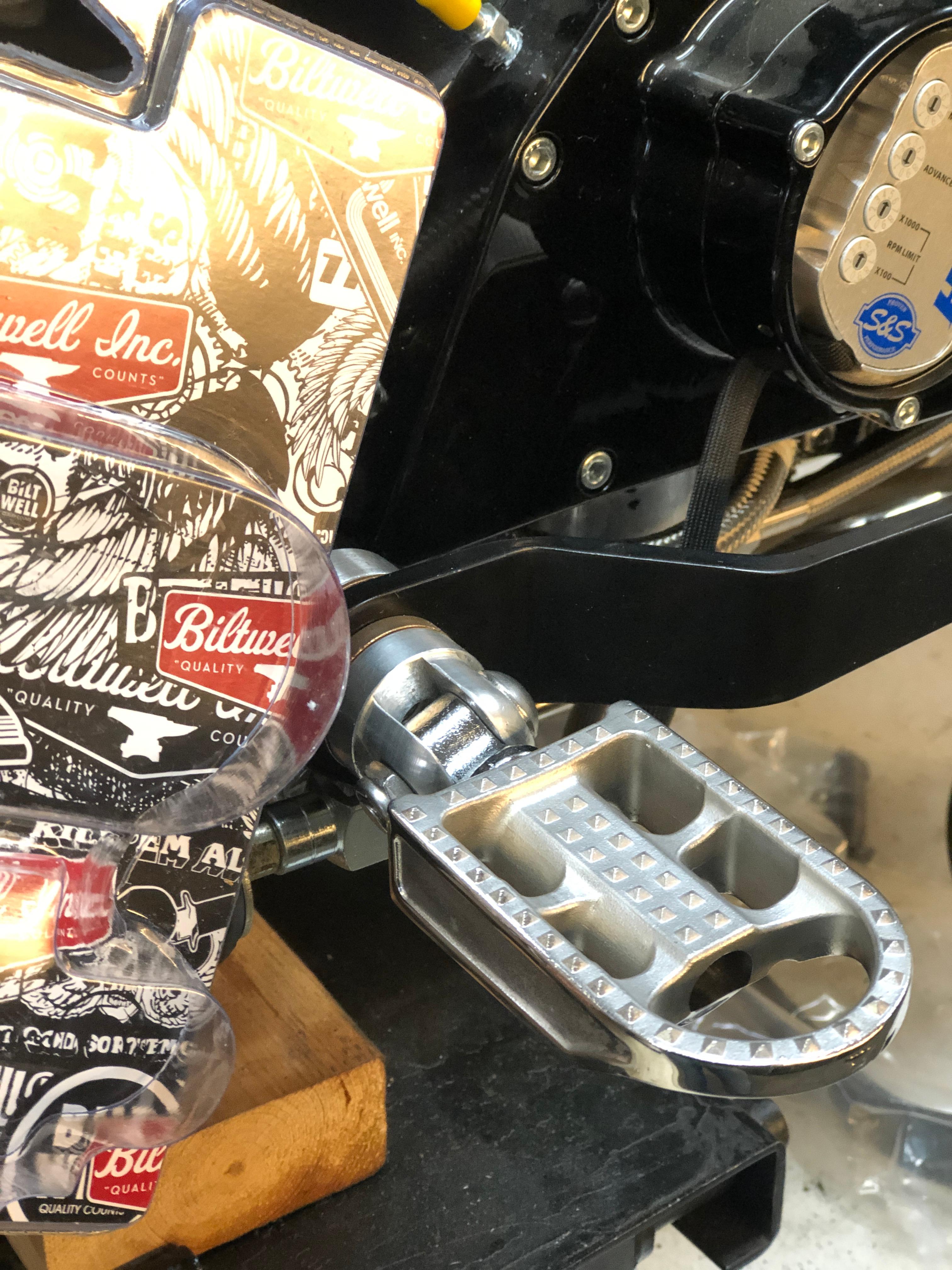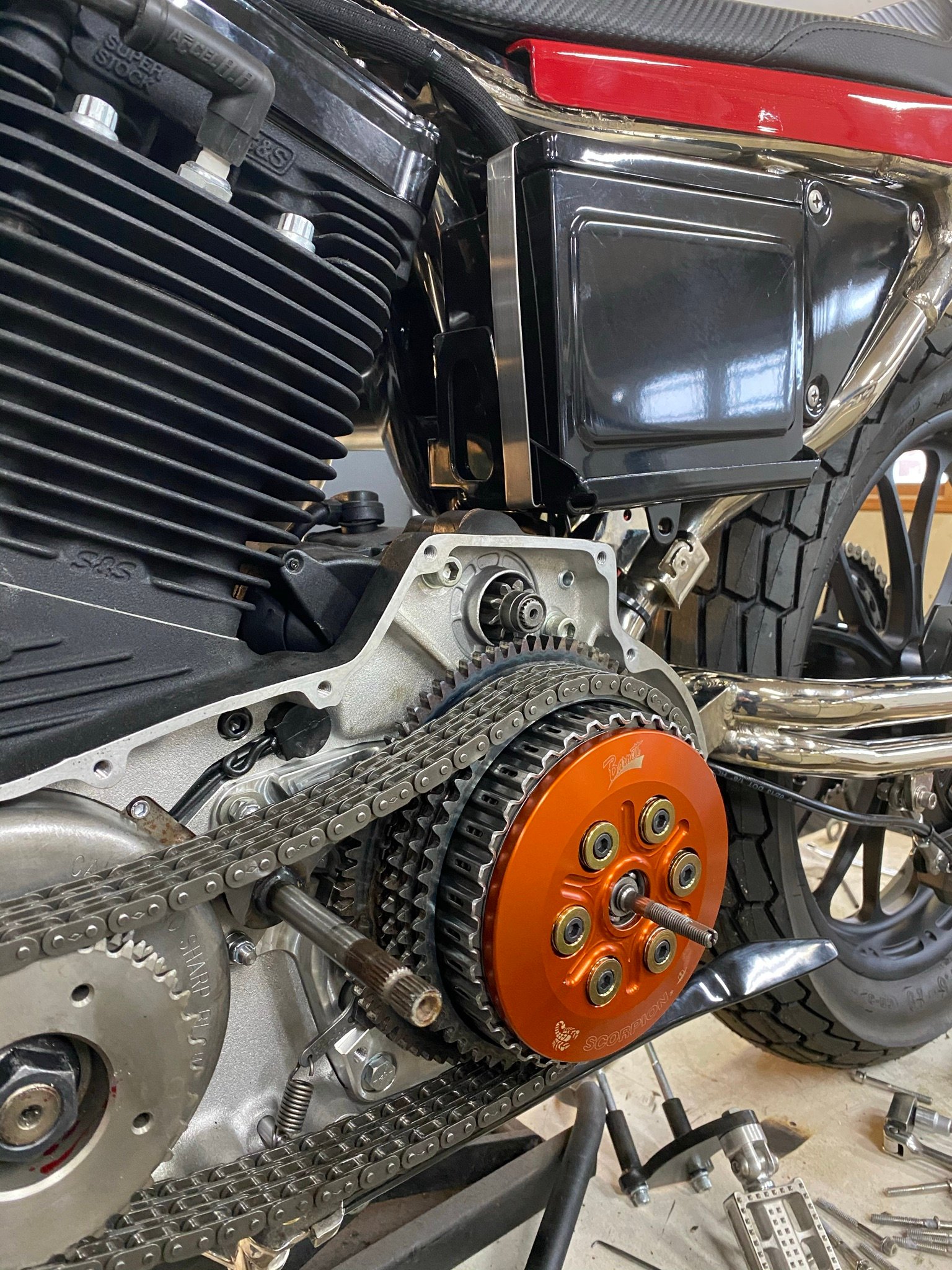 We had originally built the bike with the factory tank, but soon realized it was disproportionately large on the slimmed down tracker. A steel unit from
LowBrow Customs
in Ohio now does fuel duty and looks the part. Seat and fiberglass tail are
Saddleman
units and like all of their stuff are the perfect compliment to a custom build. Paint was originally going to be a Ferrari red, but we soon realized that choice came with a difficult price tag and opted for a Toyota red that is nearly dead on.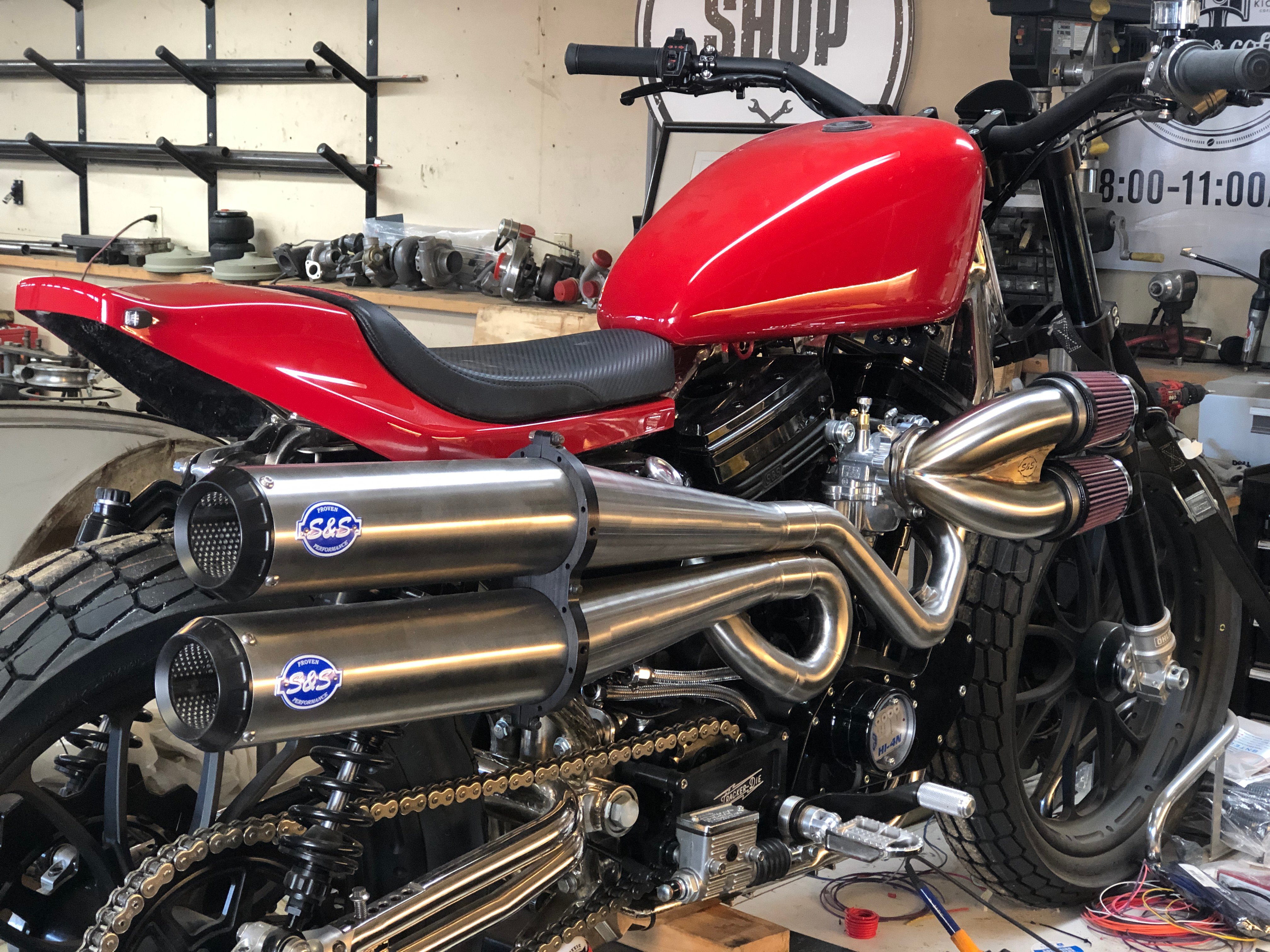 Lights were up next and involved an international contingent of cool kids. Winston Yeh of Rough Crafts in Taiwan sent over a set of their
micro sized ION signals
for us to test. Not believing any real light could come from a ½" square block, we bench tested them and are still seeing spots. Headlight housing/number plate is a unit our R&D team designed and printed on the in-house RP machine. Lic plate location is still undecided, it may tuck up under the tail or pick up a mounting point on the swingarm in a vertical layout. Bulk of the bike is done, electronics are powered up and tested. We're waiting for the new tank to make it back from paint and a few other minor tweaks and it's ready to fire! Stay tuned for the maiden voyage of the Deathtracker and for more S&S builds like it!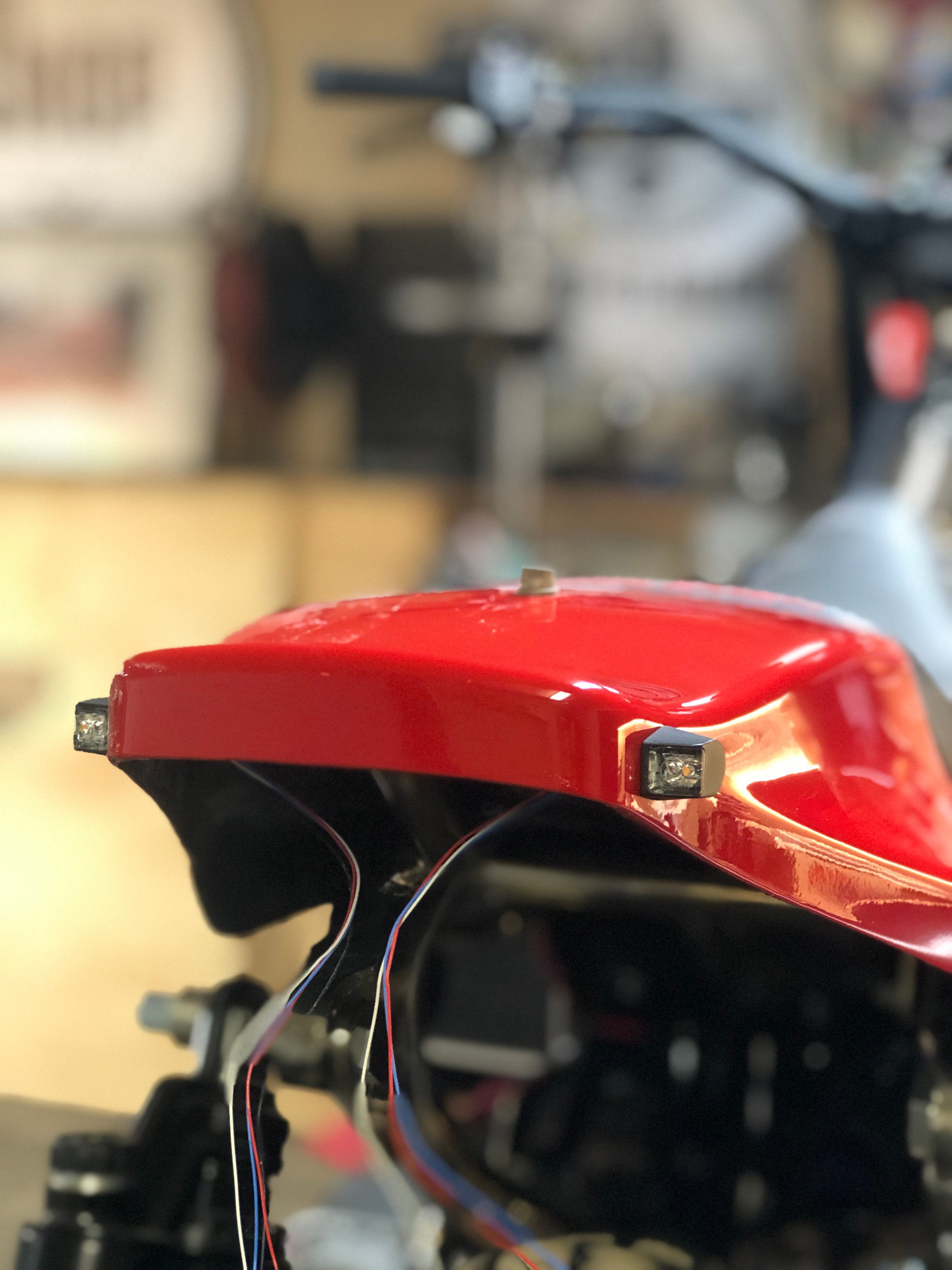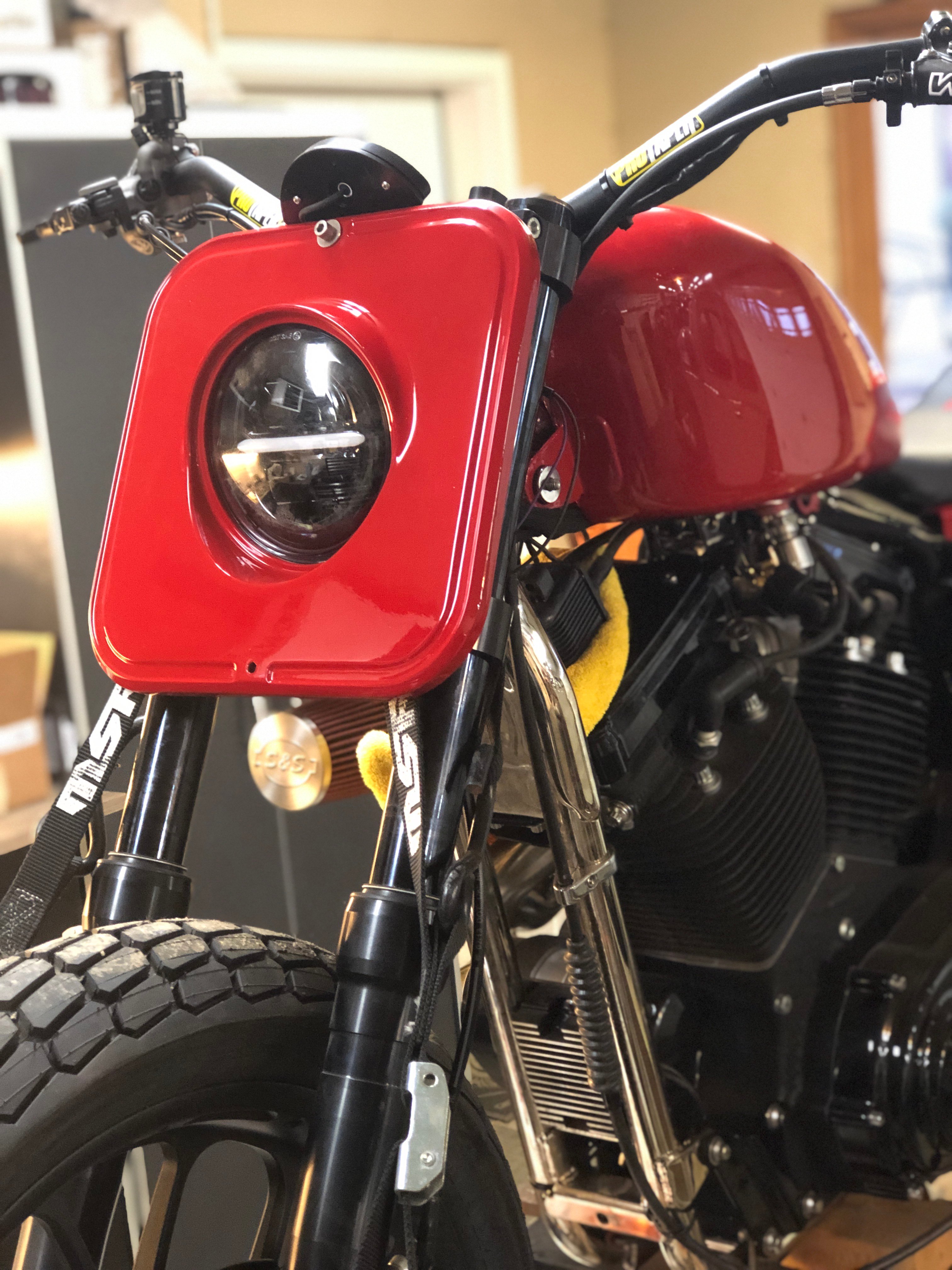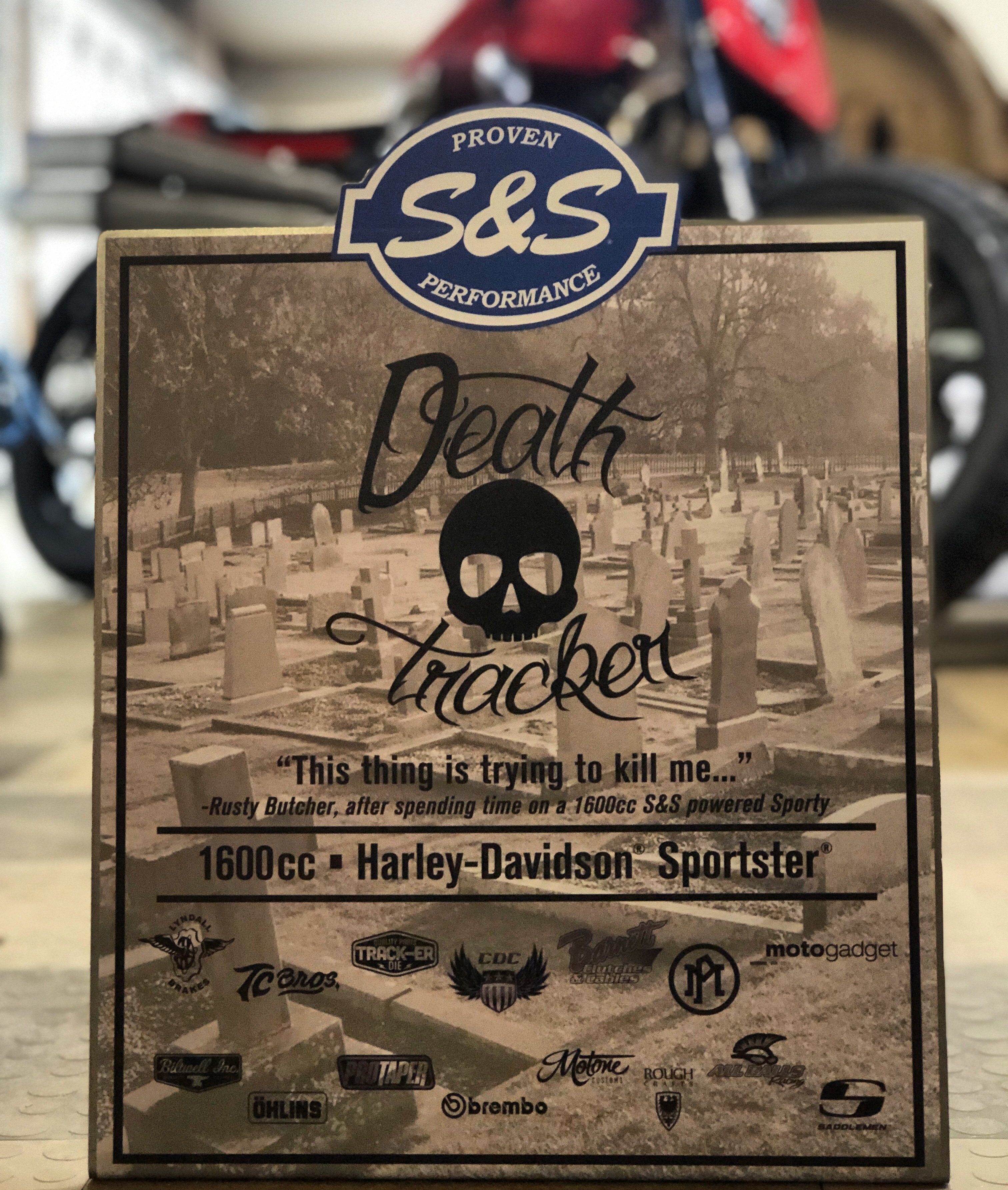 Links to Parts Used on the Deathtracker: