Here we are again - it's nearly February, which in Wisconsin, is a frigid, frozen month - a month where we are nearly finished with our winter builds, exasperation is building with the chilly temperatures, and we are impatiently waiting to get on our bikes and ride.
But, every February, we are granted a reprieve from our bike-less season - and this reprieve comes in the form of one of the best bike shows there is - Mama Tried.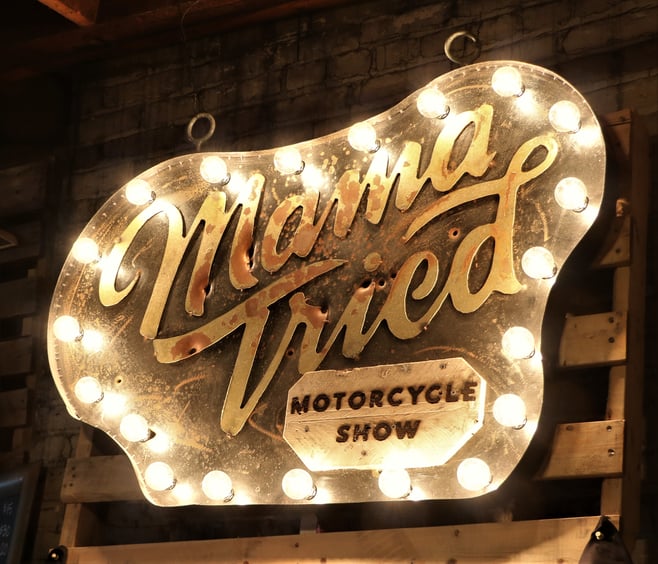 Mama Tried Motorcycle Show takes place in Milwaukee - just a hop, skip and a jump across the farmlands of Wisconsin for us. Yes, S&S is on the western side of the state, just a short ride from the Mighty Mississippi. So each winter, we pack up a couple motorcycles and some free goodies for the show goers, along with our race bikes for the prior night's Flat Out Friday race.
Last year's show was my personal first look at this incredible show, and it was awe-inducing. I have followed the show, the hashtags, and the blogs about Mama Tried, having been in Southern California prior to this, I had never had a chance to experience the show myself. No amount of square Instagram photos can truly show you what this event is about.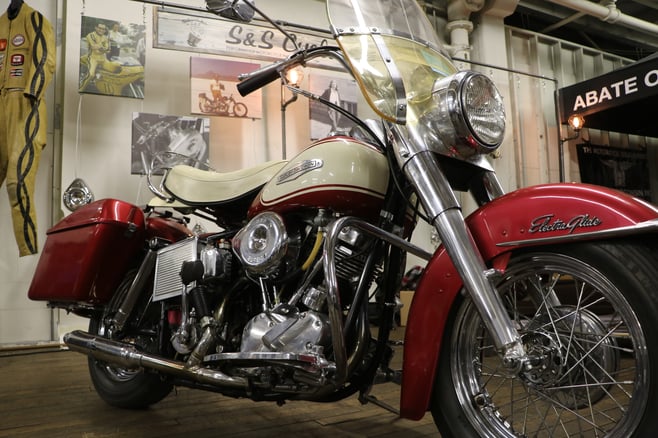 MT brings out the best of the Midwest, new builds getting their first glimpse of sunshine (and snow) before being brought into an incredible vintage warehouse building. Each moto has its own "spotlight" - which this year was vintage-styled bulbs casting a warm glow over the top of each motorcycle, glinting off the chrome and beautiful clear coats, and on some, highlighting vintage paint, patina and rust.
Last year brought us not so much snow, but decent temperatures calling for a leather jacket, but not snow gear! Incredible. We loaded in our booth and I headed up the creaky freight elevator to capture some of these machines in all their glory before the crowds arrived.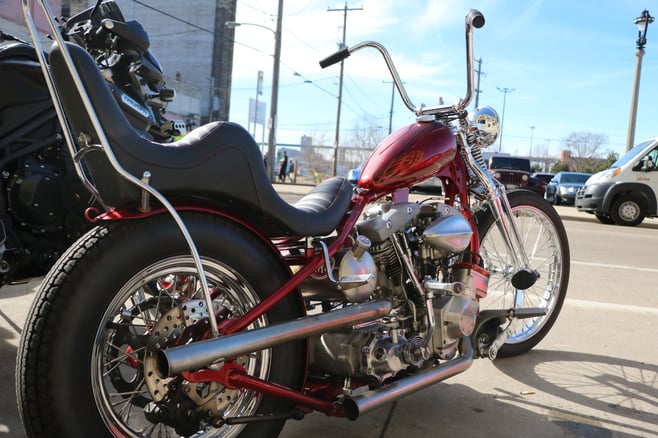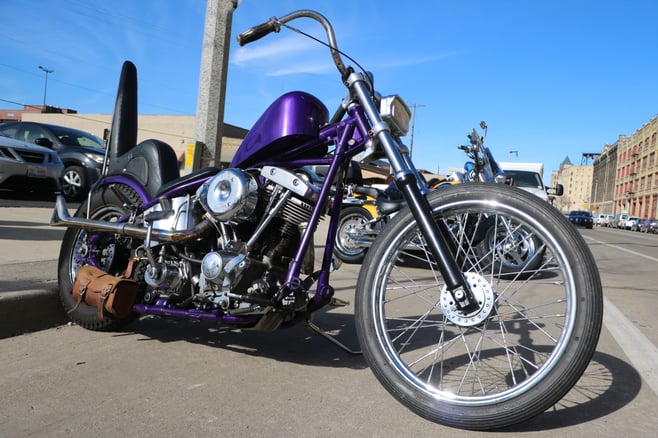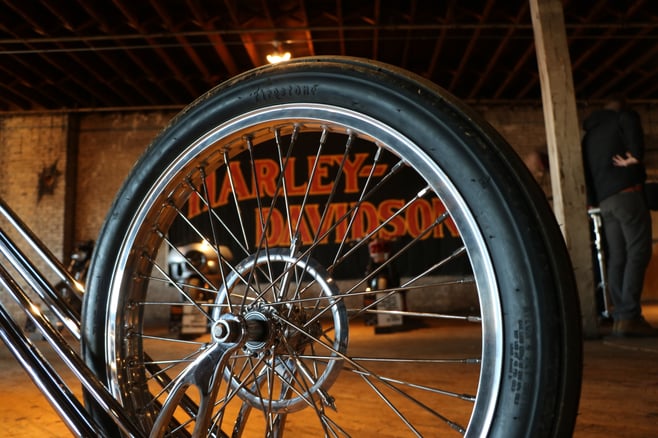 Then, it happened. The show opened to the public, and the crowd flooded in. No, seriously! The line outside was massive, reaching far past the building itself and down the road, nearly to the bridge over a block away. Choppers, baggers, cafes and more lined the street, and the parking lots were full. It seemed as if everyone in the midwest was here! No two bikes parked were the same, and no two show-goers were the same. People of all ages and styles milled about the vendor floor, ate food from Fuel Cafe, checked out the goods from S&S, TrackerDie, Vanilla Cycles, Rusty Butcher, First Mfg, among others.
They waited for the large freight elevator to check out the bikes upstairs, ranging from vintage choppers, Evolution
®
HD
®
Sportsters
®
, panheads, knuckleheads, shovelheads, S&S powered builds, cafe racers, even a spacey buggy! Incredible builds from Sacred Steel, Dayten Likness, JP Rodman, Chopper Dave, and so many more.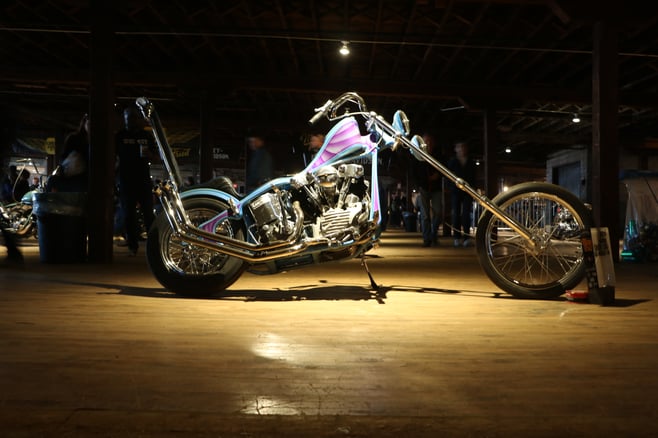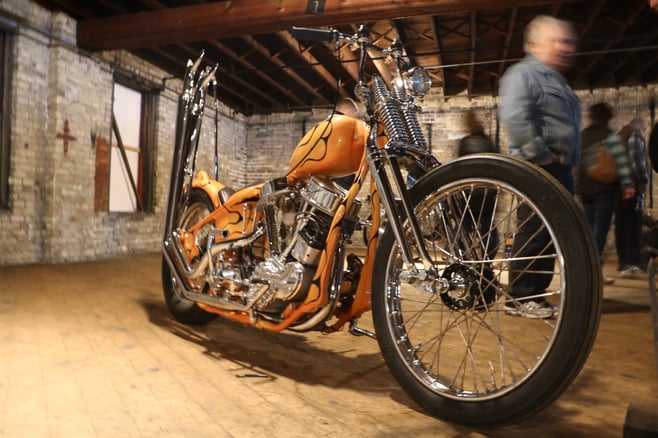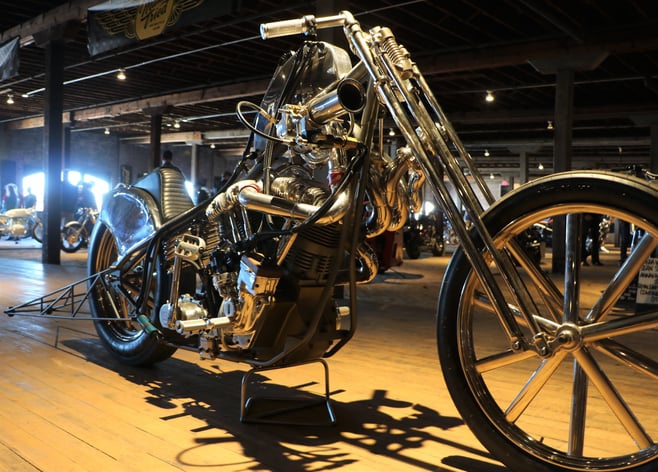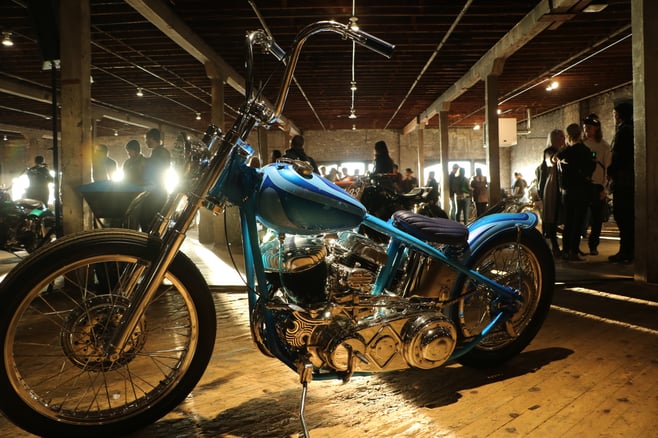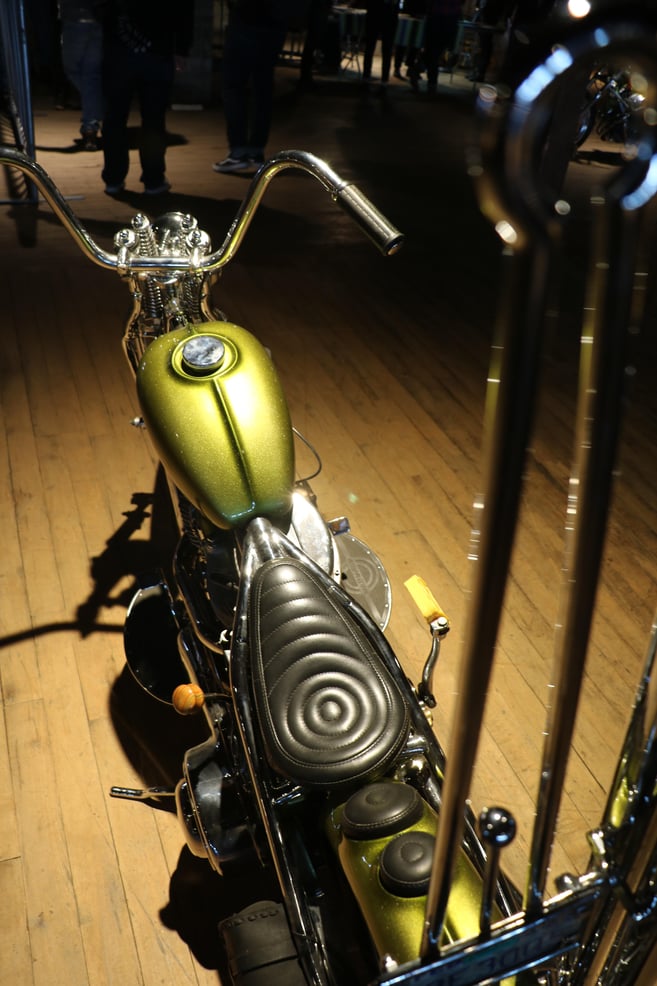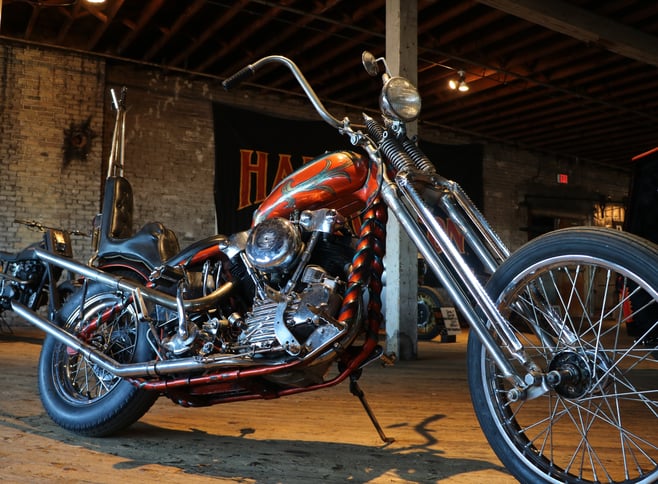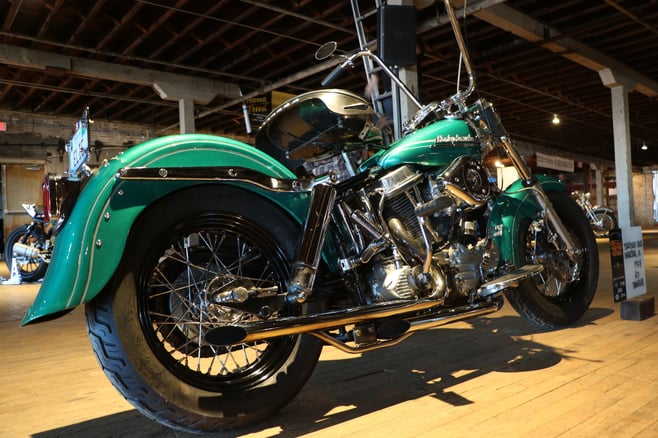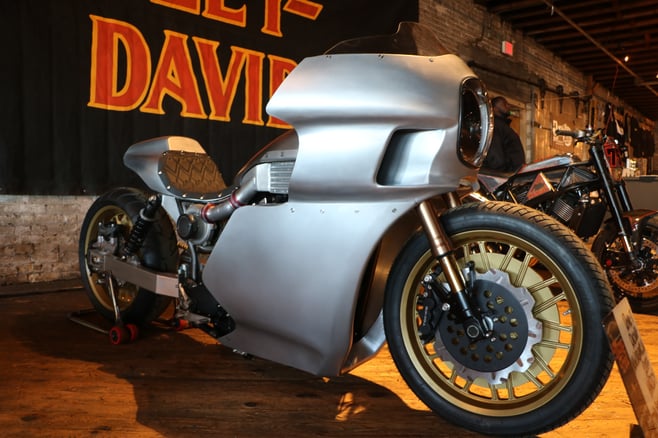 Upstairs, there were plenty of drinks to imbibe (and stay warm), Mama Tried Tattoos to be inked, and friends to see. These shows are always incredible for seeing new builds, and old friends - the motorcycle scene is so close knit that these folks quickly become family, and you look forward to the shows and rallies nearly as family reunions.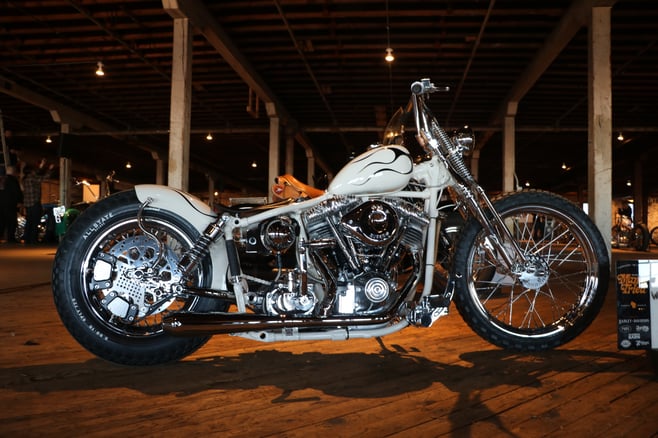 If you've considered attending Mama Tried, (and Flat Out Friday! More on that later..) I highly suggest you do. The surrounding area of Milwaukee is incredible - from the Pabst museum and brewery, to the indoor flat track race happening the night before, and the classic Rust Belt buildings, and don't forget, the HD
®
Museum, there is enough to keep you sightseeing for a week! And there's some great pre- and after- parties, of course, but I'll let you experience those for yourself…
Check out last year's video on YouTube, and don't forget to subscribe to see more event videos, tech videos and product info!
2018 SHOW INFORMATION:
Mama Tried Show - Feb 24th and 25th, 2018
The Rave, Milwaukee, WI
2401 W Wisconsin Ave, Milwaukee, WI 53233
@mamatriedshow
#mamatriedshow