Kevin Dunworth is a bike builder, formerly known as Loaded Gun Customs. Kevin came to us and said he wanted "stupid power" in his latest build, a tracker that started life as a 1992 H-D® Sportster®. Well, we delivered, and he's got a "stupid fast" Sporty now!

Take a look at this full custom ride, draped in a Porsche color scheme and ready to hit the street, dirt, or whatever else you wanna throw at it.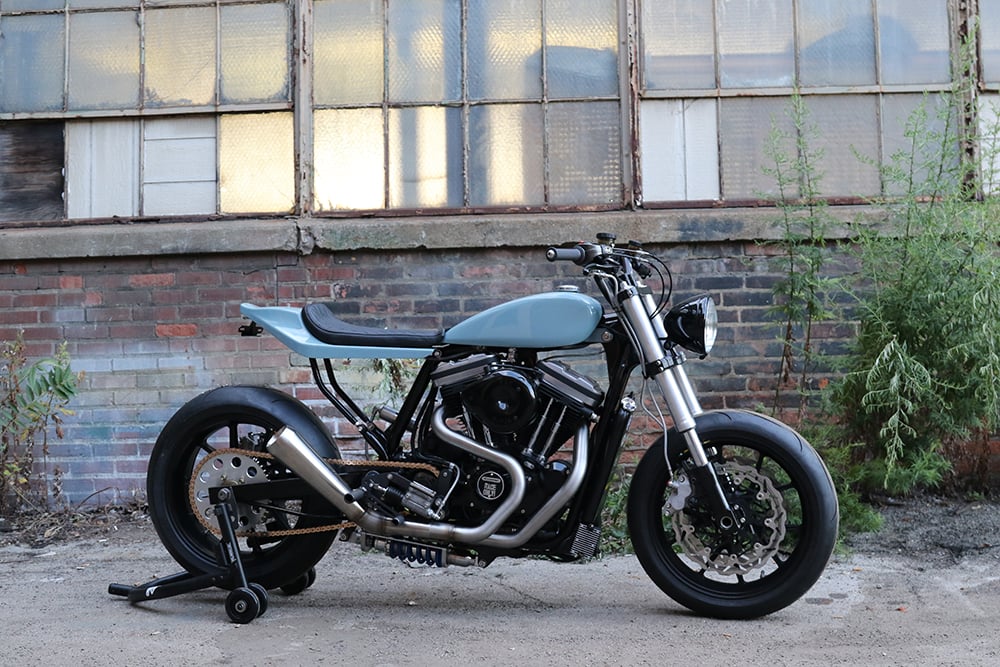 1992 Sportster front frame and title / 03 Engine donor
ENGINE
S&S 1250 cylinders
11.2:1 S&S Pistons
S&S CNC machined carb

and manifold, with S&S

black tear drop air cleaner
Engine Covers powdered black
Cam cover cut down and wrinkle painted to match engine
LC Fabrications

sprocket cover

Cone engineering 2 into 1 2.5" collector to reverse "Big Mouth" upswept pipe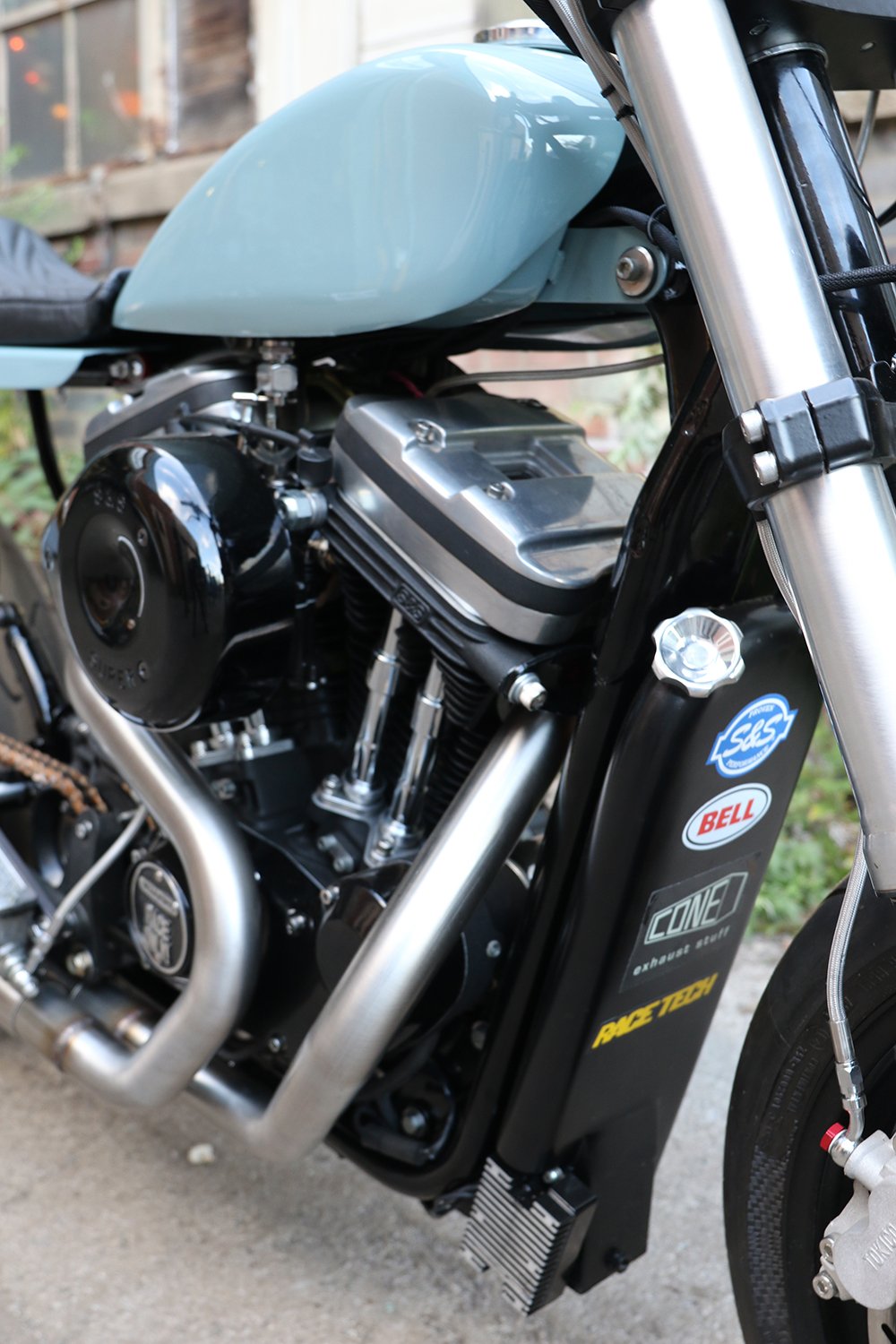 FRAME
Rear Sub Frame removed
Custom bolt on subframe
Frame sand blasted, and powder coated in gloss black.
Custom cro-moly steering tube made for stock Sportster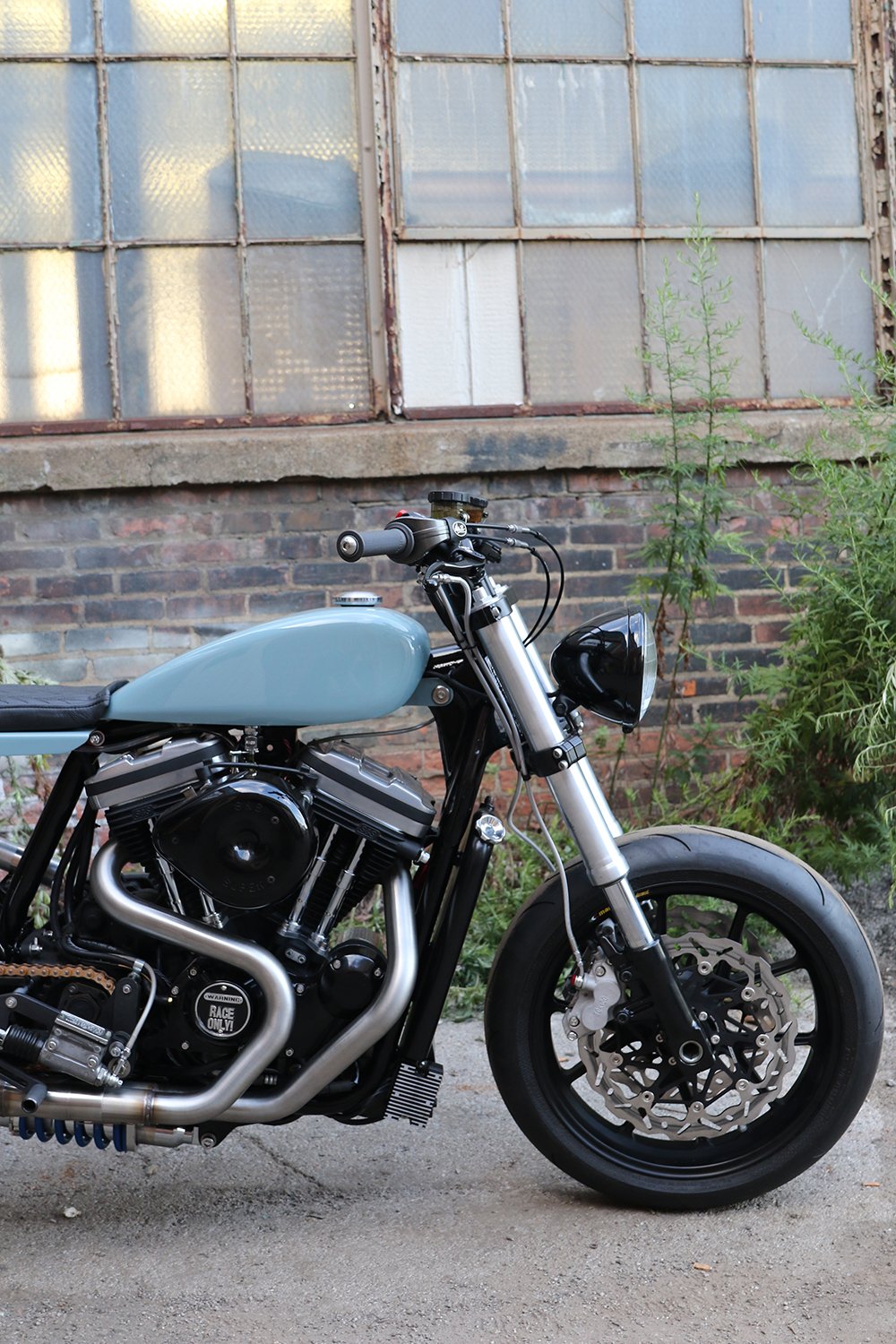 SUSPENSION / BRAKES / WHEELS / TIRES
ZX7R Front forks torn down and anodizing removed and left with a brushed raw aluminum finish, all new fluids and seals
Stock zx7r front axle with custom spacers for Marcenseni front Forged aluminum wheel anodized black
Ducati Made in Italy wave floating rotors installed with stainless hardware and wrapped in Track Day Soft Compound Continental Attack Tires
Stock calipers sand blasted and left raw rebuilt with stainless hardware.
Custom top triple tree with Super Moto spec bar mounts with stainless hardware
Cromoly box swingarm
Stock rear master cylinder pushes a 2 piston ISR Rear Caliper with a Ducati Spec wave rotor
Custom axle and spacers for 17x5.5"
Marcenseni Forged rear wheel and 180 Conti Attack Soft Tire
Custom Sprocket Specialist rear sprocket, with .9" offset front sprocket
Gold Fire Power chain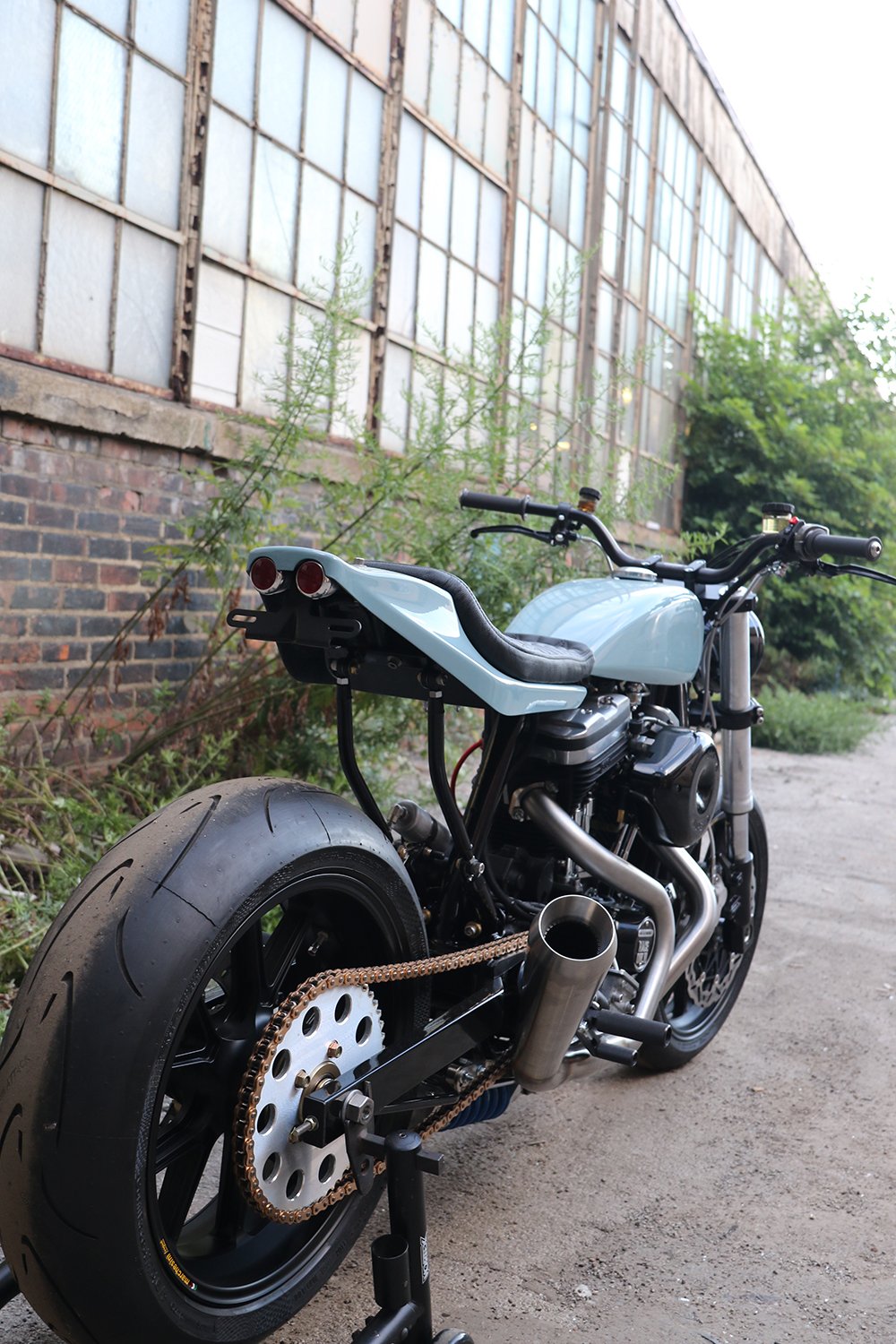 ACCESSORIES
Renthal 11/8th bars in black with Magura HC1 Brake Master and Hydraulic Clutch Master
Motion pro Adjustable dual pull race throttle
Saddlemen fiberglass tail modified for fitment
Custom steel seat pan with hand made firm foam, glove leather, and a herringbone
Seat done by Gas Axe Girl Friday upholstery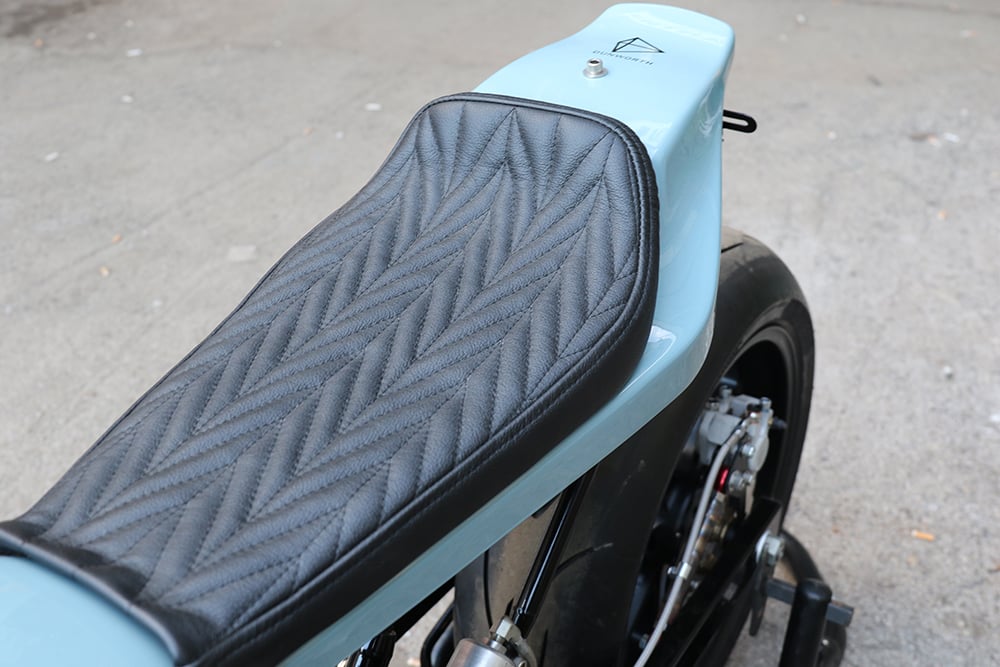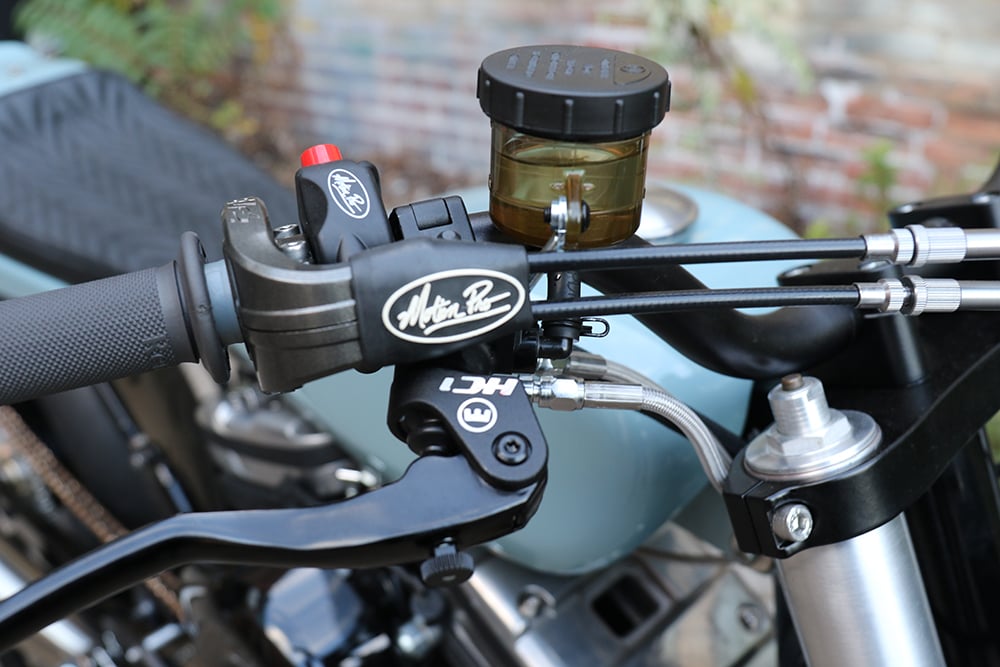 ELECTRONICS
Anti Gravity 8 cell battery
Tailight tag bracket custom made and two Kim Boyle Taillights, wired with Moto Gadget M-unit, LED taillights function as blinkers, stop, and running lights
Motogadget M-unit fully programmable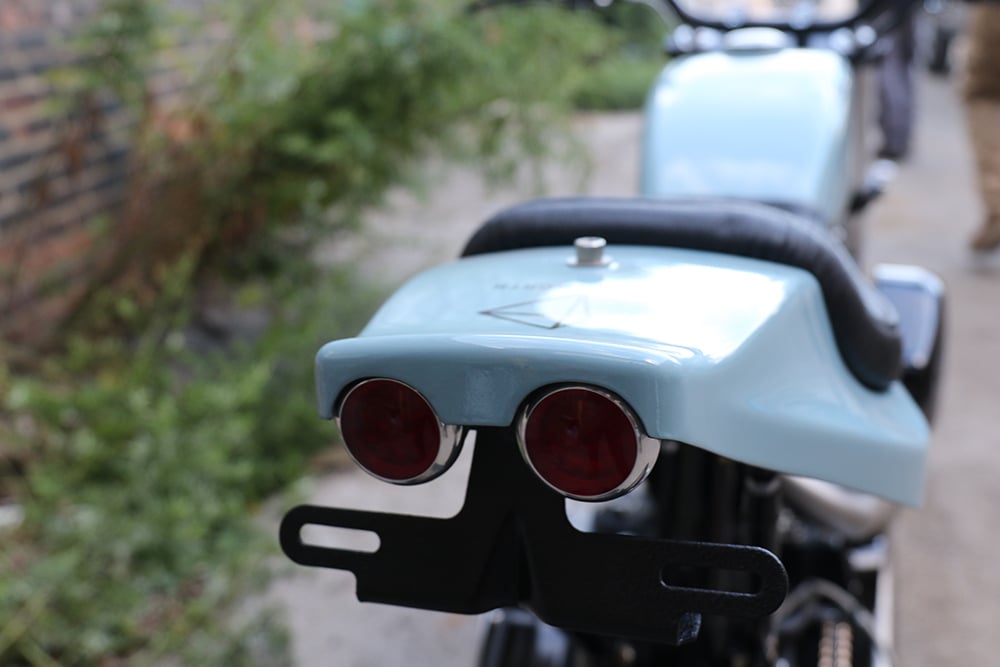 TINS
Custom H-D® XR750® replica tracker tank with stock rubber mounts, with Pingel petcock
Custom color from old Porsche Race photos (unnamed)
Custom Made front oil tank along front down tubes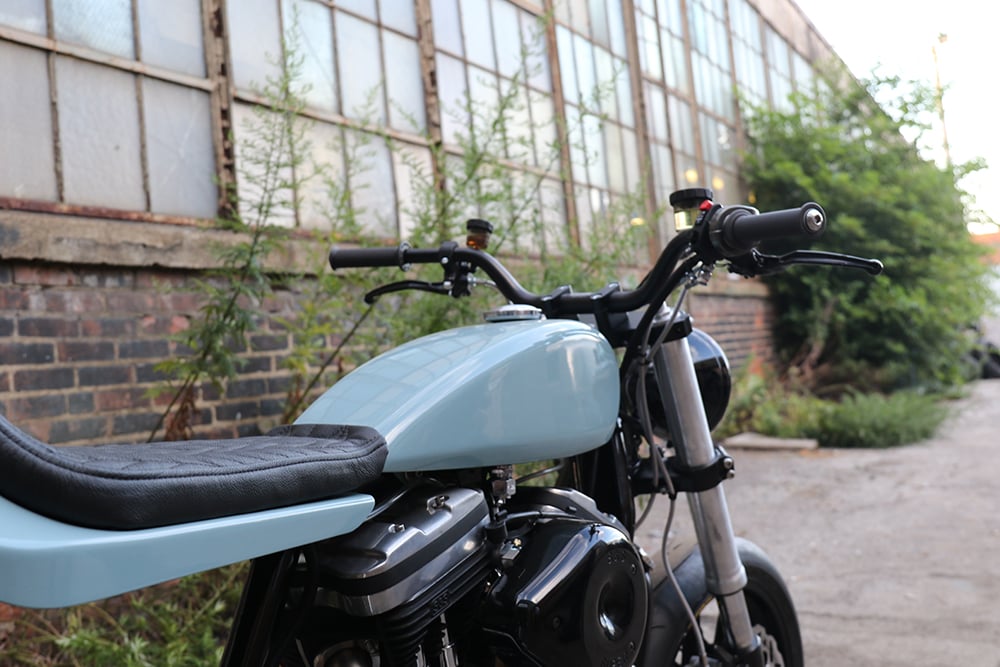 All in all, it's an incredible build with a unique style. It's a little tall for me personally to ride, but hey, maybe Kevin will let me rip it down the road anyway!