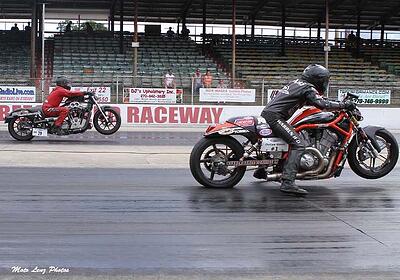 The Summer Shootout Nationals in Beech Bend Raceway Park Bowling Green KY proved to be a scorcher! Once again, the threat of thunder storms was in the area all weekend but heat and humidity is what the racers had to deal with while leaving conditions less than desirable.
Despite the weather, some good times were still put in over the weekend. Tim Grindle ran 160.31 mph in testing Friday with his new 144 inch Pro Stock S&S engine from GMS Racing Engines but as the conditions grew worse, and clutch issues started, he was unable to back the numbers up. Gregg Dahl would put in some good numbers as well with a qualifying pass of 5.530 in the 8th, 8.580 in the quarter, but again heat and humidity kept him from backing up the numbers.
In eliminations Gregg Dahl managed to squeak by after standing his bike up on the rear wheel and throwing the chain at about the 330 and drifted through the finish line at 56.85 mph over Greg Baugh,s sputtering machine that got to the stripe running 81.77 mph, but Dahl's reaction time gave him the win.
On the other side of the ladder Charlie Douglass put Ken Miller on the trailer with a 8.787 to a slower 9.109 putting himself into the semi finals. Tim Grindle's .142 at 157.85 mph did not stand up to Nick Gonatas's .053 reaction time at 149.28 mph matching up two riders that have been running consistent numbers all weekend. As the tree dropped, Douglass's -.038 red advanced Gonatas into the finals setting the stage for a rematch or would it be a repeat of Rockingham?
The weekend would end just like Rockingham as Nick Gonatas of Youngstown Ohio would put his Warren Harley-Davidson V-Rod in the winner's circle with a whole shot win of 8.782 over Gregg Dahl's 8.813 GMS Racing Engine's FXR.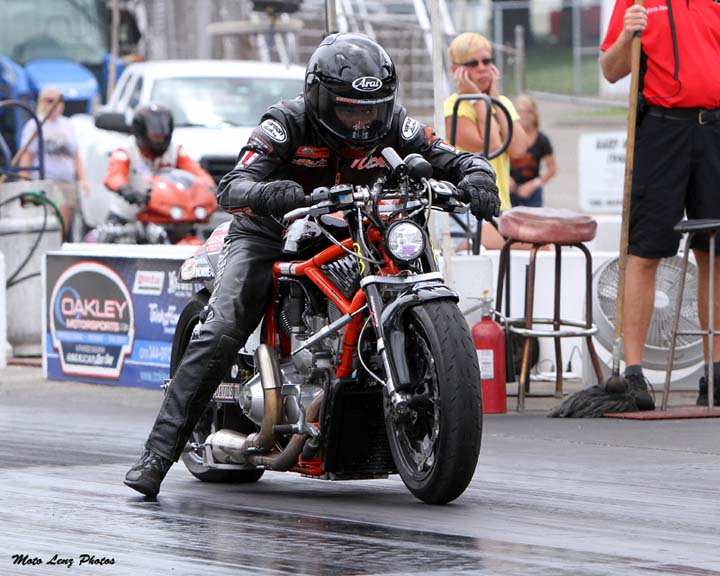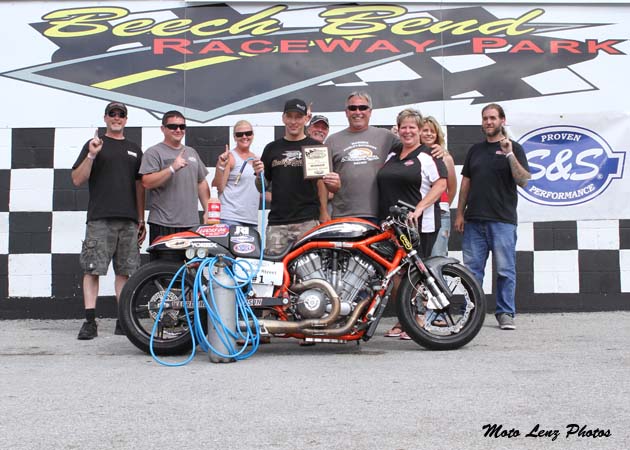 Story by: Michael Davis Moto Lenz Photos