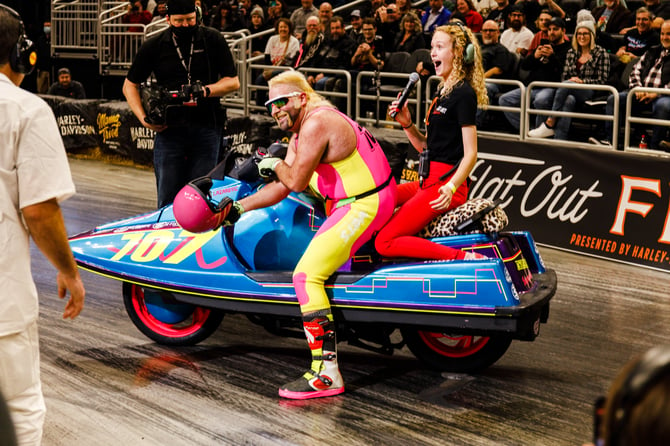 If you're a fan of motorcycle racing antics, Flat Out Friday never disappoints. Born from the Mama Tried bike show in Milwaukee, Wisconsin, FOF has evolved into a must-see winter event. For the uninitiated, Flat Out Friday has taken Hooligan racing (small track, big Sportsters) and added Boonie bikes, brakeless, women's classes, 450's, and the fan-favorite "Inappropriate Class" as well as offbeat sideshows and even a kids bicycle race. There are no dull moments at these events!

This year was particularly unique because the race was held at the newly constructed Fiserv Forum. Typically home to the Milwaukee Bucks and several other well-sorted sports and concerts, we were all a bit surprised they'd allow the Hooligan bunch to potentially soil their pretty arena. This past Friday, we did precisely that, and it went off without a hitch.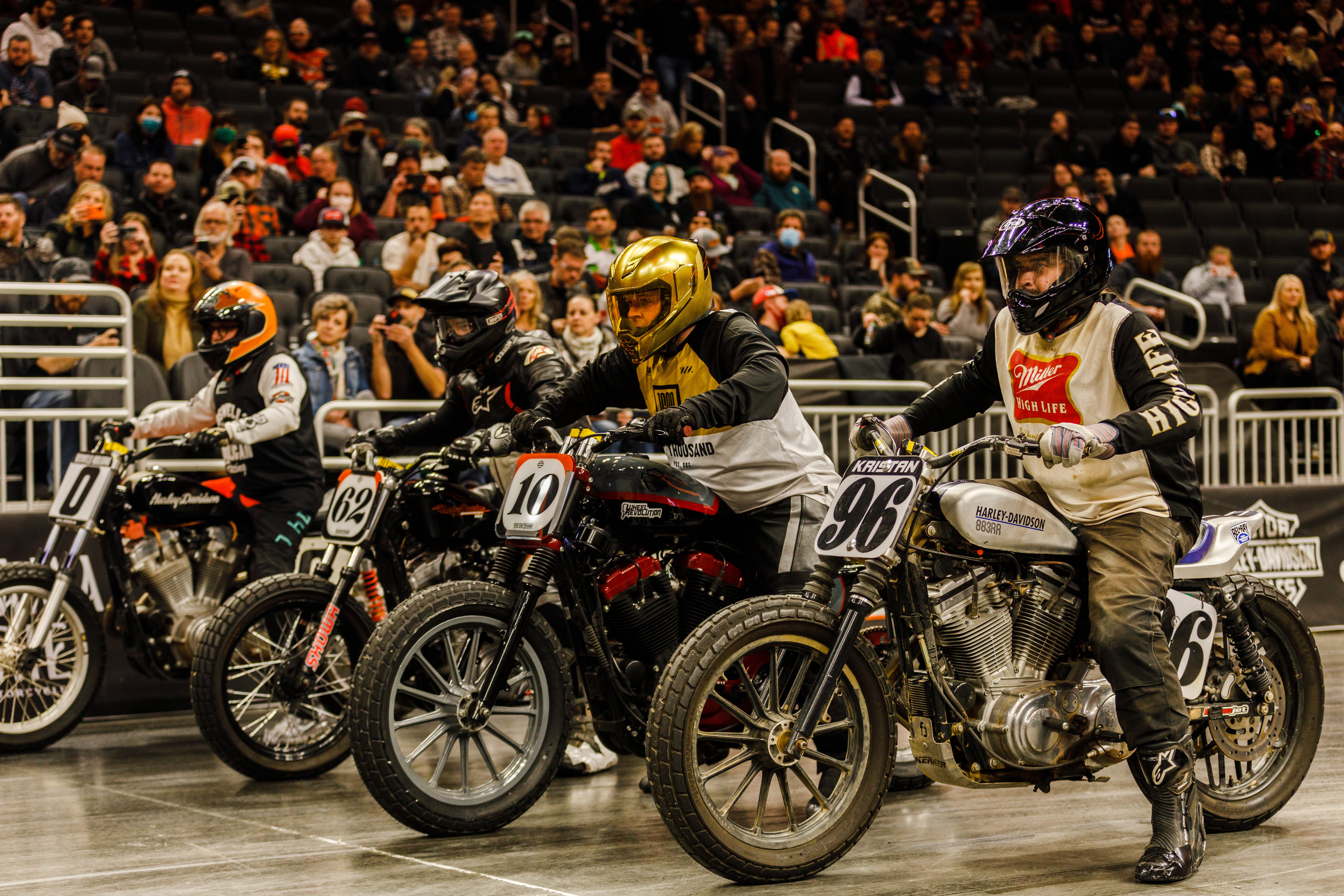 Added bonuses to the Fiserv arena were high-quality audio and legit jumbotron and a fresh group of announcers, including the voice of BMX, Micah Kranz, flat-track legend Jeffery Carver, and floor reporting by the bombastic Chatty Madi. The combo made for solid play-by-play and interviews.

Nearly forty (40!) Hooligans lined up across four separate heat races with our own Hunter Klee campaigning a very custom-built Indian FTR1200. He managed to stay up, but a fair number of the field hit the concrete of the basketball court-sized track. Of note was J.J. Flairty's epic get-off that had him bounce off his machine and put him on top of another rider's bike before finally hitting the ground. Despite a back-of-the-field start, he came back for a second (Hope you heal up, JJ!).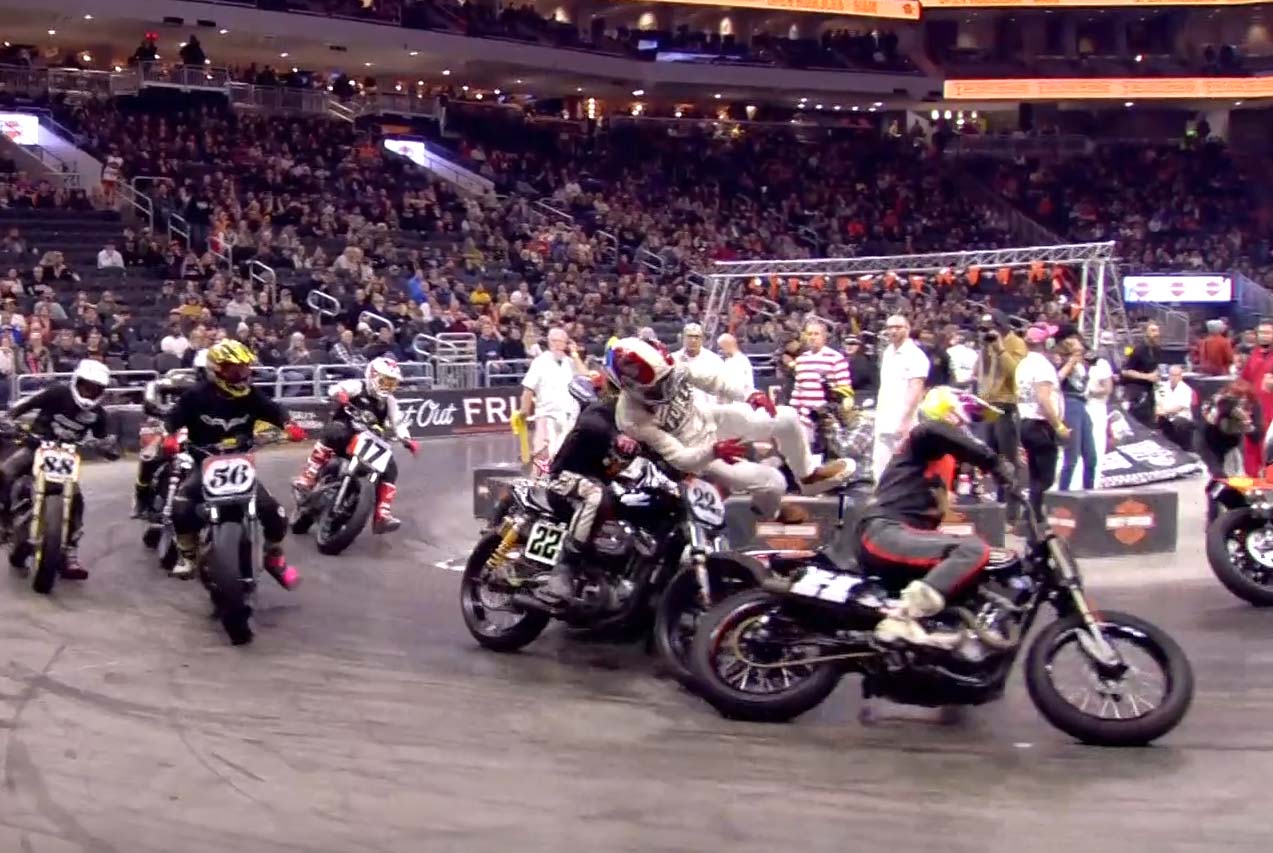 The eventual winner of the Hooligan program was Danny Mischler after an epic battle that had a disturbing number of this class on crutches the next day (you ok JJ?)

The Boonie Bike program is a crowd favorite as well, and at one point had twenty plus bikes on the diminutive track. These guys roll hard and have elevated the pull start mini bike to new levels. Full suspension? Sure not a problem. 12" slicks and five hundred percent increase in horsepower? Yeah, that's happening as well. Boonie runs some of the smallest motors, but is easily the most aggressive racing of the night.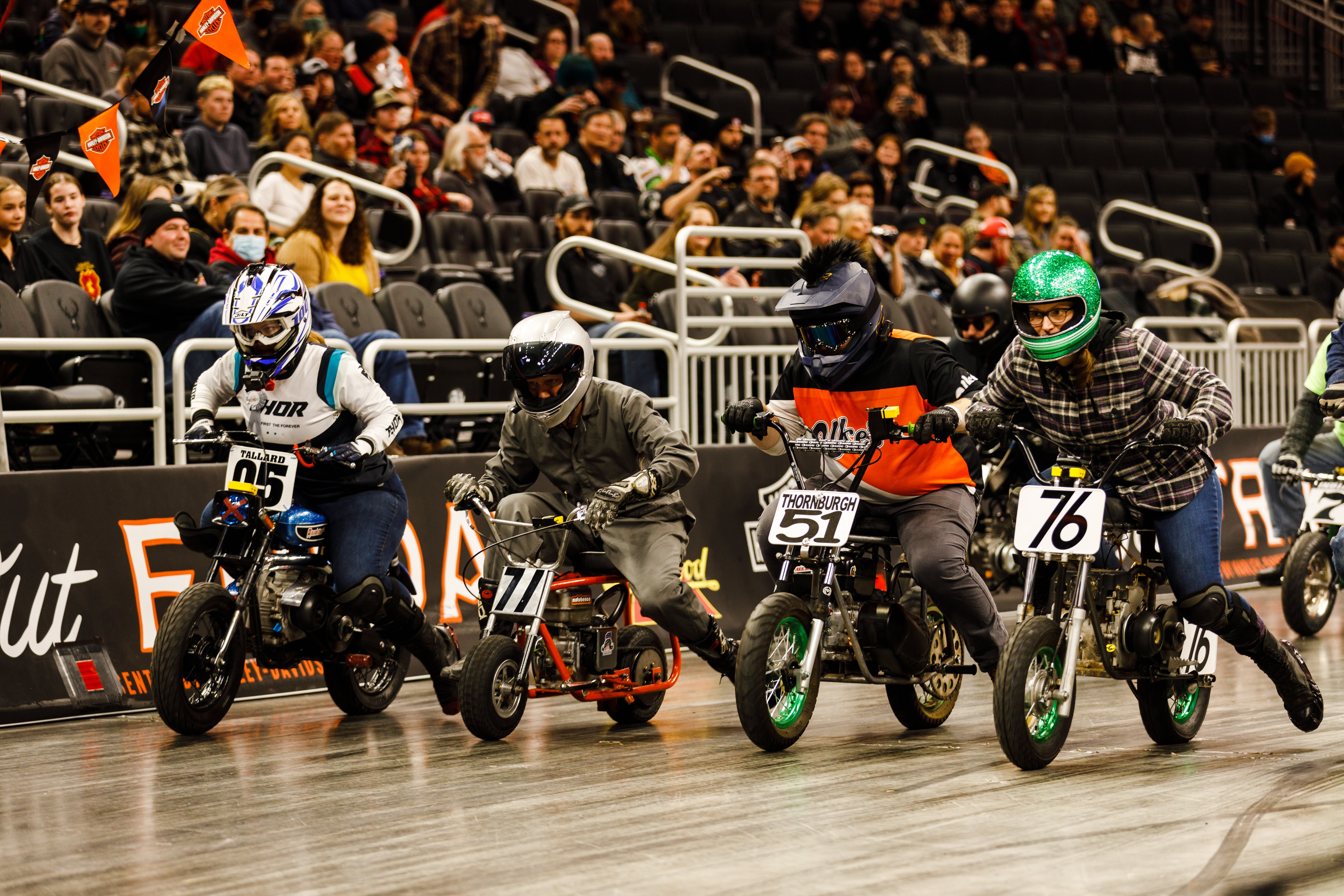 749 Class consisted mainly of S&S equipped Royal Enfield 650 Twins and was won by Eric Moldenhauer with the unstoppable Malary Lee (who ran two other classes as well!) pulling a close second.
Next up was women's Hooligan, and other than a handful of blond locks, there was little difference between the checkers or wreckers style of the men's class and this group. Red flags, bar slamming, and riders exiting on a stretcher were par for the course. The main saw S&S equipped Amanda Flanscha make an outside pass on Malary Lee for the last lap win.
One of the more unique and absolute favorite classes is undoubtedly the Goofball group, where the only rule seems to be riding something entirely wrong for racing. Kawasaki Jet Ski Against rolling outhouse, battling Santa Clause and a dual engined minibike sidecar? Yeh, they got you covered. Marko Lazarevic on the Jet Ski was the absolute star, stuffing riders and battling hard against the rolling Porta Potty and finishing it up with a smokey burnout. His podium speech was made even better by a period-correct bleached mullet and a still in-character explanation of racers trying to pass on his starboard side, getting caught in his wake, and credit to a new prop that minimized cavitation and gave him a solid launch.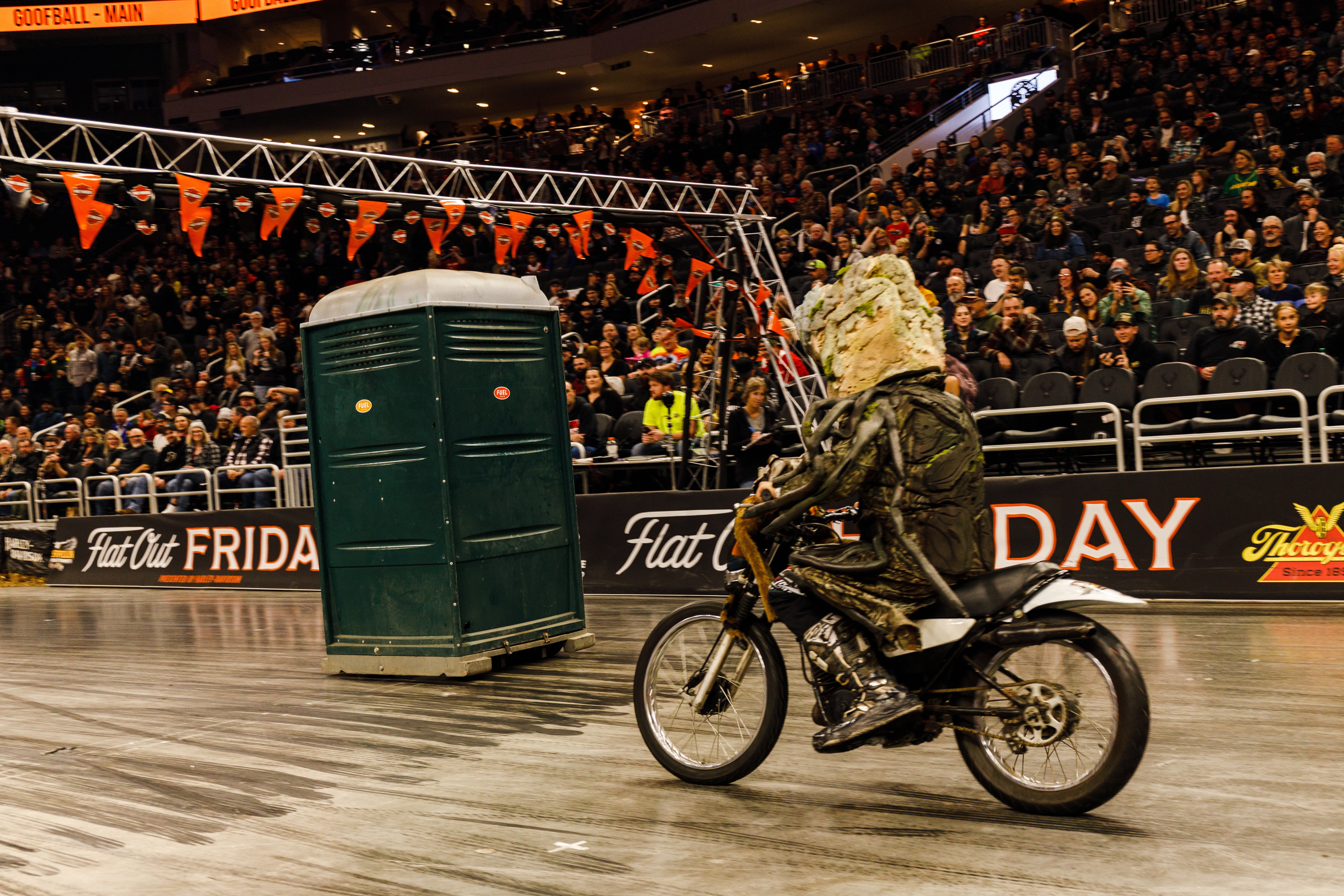 What's our takeaway?
Flat Out Friday is a yearly reminder not to take ourselves too seriously, motorcycles are still fun, and we need to build more Boonie Bikes!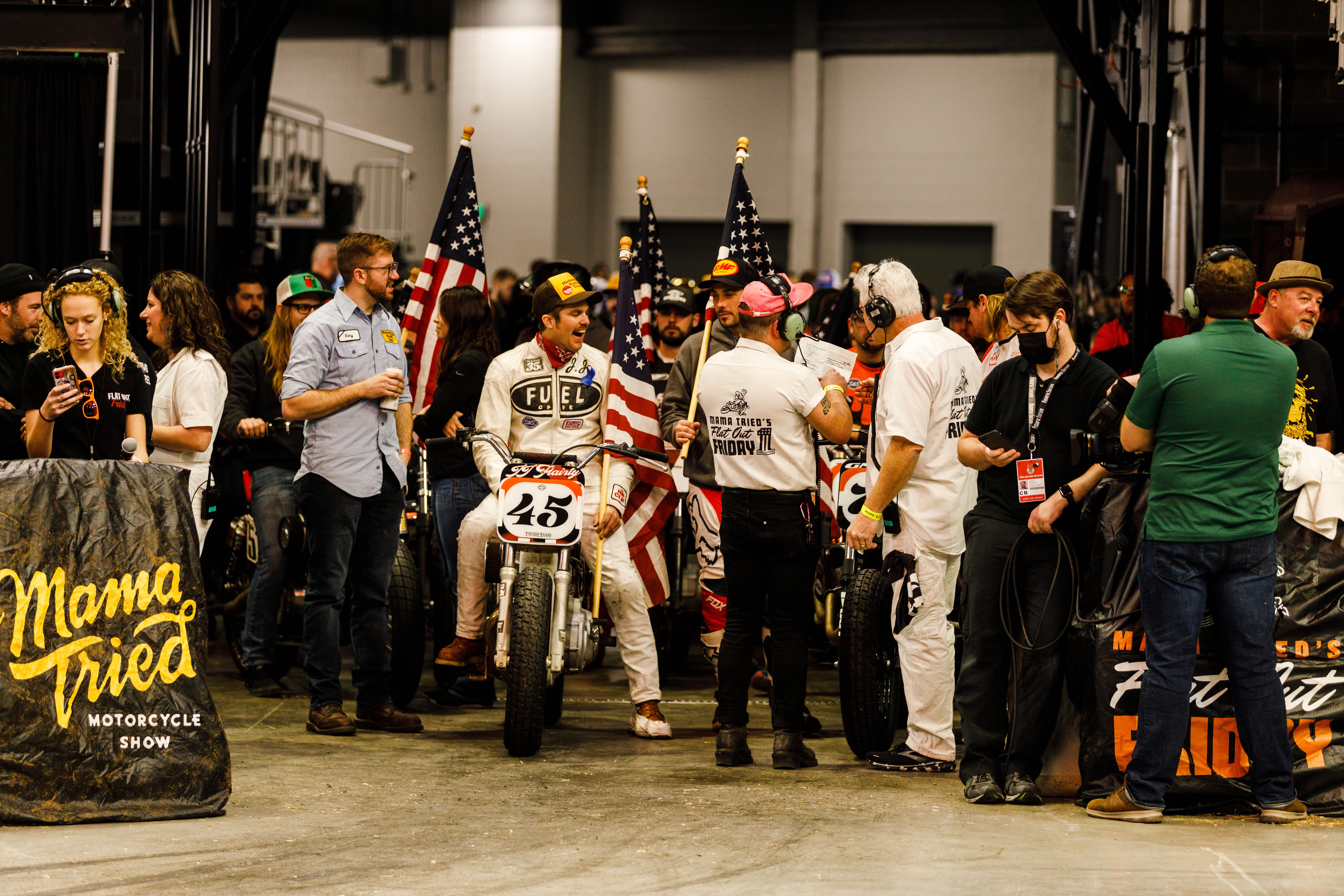 The Flat Out crew is returning this event on its original schedule and will be back in early March. We also recommend you grab the broadcast of this year's event to catch the rest of the classes and all the gory details of Hooligan heroes and Boonie bombshells!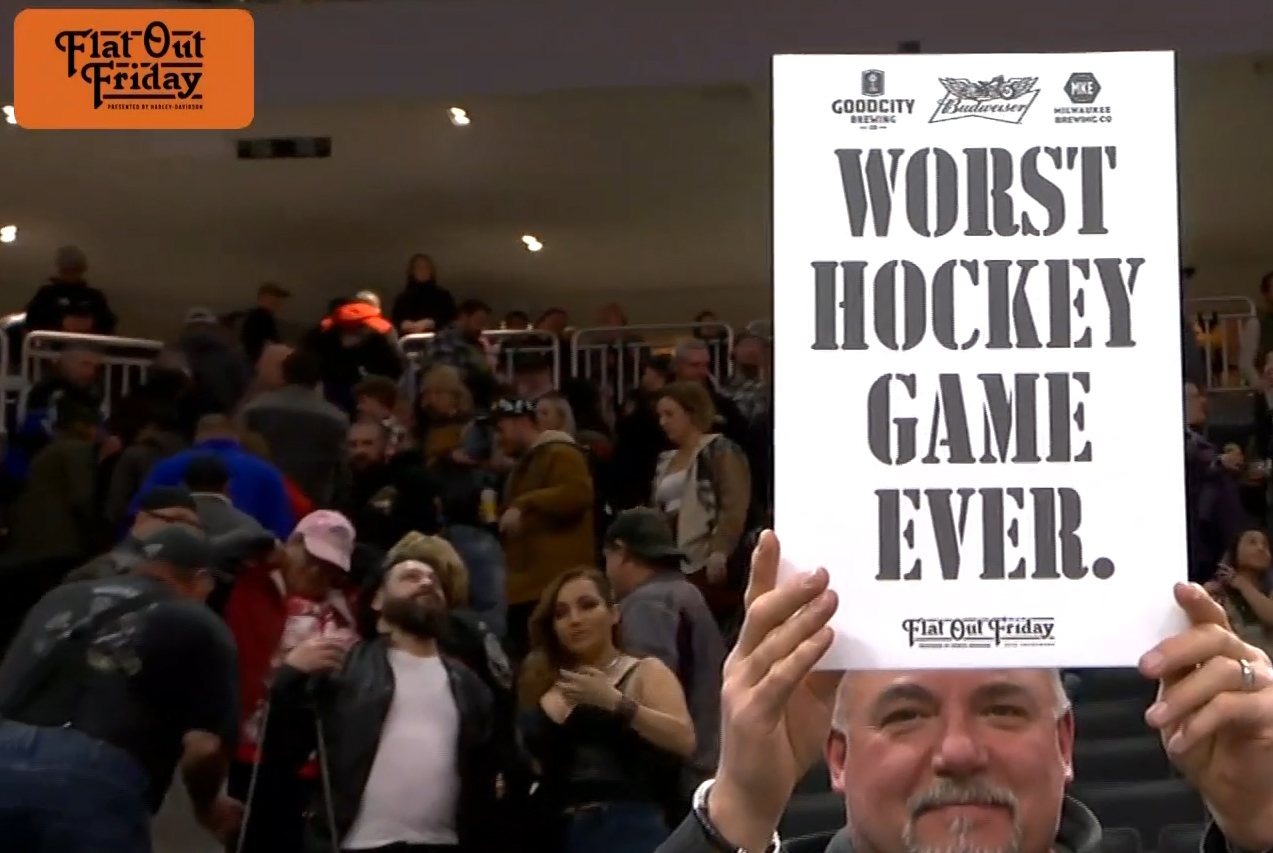 For more info on the Flat Out Friday races including classes, results, and how to sign up for upcoming races check out their website: Flat Out Friday Site!