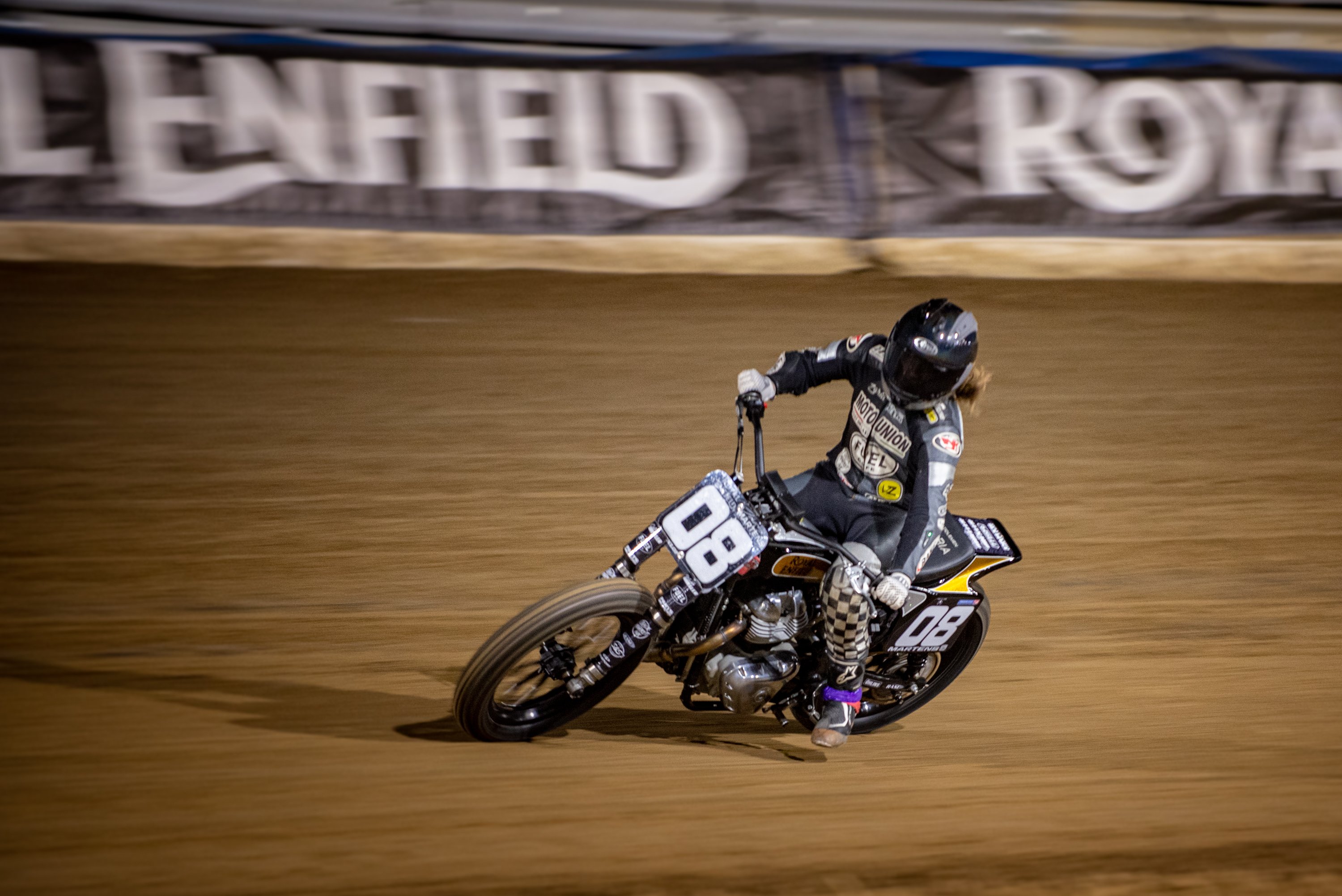 What is Build Train Race? Why is S&S involved? Are the racers really all girls?
These are just some of the questions we've been asked regarding our involvement in the BTR program. The brainchild of Royal Enfield's US marketing guru, Bree Poland, the race series is far more than, well, a race series. Build Train Race has garnered the attention of not only performance companies like S&S but race promoters, popular media, and a legion of race fans. BTR peels back the traditionally secretive process of race bike construction and rider training, instead opting to let the raw emotion of two-wheeled competition become part of the narrative.
Born in late 2019 as a tool to support the launch of RE's then-upcoming 650 twin the program is exactly as described: building, training, and eventually racing, and yes, the field is all female. "I've always wanted to do something that really showed that women riders are capable of, and the launch of our 650 was the perfect opportunity," shares Bree. From day one, she hand selects each racer, looking at their ability to ride as well as wrench, although a race pedigree is not mandatory (that's where the "train" part comes in!), it's not overlooked either. The end result is a competitive and fairly closely matched grid.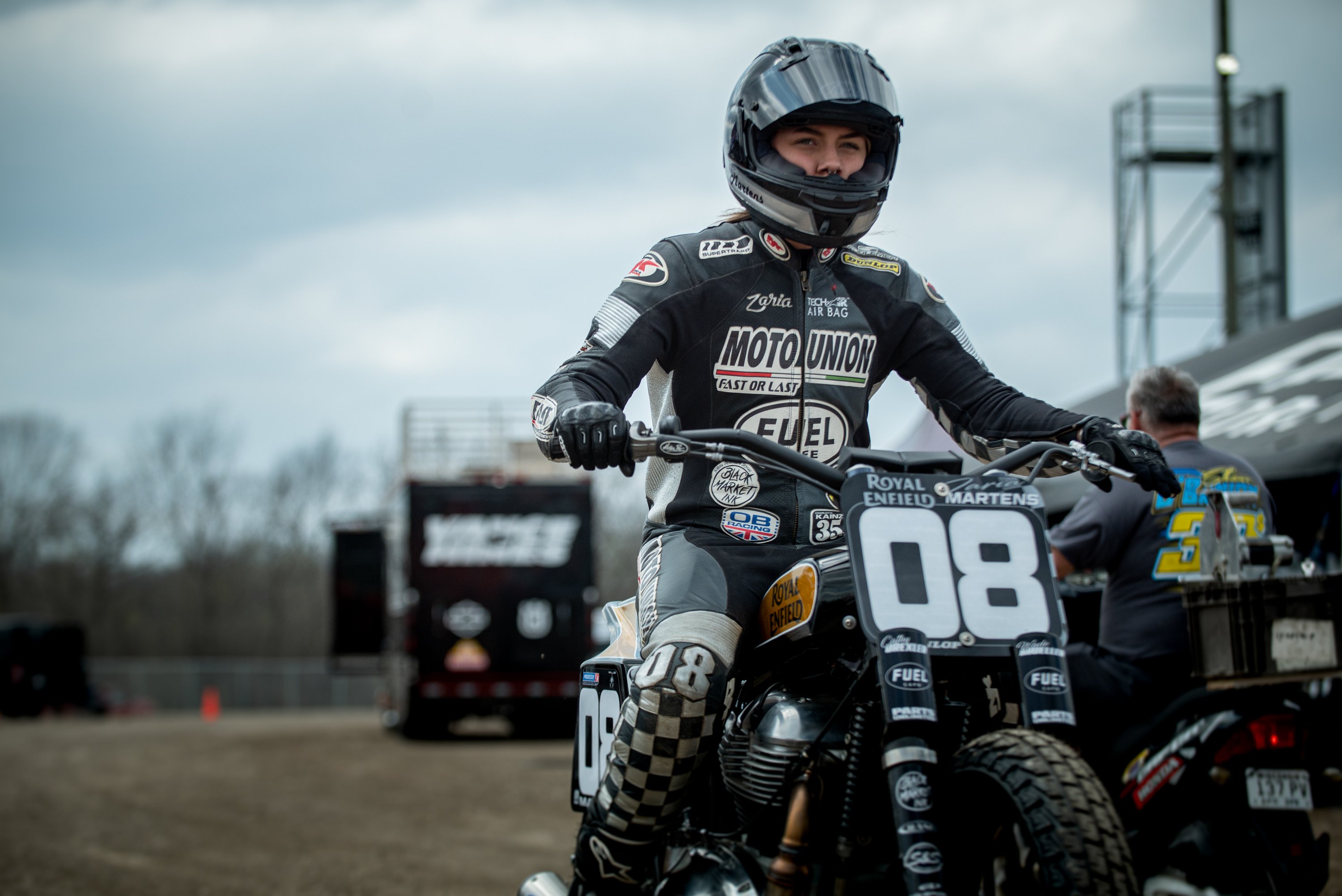 Once a rider is vetted, they are sent a fresh Royal Enfield 650 Twin and a clear set of rules for their build. Internal engine mods are banned (although more than a few have slid into our DMs looking for a cam or other performance hookup!). The bikes generally use a few spec parts, including the S&S Qualifier exhaust, Dunlop tires, and Harris Performance foot controls, while the motor internals remain stock.
After that, they are given free rein. Oh, did we mention Royal Enfield added a road course version as well? "We launched the initial program focused on flat track racing with a handful of girls and a couple of companies helping us make it happen. It's now expanded to include road racing, and we're looking at other disciplines as well," explains Poland. The road race version is governed by similar rules, and both have proven to be fan favorites.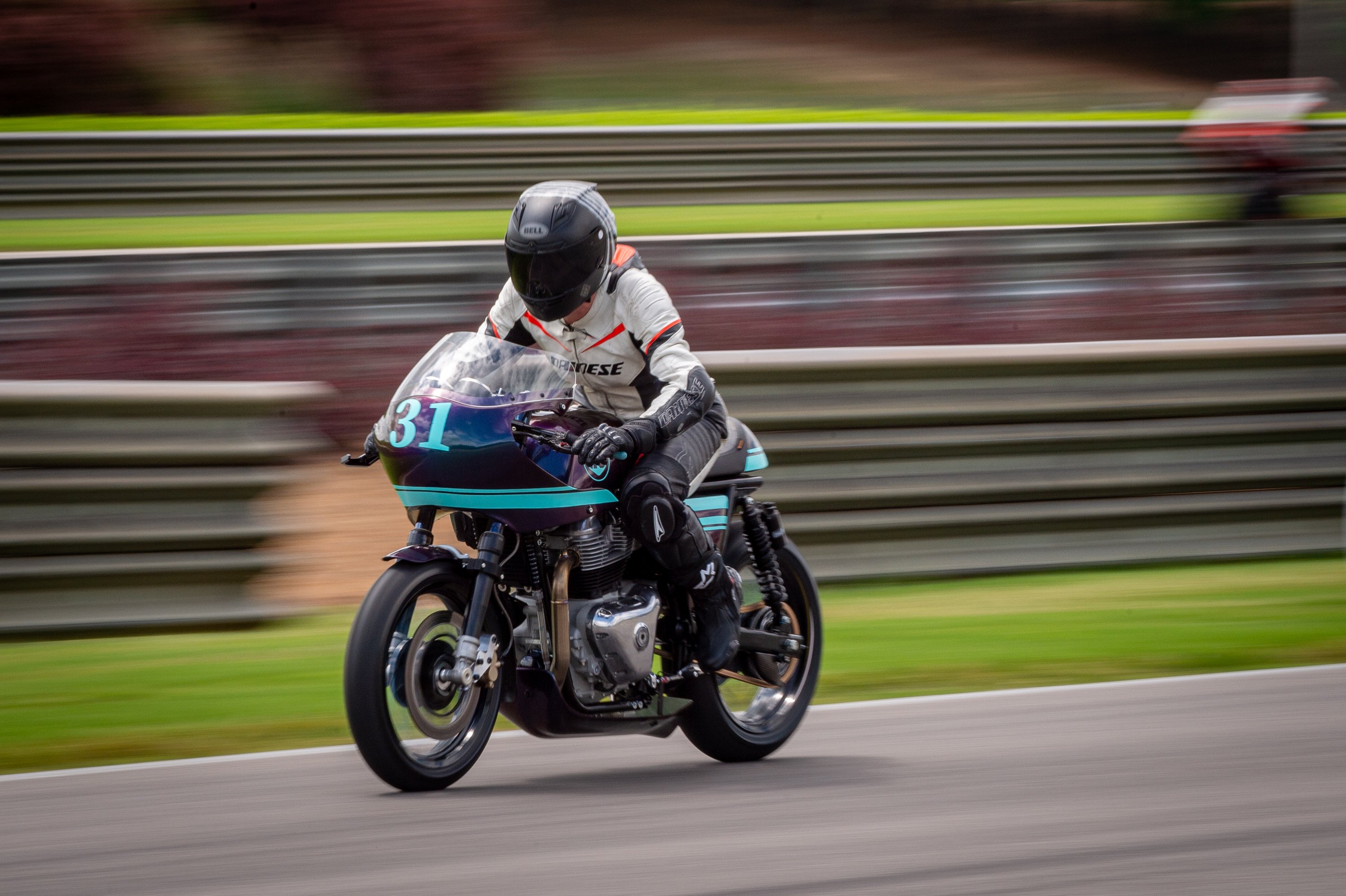 The builds usually take about ninety days to complete as a basic formula and aftermarket support are now largely established. Wheel swaps are a must-do, with the flat track crew going to 19" and the asphalt riders opting for 17". Many get laced to factory hubs by Dubya in So Cal, and both mods are done to fit the best rubber possible for their intended track surface. Suspension is next, and we're seeing some serious creativity here. Road racer Ash Truxal opted for high zoot Ohlins on both ends. "These forks are massive and require a Harris Performance triple tree, adapters for the stock hubs and stock brakes, and constant fine-tuning, worth every bit of the effort!" shares Ash.
Working our way up, the full stainless two into one Qualifier exhaust is prominent on most of the grid, as is our air filter and high flow air box kit that eliminates the restrictive cover. Although the bikes generally put down only a handful of horsepower over stock, they have proven to be pretty damn capable of getting around both dirt and asphalt courses.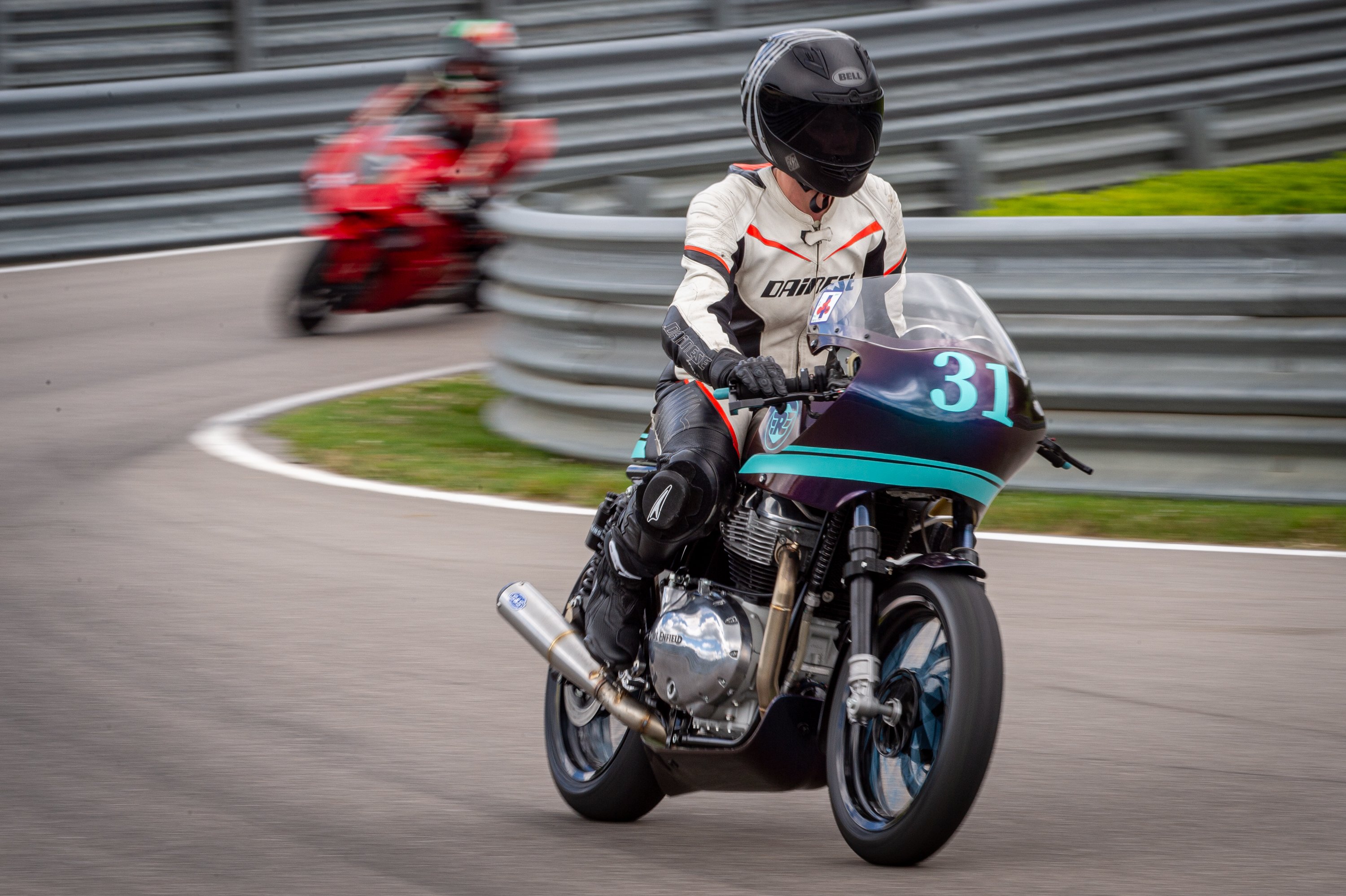 Bodywork and rider touch points have seen some amazingly clever solutions, such as shorty tanks that let the racers transfer weight further forward on the bike as well as billet foot controls and seating designed to put each racer in an appropriate position on the bike as well as better fit a shorter reach. Not surprisingly, paint has become just as competitive as the actual racing, and many of these machines could hold their own on the show circuit as well. Kaiela Hobarts gold metal flake flat tracker is one of our favorites as well as Anna Serena's banana-covered bike.
Once the girls are done with their bikes, the program moves on to the training phase with classes all over the country. Not your average riding school either, as many are taught by top-notch racers on the very tracks they will later race on. "I've raced singles since I was seven years old, and thankfully with the support of my team along with pointers from mentor/trainer Sandriana Shipman and Royal Enfield's team rider Johnny Lewis the transition to a twin has gone quite well. I have been able to make the podium every race so far." shares eighteen-year-old Zaria Martens.
Each class is discipline focused and designed to prepare the racers for full-scale battle. "This is not a powder puff class. These girls are brutally competitive and not afraid to mix it up at full throttle," shares Bree. Yeah, she's not kidding there. The BTR program is now a regular at top-level tracks like Road America and Laconia Short Track, amongst others. The desire to win at all costs is no different than any of the other classes. "We love this series on so many different levels. The RE 650 is an amazingly solid bike, the builds have been fantastic, and these riders are absolutely out there to win. On any given race day, I bet they bump bars more than some of the pro classes, making them more fun to watch!" Says S&S Director of Marketing Jon Montgomery.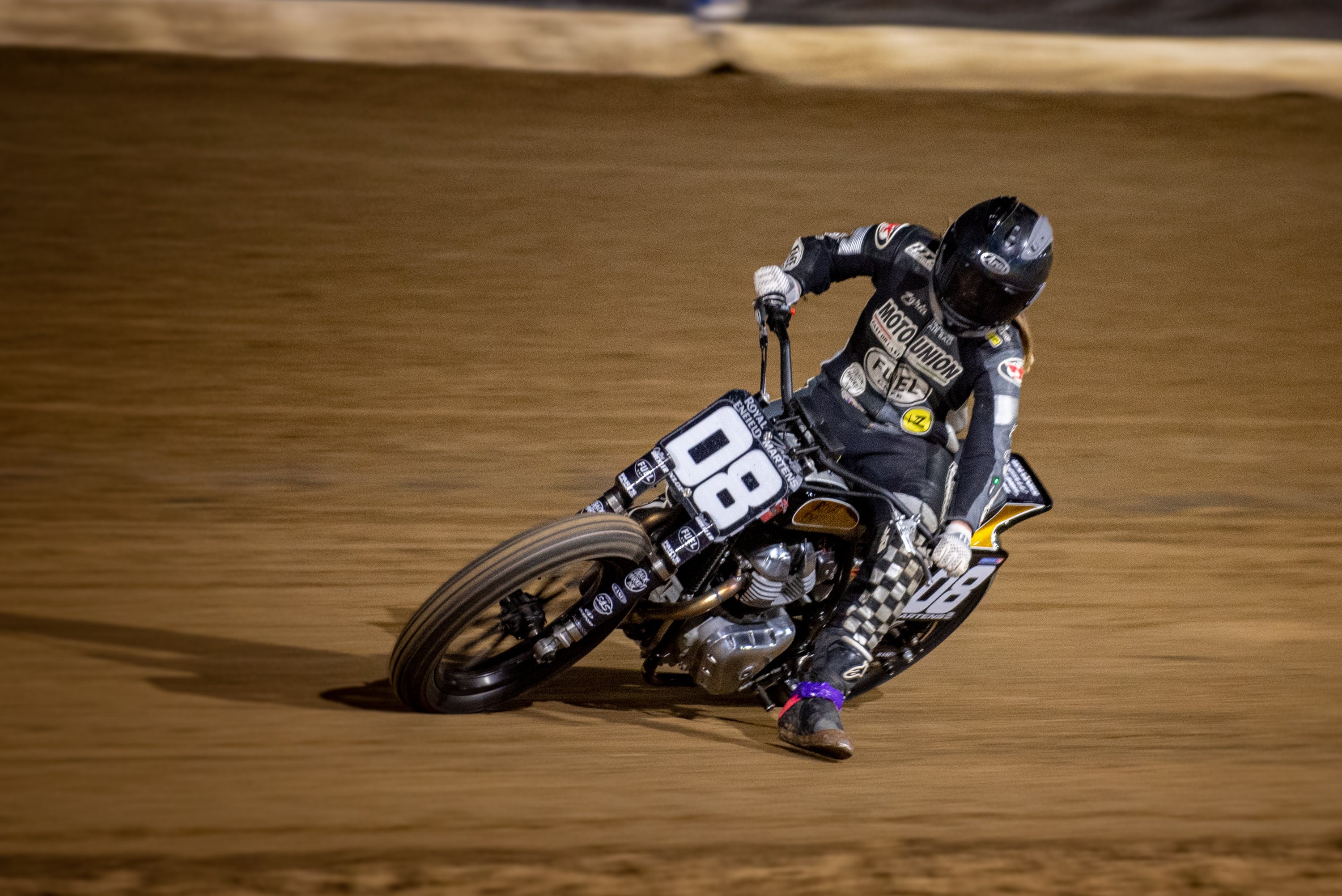 Jon's not wrong. The competition level is legit with just enough Checkers or Wreckers attitude to keep us glued to the live feeds from start to finish. Making it all possible in the paddock is the force of nature Anne Roberts as well as Meg Ryan from Ohlins, while road race Crew Chief duties are handled by Kyle Dahl. Filling the same role on the flat track side is Erik Moldenhauer, with training duties handled by Production Twins competitor Johnny Lewis, who not only instructs but competes on an RE 650.
The bikes are transported to each event in a 53' hauler (15 bikes on each level!) that also serves as a basecamp during the races. Most recently, the rig and the racers held court at Road America, arguably one of the premier road courses in the US. This four-mile track snakes through the woods of Eastern Wisconsin and is home to some of the fastest two and four-wheeled racing in the country. The Build Train Race crew were clearly not intimidated by the legacy of this storied race course or the adverse weather and put on a wild show despite a less than dry track, making them one of the highlights of the rain-shortened weekend.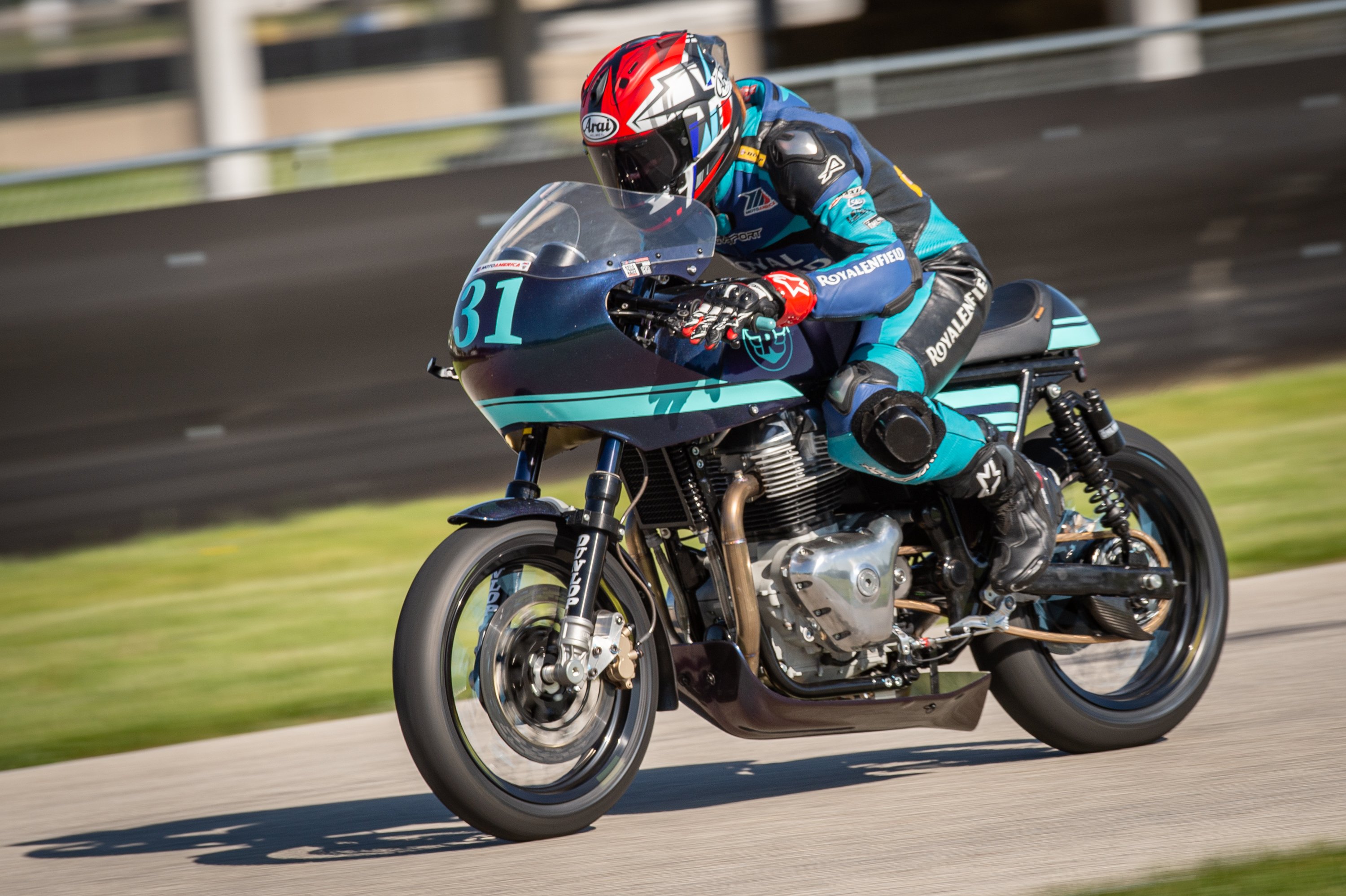 So why is S&S involved?
Seriously? After reading this far, you're still asking? Proven Performance is our middle name, and nothing proves it more than Racing! Mix in purpose-built bikes and a very well-organized program, and how could we not be engaged? Although the BTR paddock is not allowed to use it, did you know we build a big bore kit for the RE 650 Twin? Did you know the stainless Qualifier exhaust is available in a street version, and our high flow intake is sold worldwide?
If you have not had the chance, follow the BTR program or any of the racers on your favorite social channels and catch them on the live feeds of both MotoAmerica's road race series as well American Flat Track's dirt program (links below). The only question you'll have after that may very well be, where's the nearest Royal Enfield dealer?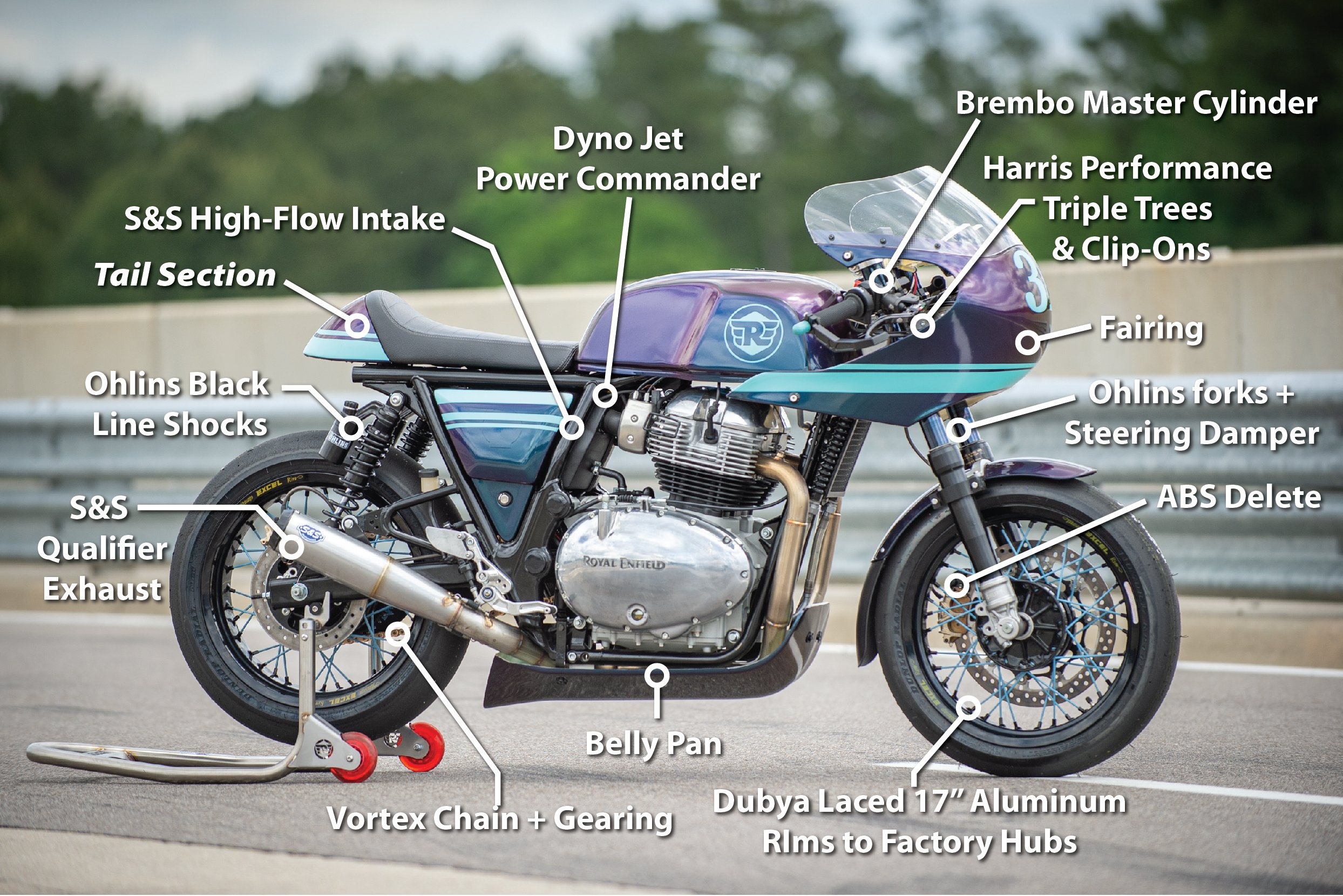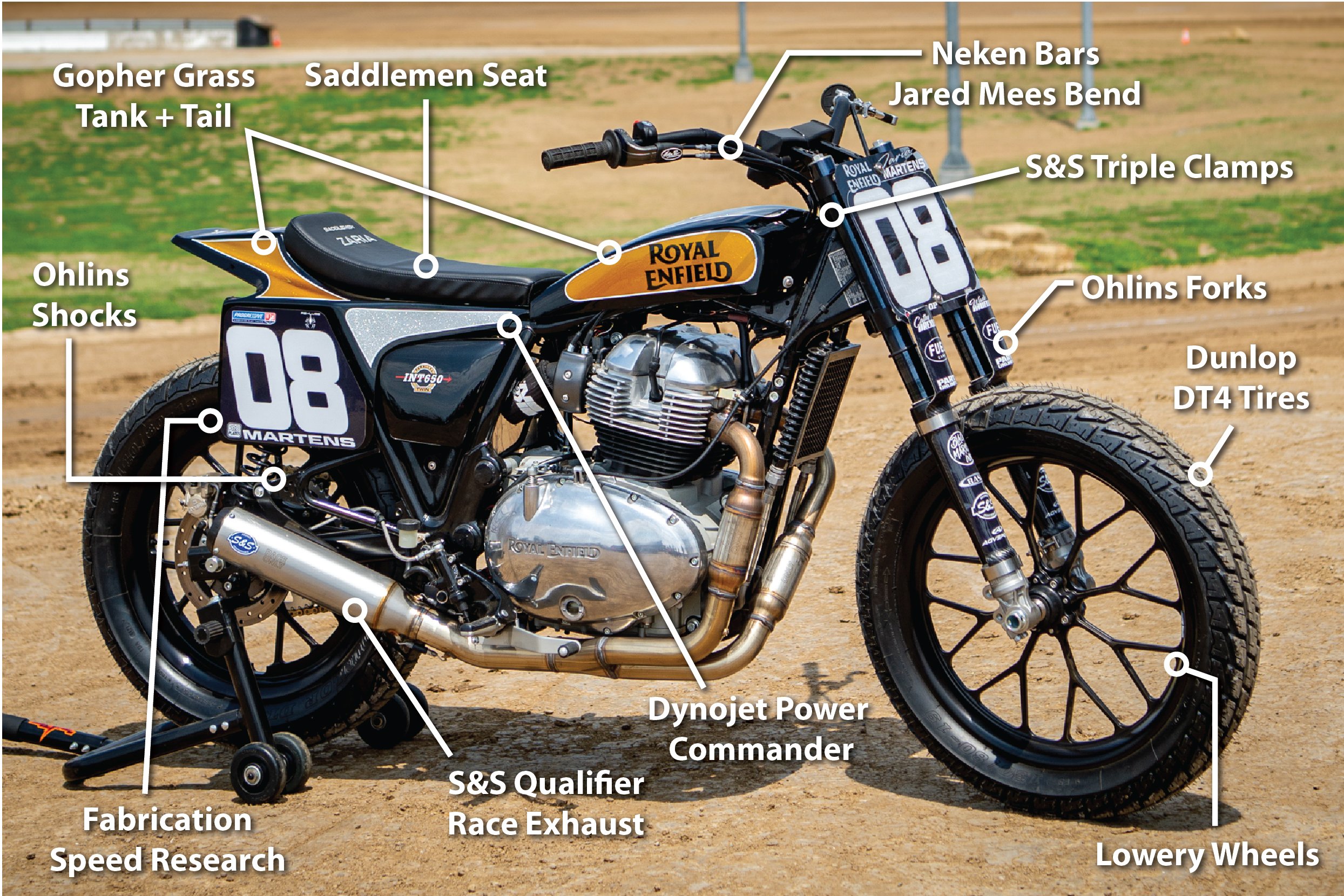 Links to check out!
S&S Performance Parts for the Royal Enfield 650 Twin