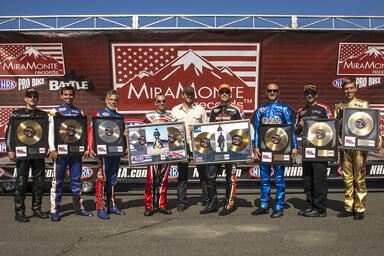 Despite some spirited competition from riders Scotty Pollacheck and Jerry Savoie, the Harley-Davidson team took a double win at the Mello Yello NHRA Sonoma Nationals at Sonoma Raceway in California. Eddie Krawiec took the event win while teammate Andrew Hines won the MiraMonte Records Pro Bike Battle special eliminator.
The MiraMonte Records Pro Bike Battle is an event modeled after the historic Wax Shop Dash. An elite field of eight riders is seeded based on points earned during qualifying throughout the season. Eliminations for the Bike Battle are held on Saturday with a total purse of $61,000 - $25,000 of which goes to the winner.
It has been five years since the Pro Stock Motorcycle class has had a specialty event. The last Bike Battle, held in 2009, was sponsored by Ringers Gloves.
The contestants for the 2014 MiraMonte Records Pro Bike Battle:
| | | |
| --- | --- | --- |
| 1. Eddie Krawiec | Screamin' Eagle H-D | 1,295 |
| 2. Hector Arana Jr. | Lucas Oil S&S Buell | 1,290 |
| 3. Andrew Hines | Screamin' Eagle H-D | 1,175 |
| 4. Matt Smith | NitroFish S&S Buell | 1,120 |
| 5. Michael Ray | Gottspeed/Star Racing S&S Buell | 1,105 |
| 6. John Hall | DrinkHard S&S Buell | 1,055 |
| 7. Hector Arana | Lucas Oil S&S Buell | 1,000 |
| 8. Scotty Pollacheck | Petrolhead S&S Buell | 970 |
The surprise of the Bike Battle eliminations came in round one when Scotty Pollacheck cut a .008 reaction time to score a holeshot win over top-seeded rider Krawiec, 6.841 to Krawiec's quicker 6.814. Pollacheck went on to beat his team owner, Matt Smith, to make the final.
Hines took out John Hall and Hector Arana to face Pollacheck in the money round.
Pollacheck got the holeshot in the final with a .016 light but could not hold off Hines. The Harley had a four foot lead over the finish line, 6.835 to Pollacheck's 6.866.
While the Bike Battle was being contested, Suzuki rider Jerry Savoie claimed his first-ever #1 qualifying performance with a run of 6.810 seconds at 197.86 mph on his White Alligator Racing entry.
It was Savoie's first number one qualifying performance in his four years of Pro Stock racing and the first time a Suzuki qualified number one since Steve Johnson took the pole at Englishtown in 2013.
Following Savoie in qualifying were Krawiec and Hines both with 6.81 timeslips. The top S&S Buell was Pollacheck, placing fourth at 6.841. Buells held five of the top eight positions.
The likable Savoie, an alligator farmer from Louisiana, is popular among the other racers. They cheered him on as he advanced with some of the quickest laps of eliminations to make his third career final. He ran 6.819 in the first round and 6.819 in the semis against John Hall to earn lane choice over Krawiec in the final.
With seemingly the entire field of Pro Stock Motorcycle racers standing behind him as he staged for the final, Savoie broke hearts, turning on a -.014 redlight to give Krawiec his second win of the season.
The next event on the NHRA Pro Stock Motorcycle tour is the Chevrolet Performance US Nationals at Indy over Labor Day weekend. It is the last event that riders can earn points to get into the playoff "Countdown" that will determine the Mello Yello championship.
The top 10 riders advance to the countdown. Angie Smith and Steve Johnson sitting in the ninth and tenth spots are most vulnerable but Adam Arana, Savoie and Chaz Kennedy have an uphill battle, being at least three elimination rounds behind.