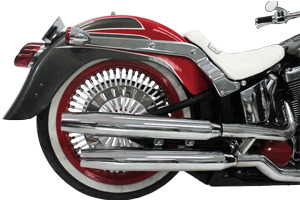 S&S Cycle generally brings a couple of motorcycles to the rallies to show off their parts, and of course it's a lot easier to get people excited about your stuff if it's on a cool looking ride, instead of an old rat. This year, the S&S events department decided to showcase some of our parts for older Twin Cam 88® engines, and it was decided that one of our fleet of lab-rats would get the treatment. These are bikes we have in our stable that are used to test everything from cams to cylinder heads.
Needless to say, life isn't easy for these test bikes and sometimes things go wrong. But when life gives you lemons, you can make lemonade…if you can't find anything stronger. The bike we chose for the project is a 2001 Fat Boy®. Being part of the Softail® family, it's one of the first models in the Harley-Davidson® line to have Delphi® fuel injection. It also turned out to have a wonky flywheel assembly, as we found out when we dug into the engine.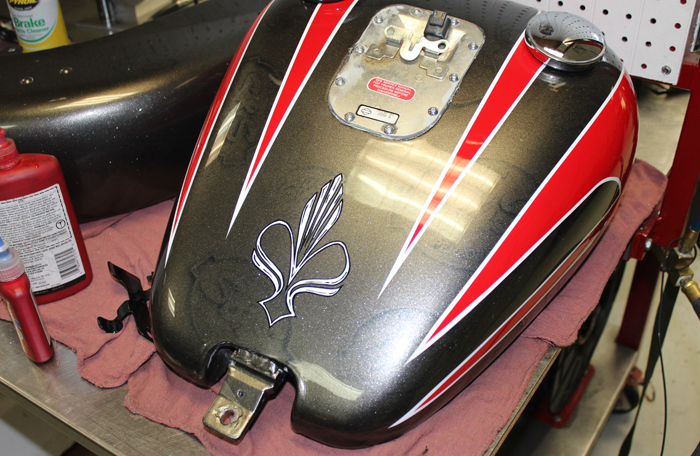 From a cosmetic standpoint, the bike was pretty much trashed, but that was no big deal since we have some really talented guys on staff that are more than capable of making it look good. Kevin Boarts is a great painter and fabricator and has done the paint on our show bikes for the last couple of years. Dean Young III is a great all around mechanic and customizer who has also been a key player in making our display bikes turn heads at the shows.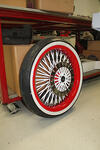 This bike was going to be redone in a California beach style, with an appropriately beachy name "Son Of The Beach." The plan included wide handlebars, really wild paint, white wall tires, and red wheels. That's all very well, but the bikes we take to the rallies have to run. That's where it got a little weird.
The original plan was to install an S&S 97" top end, and CNC port the stock heads. The only problem was that when the stock top end came off, it was discovered that the flywheels were going south for the winter. Not such a big deal, because we have some new flywheels that we wanted to showcase anyway. We'd just replace the ailing stock lower end with a set of the new S&S three-piece flywheels. That was plan B. Then someone got to thinking and reasoned thusly: "If we have to replace the flywheels anyway, why not put a set of 4-3/8" stroke wheels in it and make it a 96" engine?" It got better. "Why not make it a 103?" And better. "Let's put a 106" big bore kit on it!" All valid options, but bigger is better, and biggest is best. So 106 it was. If you're going to spend your money, why not get all you can for it?
The engine was taken out of the bike in the R&D shop at the S&S facility in Viola and sent up to the S&S Service & Speed Center (S&SC) in La Crosse for the engine build.
At the S&SC, Tom Smith took the engine completely apart and inspected all the bits. In addition to the flywheels, he discovered that the pins that hold the counter balancer plate in place had gotten loose and had wallowed out the plate. So some new stock parts were sourced from the local Harley-Davison® dealer in La Crosse.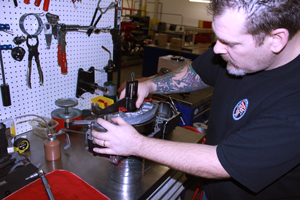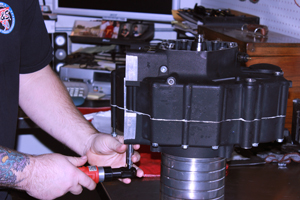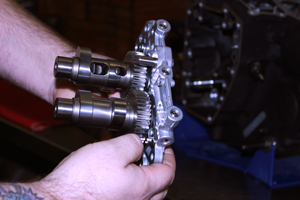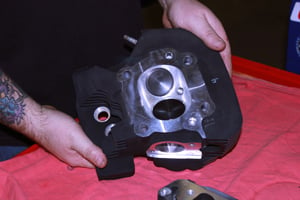 Once the engine assembly commenced, it was pretty much a piece of cake. Not entirely dissimilar to assembling a stock engine, except that when it was done, we had a butt kicking 106" engine, and of course, one fast Son Of The Beach!