story and picture by Matt Polito
After a two-race shutout, S&S power once again made it to the NHRA winners circle when Matt Smith took the win at the AAA Insurance Midwest Nationals at Gateway Motorsports Park in St Louis.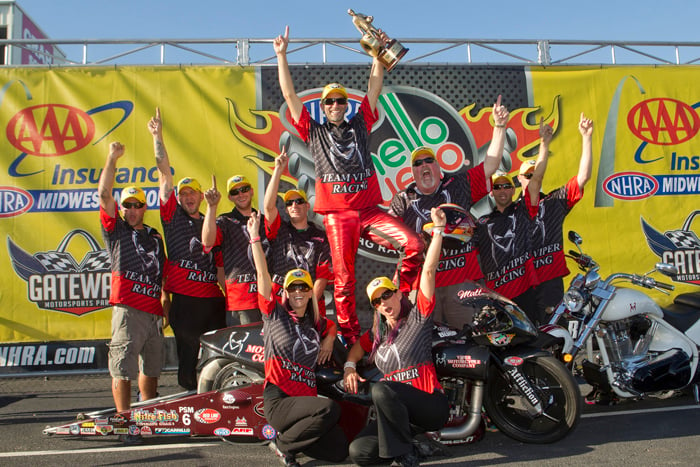 It was the second win of the season for Smith, who rode his S&S-Powered Viper Motorsports Buell to a final round victory over the Nitro Fish Suzuki of LE Tonglet 6.88 to 6.95. With the win Smith took over the points lead for the Mello Yello championship.
"I messed up so many times in the final this year," said Smith. "There were four races where I had the better bike but made I mistake. I wanted to make sure that didn't happen here."
The big news coming into St Louis was that Scotty Pollacheck, the number six ranked rider in the championship points, had left the Sovereign/Star Racing team for Smith's Viper team just two days before the event. Pollacheck made the semifinals on his new ride.
Pollacheck's former teammate Michael Ray led the field following the first day of qualifying at 6.84 at 195.79 mph on the Sovereign/Star Buell. He joked about having the crew for two bikes working on his one motorcycle. "We feel like a Top Fuel team," he quipped. "Too many people working on one bike. I have five really killer motors to choose from all weekend."
Hector Arana grabbed the spotlight in the final day of qualifying on Saturday, setting both ends of the track record at 6.796 seconds, 198.58 mph. "It bogged a bit but after that is was perfect," he said of the run. "We have been struggling with the consistency in our 60 foot times. Last year we were on top of the class in 60 feet."
Arana's 6.79 elapsed time was the quickest of the year in Pro Stock Motorcycle and his 198 mph speed was the fastest ever recorded for an S&S-powered motorcycle in NHRA competition.
Smith came from the third qualifying position to make his sixth final of the year. He beat the Harley-Davidson of defending series champ Eddie Krawiec in round two and Michael Ray's Buell in the semifinals before facing Tonglet.
Hector Arana Jr., who led the points all season long, lost in the first round and opened the door for Smith who now holds a commanding, 75-point lead with three races to go. Arana Jr. and his father are tied for second followed by Ray and Krawiec.
Smith's lead equates to four rounds of competition. "We have the dominant bike," said Smith. "I feel like I have the bike to beat."