For many, the great migration to the prehistoric lake now know as the Bonneville Salt Flats began a year in advance in preparation for the 10th Anniversary of the BUB Motorcycle Speed Trials. For one man in particular, Denis Manning prepared for his BUB 7 Streamliner to run during the week of August 25-29, 2013. As the year lapses he waits for the weeks prior to the event to scout for the perfect course Denis and his team spent many days leveling the salt into the smoothest and flattest surface on earth. The International course is 11 miles long with speeds timed at the 5-6 mile and the Mountain course is 5 miles long with speeds timed in the 2-3 mile.
This year, the BUB Motorcycle Speed Trails began on August 24th with tech inspection and a reuniting of a family of race teams and newbies who were welcomed with open arms. Everyone set up their pit area and walking through, you can hear the Radio Free BUB 89.7 FM from every angle as the announcer reports speeds of each motorcycle that zooms by. "That motorcycle took off like a scalded dog…" Out here, the goal of every team is to be faster than anyone else before them and many have succeeded by proving it on the salt under the governing sanctions of the Federation Internationale De Mototcyclisme (FIM) and the American Motorcyclist Association (AMA).
S&S Cycle was proud be a part of this history making event. Many of the race teams were running S&S products and we wanted to have resources available for support, report event happenings to our fans of speed and provide hospitality to all racers at the S&S Cycle Pit Stop.
"It's the end of the BUB 2012 event and we are on the long drive home. We are tired, worn down, out of clean clothes and want to get home, but all we can think and talk about is next year's event. Fast forward and here we are headed for the BUB 2013 event, full of enthusiasm and anticipation.
We've loaded the S&S 5th wheel and dually up with enough items to create a mobile hospitality area on the salt for racers and fans to visit, have a cool area to sit and enjoy a Wisconsin brat, hamburger, cheeses and cold water. This is also the area racers come to when they need parts or tech help which is where Dan, Jan and myself come in; we are pretty much on the go for the whole event.
This year's event had an added twist for me; I would also be riding a couple of the S&S supported bikes for the first time on the salt. Between assisting S&S racers, working on various bikes (don't tell Steve) and riding, I had a pretty full week.
The last day we break down the canopies and load up the trailer. Jan and I stuck around as some of the S&S bikes are in tech and I want to see if there are any engine concerns we need to be aware of. It's just as well, as I am tired, worn down and out of clean clothes any way, but plans were already being made for next year and I can hardly wait to get back. As I heard one person say to no one in particular "Coming to Bonneville is like going to a family reunion that you want to go to." Pretty well said.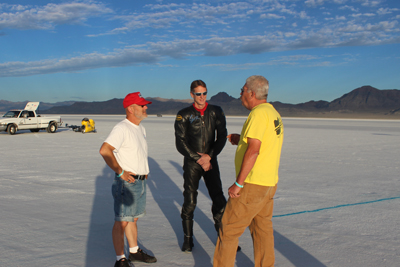 Gene Dlask – S&S Product Development Technician
I attended the BUB meet with the goal of providing support for the teams running the S&S Variable Fuel Injection (VFI) system. While I did get involved in a few of the carburetor tuning discussions most of my time was spent helping the teams review the data logged by the VFI system during each run and helping provide input for tuning changes based on that data.
For me the real highlight of the week was being able to work closely with the teams running the VFI. While helping review the data from a run I would become involved in the tuning and gearing discussions, shared in the trials and tribulations they encountered during the week, and could celebrate with them when they set records. It was a blast getting to work with each and every one of them.
Jan Smith – Emissions and Fuel Injection Specialist
This year Bonneville like last year was a bittersweet experience for me. Early morning in the dark we head out to the salt all excited to prep the bikes, tune the bikes and ride faster than anyone ever before in that class. . . . . oh, that's right, I am not riding today . . . . . bittersweet experience! I have had the pleasure of riding some of the fastest motorcycles in our time, loved the adrenaline high and now I very much enjoy helping others fulfill their dream of going fast and setting records.
Working at S&S and racing at the Bonneville Salt Flats has given me the honor of working with or alongside many famous people. My hero's Pete Hill, the late Jim Mclure and Elmer Trett. (Patty and I even had dinner with Richard Petty and Kenny Bernstein.) I raced with and for Dennis Manning, met Don and Rick Vesco, lifelong friends with legend racers Warner Riley, Wink Eller, Scott Guthrie, Jon Minono, Dave Campos, John Yeats, Jay Allen and my old buddy Dave Feazell, the list of racer friends is endless.
I find it interesting and refreshing to see the enthusiasm now oozing from more current racers, right here at S&S, our own Jeff Bailey who has set records, some over 200MPH at Bonneville, Gene Dlask 216.4502MPH with their sidekick Jan Smith, the best fuel injection tuner on the planet!
I would like to thank the teams for believing in the S&S products and congratulate Wink Eller, Kenneth Zetterquist, Cayla Rivas, Jayden Landwehr, Jim Fischer, Jay Allen, Terry Spears and Jim Hoegh on their new world land speed records.
I look forward to next year being the 100th anniversary of racing the Bonneville Salt Flats, it should be great fun!
Dan Kinsey – S&S Research & Development Guru and Multiple Bonneville Record Holder
The teams noted below took home records using S&S products.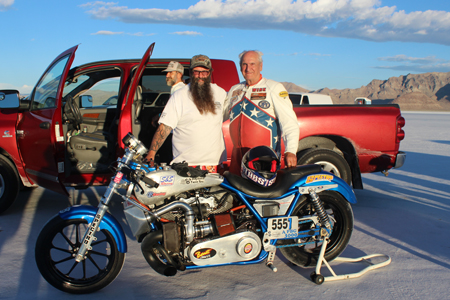 Wink Eller
Wink Eller is the owner of Wink's Custom Cycles in Orange, CA. With his 132" S&S X-Wedge powered FXR he took home the 3000-A-PBG class record crushing his own record from 155.877 mph to 177.539 mph! He reports that this year is his last as a pilot, but will be bringing a "rookie" to the salts next year to ride this power house. AMA Motorcycle Hall of Famer Pete Hill, "Godfather of Speed", in his 80 years has raced the drag strip and took home many championships. Wink Eller was honored to lend his leathers and S&S X-Wedge powered motorcycle to this legend. This is Pete's first run down the salt it was a screaming 163.652 mph!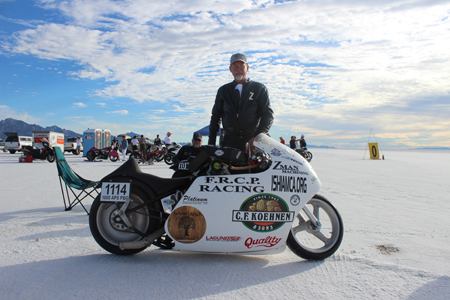 Kenneth Zetterquist
Kenneth Zetterquist (aka Zman) is the owner of Z Man Machining in Chico, CA. With his supercharged Ironhead Sportster took home two records. For the 1000-APS-PBG class he bumps the record from 151.439 mph to 153.729 mph and the 1000-APS-PBF class he takes it from 150.732 mph to 151.075 mph. Zman has been to all 10 of the BUB Motorcycle Speed Trail events. This year, he improved his Ironhead Sportster with an S&S 55th Anniversary Limited Edition Black Super G Carb and gained 14 hp!
Cayla Rivas
At age 13, Cayla Rivas is the youngest to have set a record at the BUB Motorcycle Speed Trials. Following the footsteps of her father Chris Rivas and his World's Fastest Bagger, she and her father took a 500cc Buell Blast and modified it to 250cc. The record is now 68.442 mph for the 250-MPS-PG class.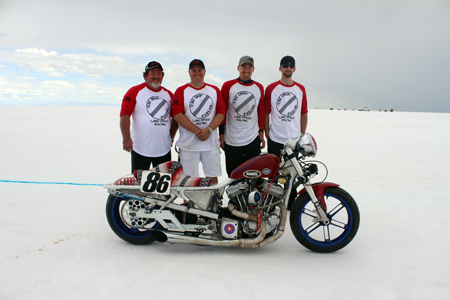 The Chop Parlor
Last year, Dean Young, S&S Cycle Events Team Leader, helped rookies Drew Woodford and Jaden Landwehr with some tuning issues on their 883 Evo Sportster. This alone helped improve their time significantly, but they did not set a record. For their second year, they improved the valve train with S&S upgrades (600 cams, rocker arms, tappets and pushrods). Their first run on Sunday unfortunately left them with busted stock pinion gears. They came over to the S&S Cycle Pit Stop, called up the S&S headquarters in Viola, Wis. and had S&S pinion gears overnighted to Utah. They were up and running for Tuesday racing and took home the record for the 1000-M-PF class, taking it from 95.832 mph to 140.761 mph.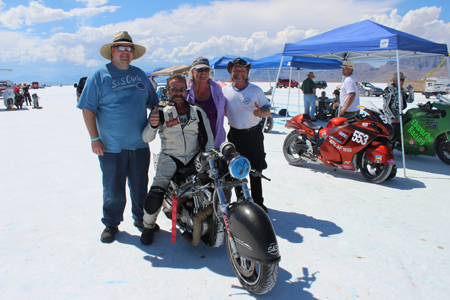 Riley-Fischer-Witt
This trio was out to attempt a trifecta this year with their Alloy 100" S&S powered 1998 Sportster. They took home a record at both the East Coast Timing Association in Wilmington Ohio Mile in June and the Loring Timing Association 1 ½ mile track in Caribou Maine in July. For the BUB Motorcycle Speed Trails, they took home two records, the 1650-M-PG class bumped from 169.627 mph to 174.946 mph and the 1650-M-PF class from 167.561 mph to 172.872 mph.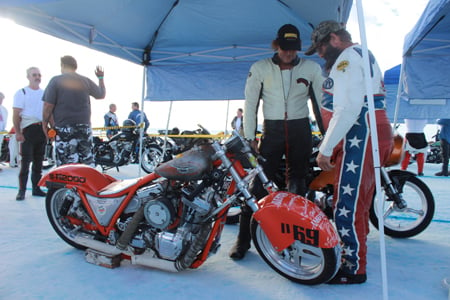 Jay Allen
This year, Jay rebuilt his S&S B2 head T124 engine with a shorter stroke to be more competitive in the 2000 class. It proved to be a good move as he took home a record at the 2013 BUB Motorcycle Speed Trails for the 2000-M-PF class at 170 mph. In addition, he took home two records at the 2013 Speed Week (Aug. 10 – 16).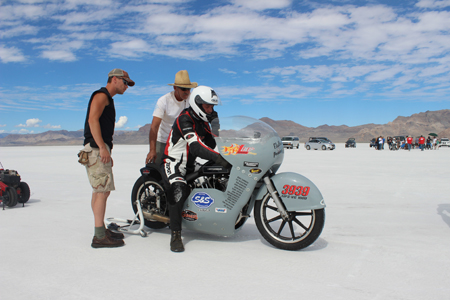 Joe Taylor Racing
The Goose returns with vengeance! After last year's rear cylinder piston detonated that put a stop to their racing on the salt, Joe Taylor and Pilot Terry "Gunner" Spears return to 2013 BUB Motorcycle with knucklehead known as "The Goose" was rebuilt with S&S Vintage products and took home the record for 1000-MPS-VG class with an impressive bump from 109.079 mph to 123.249 mph.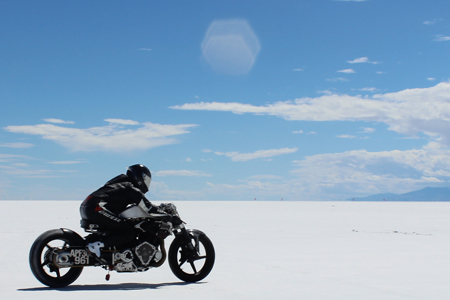 Confederate Motors Inc.
Last year, Jim Hoegh earned the title of the World's Fastest Unfaired Big Block V-Twin with a record of 172.211 mph on his 132" S&S X-Wedge powered Confederate Hellcat motorcycle . This year, he bumped this record to 177.266 mph for the 3000-A-PF class. He also exceeded his personal goal with his fastest run of 181.373 mph.
Records Summary (Pending Certification. Official records will be posted at www.americanmotorcyclist.com)
| | | | | | |
| --- | --- | --- | --- | --- | --- |
| Team | Pilot | Class | Down | Return | Record |
| Wink Eller | Wink Eller | 3000-A-PBG | 179.134 | 175.945 | 177.539 |
| FRCP/JRV Racing | Kenneth Zetterquist | 1000-APS-PBG | 153.478 | 153.979 | 153.729 |
| FRCP/JRV Racing | Kenneth Zetterquist | 1000-APS-PBF | 151.805 | 150.353 | 151.075 |
| Chris Rivas V-Twin | Cayla Rivas | 250-MPS-PG | 70.180 | 66.704 | 68.442 |
| The Chop Parlor | Jaden Landwehr | 1000-M-PF | 139.755 | 141.766 | 140.761 |
| Riley-Fischer-Witt | Jim Fischer | 1650-M-PG | 174.299 | 175.594 | 174.946 |
| Riley-Fischer-Witt | Jim Fischer | 1650-M-PF | 175.731 | 170.013 | 172.872 |
| Jay Allen Racing | Jay Allen | 2000-M-PF | 169 | 170 | 170 |
| Joe Taylor Racing | Terry Spears | 1000-MPS-VG | 122.624 | 123.873 | 123.249 |
| Confederate Motors Inc. | Jim Hoegh | 3000-A-PF | 176.878 | 178.314 | 177.596 |