Just when it looked like Hector Arana, Jr. was going to dominate the season, two straight first-round losses by him combined with two wins by up-and-coming riders, and the NHRA Mello Yellow Pro Stock Motorcycle championship is instead wide open.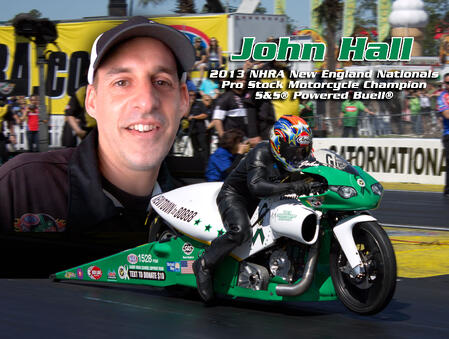 John Hall was the big winner at the first-ever NHRA New England Nationals, in Epping, NH, coming from the sixth qualifying position on the Viper Motorcycle Company S&S-Powered Buell to beat out fellow first-time finalist Adam Arana in the money round.
While the championship points chase has received a shake-up, the really consistent aspect of the 2013 season is the domination by S&S-powered bikes. Again in Epping, S&S power was on top of the qualifying sheets and in the winners circle.
Michael Ray led qualifying on the Sovereign/Star Racing Buell. Fresh off his win at Englishtown, Ray qualified number one with a run of 6.832 seconds at the top speed of the meet, 197.05 mph. The six quickest bikes and 10 of the qualified field of 16 were on S&S power.
Points leader Arana Jr. went out in round one for the second race in a row, denting his once-dominant points lead. Also going out in round one was the second place rider Scotty Pollacheck, Ray's Sovereign/Star teammate.
Ray made it to the semifinals were he lost by a holeshot to the protecttheharvest.com/MAV-TV Buell of Adam Arana. Hall made the final getting by former champ LE Tonglet.
In a battle of first time finalists, Adam Arana gave the race to Hall on a redlight foul. Both bikes ran identical 6.924s in the final.
Hall, in just his second year of Pro Stock Motorcycle racing, switched from the Sovereign/Star team he was with last season, to Matt Smith's Viper Motorcycle team this year and the move looked to be the right one for him.
"Matt Smith Racing has opened up a door of opportunity for me," said Hall. "It's worked out great."
"Everything just fell together for us at this race," continued Hall, who beat team owner Matt Smith in round two. "We ran well when we needed to and got lucky when we needed. I can't describe the feeling."