by Matt Polito
While Hector Arana Jr.'s undefeated streak was snapped at the NHRA Toyota Summernationals at Englishtown, NJ, S&S-powered Buells continued to dominate the 2013 season.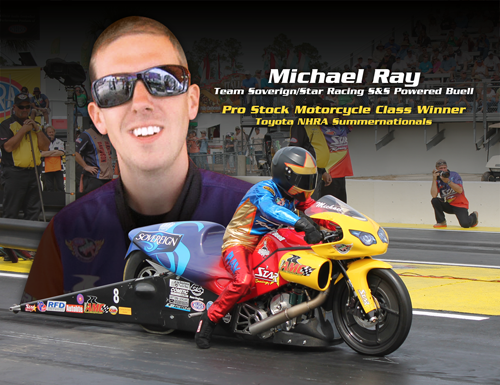 Michael Ray, the only racer to take a win against the Harley-Davidson® team last season, took his second career win at E-Town. Riding the Soverign/Star Racing Buell, Ray got the holeshot win over the Lucas Oil team bike of Hector Arana Sr. in the final.
At an event where hot, humid conditions kept performances at bay, Steve Johnson qualified his Suzuki in the number one spot 6.931 seconds at 192 mph. It was the first number one qualifying performance for Johnson since 2010 and the first time a Suzuki qualified number one since LE Tonglet did it in Atlanta 2011.
The heat spilled over into the pits on Friday night where an argument between the Arana camp and Matt Smith led to punches being thrown and Arana Jr.'s crew chief Dan Gonzales being suspended for the event. The dispute was over Smith's alleged copying of a new seat design by Arana Sr.
Even with the loss of his crew chief, Arana Jr. was in good position to extend his three-race win streak, qualifying his Lucas Oil Buell second at 6.933 seconds at 192 mph.
In the first round of eliminations he faced his father, Hector Sr., who was uncharacteristically qualified in the bottom half of the field. The younger Arana was late off the line and pulled the clutch early when his bike drifted to the centerline, allowing his dad to advance and ending his own win streak.
There was nothing but S&S power on the track by the semifinals, with Ray taking out the Pirana Z Buell of Shawn Gann and Arana Sr., getting by the Viper Motorcycle Buell of Matt Smith.
Ray, racing from the fourth qualifying position, cut a telepathic .008 reaction time in the final to get the holeshot over Arana Sr., and take the win, 6.954 to Arana Sr.'s quicker 6.952.
Although the season is still early, Buells have dominated thus far. At every event this year over half the field and the majority of the top qualifiers are using S&S power. Of course, an S&S-powered Buell has been in the winner's circle every time.
In addition, the top of the NHRA Mello Yello championship points standings are stacked with S&S power accounting for the top five bikes and seven of the top 10. Arana Jr. still holds a commanding, 151-point lead while the next three riders – Pollacheck, Arana Sr. and Ray - are separated by only six points.
The next stop on the tour is Epping, New Hampshire, for the first-ever NHRA National event held at the historic New England Dragway.