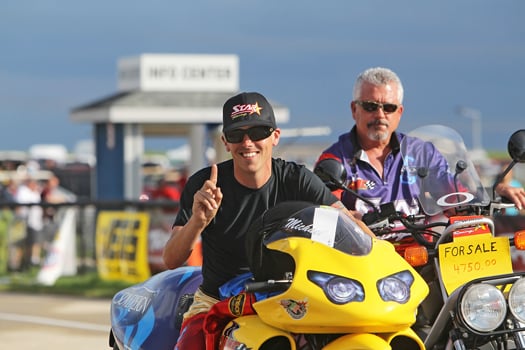 By Matt Polito
Hector Arana Jr.'s points lead continues to evaporate as Michael Ray scored his second win of the season to move into second place in the NHRA Mello Yellow Pro Stock Motorcycle championship chase at Route 66 Raceway outside of Chicago.
With the win, S&S-powered bikes remain undefeated in NHRA competition this season.
Ray came out of the 10th qualifying position to win the event on the Sovereign/Star Racing S&S-powered Buell. Ray had the most consistent bike on Sunday and combined that with a string of stellar reaction times. He beat his former team owner Matt Smith and his Viper Motorcycle Company Buell in the final.
Smith led qualifying at 6.908 seconds followed by Scotty Pollacheck and Hector Arana Sr. S&S-powered Buells dominated qualifying, holding the top seven positions – almost claiming the entire top half of the field. In all, Buells accounted for 10 of the 16 qualified bikes.
Ray was masterful on the tree all day on Sunday. Not counting a second round single when his teammate Pollacheck broke an oil line in the burnout, all of Rays reaction times were .011 seconds or better, including a telepathic .008 in the final. His elapsed times ranged between 6.94 and 6.98 during eliminations. He took out last week's winner John Hall in round one followed by Pollacheck and Hector Arana Sr. before facing Smith in the final where he got the holeshot and pulled away for a 6.98-to-6.99 win.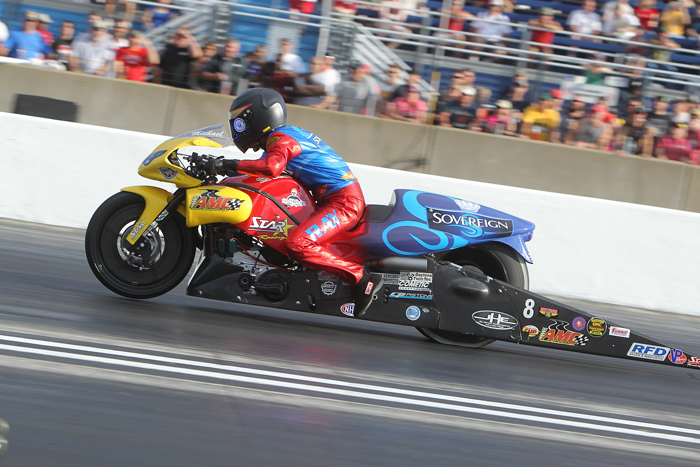 Smith, the former series champion, was appearing in his first final round of the season. It was his second number one qualifying performance of the year. At Chicago he held all the performance marks including low elapsed time of the meet (6.908 seconds) and top speed of the meet (193.82 mph).
Ray garnered his first career win last season racing on the Viper Motorcycle team owned by Smith. In the off-season, he left the team and moved to the Sovereign/Star Racing team of George Bryce.
"It was nice to beat my old crew chief and old team," said Ray. "It is such an awesome, awesome feeling. George, Ken and all the guys gave us a great bike today. We are putting ourselves in a good position to make a championship run."
The win puts Ray in second place in the championship standings, 69 points behind Arana Jr. Following Ray in the points are Hector Arana Sr., Hall and Smith. S&S-powered Buells account for the top seven bikes in the points chase.
The NHRA Mello Yellow Pro Stock Motorcycle series continues this weekend at Summit Motorsports Park in Norwalk, OH.