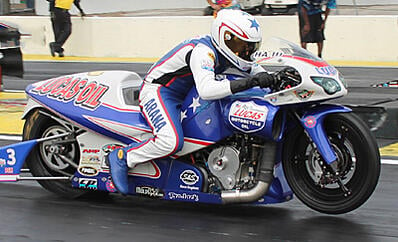 Text and photos by Matt Polito
S&S power continued to dominate the NHRA Mello Yellow Pro Stock Motorcycle drag racing series with Hector Arana, Jr. taking his second-straight win of the season on his S&S-Powered Lucas Oil Buell at the Dollar General Four-Wide Nationals at zMAX Dragway in Charlotte, North Carolina.
The Four-Wide Nationals is unique on the series as zMAX Dragway has four racing lanes. At all other NHRA National events two riders face off in a round of competition with the winner advancing to the next round. At the Four-Wide, four racers face off simultaneously with the two riders crossing the finish line first advancing to the next round. Each set of four riders is known as a "quad".
Along with the race win, Arana, Jr. earned top qualifier honors with a run of 6.826 seconds at 195.19 mph. Following him on the qualifying sheets were Scotty Pollacheck on the Sovereign/Star Racing Buell with a run of 6.834 seconds at 193 mph and Matt Smith on the Viper Motorcycle Buell at 6.837/194.
S&S-Powered Buells have never been more dominant in a qualifying performance than at Charlotte, accounting for the top six qualifiers and a total of 11 bikes in the field of 16.
Pollacheck made the quickest pass of the event in the first round of eliminations at 6.818 seconds, 194 mph. Pollacheck survived his second round quad and advance to the final when Matt Smith, who was leading all four bikes in that quad, broke a transmission for second straight race.
The race format can have interesting outcomes as Arana Jr. faced defending series champ Eddie Krawiec in all three rounds including the final. Krawiec, running the Screamin' Eagle Harley-Davidson V-Rod, qualified in the 16th and last position at 6.97 seconds.
Krawiec used a holeshot to cross the line ahead of Arana Jr. in their first round quad but Arana Jr. used superior performances to beat Krawiec in the next two rounds. In the final Krawiec got a slight holeshot but Arana Jr. powered past the Harley for his fifth career victory, 6.89 to Krawiec's 6.92. Pollacheck came in third in the final quad with a 6.94 and Jim Underdahl, riding the Bad Boy Buggies Suzuki was fourth, also with a 6.94.
With two races in the books in the 2013 NHRA PSM season Arana Jr. is undefeated, winning both events.
"I have a feeling it's going to be one of those years," Arana Jr. said. "Everything so far has fallen into place for me."