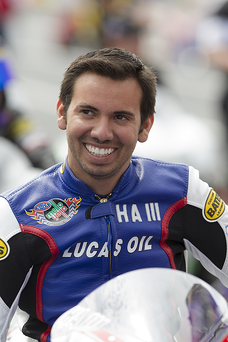 Pictures and text by Matt Polito
Hector Arana Jr. kept his win streak alive on his S&S-powered Lucas Oil Buell with a win at the NHRA O'Reilly Spring Nationals at Houston Raceway Park in Baytown, Texas.
Arana Jr., the 2011 NHRA Rookie of the Year, scored his third straight win with a final round victory over Scotty Pollacheck in an all-S&S-powered final, 6.91 to 6.98.
Having won the opening event in Gainesville, Arana Jr. is now undefeated this season. Houston was his sixth career victory.
ESPN "Stat Guy" Lewis Bloom notes that 3 race wins in a row has been accomplished many times in the motorcycle class (Dave Shultz holds the mark of most PSM wins in a row at 8) but, adds Bloom, "Starting the season with three wins is pretty rare. Dave Shultz started the 1991 season with 4 wins in a row and Matt Hines won the first three in 1998. Hector Jr. is now only the third person to open an NHRA season with three wins in a row in Pro Stock Motorcycle."
More interestingly, Bloom noted, is that it took Arana Jr. only 36 NHRA event starts to earn his sixth win. It took his father 228 races to garner his sixth event title.
Rain in Houston cut qualifying short to three sessions. Arana Jr. took the #1 position for the second race in a row with a run of 6.876 second at 195.39 mph. Second in qualifying was Pollacheck on the Sovereign/Star Racing S&S-powered Buell at 6.89/191 followed by Andrew Hines on the Screamin' Eagle Harley-Davidson V-Rod at 6.90/193.
In all, S&S-powered bikes accounted for six of the top eight qualifiers and a total of nine entries in the 16-bike field.
There were nothing but S&S-powered bikes left in the field by the semifinals on Sunday with Arana Jr. taking out the Viper Motorcycle Buell of John Hall 6.92 to 6.95, and Pollacheck getting past his teammate Michael Ray when Ray hit a red light foul.
The Houston event marked the debut of the new S&S cam chest for the Pro Stock motors. Four were delivered prior to the event but only Matt Smith confirmed that he had installed it on his competition bike.
The cam chest is an upgrade, which allows larger cams, bigger cam bearings, more robust gears and shorter pushrods.
Smith, noting that he went out of competition with a transmission problem for the third race in a row, feels the piece will be a valuable upgrade.
"With the rain and the bike not shifting I have not been able to give the cam chest a proper test," said Smith. "But I think they will improve reliability and the will allow us to experiment with higher lift cams and different rocker arm geometry."
Arana Jr. widened his points lead and now leads second-place Pollacheck by 118 points. S&S-powered entries account for the top four places with Pollacheck followed by Hall at 188 points back and Hector Arana Sr. at 201 points back.