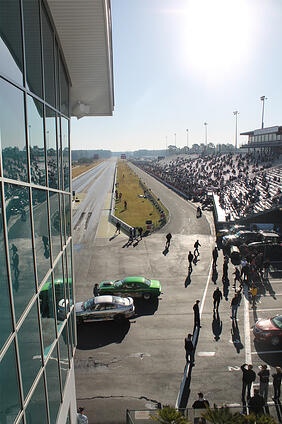 Text and photos by Matt Polito
The NHRA drag racing series has a new name and the Pro Stock Motorcycle division looks to be the most competitive it has been in years.
The 2013 Mello Yellow NHRA Pro Stock Motorcycle series kicked off in Gainesville, FL, with the Amalie Oil Gatornationals. S&S-powered entries led the way with Matt Smith qualifying in the number one position and Hector Arana Jr. taking the event win.
The big news in NHRA Pro Stock Motorcycle racing for 2013 is new rule changes, which look to bring parity back into the class. Previously, the Harley-Davidson V-Rods were allowed to run 4-valve, overhead cam engines while S&S motors were limited to pushrod-activated 2-valve heads. Now all V-Twin motors must run 2-valve heads with rocker arms and a minimum pushrod length of 8 inches.
George Bryce, who with S&S Cycle's George Smith was instrumental in developing the S&S-Powered Kosman Buells for NHRA competition back in 2002, was the driving force in getting the rule change.
"It was unfair for one team to run an overhead cam on a V-twin engine while the S&S-Powered Buells were using pushrods," stated Bryce. "These new rules will level the playing field. The competition will be closer and one team will not dominate."
The other big news in the off-season was the addition of a third Arana now in the mix. Adam Arana made his PSM debut alongside father and former champ Hector Arana and his brother, 2011 NHRA Rookie of the Year, Hector Jr.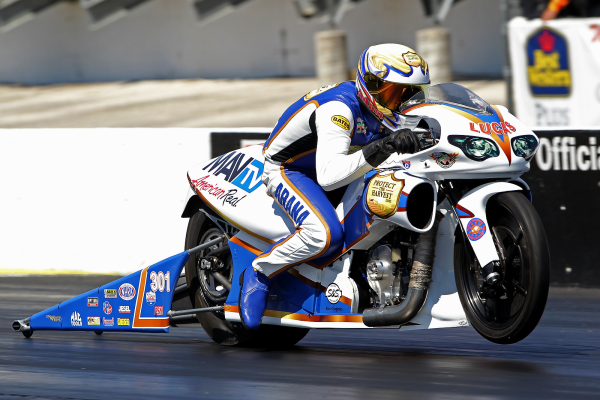 Adam Arana made his career debut in Gainesville and qualified for the field.
At Gainesville Matt Smith qualified number one with a strong 6.804 elapsed time at 197 mph. Hector Arana Jr. and Sr. placed second and third, within one thousandth of second of Smith's performance, with identical 6.805s.
In addition to the top three seeds, S&S-powered Buells accounted for six of the top eight entries and over half – nine – of the 16 qualified bikes. The field, anchored by Chip Ellis at 6.910, was the quickest in NHRA Pro Stock Motorcycle racing history.
Three S&S-powered bikes made the semifinals where Scotty Pollacheck of the Sovereign/Star Racing team lost to the resurgent Suzuki of Steve Johnson, 6.84 to 6.88 and the father and son Aranas battling it out with the younger Arana getting the best of his dad with a holeshot win, 6.849 to Sr.'s quicker 6.844. Number one qualifier Smith went out in round two when his bike would not shift.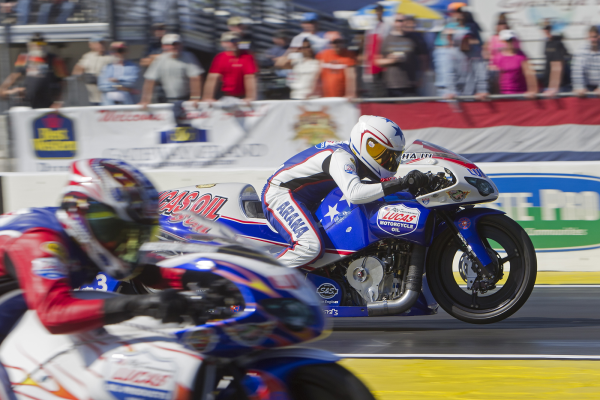 Hector Arana Jr. (far lane) goes head to head with his father and former champion,
Hector Arana in the semi finals.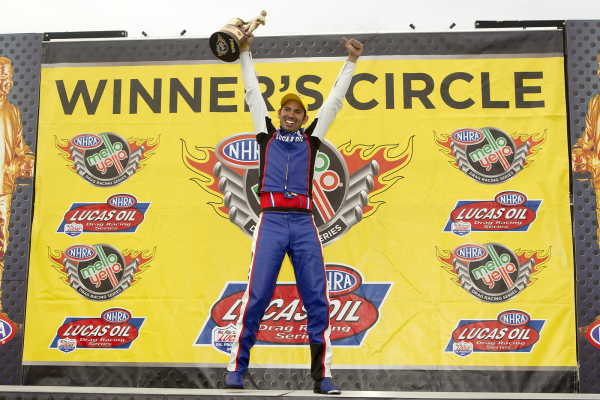 Hector Arana Jr. in the Gainesville winner's circle
Arana Jr., appearing in his ninth final, took the holeshot over Johnson and pulled away for the win, running 6.88 to Johnson's 6.909 for his fourth career victory.
"To grab the race win for Team Arana and Lucas Oil is a big accomplishment and it proves that having a third bike isn't going to slow us down, but actually speeds us up," said Arana Jr.
In addition to closer competition this year, 2013 may see a change to the face of Pro Stock Motorcycle drag racing. Currently two different teams are working to bring two new brands of bikes into NHRA Mello Yellow drag racing, both to be powered by S&S engines.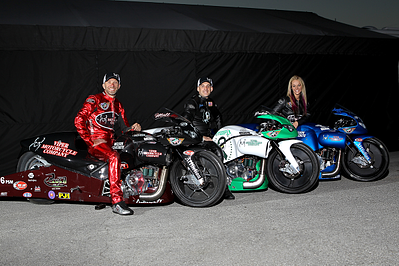 Riding for Viper Motorcycle will be (L to R) team owner Matt Smith, John Hall and Angie Smith.
The first is Viper Motorcycle of Auburn, AL. Viper, who makes high-end cruiser motorcycles, currently sponsors the Matt Smith Racing team and is working with NHRA to make a competition body for their new model to be released this year (currently code named Mamba). Eventually the team plans to develop a new viper-specific chassis for the racing bikes.
The other effort is being spearheaded by George Bryce and will use an EBR 1190RS as a template. EBR is a new motorcycle company started by Erik Buell. The 1190RS has been called "a street legal roadrace bike" and only 100 will be made.
With closer competition, new young riders and new motorcycle brands entering competition, the NHRA Pro Stock Motorcycle series is looking better than ever. S&S is proud to be an integral part of this truly American racing sport.