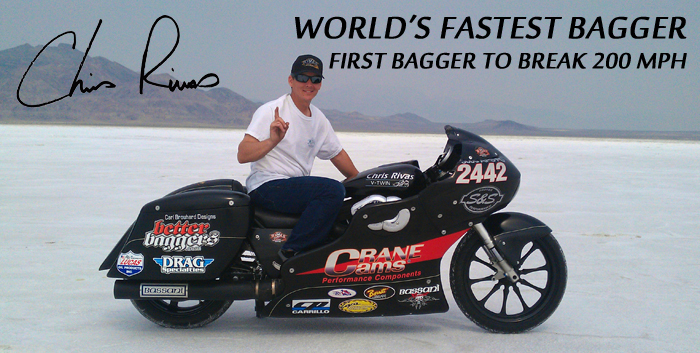 Exciting news in the world of Land Speed Racing:
Chris Rivas is the first person to push a "bagger" over 200mph!
That's right, a bagger. (No rocket propulsion necessary. Just good ol' American made S&S horsepower.) With the offices at S&S HQ all a-buzz with the news, we called up Chris and wanted to ask him a few questions about his achievement to share with everybody. Here's what "The Rocket" had to say:
S&S:
First of all, Congratulations on the world record! Can you tell us a little about it?
Rivas:
Nothing about this accomplishment has come easy. For three years I have fought every part of this bike from chassis geometry to catastrophic engine and transmission failures. With all of the runs we have made at Bonneville we have not been able to get a good baseline for the tuning because of every other issue that pops up. Finally with the help of George Smith we were able to "tone down the tuning efforts" and find a baseline to run with.
S&S:
The class you rode in is called APS-AG. What does that really mean?
Rivas:
The official class designation is 3000 APS-PG. The motor has to measure between 2001cc and 3000cc to be legal. The "A" implies an Aftermarket Chassis. The PS signifies that there is partial streamlining body work in place. The PG means that the motor uses pushrods and runs on Gasoline.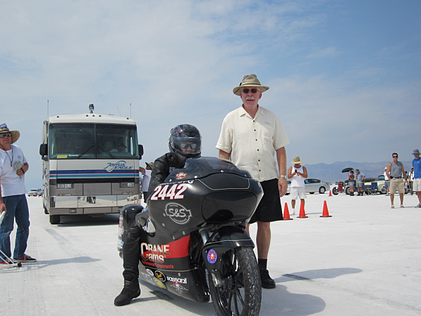 S&S:
It is the world's fastest bagger and the first bagger ever to break 200mph. Why was this accomplishment important to you?
Rivas:
In the racing world there aren't too many barriers left to be broken and I know that S&S has been instrumental in breaking many barriers such as the first Top Fuel Bike to break 200. I think there is a possibility that someone else someday might also go over 200 on a bagger but there will only be one first and that is what I wanted for me and my business. Chris Rivas V-Twin has had a strong relationship with S&S Cycle for about eight years, and now we are building a great working relationship with Crane Cams. I truly believe that accomplishing these milestone goals together that can never be taken away is huge in our industry and allows us to service customers with a higher quality in mind.
S&S:
How long have you been working toward breaking this record? Can you give us a little history?
Rivas:
For three years now, we have been seriously trying for the 200 mph goal. I had a conversation with Carl Brouhard about building an aerodynamic Road Glide for Bonneville and he was excited to help. With his body and paint expertise Carl was able to take an idea and make it into a reality, what we know now is the design was not the hardest part. S&S Cycle provided the motor parts and the 167 inch motor is button start and has amazing power. The seemingly impossible task is to make all of the components work together in harmony at peak performance in the harshest conditions in North America.
S&S:
It must take a lot of power to push a full dress, button start motorcycle on gasoline over 200 mph. How did you accomplish that?
Rivas:
Our motor is a 167Cubic Inch S&S Cast Aluminum Pro Stock Twin Cam design that puts out about 250 HP. I ordered all of the parts from S&S Cycle including a special set of
Easy Start Cams
, and completed the machine work and assembly at my shop,
Chris Rivas V-Twin
in Fresno CA. The great thing about this combination is that we can use this same technology and the same high quality S&S Cycle and Crane Cams components for our everyday customers when we install big bore and stroker kits into their street driven bikes.
S&S:
I hear the chassis and the fairing played an important part. Can you explain how?
Rivas:
When we first received the chassis and put this bike together with the fairing in place, I took it out to the 2010 SCTA Speed Week and found out the hard way that the front end geometry was all wrong. On the first pass I experienced the worst front end wobble of my life and head shake that ended up throwing me off at about 130 mph.
S&S:
Well that is a lesson that I'm glad you only had to learn once! Now that the bike is in a safer condition, what is your ultimate goal with this bike?
Rivas:
With the data that we have received from this bike, and with the help of George Smith we know that in the right conditions it will go about 220 Mph.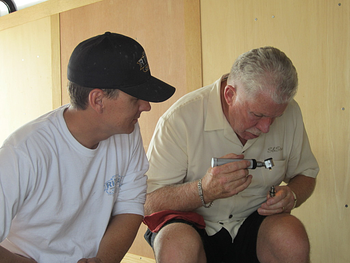 Chris Rivas and George B. Smith
S&S:
I understand that George B. Smith from S&S was out there. I know George has a love for the salt and he was out at
Bonneville with you before
. Did he have any good advice for you this time around?
Rivas:
George was instrumental in my success at Bonneville. Just as he was instrumental in my success in the NHRA racing Pro Stock Motorcycles. So I knew that when I started my Land Speed attempts I wanted George involved in the project. George has been a mentor to me for a number of years, not only in my racing career, but also in my business. With George's guidance and some assistance from the new CEO of S&S Cycle, Steve Iggens, Chris Rivas V-Twin has recently had the opportunity to partner with Crane Cams and develop a couple of new cam grinds. The
Chris Rivas Signature Series Rocket Cams
are now available to the public and have been some of the best cams ever tested at our dyno facility.
Watch 

Chris Rivas NHRA victory in Pomona 2008

S&S:
Are you coming back for the
BUB meet
in 2 weeks?
Rivas:
Yes, we plan on freshening up the motor at our shop in Fresno and heading back out to the salt at the BUB's Speed Trials where I hold the record for the class at 193 mph from last year. I hope to up the record to something that starts with a "2".
And so do we, Chris. We tip our hat to you in respect and wish you the best of luck. We are rooting for you.