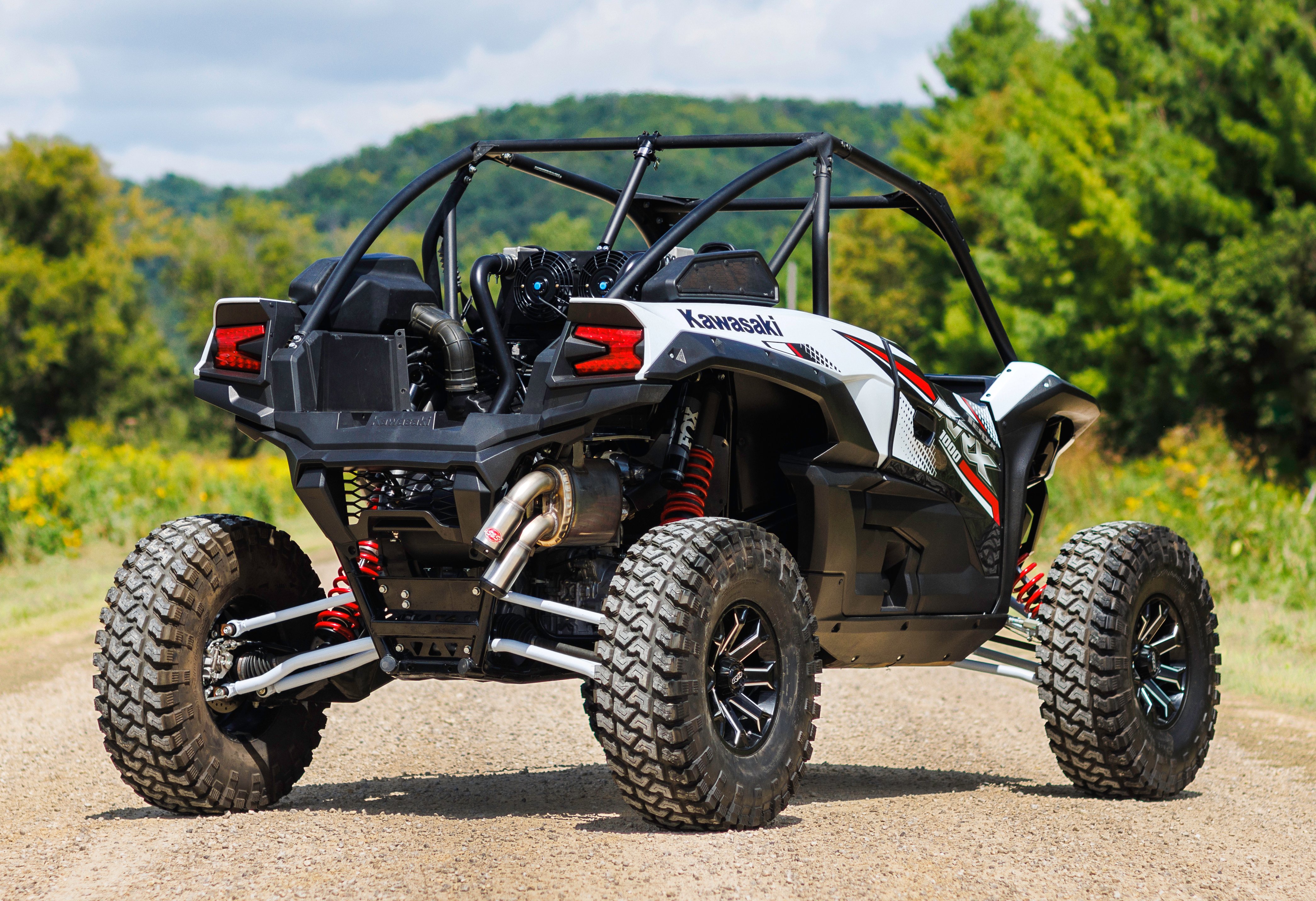 We kind of fell in love with the KRX when it was originally launched in 2020. One of the most durable and sorted 1000cc SxS in the space. Massive trailing arms and just about every part of the suspension is on par with the RZR Pro XP, the factory wheel/tire package is solid, and even the stance is pretty cool. What's not to like? Oh, yeah… The naturally aspirated motor. You can look at the KRX one of two ways. It's a wildly dominant car in the N/A category (Polaris RZR XP 1000, Honda Talon, and Yamaha YXZ) or it's lagging a bit in the forced induction group (largely the RZR Pro XP). That's where we come in.
After forming our Off-Road Division a few years back, we began funneling resources to the four-wheel space. Dyno rooms, fabricators, engineers, etc., all focused on building performance for the dirt, so the KRX project was a good fit. Little did we know how much it would fight back. Scattering engines is not uncommon in the development process, we're always looking for the edge, but the KRX seemed to get mad pretty quickly. The high compression factory 1000cc engine is solid, but high compression and unfavorable cam timing would forever constrict forced induction efforts to a measly 5psi. Not a great way to make power.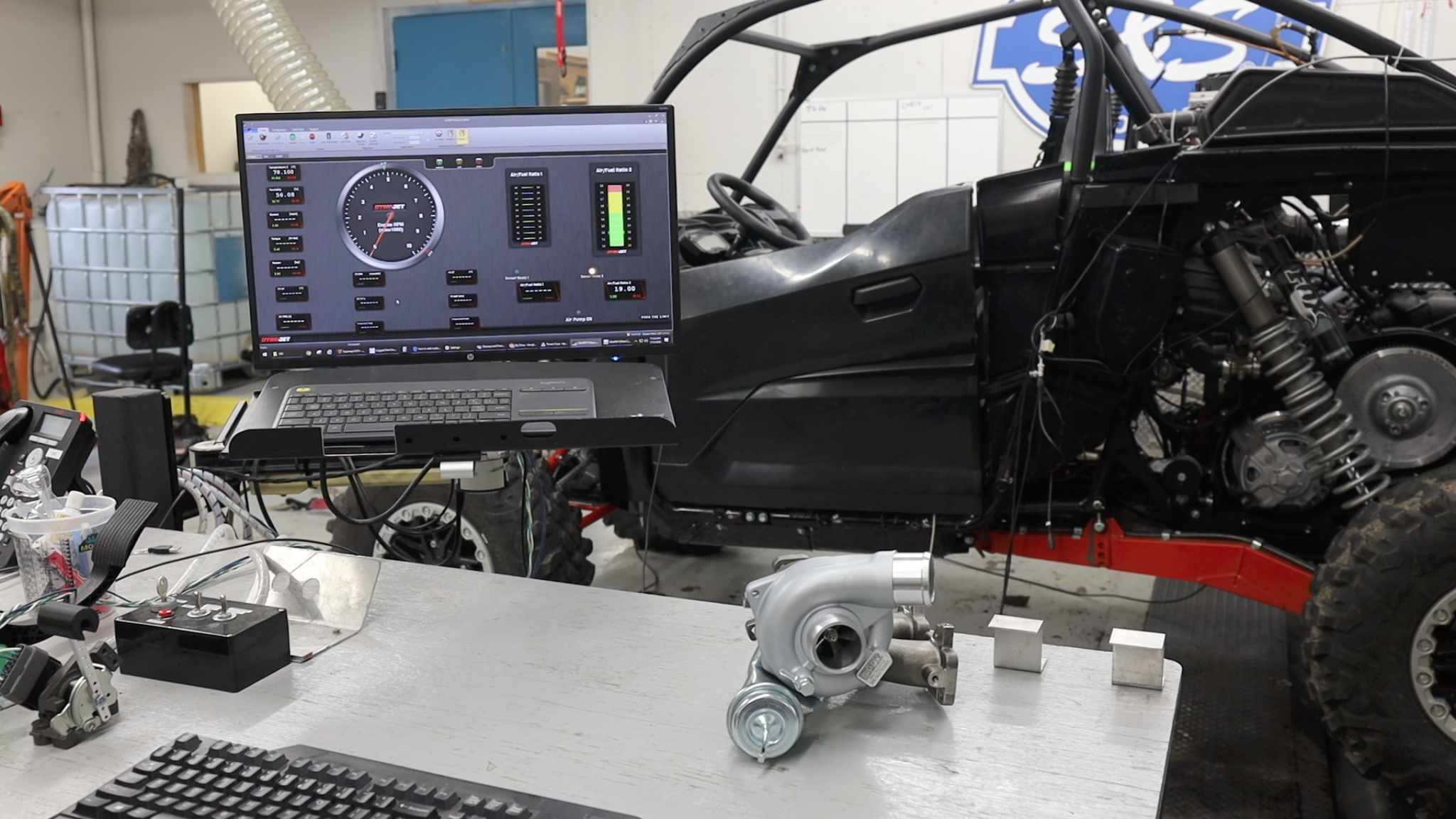 What's the solution? The magic in the development process started to happen when we fitted forged pistons and dropped the compression down to 9:1 (from 11.5:1). Using specialized equipment, we carefully monitored cylinder pressure and by virtue of that, engine health. The turbo could now start doing its intended job.
As soon as we started pushing boost into the engine, we realized cam timing would need to change to accommodate the charged air. How did we solve that one? We designed cam gears that incorporated a 10-degree change in timing and included them with the kit. The next weak link would be the intake plenum. The factory unit is a clamshell design that is bolted together and can barely tolerate 5psi of boost before it comes apart. We rotomolded a higher volume, one-piece unit to work out that challenge. Speaking of moving air, we chose stainless steel tubes for both durability as well as pressure consistency. A massive intercooler was also incorporated and is fan cooled to keep the air charge as dense as possible (hot air makes less Hp!)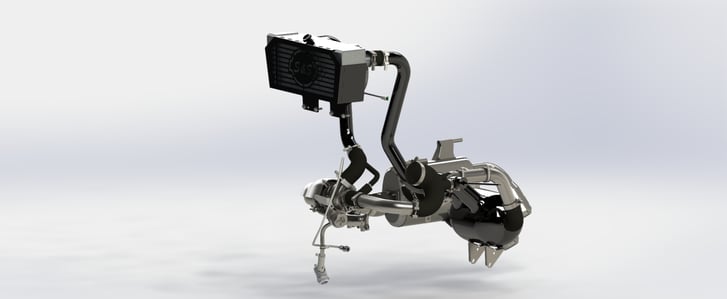 Fuel was the next challenge. Although the factory pump was up to the job, the injectors and fuel rail could not keep up with a turbocharger. A billet rail and 900cc/min injectors are part of the S&S kit and flow substantially more fuel than the OEM units. In fact, these parts are now available as standalone units as the factory plastic fuel rail is one of the few weak spots on the otherwise robust KRX motor, and even mild mods to the motor outpace the OEM injectors.
Obviously, a high-flow exhaust was in order, and we created a stainless muffler with dual 2.25" exits that not only helps manage the higher exhaust gas temps of a turbo engine but also helps control sound and even includes a spark arrestor. Yeh, but how do I tune it? Not a problem. We've done all that work for you. Kit includes a Dynojet PV3 preloaded with a well-sorted tune. No dyno work required.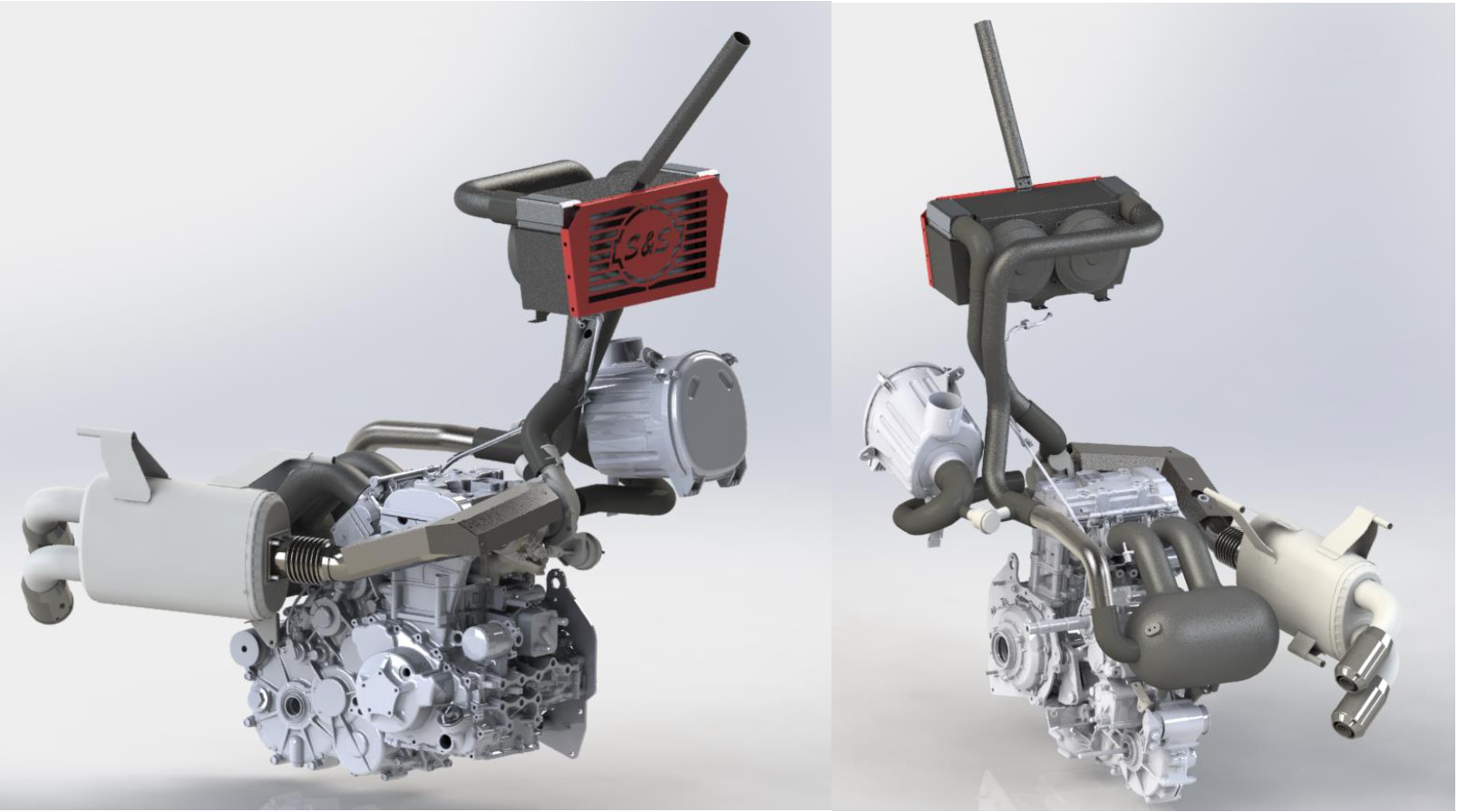 The supplied turbo sits on a cast stainless manifold, directly off of the exhaust ports, which helps reduce lag and feeds the turbo maximum exhaust pressure. How about the details? Well, how about we even supply correct temp spark plugs, every gasket and clamp you'll need, and the kit allows you to use most Kawasaki factory accessories (roofs, spare tire rack, even the accessory alternator).
Yeah, but does it make power? Does a 50% bump in horsepower sound OK? Can you think of any other move that will bump the power of your KRX by 50%? How about 0-60 times dropping from the factory 11.5 seconds to a much more fun 6.2 seconds? The hit is noticeable by quarter throttle, and it's a completely different car by half throttle. Even more impressive is the factory look and reliability of the kit. Hundreds of hours of durability testing have gone into this package, making sure you can bolt it to your KRX, produce big power, and head out onto the trails with the same level of confidence as a production turbo SxS. Hit up your dealer or the team here at S&S Off-Road Division to get yours!