Photos and commentary by Matt Polito
S&S was once again a force in the chase for the NHRA Pro Stock Motorcycle championship in 2011. Led by the Lucas Oil Team and rookie sensation Hector Arana Jr., S&S-Powered Buells amassed some enviable accomplishment in the premier motorcycle drag racing series.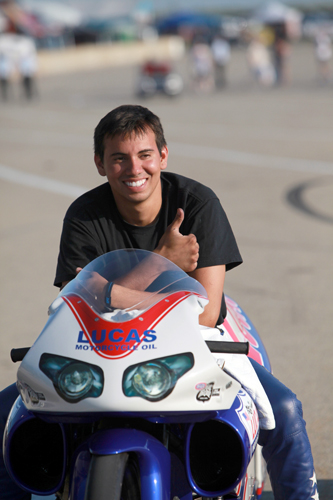 Arana Jr. joined his father, 2009 NHRA PSM champion Hector Arana Sr., on a two-bike team this season and put himself in position to challenge for the championship. In the end he could not overcome a strong finish by Harley-Davidson® rider Eddie Krawiec, who claimed his second #1 plate.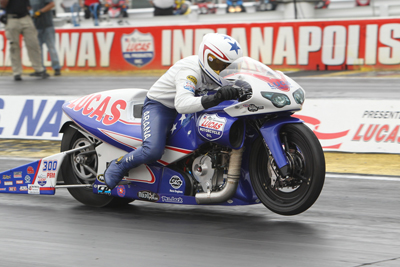 Hector Arana Jr. had a sensational year in his rookie season of NHRA Pro Stock Motorcycle racing. Arana Jr. took the number one qualifying position in seven events and scored three wins in five final round appearances.
Arana Jr. would finish second to Krawiec in the championship points and was awarded the prestigious Auto Club Road to the Future Award – NHRA's Rookie of the year honor - beating out eight other eligible professional rookie racers.
Arana Jr. had a disappointing start, failing to qualify at the season-opening Gator Nationals at Gainesville, but he took the pole four races later at Norwalk – the place where his father won his first-ever NHRA event in 2008.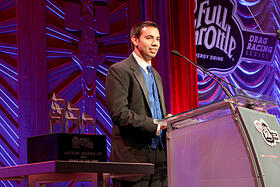 Arana Jr.s first-ever win came at the prestigious NHRA Mac Tools US Nationals at Indianapolis.
In all, Arana Jr. qualified on the pole in seven events and had 3 wins in five final round appearances. He took his first-ever event title at the prestigious NHRA Mac Tools US Nationals at Indianapolis.
"Overall, it was a good season, being that it was my rookie year, first time out," said Arana Jr. "I can't wait to get back to the shop, find some power, come back and show these guys who's boss. I've got a full season underneath my belt. Those last several runs, I felt like I was making perfect runs. I'm ready to go to Gainesville and start from the beginning."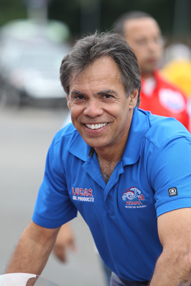 Hector Arana Sr, who won the 2009 NHRA Pro Stock Motorcycle championship, set a new elapsed time record of 6.777 seconds in 2011.
His father, Hector Sr., did not win an event this season but qualified on the pole at two events and set the elapsed time national record at 6.777 seconds in Gainesville. The record remained unchallenged for the rest of the season.
Combining the Arana's #1 qualifying performances, S&S-powered Buells took nine poles in the 16-race NHRA schedule.
Matt Smith, who brought a Buell to its first championship in 2007, went to three finals in 2011, winning at Englishtown. Smith finished the season in the fourth position.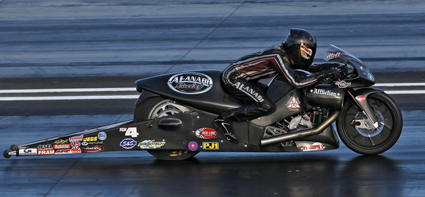 2007 NHRA PSM championship Matt Smith took one event win in three final round appearances and held the number 4 spot in the championship points in 2011.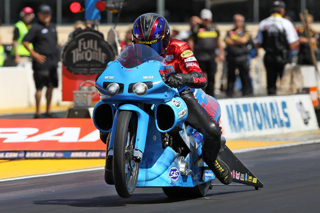 Chip Ellis got back on an S&S-powered Buell this season and went to the final at Chicago.
Rejoining the S&S-powered riders this year was Chip Ellis, riding the new Kuryakyn Buell of veteran owner Harry Lartigue.
Ellis has a rich history on the Buell's, taking the prototype G2 machine to its first-ever pole at the US Nationals in 2004. He then ran the Drag Specialties Buell of George Smith and George Bryce for three seasons, finishing in the top five every year.
This year Ellis went to the final at the Chicago event but failed to make the top ten cutoff for NHRA's Countdown to the Championship.
Lartigue stated that the team would compete again in Kuryakyn colors in 2012
2011 marked the sixth straight year that S&S-powered Buells accounted for two of the top five points earners in the NHRA series. In that time two championships were won on S&S-powered Buells, Smith in 2007 and Arana Sr. in 2009.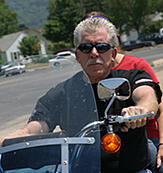 George B. Smith commented on the season, stating, "I am really proud of the talent, hard work and dedication of the riders, the tuners and their teams. Our technology is available to everyone and we have to race against technology that is only available to the Harley-Davidson® factory team. We built this engine as an alternative that would change the face of NHRA Pro Stock Motorcycle drag racing. With the efforts of the racers, we were able to do that."