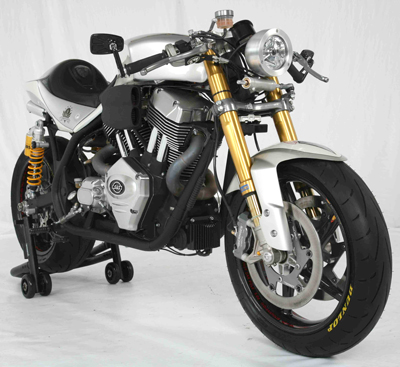 Santa not visiting your house this year due to your questionable behavior? Here is your chance to WIN BIG for the holidays!
If you were at the AMD Championship at the last incarnation of the one-and-only Sturgis Rally, you may remember this bike. If you do not, let us get you up to speed.
Darwin Motorcycles has developed a sporty machine with a lot of (X-Wedge) muscle. This bike, dubbed the "RLX", won 1st in the "Production Class" at the 2011 AMD World Championship of Bike Building. That class is no easy ticket to come out on top of!
This bike was built for 2 reasons:
1) "To build an American Muscle Bike that pays tribute to Bobby Rahal and his storied racing career."
2) "To raise money to support our troops through military charities, Steel Anchor and Pros 4 Vets" (to be raffled off January, 2012)
Seriously... how awesome is that?!
Heard enough? GET YOUR TICKETS TO WIN HERE!
Darwin Motorcycles could have slapped some shiny parts together for your average chopper, put a price tag on it and given a portion of the proceeds away and called it a day. Not the case! This is an exceptional motorcycle with the highest quality components, some by yours truly, and award winning design that its sole purpose was to be raffled off to raise money for our troops. (I'll give you a second for an appropriate hardy slow-clap.)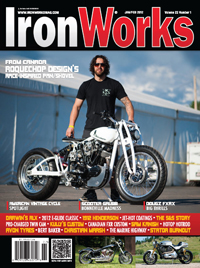 The RLX was featured in the January edition of IronWorks Magazine and they had plenty of good things to say about it.
"I've mentioned it before; the most exciting part of working with creative people who make stuff is watching things come together. I've seen this machine in various forms and described in various conversations, captions, FB posts, emails, and texts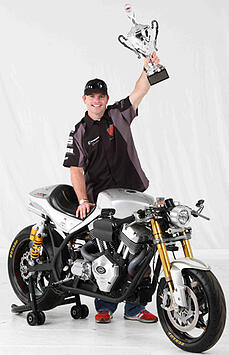 so that I had a clear image of it in my mind's eye before I had ever seen it in the "tin." But when I first saw the bones of the machine last year in Daytona, I was knocked out. It was so much cooler and tougher in person, I couldn't wait to see it done and flying down the road.
I got that chance this past Sturgis. Dar, Bryan, Tim, and the Brass Balls/Darwin Motorcycles team had kicked some major booty with this machine at the AMD show with a win in the very competitive Production Class and were feeling good about the results of all of their effort. The bike was a killer and knowledgeable folks had recognized that, we all know how good it feels when hard work is recognized." -Stephen Berner

Darwin Motorcycles: RLX
S&S Cycle: 132"
X-Wedge
Baker Drivetrain: FFP primary w/ King
Kong Clutch and 6-speed transmission
D&D: Materials for 2-into-1-into 3 stainless
exhaust, built by Darwin Motorcycles
Beringer: Dual 4-piston front and single
4-piston rear brakes plus hand controls
Brock's Performance: BST Carbon Fiber
wheels, 19"x120mm front, 19"x180mm rear
WorldWide Bearings: Ceramic bearing sets
Dunlop: Sportmax tires
Ohlins: Road/Track suspension
Racing Innovations: Muscle Bike frame
w/25-degree rake
Autometer: STACK race gauge
Braille: Carbon fiber battery
Vortex: Clip-ons, sprocket, gas cap
Vortex/Darwin: foot controls with reverse
shifting
Joker Machine: Bar end mirrors
Motion Pro: Cables and switches
MoFlo: Air cleaner
Alloy Art: Headlight
Hix Design: Custom seat
Escort/Passport: Radar detector (machined
into top clamp)
Cycle Electric: Regulator and Stator
Shark Skins: Front fender
Paint: Manny's Ink & Air
Darwin Motorcycles: Tag bracket, custom
bodywork, custom top clamp and rear
brake hanger using Summit Machine.
Designer, Dar Holdsworth had a few things to say about the build / charity: "At Darwin Motorcycles, we build a no compromise custom/production bike using only the highest quality components. We machine everything to fit perfectly. There is a performance edge to our bikes...
I wanted to go farther: more power, more sport/cafe inspired styling. I could not stop thinking about this next bike. How could I bring it to life: out of my head, onto paper, and onto our bike lift? I decided the best way to develop this bike was to pay it forward. To build it then give it away at the end—and that is what we did.
See, I do a bike every year that supports the military. I knew with such a tight economy, I'd have to do something big to get contributions from the top suppliers I was seeking to partner with... All proceeds go to Steel Anchor and
Pros For Vets charities. The components listed in the sidebar were generously donated by these exceptional suppliers; Darwin Motorcycles built the bike for free."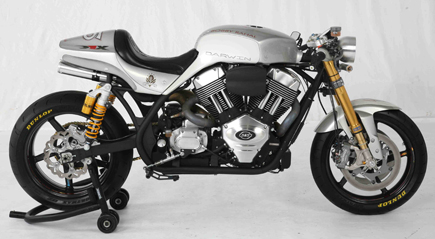 Tickets are only $20.
The bike is valued at over $50,000!
Only 3,500 tickets are being sold!!
Darwin Motorcycles is raffling this bike through midnight pacific standard time, December 24th and need your help to raise as much money as possible to support our troops. Winner will be selected January, 2012. Good luck!