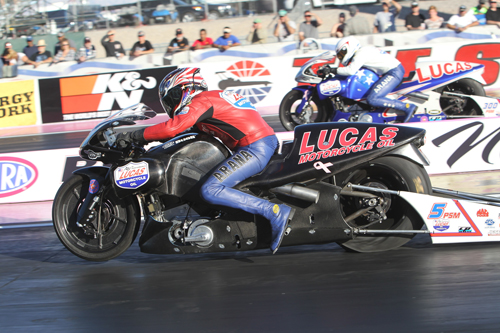 Hector Arana Jr. grabbed the number one qualifying spot at the Big O Tires NHRA Nationals at The Strip at Las Vegas Motor Speedway with a 6.879 elapsed time at 194.46 mph on his S&S-powered Lucas Oil Buell.
He was well on his way to erasing a 10-point advantage Harley-Davidson rider Eddie Krawiec took into the event but a starting line miscue took Arana Jr. out of competition in the second round of eliminations against a slower opponent.
The loss was devastating to Arana Jr.'s quest for an NHRA Full Throttle championship in his rookie season as points leader Krawiec won the event and left with a 69 point lead – over three rounds of competition – going in to the final race of the season in Pomona.
Arana Jr. came into the Vegas event on a hot streak, appearing in three straight finals, while winning the last two events. He also had three-straight number one qualifying performances on his S&S-powered Buell.
Arana Jr. had the low elapsed time of the last two qualifying sessions at Vegas and extended his number one qualifying streak to four. His 6.879 elapsed time held up as low e.t. of the event and set a new Las Vegas Motor Speedway track record for the bikes. The previous record of 6.909 seconds was held by Arana, Sr., set at the NHRA event last year.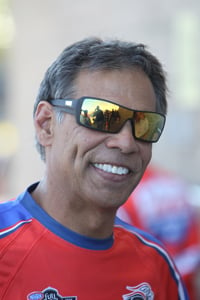 Arana Sr. qualified number 3 at 6.896 seconds. Other S&S-powered riders to qualify in the top half of the field were Matt Smith, #5 at 6.944 and Mike Berry, #8 at 6.991. S&S-powered Buells accounted for 10 of the 16 qualified bikes at the event.
After a first round win over the Rumbum Buell of Matt Guidera with a 6.97 elapsed time, Arana Jr. had an uncharacteristically late .117 reaction time in round two against the Buell of Angie Smith. Although he ran quicker than Smith, 6.97 to 7.04, her starting line advantage was too much to overcome and he was eliminated from competition.
"It was just one of those days," said Arana Jr. "We did well overall this weekend. I just made a little mistake. Nothing we can do about it but learn from our mistake and be better prepared for Pomona."
Hector Arana Sr. had to opportunity to limit the damage as he faced Kraweic in the next round. But he didn't get off the starting line cleanly and lost to Krawiec with an off-pace 7.15 elapsed time.
"I lost my concentration," said Arana Sr. "I double-clutched it. Once you do that, you spin the tire, and you're now chasing the 8-ball."
"The weekend was great until then," Arana Sr. continued. "Then you do something like this, it doesn't matter what you've done before. This is what you remember. I just have to let it go."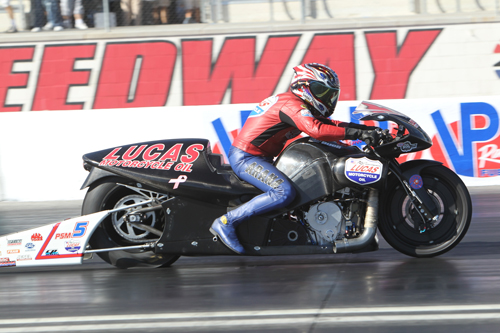 After the event Arana Jr. stated, "It was just one of those weekends. Sometimes you have those times where you're just off. You're not in the right zone, you're off. That's just what happened to us this weekend."
The NHRA Full Throttle championship has come down to a two horse race between Krawiec and Arana Jr. Former champ Matt Smith, also on an S&S Buell is 186 points back and mathematically eliminated from the championship.
Arana Jr. has a tall task in front of him if he hopes to erase Krawiec's 69-point advantage at the Pomona Finals. Still stranger things have happened. That is why they run the race.