Story by Matt Polito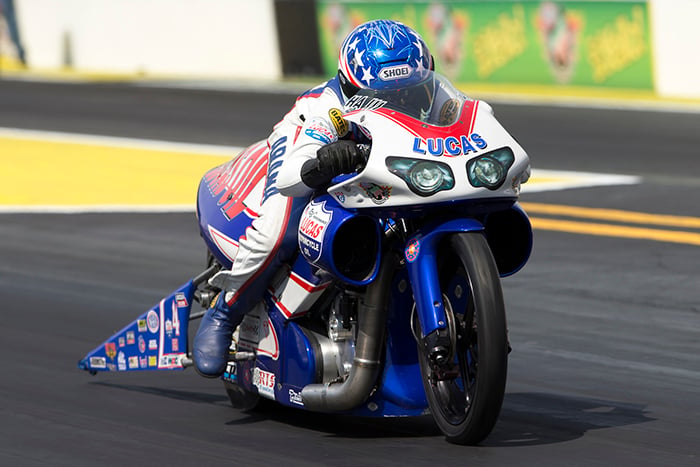 Hector Arana Jr. qualified on the pole at the NHRA Nationals at Maple Grove Raceway as Eddie Krawiec took his fifth event win of the season.
The event was the fourth-straight Countdown event in a brutal string of four consecutive weeks. Maple Grove is known for fast conditions and unfortunately, rain. This year's running was no exception with some of the quickest times of the year and some short rain delays.
Jerry Savoie, coming off his first-ever event victory on his White Alligator Racing Suzuki at St Louis a week earlier, led qualifying through Friday with a 6.860 second elapsed time. Conditions improved on Saturday and the field got fast.
Arana Jr. was in the sixth position going into the final session but then recorded a 6.796 at 197.22 mph to take his second pole of the season on his Lucas Oil S&S-powered Buell. Points leader Andrew Hines was second at 6.799 and Savoie third at 6.821.
"We struggled this weekend in qualifying," said Arana. "We were trying different things but couldn't get it figured out. We threw a Hail Mary at it. We've got nothing to lose. It went right down the track, and we went all the way to number one. I was shocked."
Arana Jr. went into the event well behind points leaders Hines and Krawiec and the number one qualifying performance was what the team needed to make their move.
Arana Jr. was second quickest in round one and faced defending champ Matt Smith in round two. His day – and possibly his hope for a championship hopes – was over when he redlit against Smith. In a cruel twist, Smith was out of power at half-track and coasted across the finish line.
The semifinals saw the Harley-Davidson team face off with Matt Smith Racing. Krawiec met up with Smith and Hines took on MSR racer Scotty Pollacheck on his Petrolhead Apparel Buell. Both races were decided by redlights.
Smith had a razor-thin -.007 redlight on his Nitro Fish Buell giving Krawiec a free run into the final. The Hines-Pollacheck matchup was bizarre as Hines had an uncharacteristic -.026 redlight during which his bike moved only a few feet before an electrical malfunction shut it off. Pollacheck ran a 6.840, giving lane choice in the final to Krawiec.
Pollacheck is quickly being tagged "bridesmaid" as he has no wins in several final round appearances over the last two seasons. He had a total of seven final round appearances coming into Maple Grove including specialty events like the Charlotte 4-Wide and the prestigious, invitation-only MiraMonte Records Pro Bike Battle in Sonoma, CA.
The eighth time wasn't the charm for Pollacheck. He got the holeshot with a strong .011 light but couldn't hold off Krawiec who turned in his best lap of the event at 6.793 seconds. Pollacheck recorded a 6.853 elapsed time.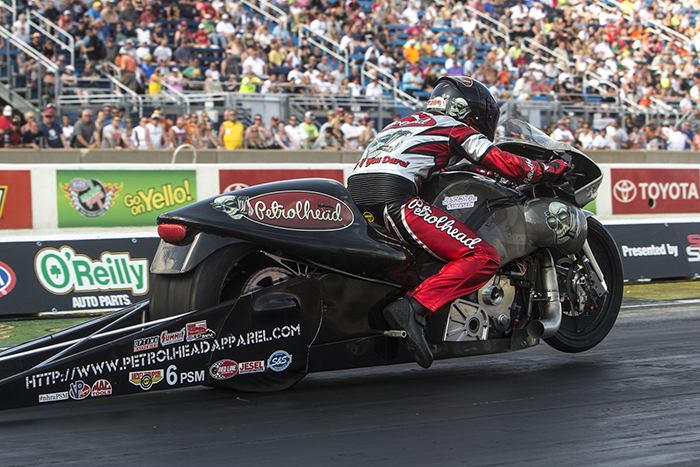 The win brought Krawiec to within 25 points of Harley-Davidson teammate Hines in the championship chase. Arana Jr. still has a mathematical chance to earn the championship but needs a stellar performance and a near total meltdown of the two Harleys at the two remaining races.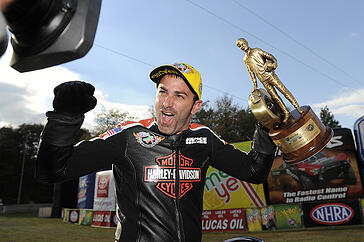 "We were joking around that it looks like it's going to come down to a two-hog race instead of a two-horse race," said Krawiec. "I knew that this was an important day for me personally. If I wanted to stay in championship contention, I have to make sure I can make up every round."
NHRA PSM competitors have a three-weekend break until competition continues Oct. 30-Nov. 2 with the Toyota Nationals at The Strip at Las Vegas Motor Speedway.