S&S Cycle has appointed Justin Bramstedt to the position of Racing Manager to oversee the design and sale of S&S Racing Products as well as to manage the entire racing program.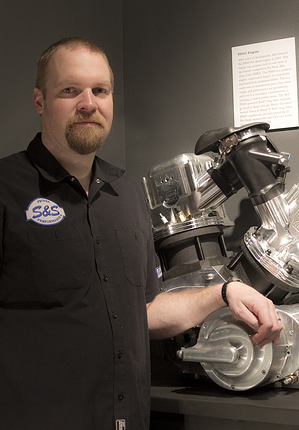 Justin is a 1998 graduate of Mankato State University in Mankato MN, with a degree in Automotive Engineering Technology. He also attended a two year course at the Motorcycle Mechanic's institute. That's a useful background to have when you're designing high performance v-twin engine parts, but just as important are some of his other experiences. Justin is a long time rider and drag racer, and he's always gravitated toward Harley-Davidson® motorcycles. In addition, during college, he worked full-time as an ASE certified automotive technician. Even now, he runs a full service motorcycle and machine shop as a side business.
Justin's combination of technical expertise and first hand knowledge of the ins and outs of the v-twin market made it a natural fit that he would come to work at S&S Cycle in 1999. By 2007 he was promoted to Manger of the Research and Innovation Department. In that position he oversaw the development of a large number of important S&S products including the S&S 4-1/8" bore engine, S&S clutch, S&S helical gear transmission, B2 cylinder heads, exhaust systems, and many others.
Justin explains his new position like this. "As a company that produces what are essentially recreational products, S&S Cycle went through some tough times in the economic recession of 2008 and 2009. As a result, we were forced to reduce our racing efforts for a while, but now that the economy is getting back up to speed, we're back!" He went on to describe his mission. "My job is to keep S&S Cycle at the cutting edge of racing technology. In 2013 Matt Smith took the NHRA Pro Stock Motorcycle championship with an S&S powered bike, and we want to make sure that we're in the winners circle again this year and every year!"
The S&S Racing Program is not limited to the Pro Stock Motorcycle class of the NHRA, but is involved with many other racing sanctions and classes, such as land speed racing at Bonneville and other long course facilities. Justin sums it up. "Whenever a racer wins using S&S products it just reinforces our company motto: Proven Performance®."