One of the many racers who will be attending the BUB Motorcycle Speed Trials this August is Jimbo Fischer. This is a pretty cool story so we'll let Jimbo tell it in his own words.
The Gray Ghost Story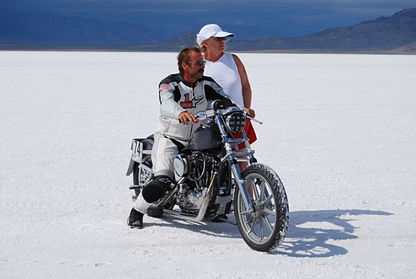 "It was an early Sunday morning, spring 2001. Just finished making my first cup of morning coffee, and I hear my wife Barbara call me over to the table. "Hey Jimbo" she says, " there is an old 1974 Sportster in the paper here, and it says it needs some work, you used to be pretty good at that. – (I worked in a machine shop in early 70's, and made custom parts, and built my first Sportster from scratch in 71) – Why don't we go and check it out, you need a hobby besides work". I am to say the least, a bit surprised, pinching my cheek to make sure I am not dreaming. Not one to argue with this woman much, I just had to say, "yah, that sounds like a good idea sweetheart". A call was made, a meeting set. We got there and first look made it well said," needs some work". Leaning on the side of the garage with a raggedy old tarp on it. Rolling it into the drive I first noticed the S&S carb, then the dual plugged cylinder heads. The young man tells me it was his dad's bike and was given to him, but he couldn't keep it running right. Said it was an old S&S stroker. Hhmm hadn't been plated in over a year.
After about a ½ hr. of tinkering, we got him started, made a deal we could both live with, and began the journey home. Got only half way to the expressway, coughin', spittin', sputterin', and here comes a good spring rain storm to finish the ride to his new home. I kind'a laughed while riding in the rain in that condition thinking, "oh well it's our Baptism, here we go". We spent the next year or so doing a frame off restoration. Giving him a retro look with FL struts and rear fender with a Beehive tail light, an old Mustang Bobber tank, keeping the old style pull back handlebars, & head light.
Taking the engine apart. The lower end checked out ok, but he needed a fresh valve job, & rings. Sure enough, it is a 4 5/8 S&S Stroker, complete w/ rods and pistons, with a set of Andrews X series cams, big XLR valves and some nicely done head work.
Riding him to some HOG meetings one of the guys said, why don't you enter him into the dealers' choice for the 100th H-D Anniversary in Milwaukee. I figure it's a long shot, there are a lot of very cool newer bikes out there. So entry was filled out, pictures sent. Couple of months go by, I have just about forgotten about it when Barb comes into the garage holding an envelope. "You looking for this Jimbo"? I see the 100th logo in the corner and start to freak out. Sure enough, the Old Gray Ghost was invited to partake in the Harley 100th as part of the personal collection exhibit. That was stage one.
Stage two came about a year or so later when Barb, once again she started it, brought up the idea of going to the AMA-BUB International Speed Trials at Bonneville and do the "Run whatcha brung". That's all it took. After being there, you realize why they call it, "Salt Fever". That year, we came within 14mph of the existing record for his class. Too tempting to pass up, we spent the next year getting him set up for some real action on the salt. Making a 4in. extended swing arm, making our own oil tank and battery box to narrow his frontal exposure, getting properly speed rated tires, and a whole punch list of requirements. With some parts help and good advise from old friend Steve Manthey, and some tires from Ozzie at WildFire we were headed back to the Salt Lake.
First pass in 07 found a slipping clutch at about 110mph. Back to the pits, make the adjustments, get ready for the next day. Second day of racing (tach quit working) but brought us a qualifying pass of 121.982 – we had to beat 120.444 – the qualifying pass made us eligible for the return record run (in the opposite direction), which we turned a 125.598mph, establishing a new AMA Land Speed Record for his class with a two way average speed of 123.79.
So this old Sporty, 34 years old, almost parted out, gets brought back to life, comes back a few years later and establishes a new land speed record for his class. M/PP 1350
That's why we call him – "The Gray Ghost"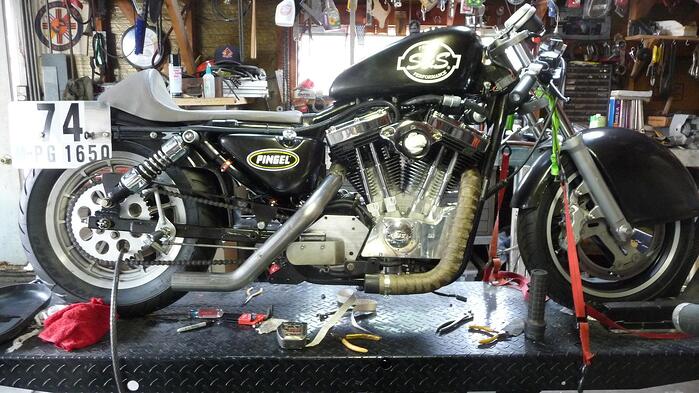 This year the Ghost will be returning to the salt, with a completely rebuilt engine, thanks to Jimmy "Smiley" Smith, crew chief for Edge Racing, to try and increase that mph number, and also compete for an FIM International title.
I guess that's why they call it, "salt fever".
I gotta say thanks to most of all, my wife Barbara, she found the bike and got me started again. And many thanks to Steve Manthey, to my brothers and family for their support and encouragement in chasing a dream. Last but not least, with all due respect, my many thanks to a world class gentleman named Warner Riley for your tutoring of a junior class Land Speed Enthusiast.
Respectfully
Jim Fischer
Project Gray Ghost
M/PP – 1350
2007 AMA Land Speed Record"
Check back later for "the rest of the story" and we'll see how the Grey Ghost has been prepared for the 2012 season with a new S&S engine!