Next up for our Salt & Speed racer profile, we have a letter to share from a veteran racer, Tom Anderson, who will be at BUB Speed Trials this August. Here's what "Santa" had to say.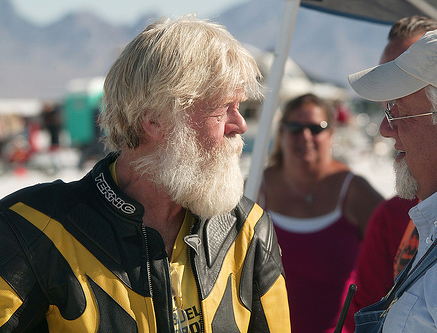 "Hi, I'm Tom "Santa Claus" Anderson. I will get to the bikes, but a little history first. We started racing on the salt in 1995. When Erik Buell and Harley got together and built the S-2 Thunderbolt we came up with the name of Buell Brothers Race Team. We set a record the first year in the Production Push Rod 1350 Class at Speed Week. Our Race Team started with guys that I was in the service with, we were Vietnam Vets and a lot of friends. We loved Harleys and going fast. Our race team now has people from all over the world.
A few years later, my sisters gave me so much crap about having so much fun and not building a bike for women to race at Bonneville. So the Buell Sisters were born.
In 2003, Denis "Bub" Manning met us at Speed Week and helped us go faster. He told us that he was going to put a land speed racing event at Bonneville for motorcycles only. He asked us to come; he was going to call it "Bub Speed Trials". We said "Yes", so did other people and teams. As they say, the rest is history.
The Brothers' bike is now is a 1350 modified partial stream line Buell. With S&S cases, flywheels, and two G series S&S carbs with a set of Schumacher Heads. The bike has evolved over the years, it has set numerous records and gone over 176 mph. We tear the bike down every year, we go through everything: front end, bearings, frame and engine; then paint everything and put it back together and Dyno the bike. Then it is off to Bonneville to see if we can go faster! Joe Taylor has been the pilot for many years. This year Joe is building a 1939 Knucklehead, so he is also busy.
The Sisters' bike is the same 1995 S-2 Thunderbolt we started racing with in 1995. It is in the 1350 Production Push Rod Class. The engine we use is a stock 1203 Buell engine from Harley. We have had a few different women ride the bike through the years but Erin Hunter is the pilot now. The thing I enjoy about women riding the bike is that they listen to what you tell them to do, then do it and go faster. The Production Class has to be like you bought the bike new. She has set many records through the years on the bike. She holds the record now at 147 mph and we want to go faster at the Bub Speed Trials.
The third bike is new this year; we are going to call it Big Brother. It is a Buell frame with a Buell RR Body work. Things didn't work out on our new engine so we are going to run a 1203 Buell engine to make sure it goes straight down the track. Plus, we will see if the fairing I built will work and handle. I am putting all that I have learned over the past 18 years to hopefully get to 200 mph on gas and naturally aspirated. All of our bikes are yellow, our first bike was yellow and we still are the same.
If going to Bonneville is on your bucket list, you better do it. You will never forget it. Plus you can always stop by the Buell Brothers and Sisters pits and get an Old Style beer and some Cheese! After racing, we get together at our pits, play guitar, sing some Rock & Roll songs and have a few Old Styles.
Buell Brothers and Buell Sisters Race Team
Santa Claus"