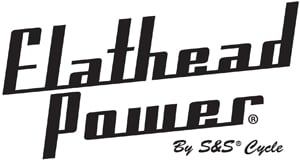 In 1942, Harley-Davidson® made 462 U model motorcycles, 41 of which were slated for the U.S. Army. Harley-Davidson also produced 426 Sidecar versions for the U.S. Army, and these U Models w/ sidecar ironically were USA models. Since only the U.S. Military can make the great American icon more American, S&S® decided to do a military motorcycle for the 2012 Flathead Power® road tour. Long time S&S employee, Bonneville record holder and military vehicle enthusiast, Dan Kinsey jumped at the chance to work on this project. Since the majority of our flathead parts are for the big twin flatties, the bike would have to be a replica of one of these rare 1942 models.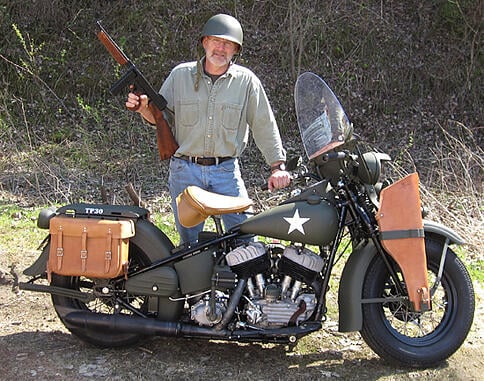 Built and painted by Bonneville Record Holder, Dan Kinsey, of S&S® Cycle.Diving into the historical archives and internet pages filled with nose cone art and pin-up babes, very little on the U.S. Army U models could be found. Not wanting to give up on the project, we did the next best thing, duplicate what we knew of the 45" WLA models to create our own WLA/U model hybrid. Some initial parts and a wealth of knowledge from our friends at WayBack Wheels got us well on our way. Dan went to work stripping down the "F-bobb" (an S&S built U model flathead bobber style motorcycle) bike and repainting it in olive drab green. Starting with cut down fenders, Dan created some parts from scratch and retro fitted other WLA model parts. Given that the WLA 45" engines used a three-bolt inlet flange on their smaller carb, we had to generate a 3D model and a rapid prototype of the air inlet casting for the oil bath intake system. Our version has the U model four-bolt carb flange and with S&S being S&S, we just couldn't resist adding the patented stinger to the intake.

Jumping in on the replica rage, Marketing Director Gary Wenzel went so far as ordering a replica Tommy gun to fill the empty scabbard. The designation lettering is even unique to Flathead Power and S&S. On the rear fender, the division designation uses the S&S founding year, 1958, in the call out AGF-58C (Army Ground Forces, 58th Calvary) and the vehicle designation; FHP 1 of course! After three months of hard work and research, the 2012 Flathead Power display and pit bike is complete. This bike features Flathead Power heads, 80" cylinders, pistons, solid lifters and kicker cover. But this bike isn't just for display – we've set it up with a foot shift and a hand clutch so our show staff can easily tool around the show grounds.
You'll can see this bike at these shows:

Perkiomen AMCA Swapmeet
Oley, PA - April 27-29
National Motorcycle Museum Show & Swapmeet
Anamosa, IA - June 1-3
J&P Open House
Anamosa, IA - June 23-24
Oshkosh Air show
Oshkosh, WI - July 23-29
Blackhawk Vintage Races & Swapmeet
Davenport, IA - Aug 31-Sept 2