2004 Iron Horse - Original condition
Black Betty... Or Why You Should Never Say "Can't"
Most of the time, the Performance Times Blog is about racing and other high performance topics. This story illustrates another kind of high performance. It's more about high personal performance where someone takes on a challenge that others have walked away from. In the end, they show what you really can do if you try. It also illustrates why you should never tell Paula Taylor that she can't do something. On April 12, 2012 we received this email from Paula:
After the fire

"Hello,
I want to let everyone know how awesome your motors are and I have proof thought u might want to use in advertisement. I got a 04 Iron Horse Texas chopper that was burned in a garage fire pix of it in the garage. We replaced the rocker box covers & compression releases as they were burnt off. After hours of cleaning and polishing, the cases polished back out using the same burnt plugs it started and ran on second start up. It won radical class at bike week. I can send pix if you are interested. Thank you for your time.
Paula Taylor"

Talk about your burnout! Well, the photos were so amazing, and the story even more so, that we asked Paula to give a full account, and here it is in her own words.
"In June 2011 a friend of ours decided to sell his 2004 Iron Horse Texas Chopper, he took it to a guy to have it detailed before selling it the next day, when he went over to pick it up, the bike was not ready yet and was asked to leave it with him that night so it could be completed for the next morning. At some point during the night the window air conditioner unit shorted out and caught on fire burning the garage down with the bike inside. To make matters worse he owner did not have the bike insured and garage was not covered by the home owner insurance.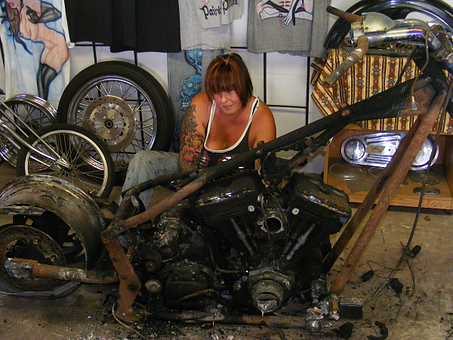 When we went over to look at the bike " it was bad", first thing the hubby did was tap on the fins with a screwdriver to see if they were brittle from the heat. We decided to take the challenge. We never built a burnt bike and figured I could part it out if nothing else, so I traded a paint job on his other Harley the owner had for the burnt bike. None of the other shops in town would touch it and was repeatedly told I was wasting my time, to the point they kind of made me mad, so I guess now I should thank them as it made us more determined to build it. Sounds crazy but I just had a good feeling about it. The bike was delivered to my shop Paints by Paula Bend Over Customs, Mims, Florida.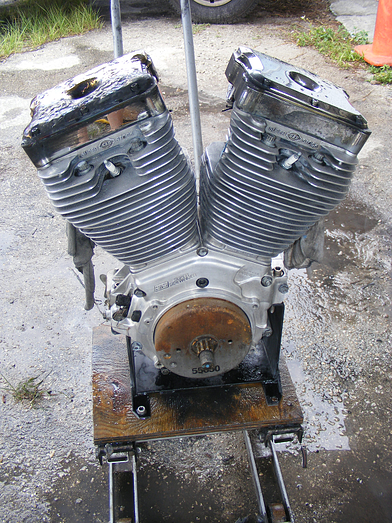 Had to cut what was left of the rear tire off with a saws-all to be able to roll it inside with the melted rim. Once inside the shop, it not only looked bad but smelled worse. If you touched it or got near it you were black. It took us two days to disassemble. We were very concerned with the motor condition and there is still a stain on the floor from tearing it down and believe it or not, there was still spark in the battery. We rolled the motor outside once it was removed from the frame and then with hubby's help, we started cleaning with a water hose, degrease made for aluminum, Scotch Brillo, Brillo pads and a wire brush. The motor was covered with soot and fire retardant foam that had hardened, 9 hours later the motor was looking pretty good.
Next we began to tear down the motor to inspect for damage, we removed the rotor and found the stator was intact, we removed the carb, the float bowl was full of gas, the rocker boxes were damaged beyond repair, but when we removed all of the rubber gaskets that were intact, there was oil in the lower box. No discoloration or any signs of damage. The rubber boot for compression releases and insulation were burned off, leaving about 6" of wire. The husband then tested each compression release with a 9 volt battery. Amazingly enough, they both worked. That really inspired us to go for it.
We then removed the oil pressure sensor that were burned off, nose cone removed, chiseled out what once was the points cover that had melted. No damage to the cam cover. The melted metal did not stick to it amazingly. No discoloration, infact the cam seal was good and was NOT replaced. After approximately 120 hours of buffing and polishing (we did not split the cases) it was coming back to life with full luster of polished aluminum. We used a small wire brush to clean between the fins but we could not get them polished enough so they still had some discoloration. So we sprayed the cylinders with hi heat texture paint and re polished the edges of the fins. Replaced the rocker box covers, took pushrods out, no damage.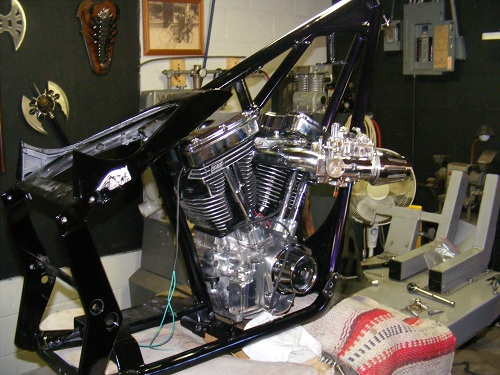 Took the pushrod covers and nose cone to Space Coast plating for re-chroming. We replaced all of the gaskets and seals. New compression boots and added wire to the 6" pigtail that was left. Installed Dyna S single fire ignition, plugged the crank position sensor hole. Installed motor back into refurbished original frame. We just built up from there. The day of truth or dare was fast approaching. Wednesday of bike week, Charlie Hadayia, Sr from S&S in sales and customer support, happened into my shop and needed some tranny lube for his 94" knuckle. He was curious after seeing the photos of the bike before we started and the condition after the work we did and how the motor was going to run. We were booked to be at a show that Friday morning of bike week with this build, and this was Thursday late afternoon.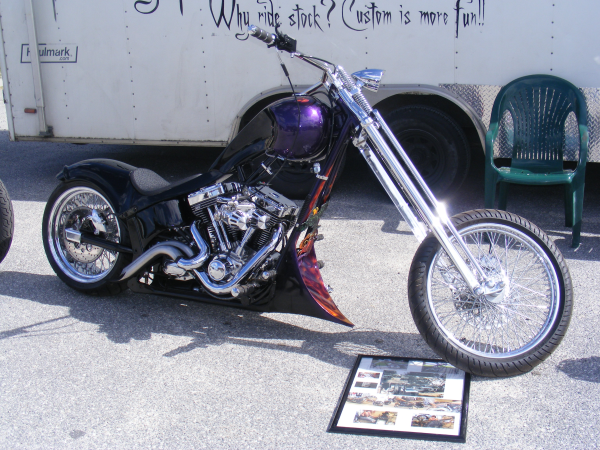 The finished product!Cocky Hubby, Steve was cleaning the old burnt spark plugs and actually put them back in the motor. Turned the motor over a few times with no power to coils to verify oil pump was coming up to pressure etc. Applied power to the coil second stroke of the motor it FIRED, being fed fuel from dual Delerto carbs (the S&S carburetor also polished out and is working). The 111 motor ran so well you would have never known it was in a fire with such extreme heat.

So we can attest to the true integrity of the S&S motors. Oh and we did make the Friday show. We won the Radical class with the old burnt bike, Black Betty.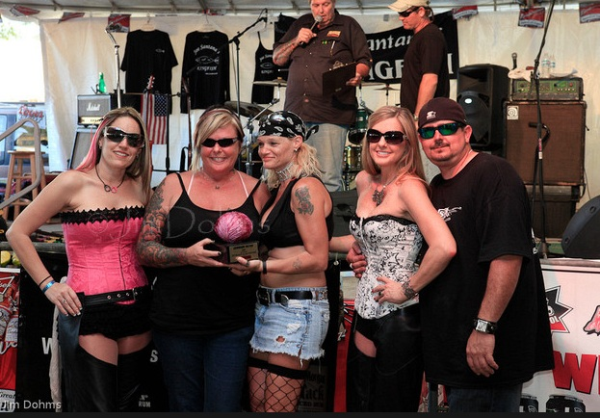 Warmest regards
Paula Taylor
Paints by Paula Bend Over Customs
Mims, Florida
321-302-2759"