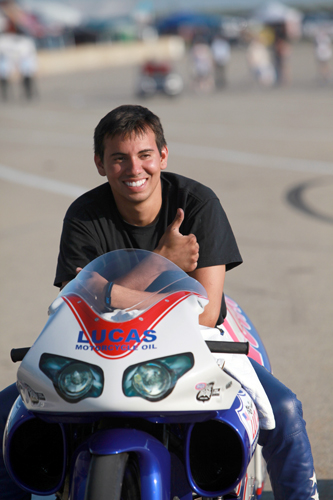 Hector Arana Jr.
(October 3 Reading, PA) Hector Arana Jr. rode his S&S powered Lucas Oil Buell to the winner's circle in the NHRA Pro Stock Motorcycle class at the Maple Grove Raceway near Reading, PA. The finals for that event took place on Monday October 3 because the race was rained out on Sunday.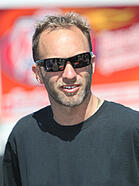 Matt Smith
Out of nineteen entries in the class, eight were powered by the S&S 160 cid Pro Stock engine. Seven of those eight S&S powered bikes qualified with Matt Smith and Hector Arana Jr. making it to the final eliminations. Both riders were super hot and overcame all contenders until the final round when Hector Jr. took the race. In that round Arana's 6.781 second - 195.82 mph run narrowly beat Smith's 6.795 second - 194.24 mph effort. Both riders were very close to the class national record of 6.777 seconds held by Hector Arana Sr. on his S&S powered Lucas Oil Buell, making it the quickest side by side drag race in the history of the NHRA Pro Stock Motorcycle class!
Winning this race puts Hector Jr. in second place in the points standings, 35 points behind the #1 rider Eddie Krawiec. As the runner up, Matt Smith moves up to third place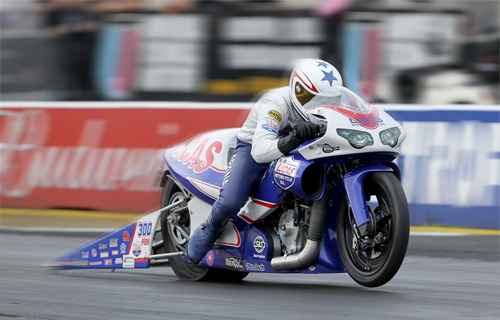 Photos taken by Matt Polito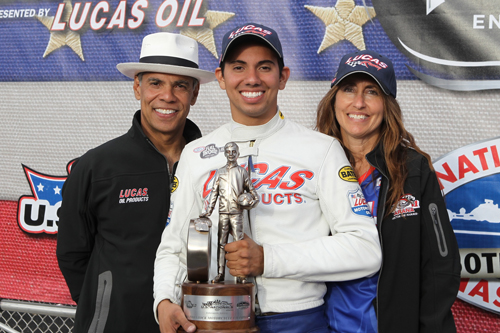 Hector Jr. with his mother and father (Hector Sr.)
35 points behind Arana. Advancing this far in the highly competitive NHRA Pro Stock Motorcycle class is a great achievement for a rookie rider like Hector Jr. so it will be interesting to see how he finishes the season. Matt Smith is a veteran Pro Stock racer, being the first rider to win an NHRA championship on an S&S powered Buell in 2007. There are still three races left so it is possible that either of these guys could take the championship. Or not. That's racing!
V-twins have dominated the NHRA Pro Stock class since 2004, winning national championships until last year (2010) when Louis Tonglet won on a Suzuki. In the US Nationals this year at Indianapolis 27 bikes entered the field, and of the 16 who qualified, 8 were S&S powered Buells, demonstrating the S&S "Proven Performance" the company has been known for. There is a good chance that a v-twin will win again in 2011, since 4 of the top 5 bikes in the points race are v-twins. Here at S&S we're rooting for Hector and Matt, but it's not over until you know who sings!