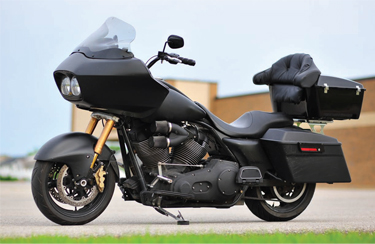 In the November issue of IronWorks magazine, Stephen Berner published a great article titled "Scott Sjovall's X-Glide: More than the sum of its parts" covering his experience with Scott's motorcycle. The X-Glide is a lab rat of S&S Cycle's research and development and is a true workhorse in the name of better motorcycle performance research. Scott lent Stephen his X-Wedge powered custom homebuilt for a week and had a few things to say about it.

"The X-Wedge was debuted to the VTwin press during 2007, heady times in the V-Twin industry indeed. It was a new engine designed for the blossoming OEMs who were looking for an EPA-compliant workhorse; a worry free high performance engine made in America from a name they could trust. That in and of itself had value and leverageable brand equity. 'It is powered by an S&S XWedge engine, you know.'"
"Well things being what they are and history being what it is, looking back we obviously are much wiser, smarter, and a hell of a lot more conservative in how we spend our hard earned cash now. But if it weren't for the boom the X-Wedge might not have been developed. And friends, I can report that it is indeed a well-developed engine."

But let me tell you, this is a great engine; a responsive power plant that can go to a whole 'nother level of V-Twin riding. A 56-degree cylinder configuration, a wider configuration than a 45-degree engine layout. It is this characteristic that prevents us from simply sticking this beastly strong S&S engine in our stock framed machines. The front cylinder and exhaust pipe wont fit a stock configuration and the back cylinder would be crowded."

"And so every once in a while a knowledgeable enthusiast would typically ask three questions: the first was "What am I looking at?" The second, "What's it like to ride?" And the third, after hearing my answers, was "Where can I get one?" So, this is how I answered those queries.

What is this? This is a 132-inch, S&S XWedge-powered, Rolling Thunder frame'd Road Glide derivative owned by Scott Sjovall, VP of Product Development at S&S Cycle. The front end is off a Hayabusa. All the running gear/bodywork is a blend of S&S and H-D for the most part.

What's it like to ride? It's a lot like a Harley but it spools up faster, goes longer, is stronger, has more torque and doesn't run out of breath. The engine seems unflappable and doesn't mind redline/rev limiter shifts through all the gears, all the time. It never complains. At slow parking lot speeds, you can feel the longer frame but in every other situation the bike is like a locomotive; strong, straight in terms of handling, and has seemingly boundless enthusiasm for the task at hand. Sixth speed is ridiculous—a total "you're gonna collect autographs" gear. Put it this way: you are doing 75 MPH at 2900 RPM in 5th and the engine is barely breathing. What are you planning on doing in 6th gear? Getting tickets, uh huh.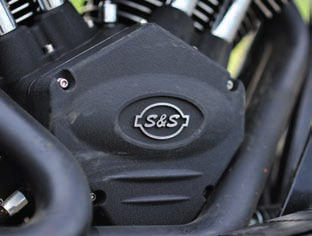 Where can I get one?: Unfortunately you can't get one. Well, let me rephrase that: you can't buy one "baked." You will need to connect with a builder who can put the bike together or you can do it yourself if you are a crafty hands-on type that has done work like this before. Working with a frame manufacturer like Rolling Thunder insures you'll have what you'll need in terms of tabs and mounts, and S&S has some real patient tech support folks that can work with you to answer fitment questions and make recommendations. The bodywork and accessories are available most anywhere. Put it this way: S&S wants you to succeed."

To read the entire article, click here to download the pdf.

Coming soon: The X-Glide hits the drag strip!


Photos taken by Chris Callen of Cycle Source