We'd like to introduce you to a one-of-a-kind vehicle that is sure to turn heads. With it's iconic design but with 21st Century technology, the Morgan 3 Wheeler looks like an aeroplane and built with one purpose in mind, FUN. Just take a look: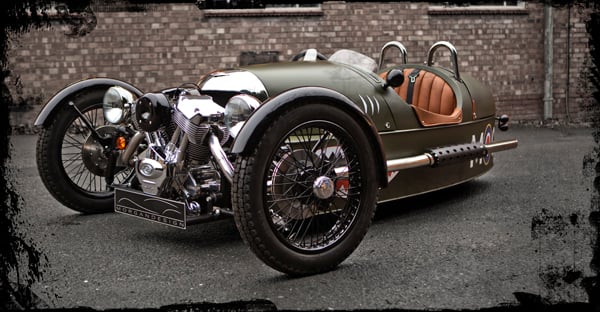 The Morgan 3 Wheeler is built with safety in mind with reinforced tubular chassis and twin rollbars for the driver and passenger. It is easy to control, the exhaust looks like it's ready to shoot down "bogeys", has a leather padded cockpit complete with aircraft instrumentation, all to add to the feel that is second only to getting in an actual WWII fighter plane.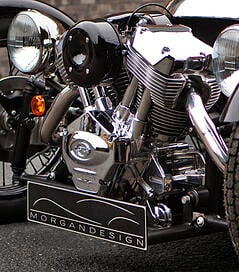 Now let's get down to it's power. The Morgan 3 Wheeler is running the one of a kind X-Wedge engine made by yours truly, S&S Cycle. The X-Wedge was designed by S&S engineers from a clean sheet of paper. This power train has features designed into it that other V-twins envy. With increased durability, decreased noise, and has plenty of power to get the Morgan 3 Wheeler flying on the road.
This engine was designed as an emissions compliant performance engine right from the get-go. It was intended to fill a need in the market for manufacturers and custom bike builders who wanted something a little different while maintaining emissions compliance. It is available in 49-state and 50-state versions.
Think 3 wheeled vehicles or "trikes" are a new phenomena in the motorcycle world?, well guess again.
Harry Morgan from England introduced these unique vehicles over 100 years ago!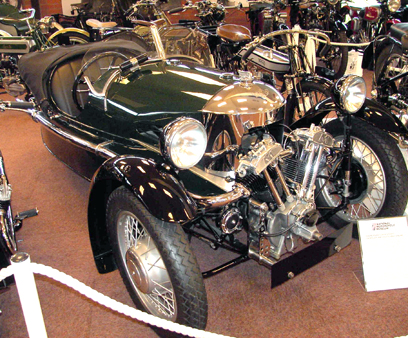 An earlier Morgan on display at the National Motorcycle Museum in Birmingham, England
photo by: Dennis Schaefer
Is it a car, is it a motorcycle or is it a trike? It's a "Cyclecar"! Started in 1910, the Morgan bridged the gap between the fledging automobile industry and the thrill of two wheeled early motorcycling, introducing affordable motoring to the masses. Simplicity combined with low cost drove the Morgan into the early consumer arena.
Now Morgan has partnered with S&S® using their powerful X-Wedge™ engine to bring the Morgan to 21st century owners.
As Morgan said: "The time is right for Morgan to take a new look at the combination of acceleration, on road performance and economy. The time is right for Morgan to relaunch the 3 Wheeler."
For more information please visit www.morgan3wheeler.co.uk