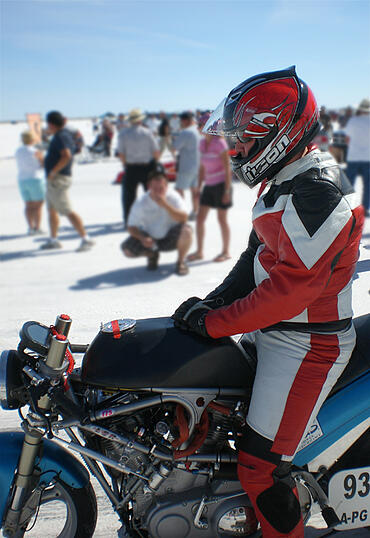 S&S Cycle's Engineering Manager, Jeff Bailey, just came back from Bonneville, attending the "World of Speed" meet and had brought his own custom built bike to put to the salf flats. Not only did he come back safely, but he came back with a new speed record!
Jeff Bailey had this to say:
"This was my second trip to Bonneville, both times at the World of Speed event put on by the USFRA. Last time I ran a Buell X1 with a fairing and a S&S 100" engine, earning a 172.5 mph record in APS-PG 1650. With that bike, I had a lot of experience at speed after running at Maxton, NC several times. This trip was different though because this was a new bike with no miles on it, with a new engine and one off prototype fuel system, so I didn't really know what to expect.
This time I ran an open 1995 Buell S2 with a 160 CID (4.8" x 4.375") S&S race engine. This put me in the A-PG 3000cc class. The previous record was 159.833. In 4 days of racing, we bumped this record up to 180.35 and then switched classed to the fuel (A-PF 3000), but didn't change anything on the bike, and set that class record to 176.271 in 2 runs. The previous fuel record was 164 something. My fastest one way speed was 181.
My crew was a little bigger than before too. The Hillegass brothers, Nevin, Grant and Kyle left a day early to do a little sightseeing before showing up in Wendover, UT. Gene Dlask, my dad Neil Bailey and I headed out with enough time to take 2 days to get there. We were ready to tech inspection on Tuesday and only had to steal a couple parts off the old 100" bike to pass tech.
Racing started on Wednesday and lasted through Saturday. If everything would go to plan, we would make a run to qualify for a record and the next day make a return run to set the record. That is exactly how the week went. Every run I made was either a qualifying run or return record run. After you qualify for a record, you go to impound and wait for the record return runs the following morning.
The bike ran flawlessly thanks to the prototype closed loop wideband EFI system Rob and Nevin cooked up. Other trick stuff included a custom clutch based on S&S's Victory clutch, Spyke starter to spin this monster up and a custom Works Performance Shock.
Not a bad first trip anywhere with this bike, although my expectations were a bit higher. A couple more runs and I am sure we would have hit 185. In the 8 runs we made, there wasn't much experimentation."
Here is Jeff's run log for the week:
Wed, September 15, 2010
Run 1: 171.9 – qualified on the existing 159 record
Thursday, September 16, 2010
Run 2: 175.0 –Set new record with an average of 173.5.

Run 3: 175.9 – qualified on my new record
Friday, September 17, 2010
Run 4: 174.996, but had a 180.38 speed through the first quarter mile – set a new record of 175.5

Run 5: 180.535– qualified on my new record
Saturday, September 18, 2010
Run 6 –180.166 mile – set a new record of 180.35

Run 7 – changed to Fuel class –174.94 mile – qualified on the existing 164 record
Run 8 - 177.6 - set a new record of 176.271 mph
"Although there are a lot of people who helped with this, I need to especially thank a few of the guys here at S&S who really made this all come together." said Jeff.
"Gene Dlask kept everything running smooth at Bonneville – not only my bike, but he also worked on the truck, trailer, someone else's Hayabusa, the neighbors van starter and just about everything else in his way.
Nevin Hillegass came up with a EFI system that worked so well, we didn't have to touch a thing.
Grant Hillegass designed an intake manifold that did everything I asked for.
Rob Creighton put together a wiring harness and electrical system that is a work of art and is bullet proof.
Dan Kinsey took care of all the machining projects that I could have never done right.
Thank you all very much."
Jeff's 1995 Buell S2 specs:
Chassis:
1995 Buell S2 built from a bare frame.
Custom sideplates and frame modifications to accommodate the 5+ inch taller engine
Engine:
160 S&S cast pro stock – 4.8" bore x 4.375" stroke
One off single bore EFI intake with 3-3/8" throttle body
Electronics:
S&S VFI with prototype dual cylinder wideband closed loop system
AIM dash/data acquisition system with CAN communication to the S&S ECU
Drivetrain:
Baker XL6 transmission with reverse shift drum
One off clutch modified to accept the S&S Victory variable clutch plate