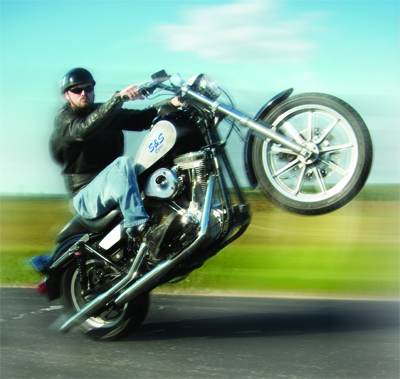 For many of you who have been following George's Blog on the S&S website, you may be surprised to find that it is now called the Performance Times blog. The reason for that is that I'm not the only one here at S&S Cycle who has something to say. A couple of weeks ago my brother Ken wrote a blog about our father's red pan chopper. It was well received and really informative. So we opened the blog up to allow more people to contribute. We chose the name Performance Times because that was the name of a print publication that we used mail out to subscribers. Performance Times used to fulfill the same function as this blog before blogs existed. I presented product and industry information, and we used it to tell stories about S&S cycle and the industry. So in the coming weeks, you can expect to see blog entries by a number of authors.

For example, we have some really talented employees here at S&S who work in product development and production, and frankly, they are the absolute experts about what they do. So why not have them tell you about it in their own words? I'm sure that most riders have no idea what's required to take an idea and turn it into a working prototype and finally a product on the self at your favorite motorcycle shop. The majority of our business is making high performance parts for Harley-Davidson® motorcycles. In other words, we start with something that is already good and we make it better. That can be pretty difficult, but as the saying goes, "We leave the easy stuff to the other guys."

My brother Ken and I will continue to post historical and industry related articles now and then, because when it comes to S&S company history Ken is the undisputed authority. I am a close second, but there are other folks who have worked here at S&S for many years and been a part of the history and have seen growth of the company first hand. I know that an occasional story from one of these S&S "lifers" will be interesting to our readers.
History aside, I expect that you will see various articles about S&S performance parts and about goings on in the high performance aftermarket industry. I wouldn't be surprised if these people come up with some unexpected angles. That often happens when a group of highly creative people such as our staff here at S&S is given the opportunity to tell about their jobs and their experiences.

So don't feel bad about George's Blog ending. As one door closes, another opens.