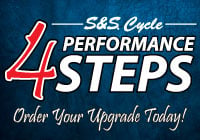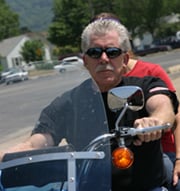 Let's face it - stock motorcycles aren't very exciting for performance. For some people stock is OK, for others improved power and performance matters big time! That's why S&S Cycle has been so successful in the high performance aftermarket business for over 50 years. There are enough riders who want more from their Harley® than what they got off dealer's show room floor, that S&S has a large customer base all over the world. So if you don't care about going fast, you can stop reading right now. For those of you who do care about increasing your bikes performance, read on.
Last week I mentioned the 4-Step program for increasing the performance of your bike in manageable and economical steps. Today I want to elaborate on the first step, which is performance exhaust and intake.
The first step most Harley® owners take to increase performance is to install a set of aftermarket performance slip-on mufflers. That's a great start, but you have to be sure the pipes you are looking at are really performance oriented, and that they aren't just bling. They say that "chrome won't getcha' home" and I can tell you that it won't make you go any faster either. Of course everybody wants their bike to look good. I'm no different. I won't bolt something ugly on my bike, but I won't bolt on something that doesn't work either. That's why S&S slip-on mufflers are great looking, but first and foremost, they are designed to perform. We're especially proud of our new line of touring mufflers for 1995-up baggers.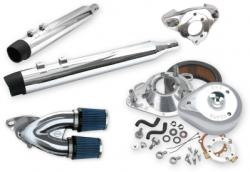 What a lot of riders may not be aware of is how the combination of a performance exhaust system and a low restriction air intake yield a larger performance increase than either one by itself. S&S has been known for performance carburetors and air cleaners for Harley riders since the mid 1960's. Our high flow teardrop air cleaner has become an icon in the industry. It looks great on almost any bike, but more importantly, it lets your engine breathe and make more power. An S&S air cleaner and a set of our slip-ons generally will get you about 10 more horsepower on an otherwise stock motorcycle. That's a pretty good return on your investment. It's probably the cheapest horsepower you can get.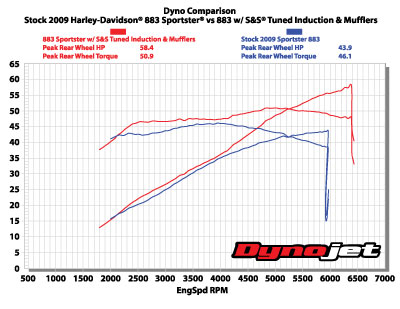 More recently, we introduced the S&S tuned induction systems. These are very cool looking with dual forward swept tuned length intake runners, and conical air filters. Admittedly, not everybody likes this more radical styling, but anybody into performance can appreciate the boost in torque and horsepower from the "tuned ram effect" that the tuned length intake tracts provide. The tuned induction system and a set of S&S slip-on mufflers can give you up to 15 horsepower over stock, plus more torque. So S&S offers a couple of options for style and performance, teardrop air cleaners for the more traditional minded, and tuned induction systems for those who are looking for even more performance and want something with a more aggressive look.
Another important factor about Step 1 of our 4-Step program is that it is not usually necessary to recalibrate the stock closed loop EFI system after a muffler and air cleaner are installed. If you decide that you do want to maximize performance through fuel system tuning, we carry several jet kits for stock CV carbs plus our EZFI® and VFI modules for tuning your EFI system. So an air cleaner and muffler combination is economical to purchase, easy to install, and doesn't always require tuning. That makes it really attractive as a first step.
Next week, I'll talk about Step 2. That's where we add a set of cams to the mufflers and intake we installed in Step 1. This is a little more involved and we definitely recommend that this step be installed and tuned by an S&S dealer, so you get the most bang for your buck.
Let's take the next step next week!