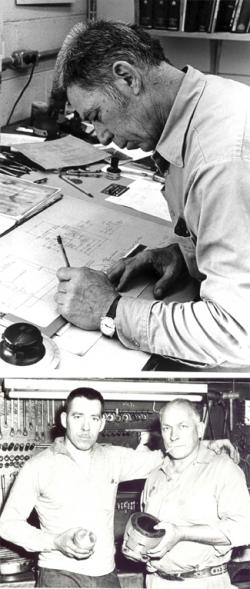 My father, George J. Smith founded S&S Cycle in 1958 with a friend of his named Stan Stankos. Smith and Stankos - that's where the S&S originally came from. My dad had established a reputation for having the fastest Harley in the Chicago, Illinois area and there was demand for the innovations he had incorporated into his own bike and he and Stankos thought there might be a market for his ideas. Stankos was busy with his auto trim service, so a year later he sold his interest in S&S to my mom and dad. My mom Marjorie had been doing all the advertising and bookwork, and since her maiden name was also Smith, my dad continued with the S&S name, but now it stood for Smith and Smith.
S&S started out producing light-weight aluminum pushrod and solid lifter conversion kits for Harley® big twins. The pushrod kits solved a valve train performance problem in the knuckle and pan engines. With the stock valve train, the valves would float and/or the lifters collapse at high rpm, limiting the performance potential of those engines. Later, stroker flywheels, carburetors, Sidewinder® big bore cylinders and pistons, and a host of other parts were added to the product line. The point is that S&S built a reputation for making the best parts you could buy to hop up the performance of a stock Harley-Davidson® motorcycle.
By the early 1990's, we had enough parts to put together a nearly complete engine. At that time there weren't enough new bikes from Milwaukee to go around, and it could take a year and a half or so to get a new Harley. There were enough aftermarket replacement parts available to scratchbuild a complete rolling chassis. The only part that was hard to come by was the engine, and S&S was able to fill that gap, so it's no surprise that many entrepreneurs began building custom bikes in the Harley style.
Through the 1990's S&S became the premier supplier of engines for these new companies who were building v-twin motorcycles. We came to call them the "Custom OE" manufacturers, and they bought a lot of engines from us. At that time the economy was booming and a lot of Harley riders would replace their stock engine with one of our S&S high performance engines. S&S became known more as an engine company than as an aftermarket performance parts company. That's how the market was until a few years ago
The past decade, Harley-Davidson increased production so that there is no shortage of bikes. Import bikes have made an art form of copying the Harley cruiser and bagger silhouette. At the same time, the U.S. economy has gone into recession aided by the credit collapse. The result is that a lot of the custom OE companies are struggling or have gone out of business, and a lot fewer Harley owners can afford to replace their entire stock motor with an S&S engine, because that requires a large cash outlay at one time. These riders still like going fast, but to do it they are modifying a stock Harley as their budget allows. That's how the market is now.
In response to these market demands, S&S has come up with a number of economical, easy to install products to boost the performance of stock late model (twin cam) Harley-Davidson bikes. Our Easy Start compression release cams, teardrop air cleaners, tuned induction systems, 97" & 106" big bore kits, CNC porting service, and a new line of touring mufflers are all good examples of this type of product. These parts can be installed one at a time, and each addition will complement the performance of the go-fast parts you've already installed. We call this "back to basics" because making go-fast parts for American v-twins has always been the core of our business since the beginning in 1958.
That's the basics of our 4-Step performance program, but more about that next time.