Indoor Flat Track.

As flat track resurges, more and more events pop up.

This event, though, isn't new. Well, it is, but it isn't. Indoor Flat Track had happened, in this same arena, in the past. Back in the day, indoor racing was huge in Minnesota, probably due to the long winters and harsh weather. Well, everything comes back sooner or later, and racing is back and bigger than ever.

The Armory is located in St Paul, Minnesota, and is a looming, arch topped building on the fairgrounds. Back in the 70's, it hosted many flat track races. Two stroke bikes smoked while fans watched the riders run lefts around and around until the checkered flag dropped.

Today we raced again, laying rubber down on the concrete and once again filling the building with exhaust fumes.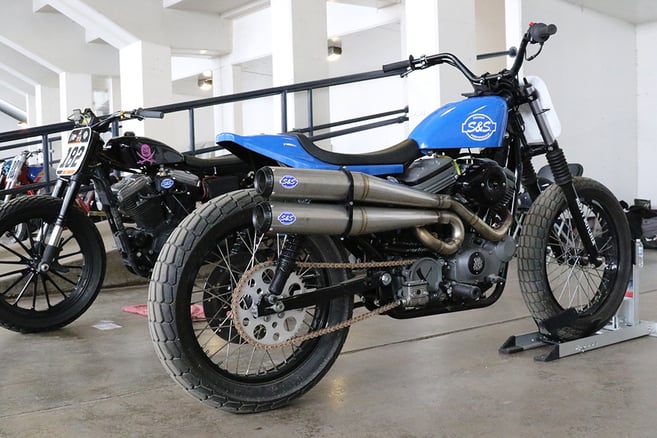 Our latest HD® Sportster® based tracker
S&S brought out a couple of our racers, Hunter K, Jon M, on our new Sportster® tracker, and Soren L, on an Al Muth HD® Sportster®. They hit the track ready to go, in various classes. Soren did quite well in the Pro Hooligan class, having a racing background behind him before coming to work for us!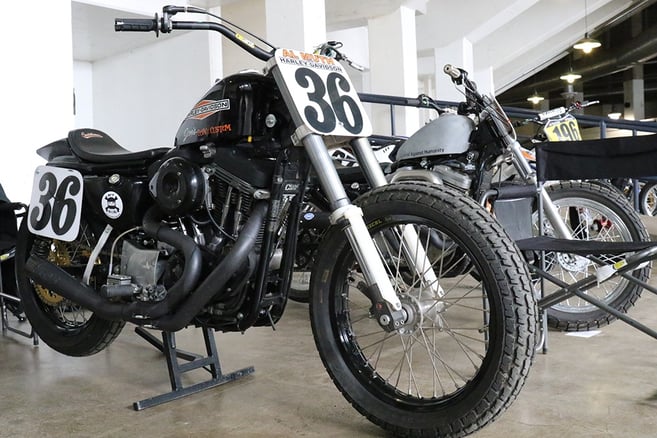 Soren's Al Muth HD® tracker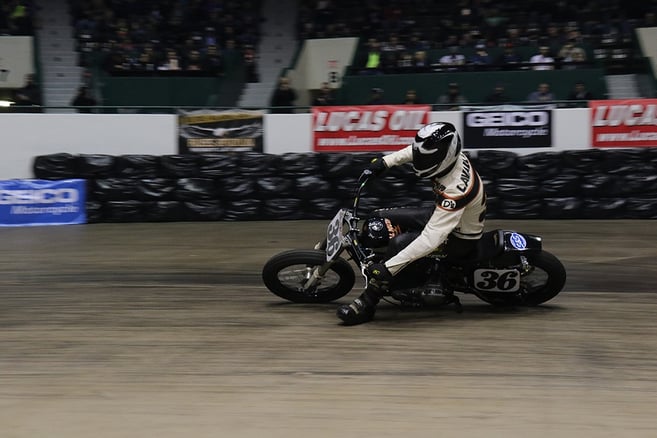 Soren gets low in turn one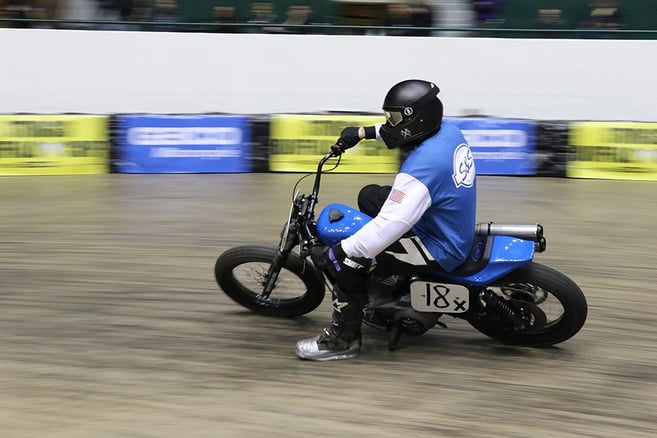 Jon leaves turn 2 for the straightaway
A few other S&S equipped racers hit the track too, like Dan J on an incredible Evel Knieval inspired tracker (with S&S exhaust) and Cole Fealy of Vanilla Cycles, along with well known hooligans like JJ Flairty and Dan Jacobsen.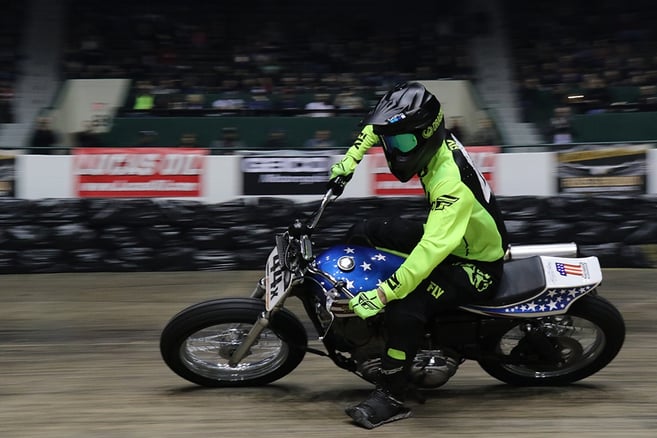 Dan Jacobson on Vanilla Cycles S&S exhaust equipped tracker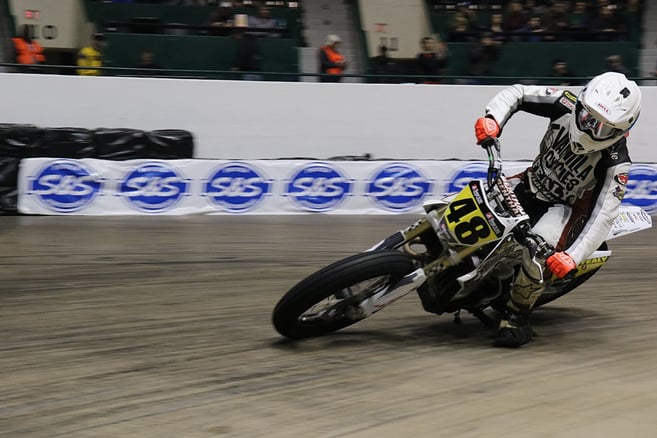 Cole Fealy turning left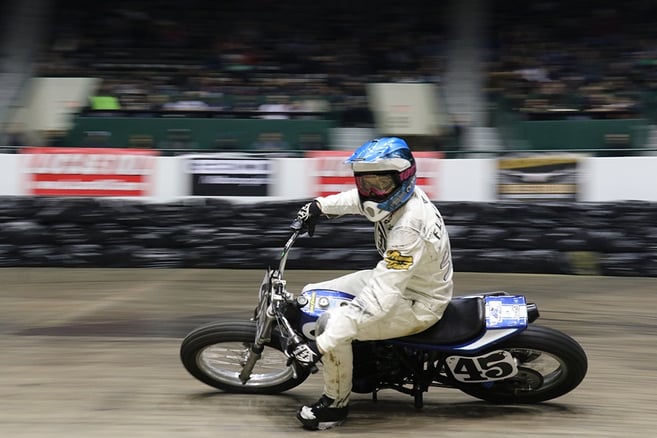 JJ Flairty with his race face on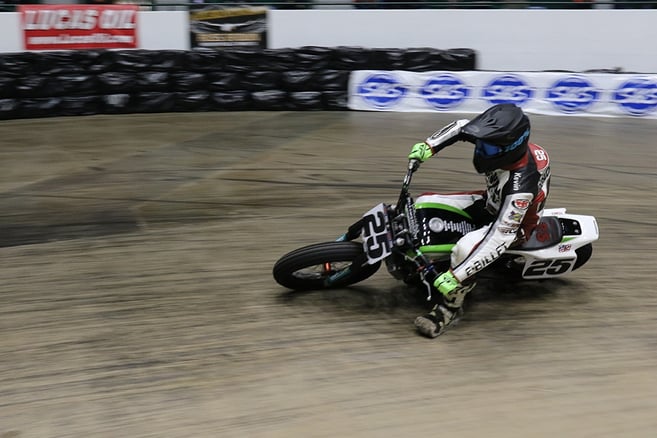 Kevin Anderson on the Vanilla Cycles twin
The classes varied from Mad Dog races, with many bikes on the track, to Hooligan, Hooligan Pro, Amateur, Pro Singles, and more. Each class lined up, waited for the green light, and each racer tried for the holeshot. Rubbing is racing, and some crashes happened, for tense moments as each rider quickly hopped up to grab their motorcycle and avoid the impending danger of the group of racers coming around the track again.

As fans filled the stands, the excitement grew for each race. Kids watched from the stands, probably at their first motorcycle race. Parents and grandparents watched alongside, although some had seen races like this before, everyone had a glimmer in their eye as the event went on. The sights of the riders flashing by, the sounds of various motorcycles hitting the rev limiters and the smell of rubber and exhaust make the race incredible to see live.

During the half time, long time legends of indoor flat track came to the center of the track and were honored for their dedication and contributions to the sport. Older gentlemen you may not have assumed for racers, who once laid their bikes over, turned left and hauled ass, had a look of hope and excitement as they see the fun they have always loved come back into the public eye.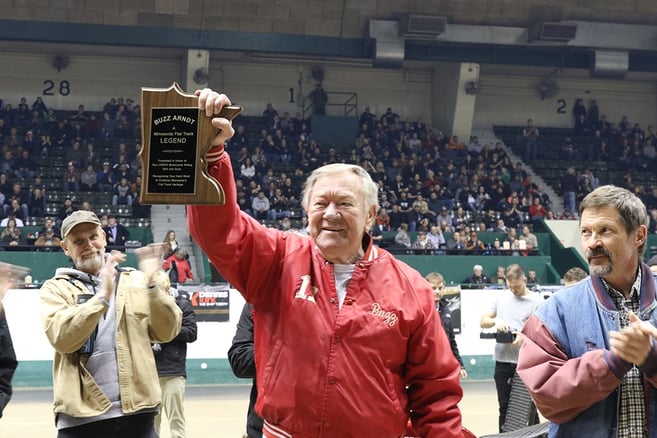 Buzz, a legendary Midwest racer
Then back to the racing. There's not even words I can use to describe the event properly, it's really something you have to experience yourself to fully understand. So check out your local racetrack, indoor or out, to see what events you can witness live, and consider making the trip out to next year's Donnie Smith show and Indoor Flat Track Race. Or even better, come out and race!

Since words won't work, check out the photos and videos of the event! Even better, start your motorcycle and rev it up a bit as you read this and scroll the photos, for a little proper ambiance!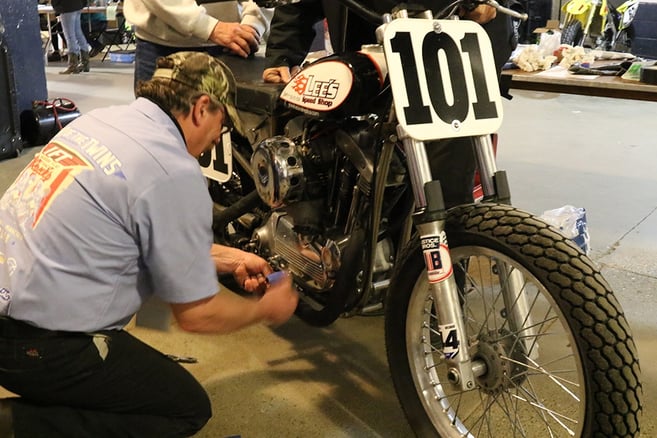 Tech checks in the pit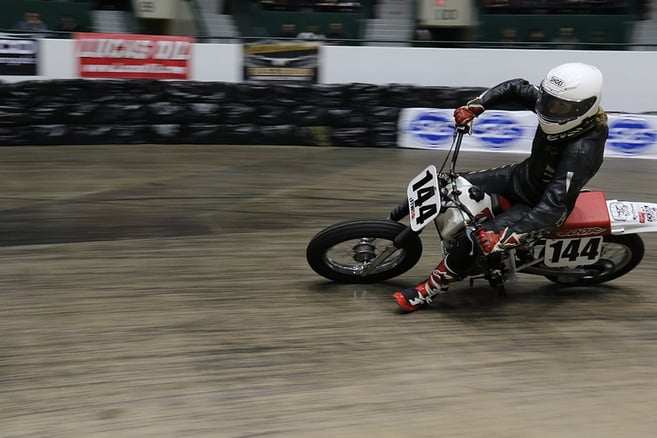 Trish Dahl on her Honda 200R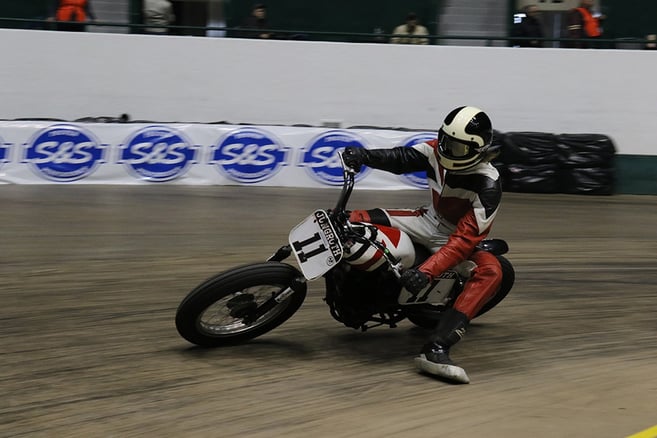 #11 comes low into turn one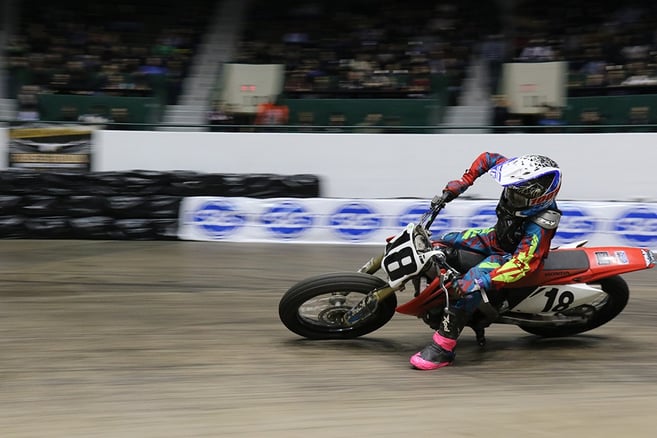 This young racer won a couple times during the night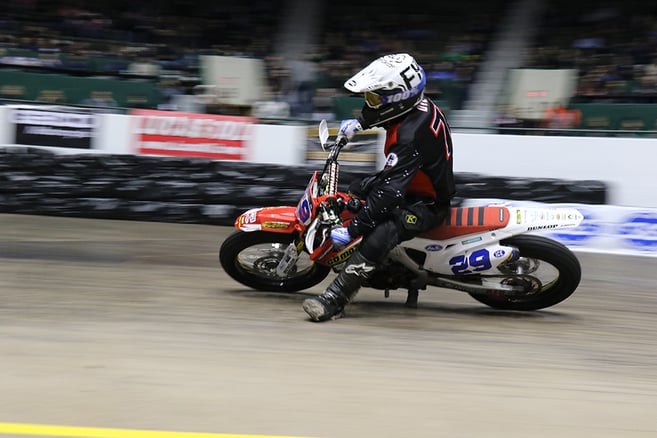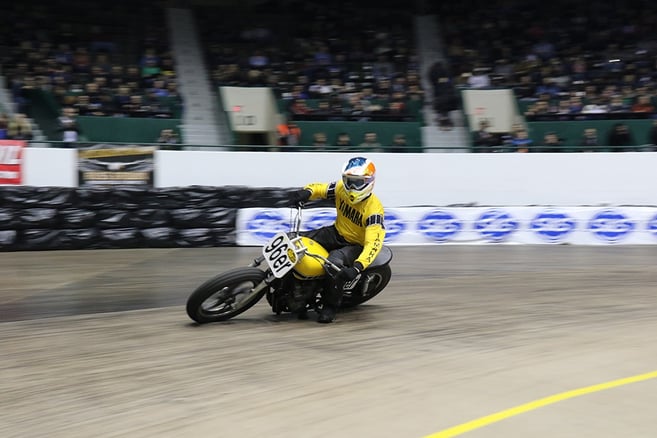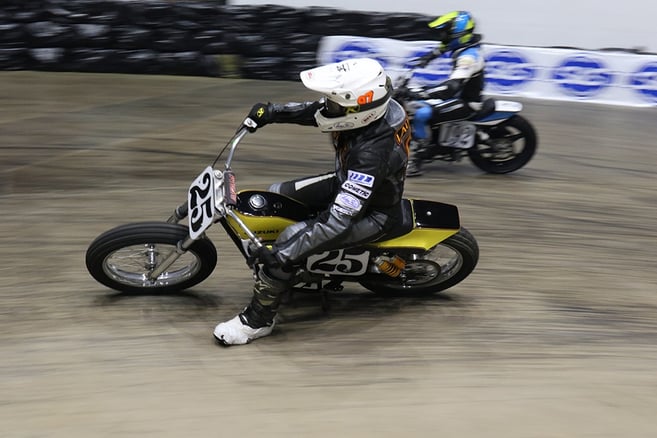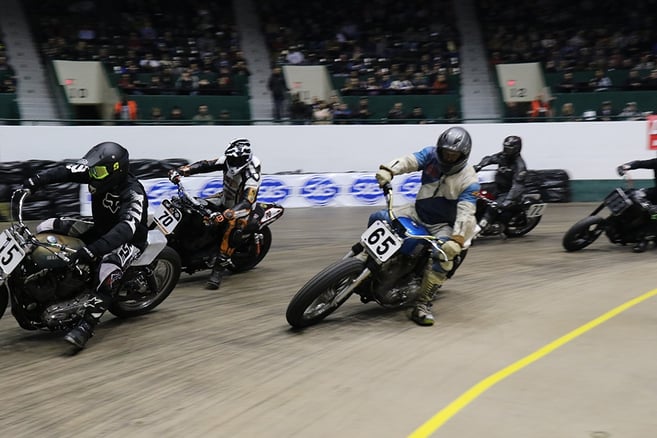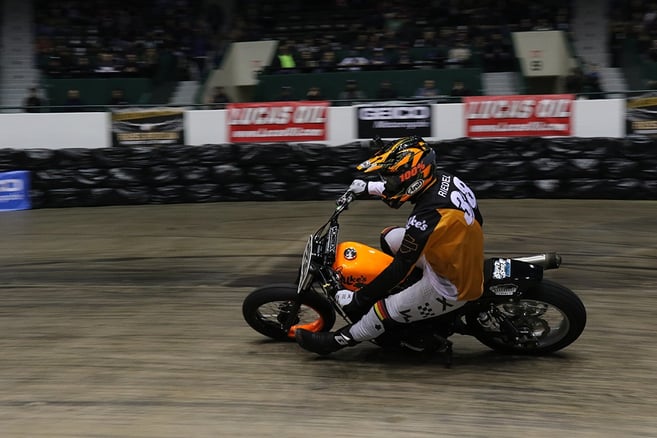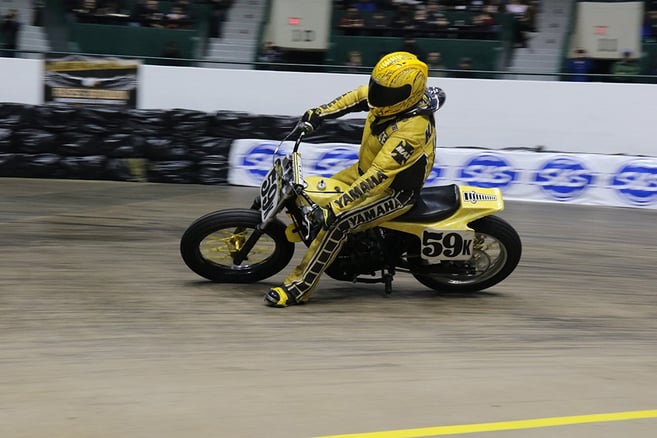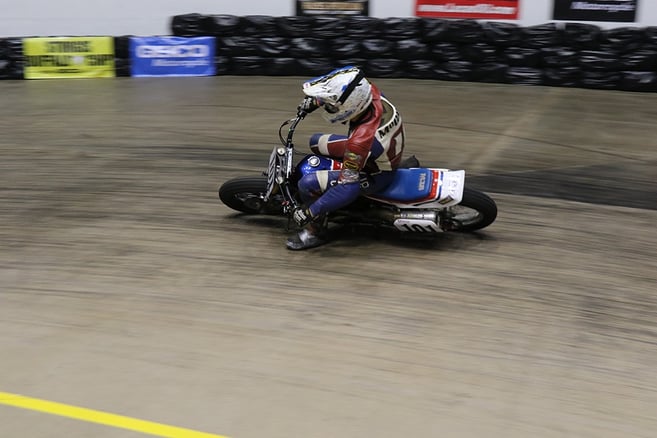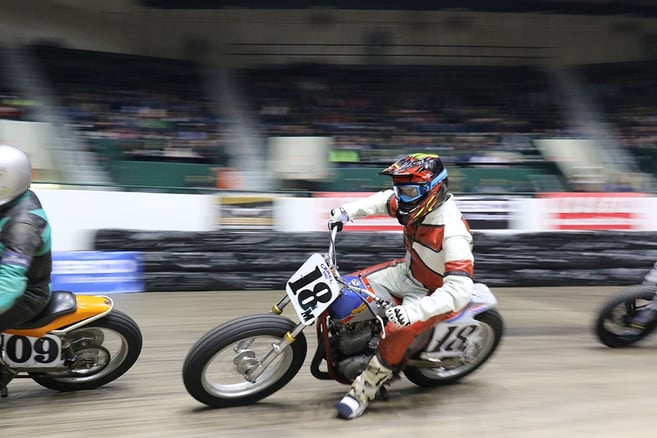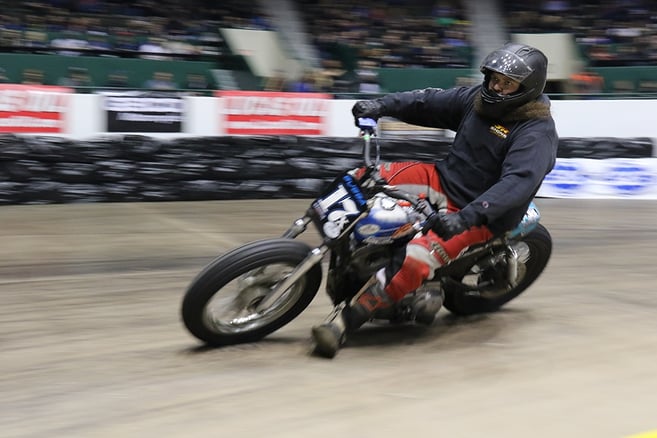 Learn more about the War of the Twins race: http://indoorflattrack.com/
and stay up to date on events we're at on our Facebook page - https://www.facebook.com/SScycle/