Every year, the crew here at S&S takes the short drive across the state to Milwaukee for one of our favorite shows, the Mama Tried Motorcycle Show and Flat Out Friday. This year we had a little more weather than usual, but nothing will stop us from checking out some of the best custom motorcycles in the Midwest (and beyond!)

Wintertime here in Wisconsin can start to get rough. We park our bikes, tear them down, and get to work adding more horsepower and customization so when Spring rolls around, we're ready to go. But around February, a lot of us are done with Ol' Man Winter. Just in the nick of time is Mama Tried... a little gasoline powered inspiration to really get the motivation up!

Starting out on Thursday night with some killer pre-parties, we delve into the weekend. Mini Bike racers get a few laps of practice in, friends are reunited and good times are had to start the incredible weekend.

Friday morning rolls around, and it's time to race! Flat Out Friday is one of our favorite events, especially at the UWM Panther Arena in MKE.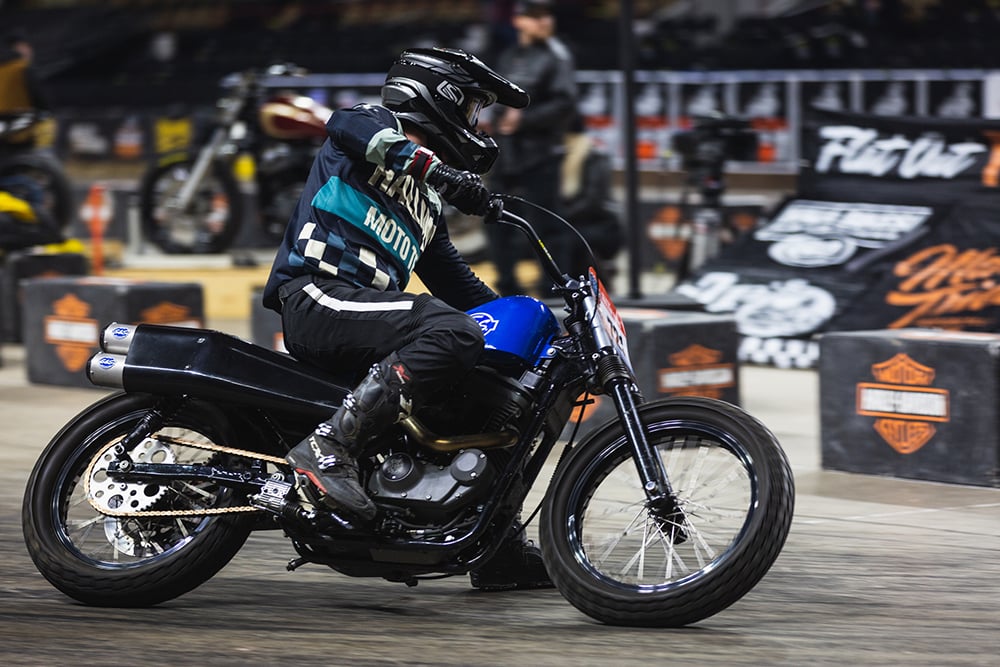 Our own Matt Schmidt won the JV Hooligan class on this S&S powered HD® Sportster®.

Racers have come from across the country, even as far as sunny California! Load in happens early, so the racers have time to get some practice in on the Dr. Pepper soaked concrete short track. Flagman Kevin starts each race with the drop of a flag. Everyone from "boonie bikes" - which are pull-start, zero-suspension mini bikes, to vintage, pro, and Hooligans hit the track.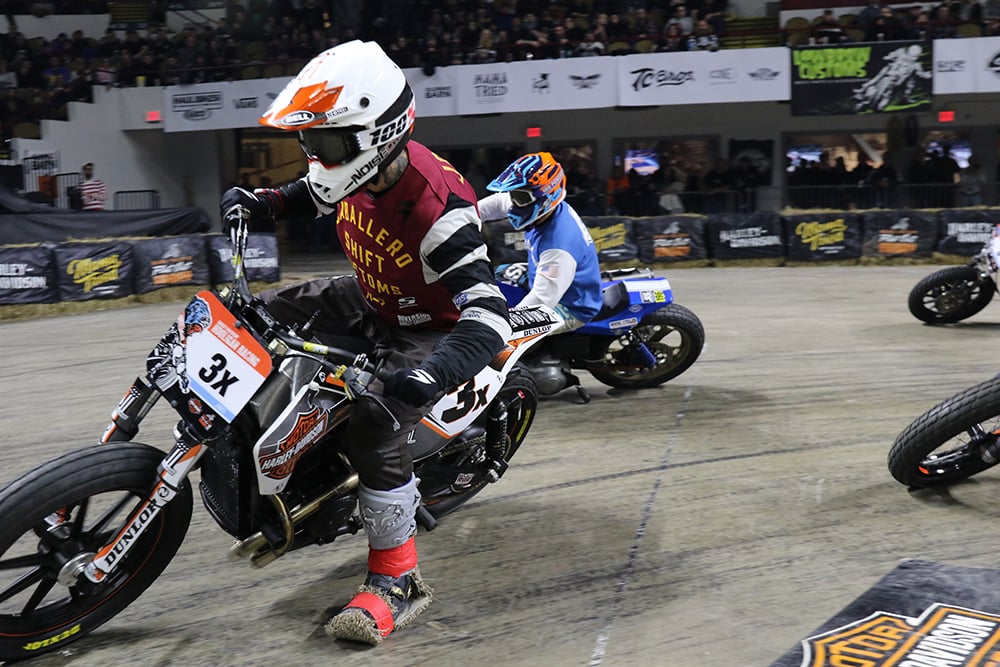 Scott Jones of Noise Cycles in the lead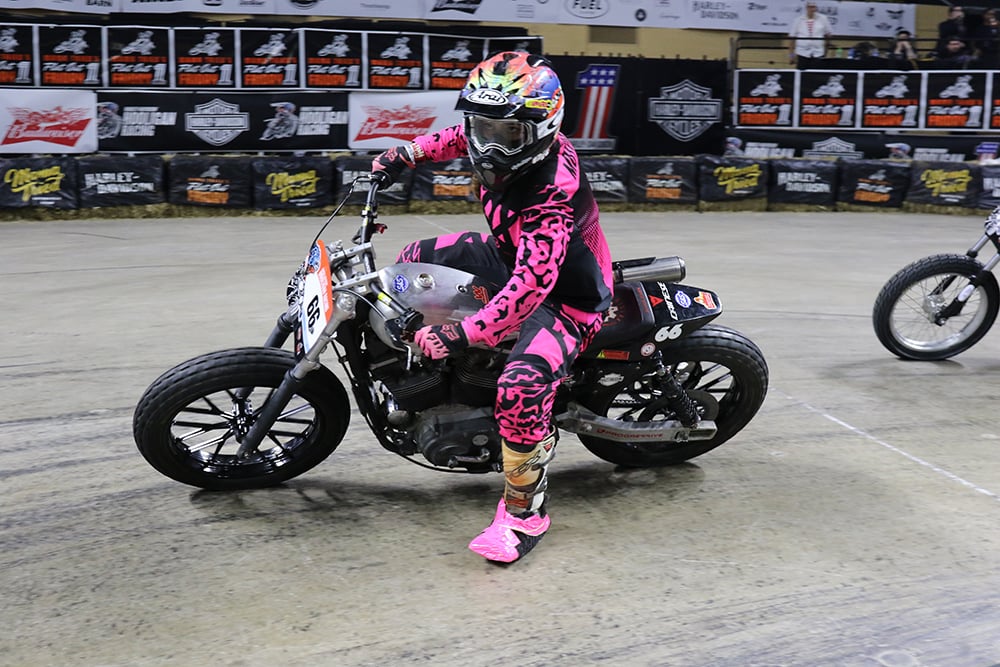 Kristen Lassen raced an SMCO hooligan bike in Women's Hooligan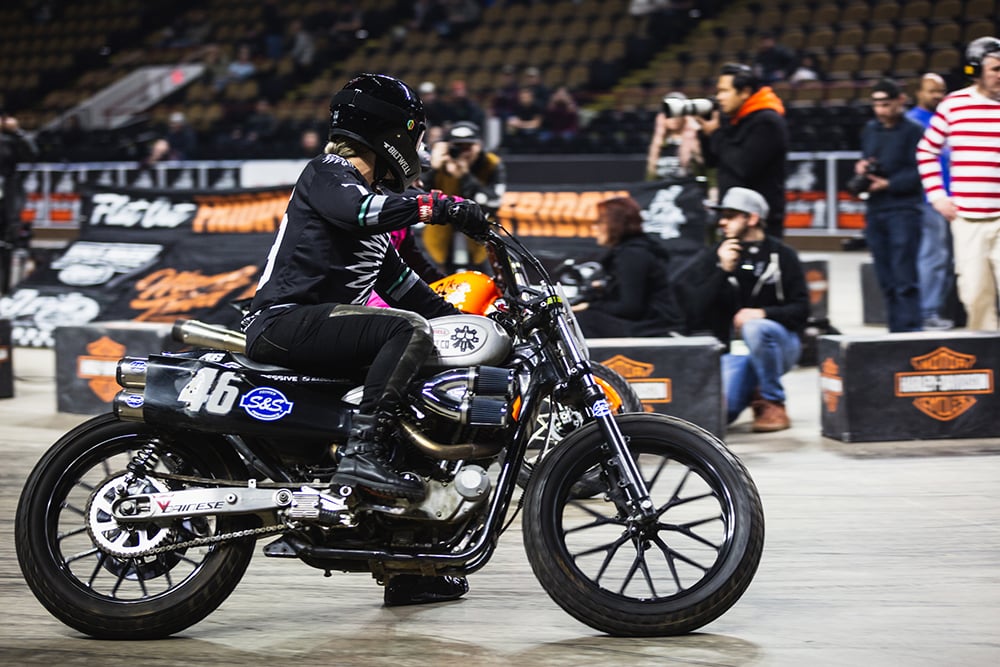 Kalen Thorien aboard the SMCO race bike in Women's Hooligan.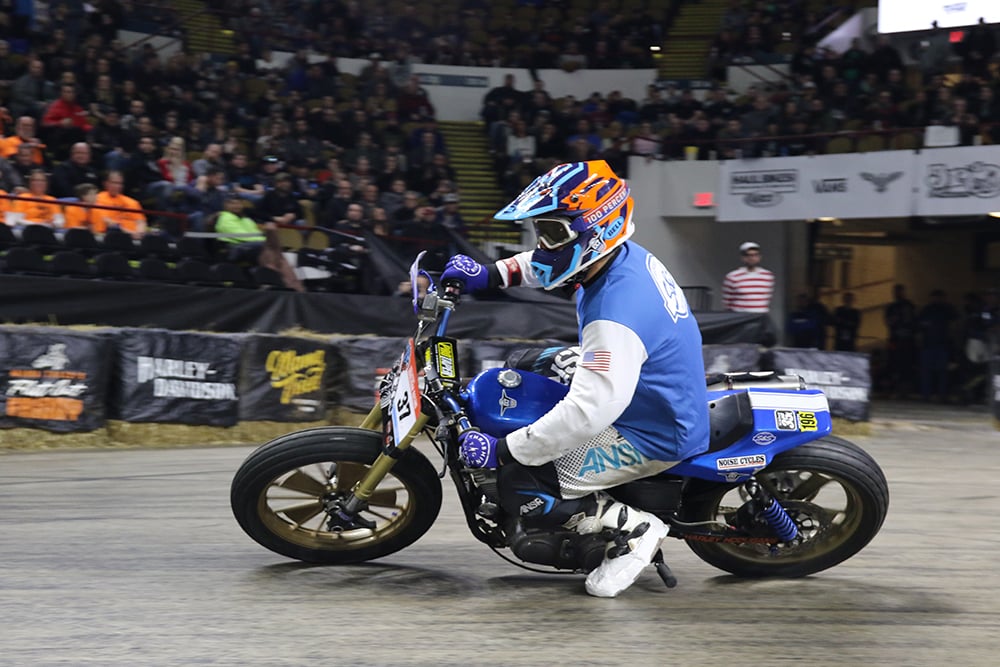 Another of our exhaust team members, Todd, racing his S&S powered Sporty.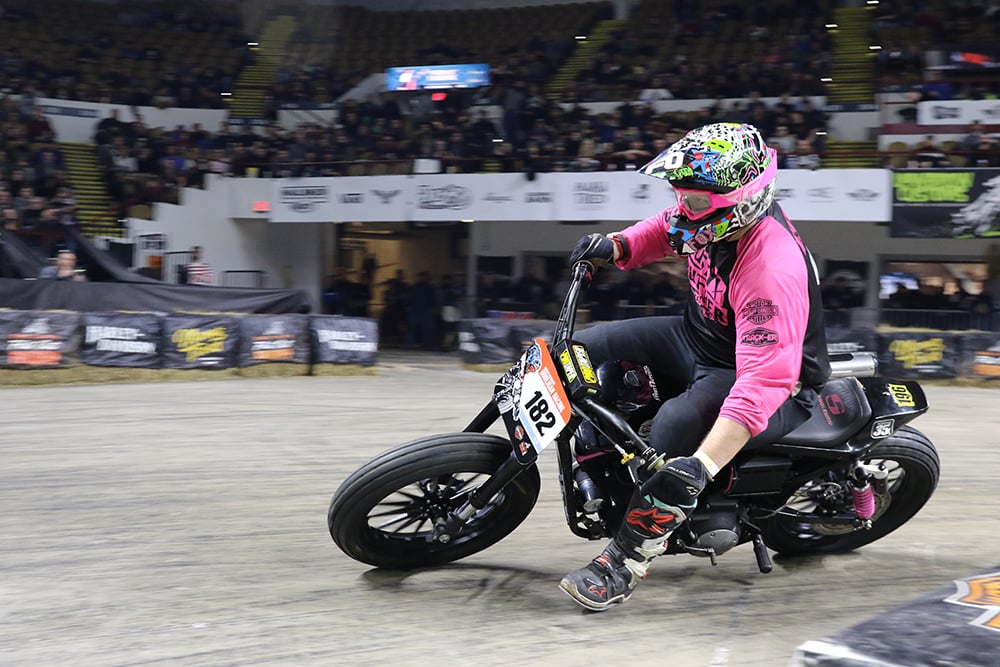 Our own Hooligan, Hunter Klee on the Flat Out Friday track.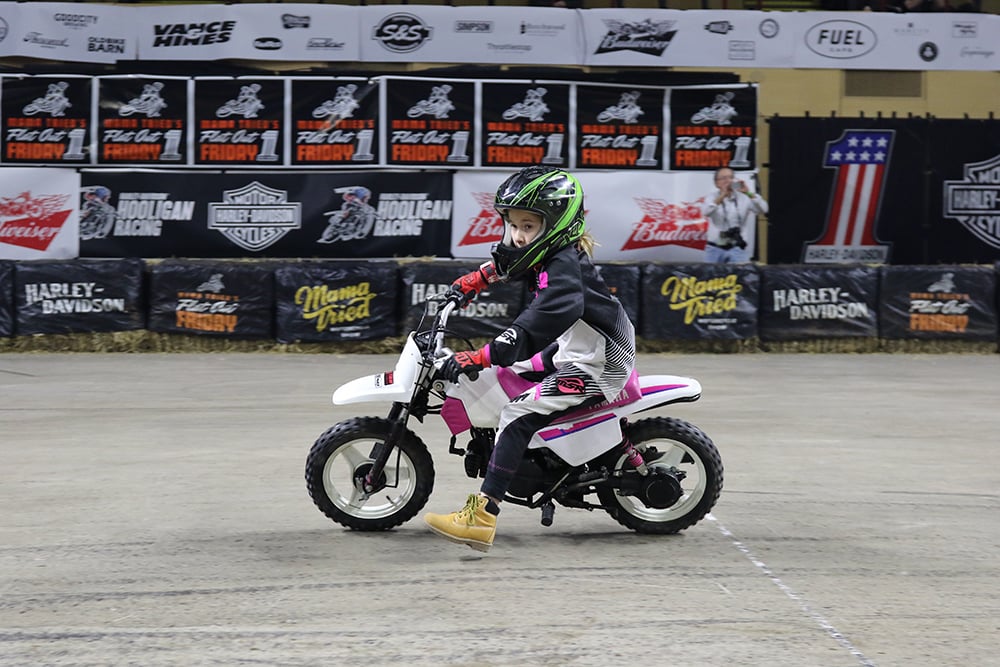 The kids race was a standout part of the show. We love seeing the next gen getting into motorcycles!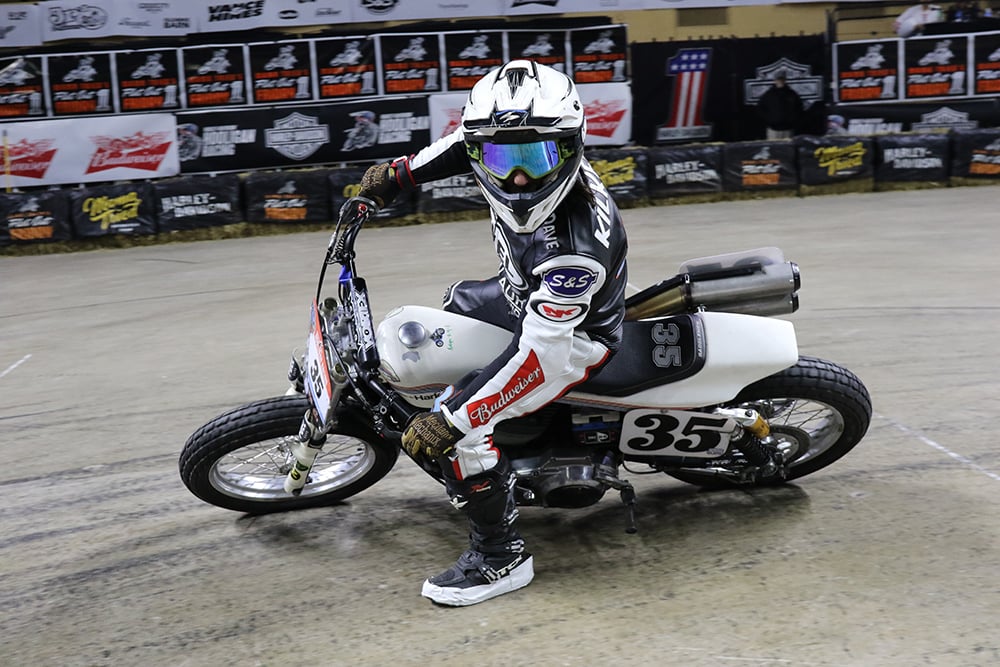 Dave Kilkenny is S&S powered.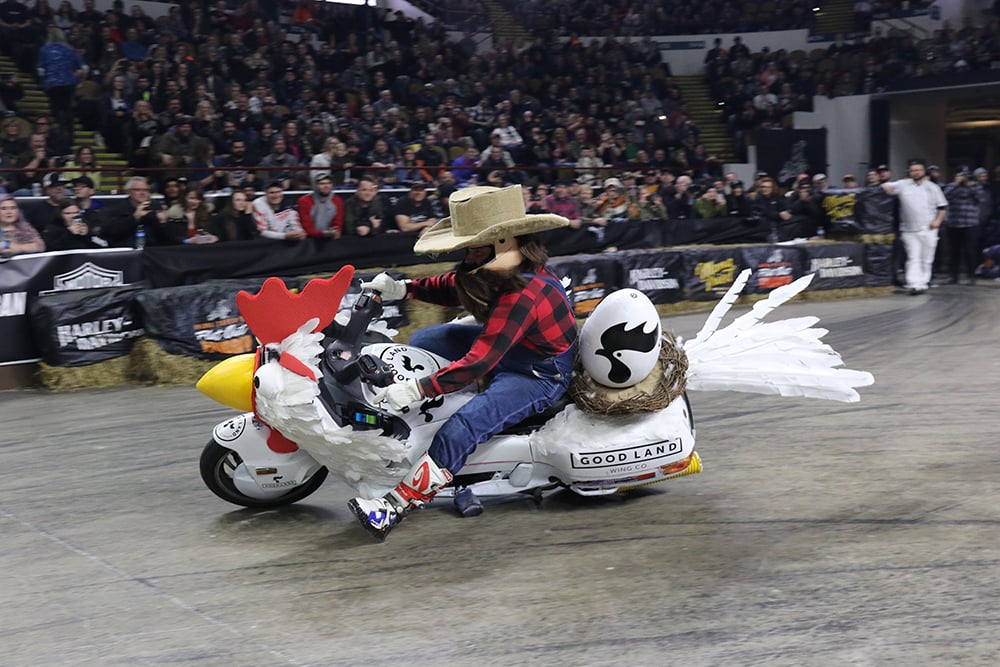 Inappropriate class just gets... weird.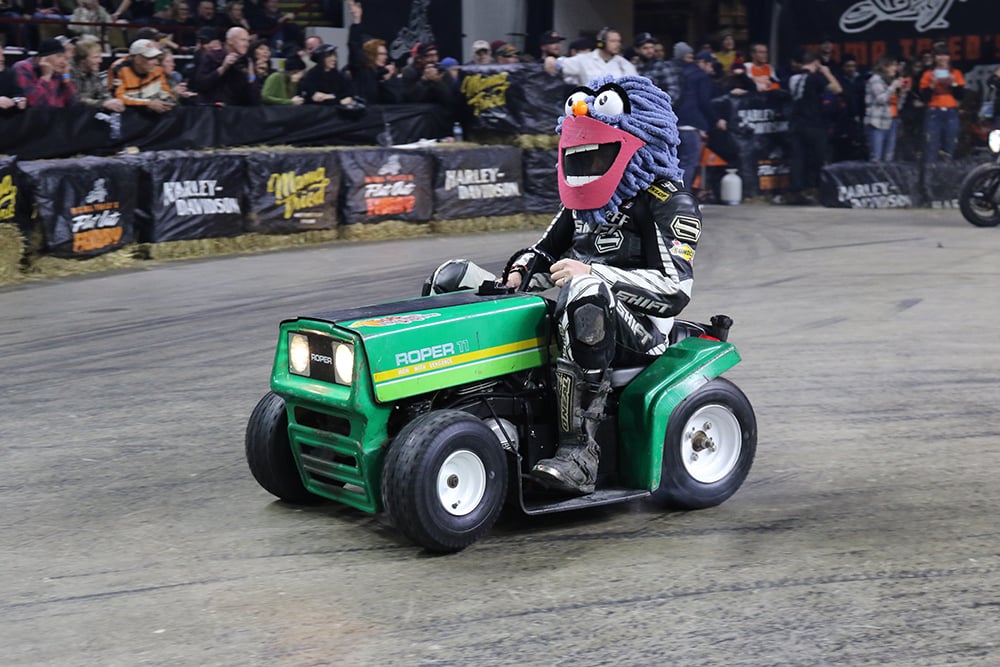 This lawn tractor is actually powered by a CB750 engine!
The crowd cheers as the checkered flag drops on each heat, semi, and race. The Hooligans are of course a favorite with the crowd. The new Women's Hooligan class is a hit - some incredible ladies got out aboard Sporties and other 750cc+ bikes to turn left too! And of course, the Inappropriate class with a lawn tractor, a chicken bike, and a trike get the fans riled up. The boonie bikes may take a long time to get around the circle, but they always provide some laughs, spills, and even a mini jump, making it an exciting time.

As the Saturday morning sun rises, those who partied late into the night may still be sleeping, but a massive crowd is ready to head to the Mama Tried show itself - taking place at the historic Rave building. The building itself is a work of art, with multiple levels and an incredible beveled ceiling with carved woodwork. It provides an incredible backdrop for the two-wheeled artwork on the floor.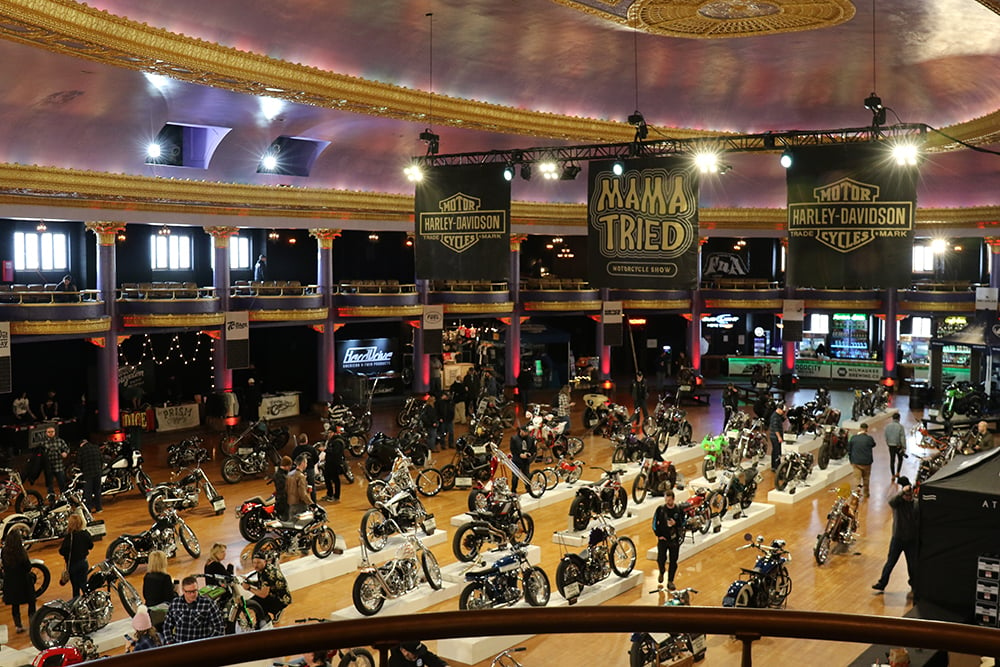 A look at the show floor before the show opened.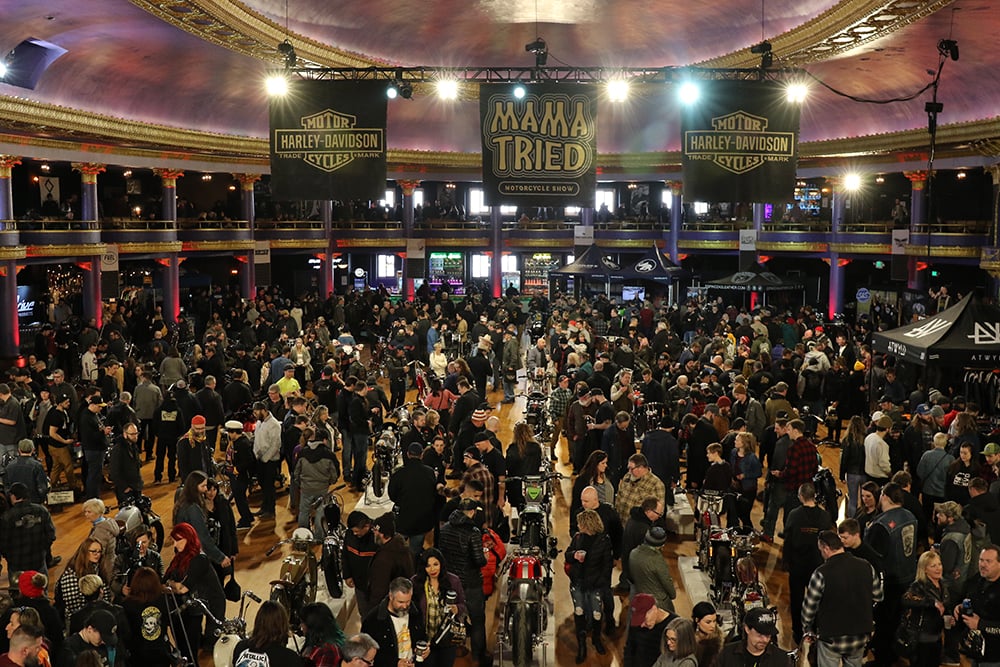 And a look at the show floor once the doors opened.

A favorite of ours, the Tramp, sits in the middle of the crowd. Yes, you read right, THE TRAMP. The bike that started S&S. The one George Smith built, wanting to go faster, faster, faster. The new owners brought it to the show so everyone can experience this historic motorcycle.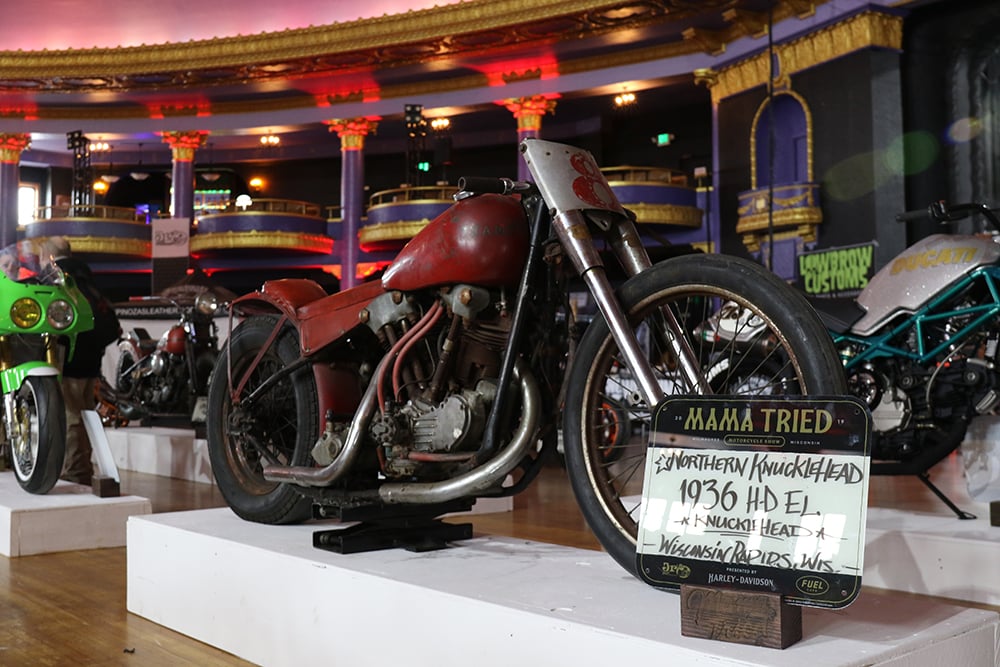 The original Tramp, built by George Smith. The bike that started S&S Cycle.
More bikes lined the show floor, from a chopper built by Kevin "Teach" Baas and his LNHS Chopper Class (yeah, a high school shop class built a chopper!) to a KN powered chop from Noise Cycles. V-Twin Visionary and Danny "Motorwitch" Wilson built a big-bore, M8 powered FXRP with the full Police edition treatment. An original Triumph owned by Von Dutch himself made an appearance, too!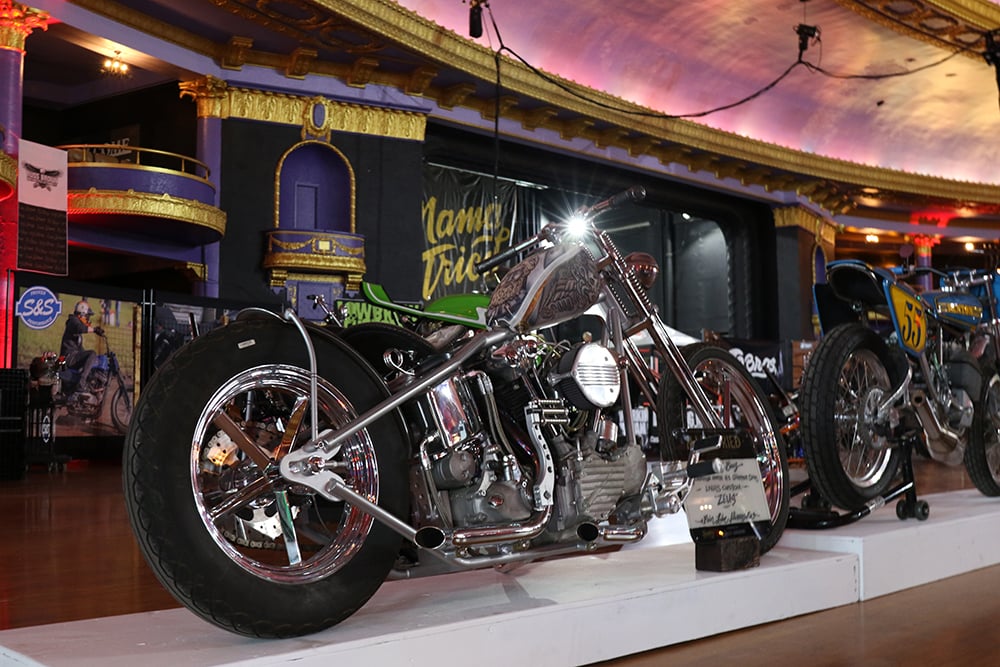 Teach and the LNHS Chopper Class built this beautiful bike!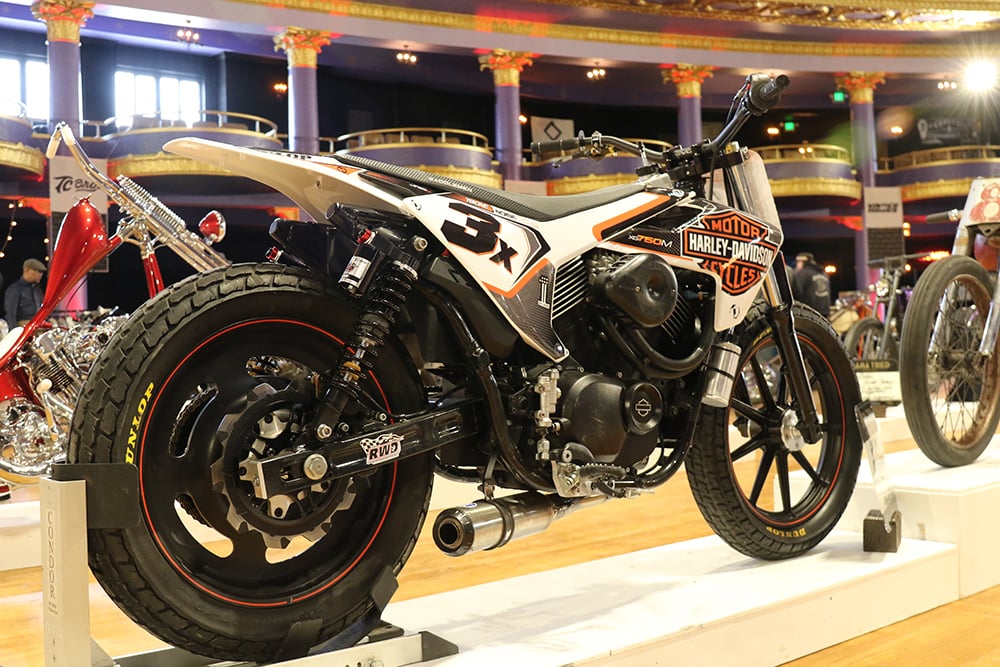 Noise Cycle's 750 with dirtbike style plastics, and an S&S Mini Teardrop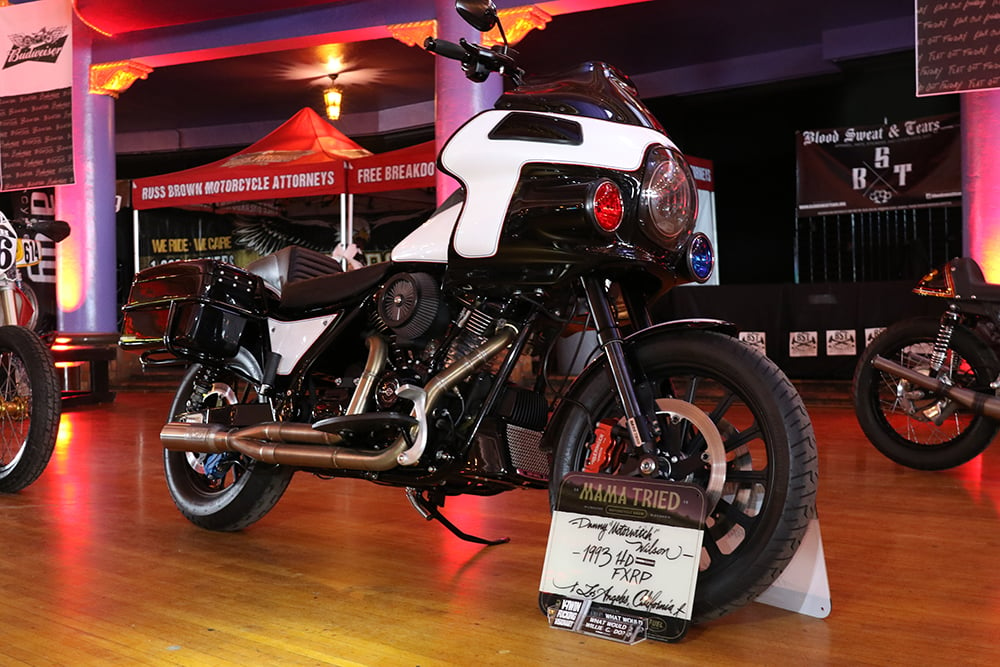 This M8 powered FXR is owned by Jeff Holt of V Twin Visionary, and was built by Danny "Motorwitch" Wilson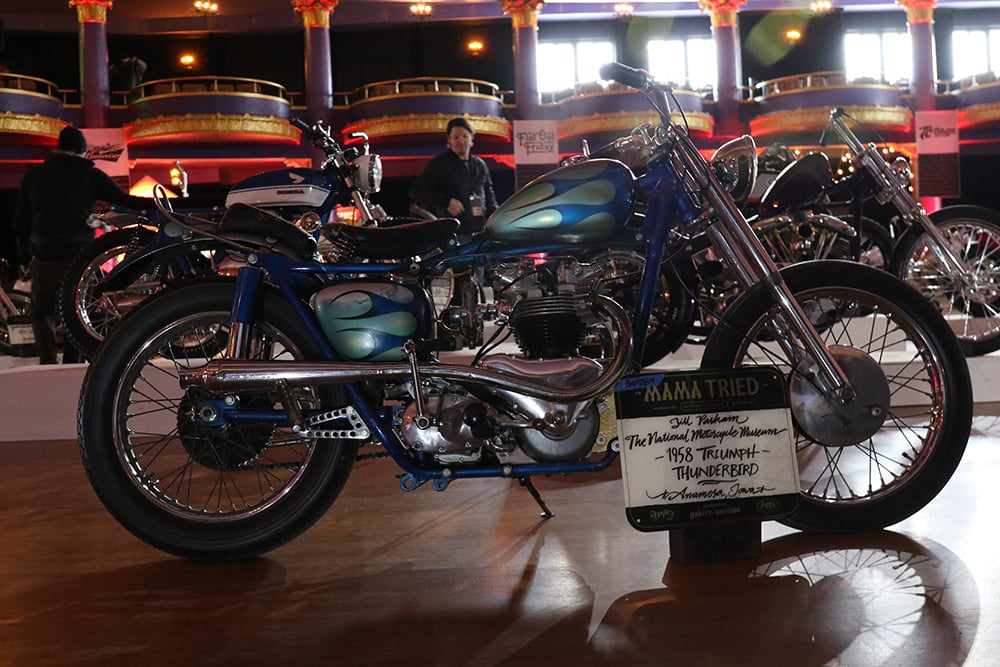 This original Von Dutch ride was on loan from a museum.
Another S&S favorite was the Royal Enfield we worked on that Cayla Rivas recently rode during Bonneville! A panhead from Dream Co, Buddy Suttle's V111" powered FXR, Tooth & Nail Chris's shovel, J. Shia of Madhouse Motor's Indian x Royal Enfield, and even a couple of Mini Choppers rounded out a full experience.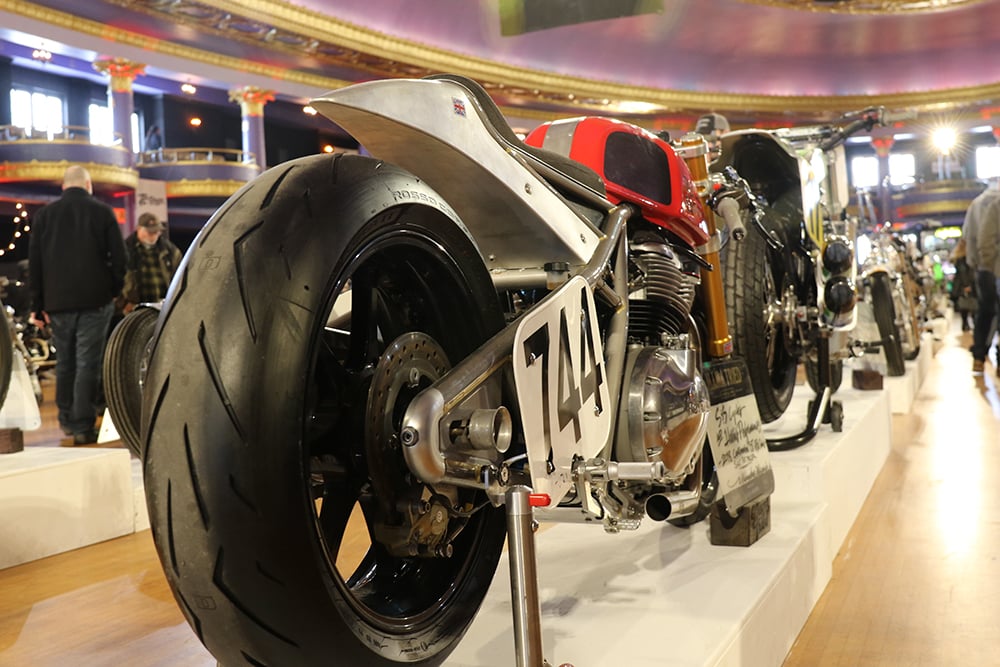 This is the bike we built with Royal Enfield that Cayla Rivas piloted on the Bonneville Salt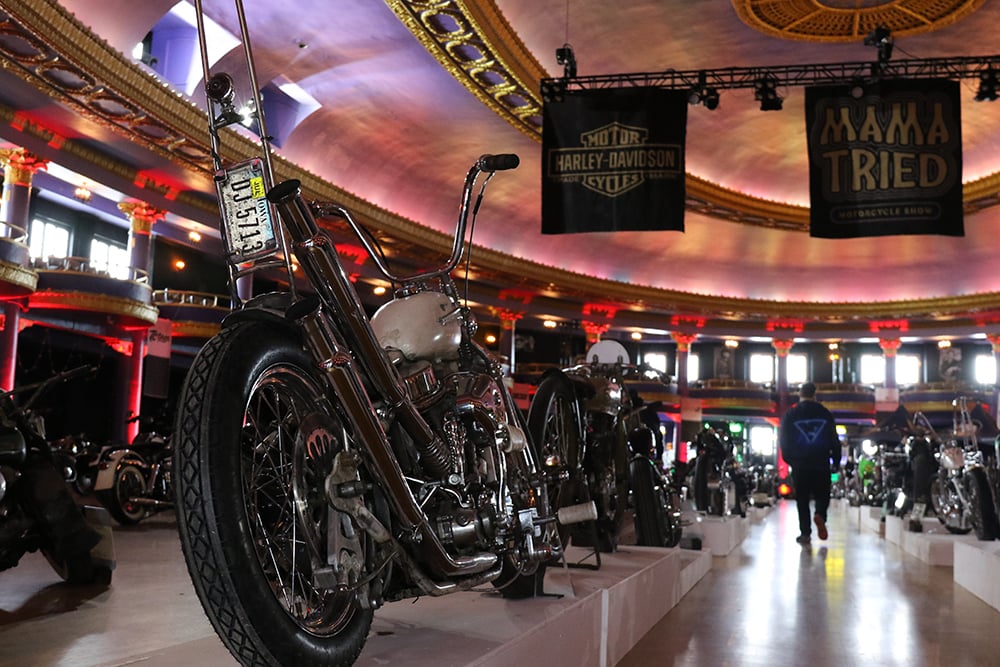 Dream Co's panhead just waiting for the crowds
Buddy Suttle of Unknown Industries' V111" powered FXR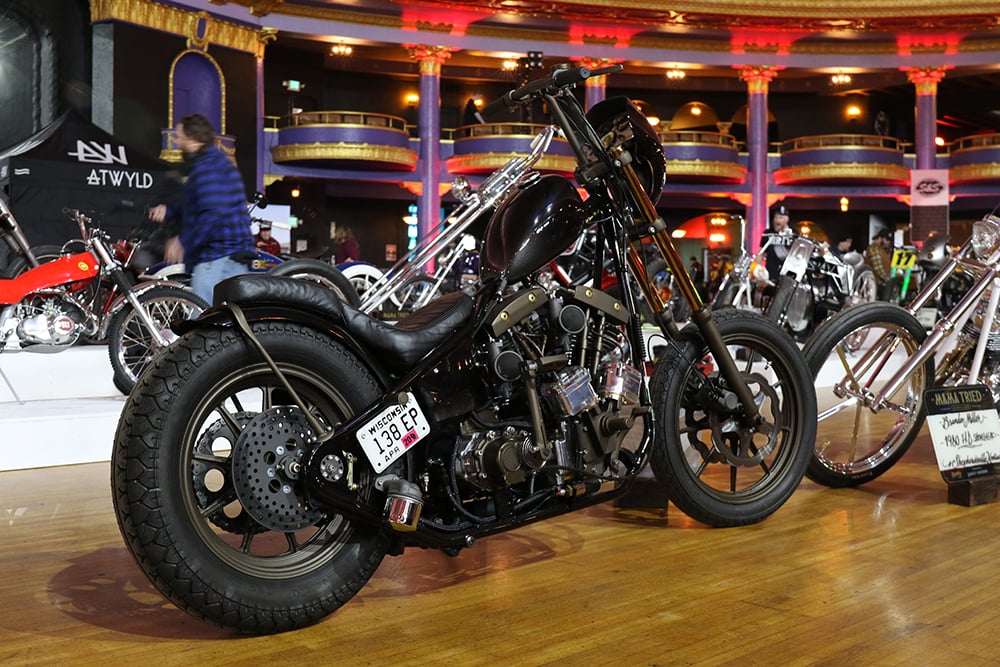 Chris Graves' shovel always is a show stopper.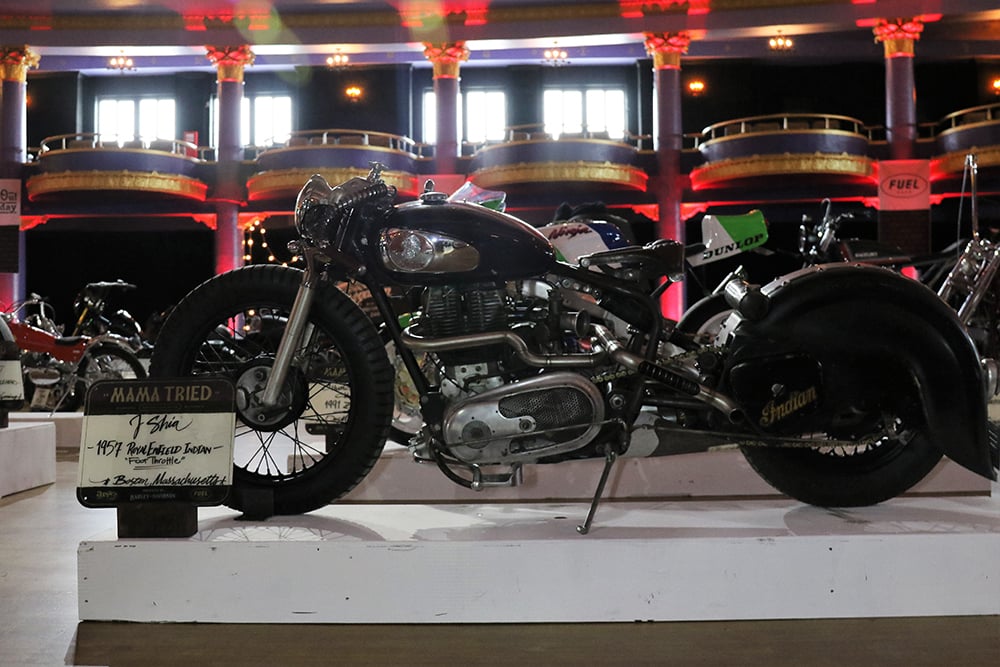 J Shia of Madhouse built this unique RE Indian
Over at our booth, we featured an FXR we built in-house, and an incredible KN powered chopper built by Blackstock Motorcycle Co, and painted by Scott Takes. Featuring Janis Joplin on the tank, this one was an eye catcher! We also brought out some of our new apparel, we hope you got to stop by and grab one! We showed off our new Teardrop for our Stealth Air Cleaner, too!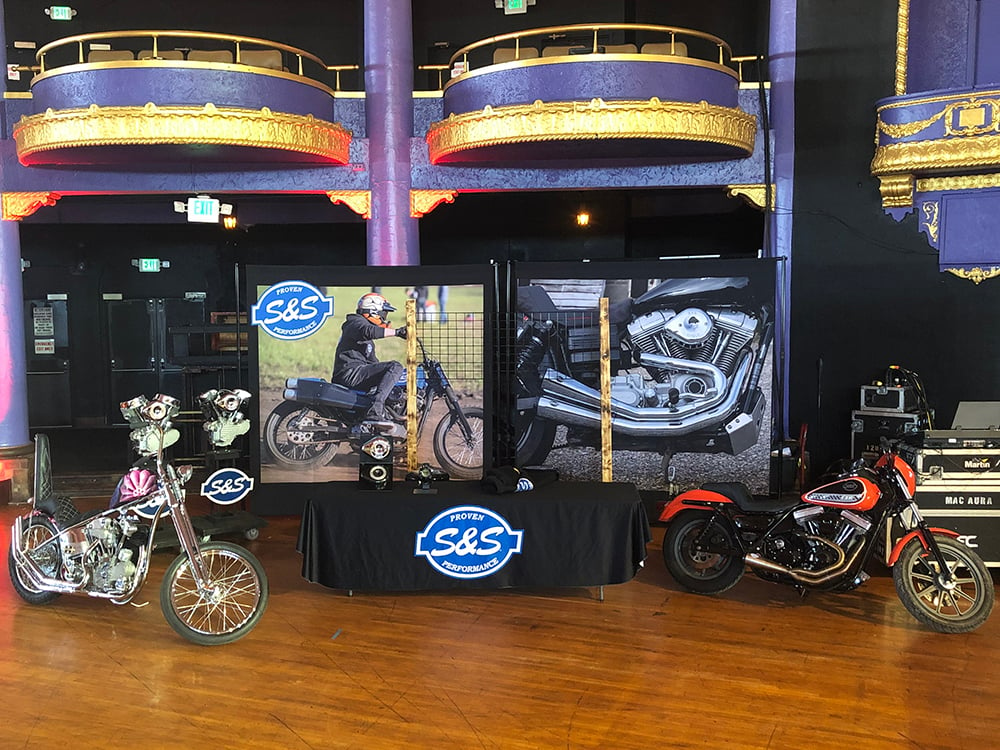 The S&S booth before the crowd poured in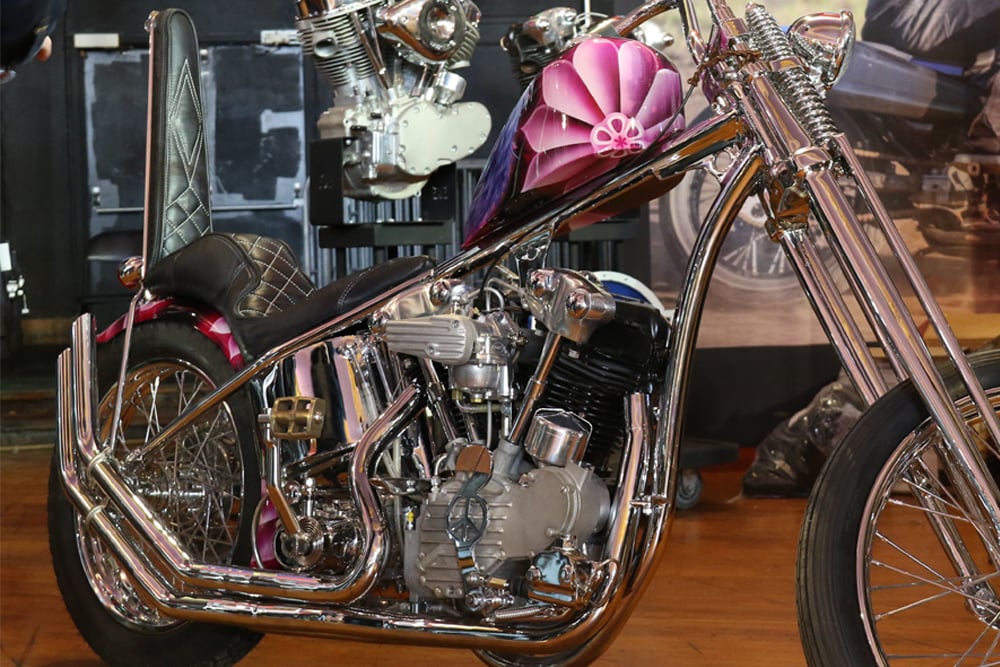 This KN powered chop by Blackstock graced our booth for the weekend.
Vendors of all types came out as well - from women's moto apparel brand Atwyld, Rusty Butcher, Metzeler Tires, HaulBikes, a motorcycle shipping company, Dice Magazine, Prism Supply, Deathbed Edition, Vanilla Cycles, Breaking Hearts & Burning Rubber, and so many more lined the entire venue.
Outside the venue, where the chilly weather prevailed, there was a beautiful ice bar and even an ice motorcycle, along with food trucks of all sorts.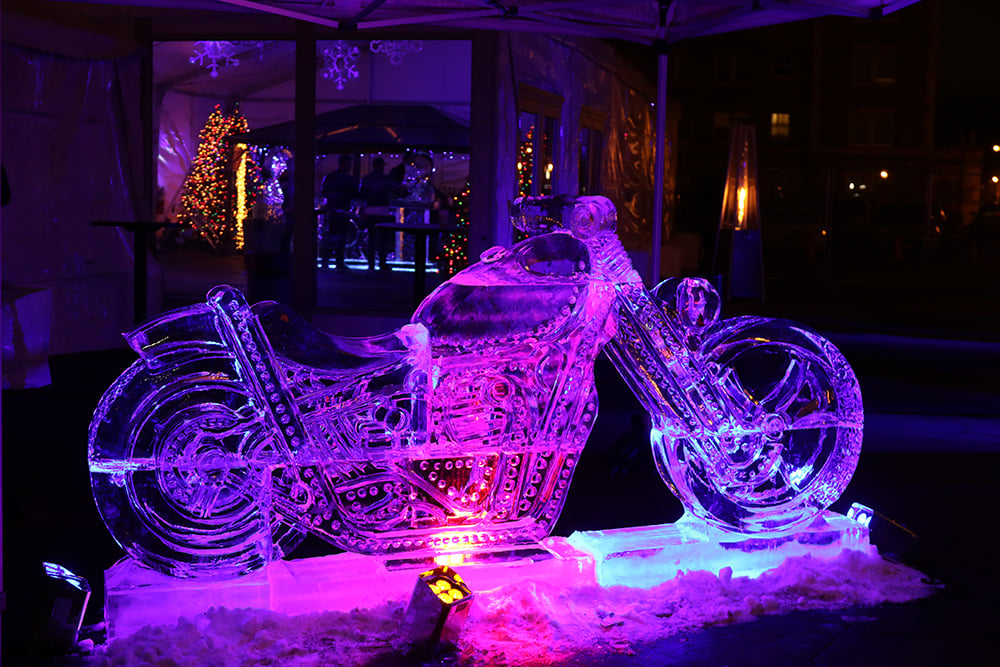 This chopper was just chillin' outside.
After parties went on late into the night, at local spots like Fuel Cafe and the Iron Horse Hotel. The local ladies, who also raced, the Milwaukee Rivets hosted a party at Rogue Gallery as well, along with Go Fast Don't Die. That was a don't-miss dance party!

Sunday brought another day of the show, running until 3 pm so everyone could get the chance to check out these beautiful machines. Snow flurries didn't stop anyone from rolling down, though!

Sunday also brought about the unofficial "Slippery Sunday" - as in, ice racing! Bikes of all kinds with studded tires headed out toward the Marina in MKE to try some flat track racing on the frozen lake. Driving snow didn't stop anyone from racing, or witnessing this incredible event. (I personally even borrowed a bike from Noise Cycles to try it out, and let me tell you, YOU NEED TO TRY IT AT LEAST ONCE!) The studs on the tires provide incredible grip, yet there is a certain terror of both riding on ice, along with the slippery layer of snow and water on top. The pros will race past you, leaning the bikes nearly until the grip touches the ice.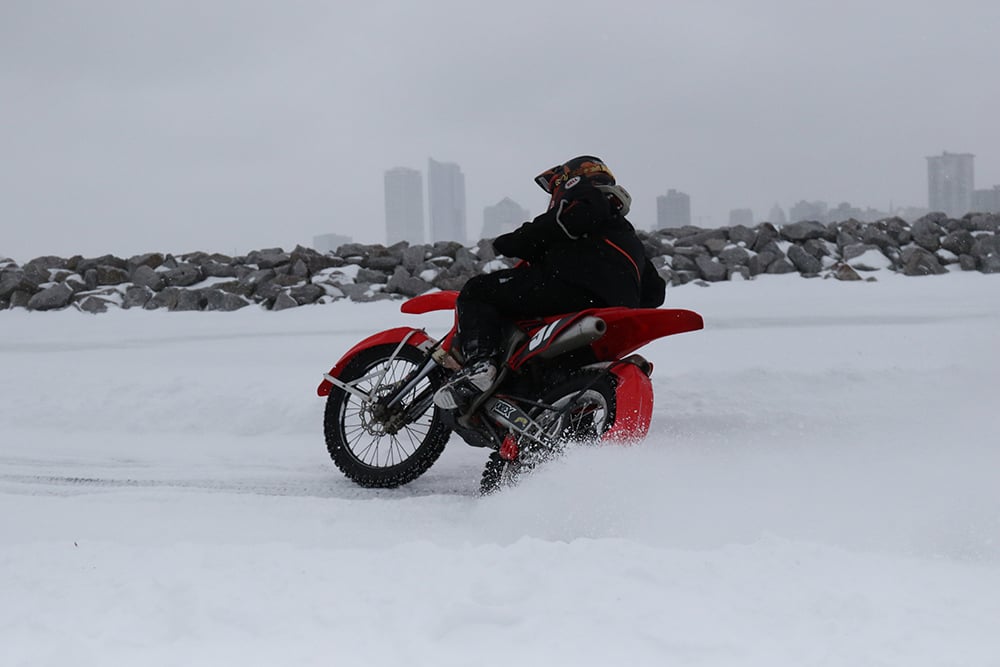 You can see the studded tires required to race on the ice.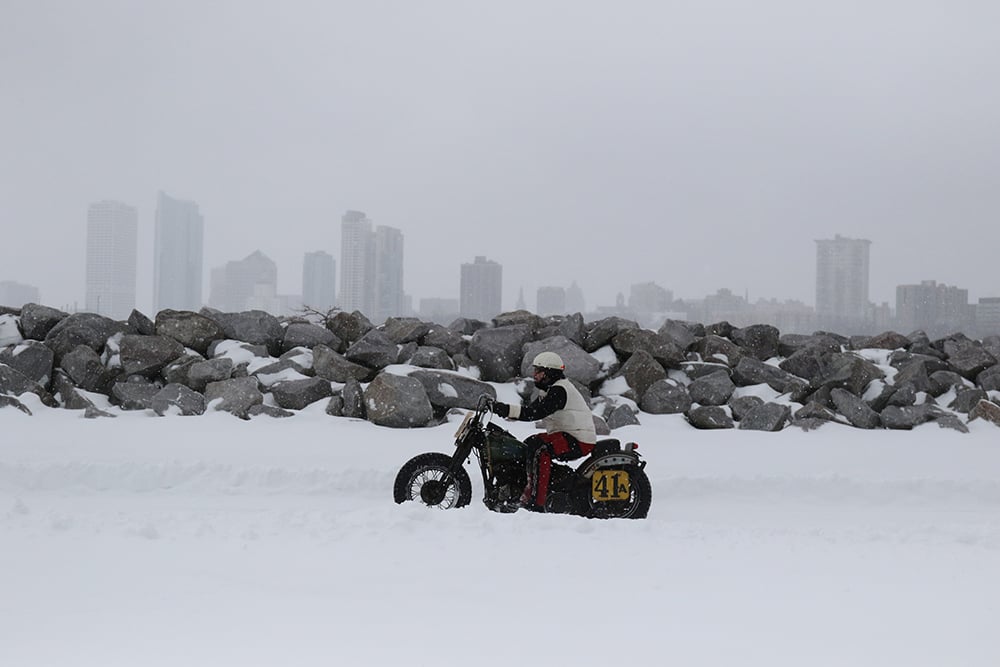 The "Grasshopper" feels just as home racing on ice as it does on the track.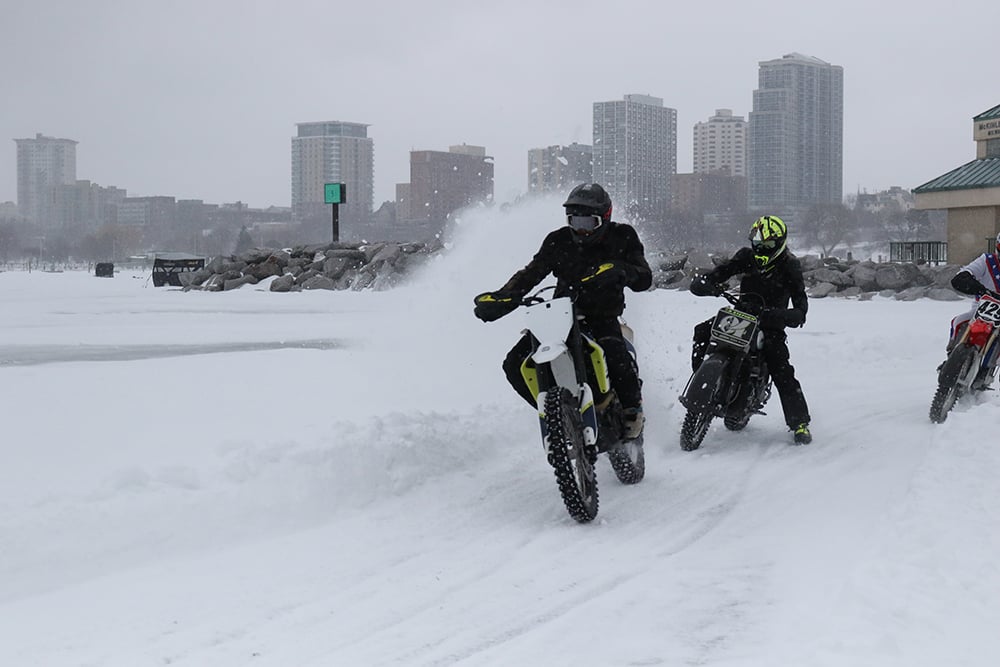 Snow roosts are a bit colder than a dirt roost!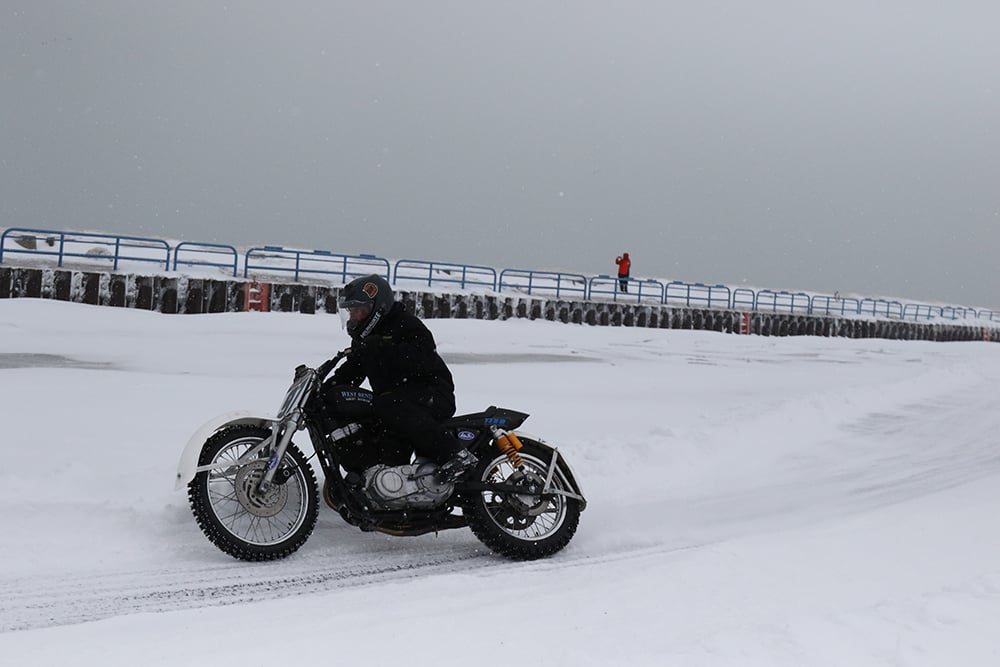 West Bend HD brought out their Sporty race bikes too.
We hope you got the chance to see this incredible show in action, but if not, check out all the photos to see just why you should roll down next year!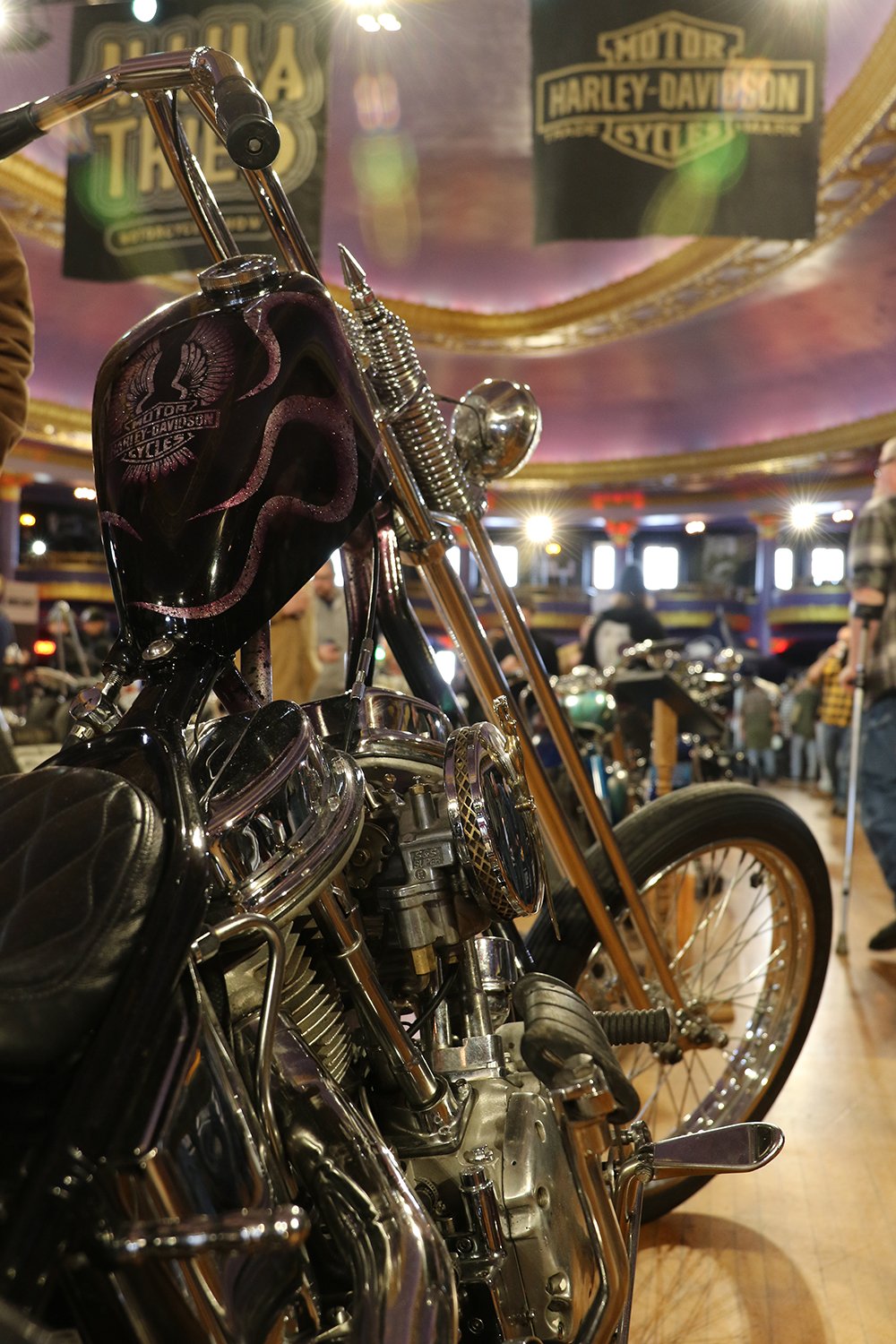 A killer chop sporting a Super E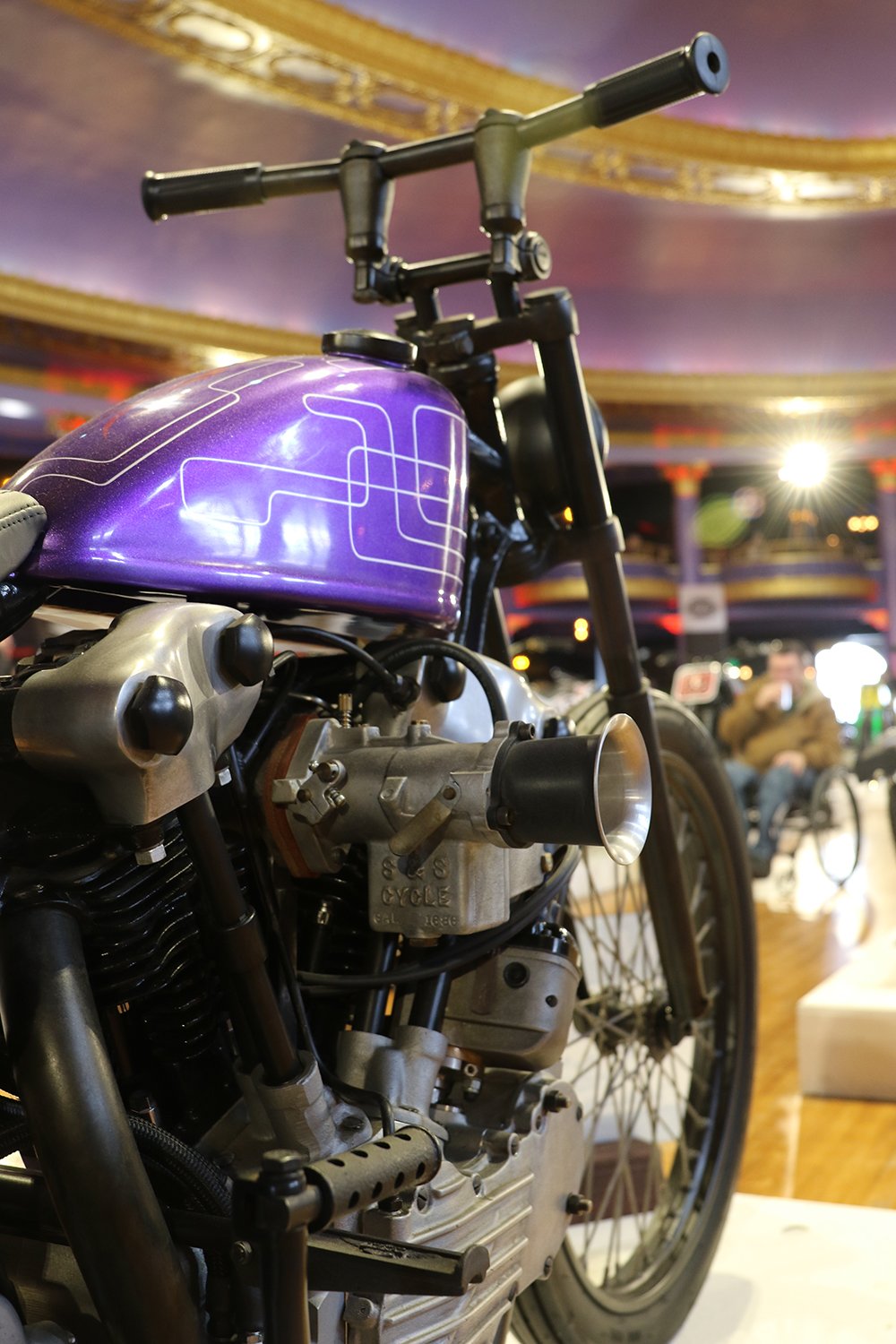 Noise Cycle's KN powered chop is a favorite of ours!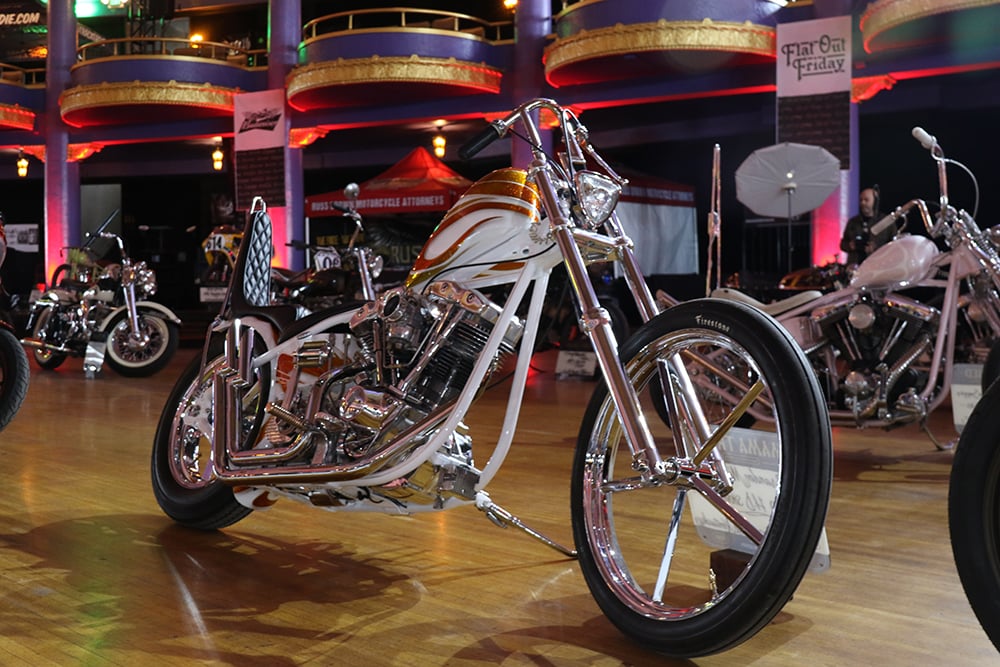 More Super E spotting on the show floor!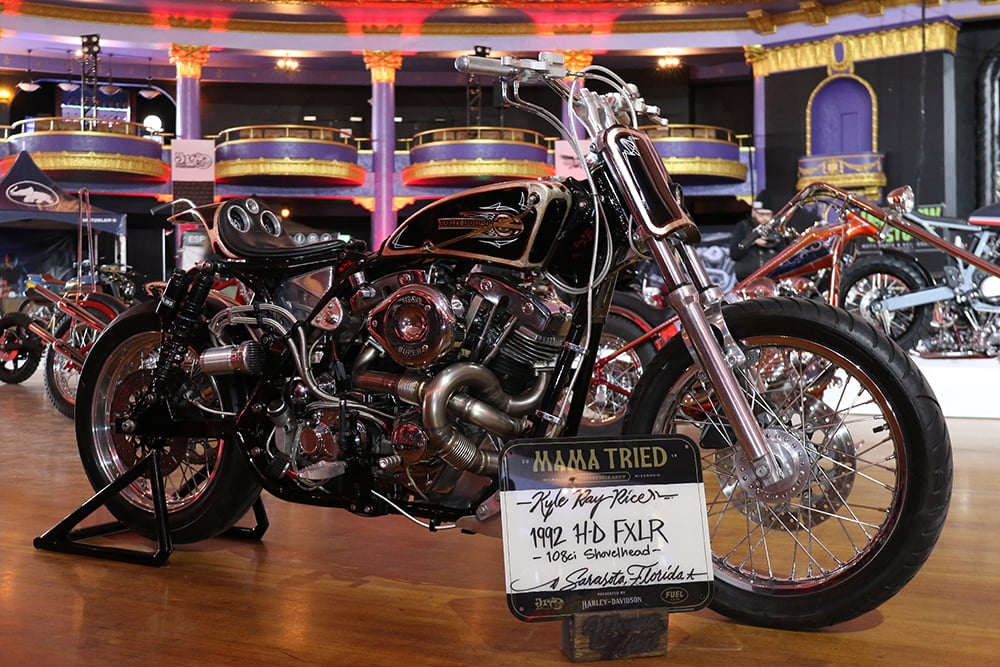 This shovel is quite unique, yet still rocks a classic Teardrop!
For more info on Mama Tried:
www.mamatriedshow.com

For more info on Flat Out Friday:
www.flatoutfriday.com

And as always, check out our website at www.sscycle.com
and follow us on social media - www.facebook.com/sscycle & www.instagram.com/sscycle

See you at Daytona Bike Week!