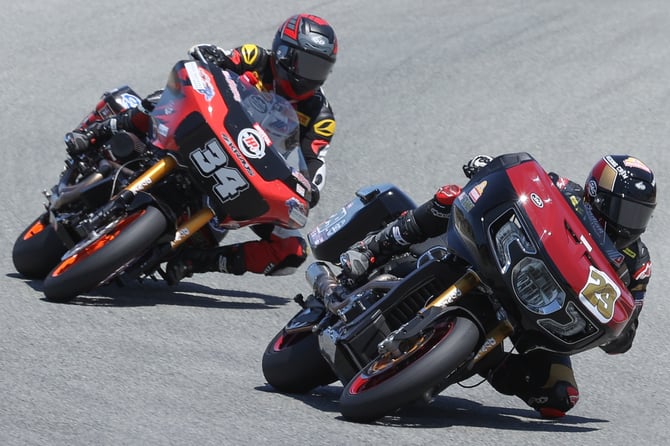 Although the King of the Baggers championship was only three races this year, each was action-packed, unpredictable, and absolutely record-setting. Our own Mission Foods/S&S Indian Challenger piloted by Tyler O'Hara has gone from winning to DNF (Did Not Finish). Much of the grid is fighting teething pains as these bikes get faster, lean further, and morph into true road race machines. Let's be honest here; watching any motorcycle back it in, hard on the brakes, rear end wagging before dropping a knee onto tarmac is a rush. Somehow a rider doing it on a six hundred pound touring bike is just so much nuttier. Maybe because it's new, maybe because we've all had the rear end move around on a big bike and know what that does to your heart rate, or maybe it's just fricken' badass!

This past weekend's final round of the KOTB championship would find our intrepid moto heroes in the racing mecca of Laguna Seca, just outside Monterey, California. Laguna is home to the infamous Corkscrew, a beguiling bit of racetrack that features a 59-foot drop in just 450 linear feet of pavement with two apexes in immediate succession. Riders approaching the Corkscrew are greeted with a spectacular view of the sky before subjecting their bikes to a hard left, hard right downhill combination. Imagine cornering at full speed while you are falling out of the sky. Laguna was also home to last year's inaugural King of the Baggers and, in typical SoCal fashion, was pushing one hundred degrees.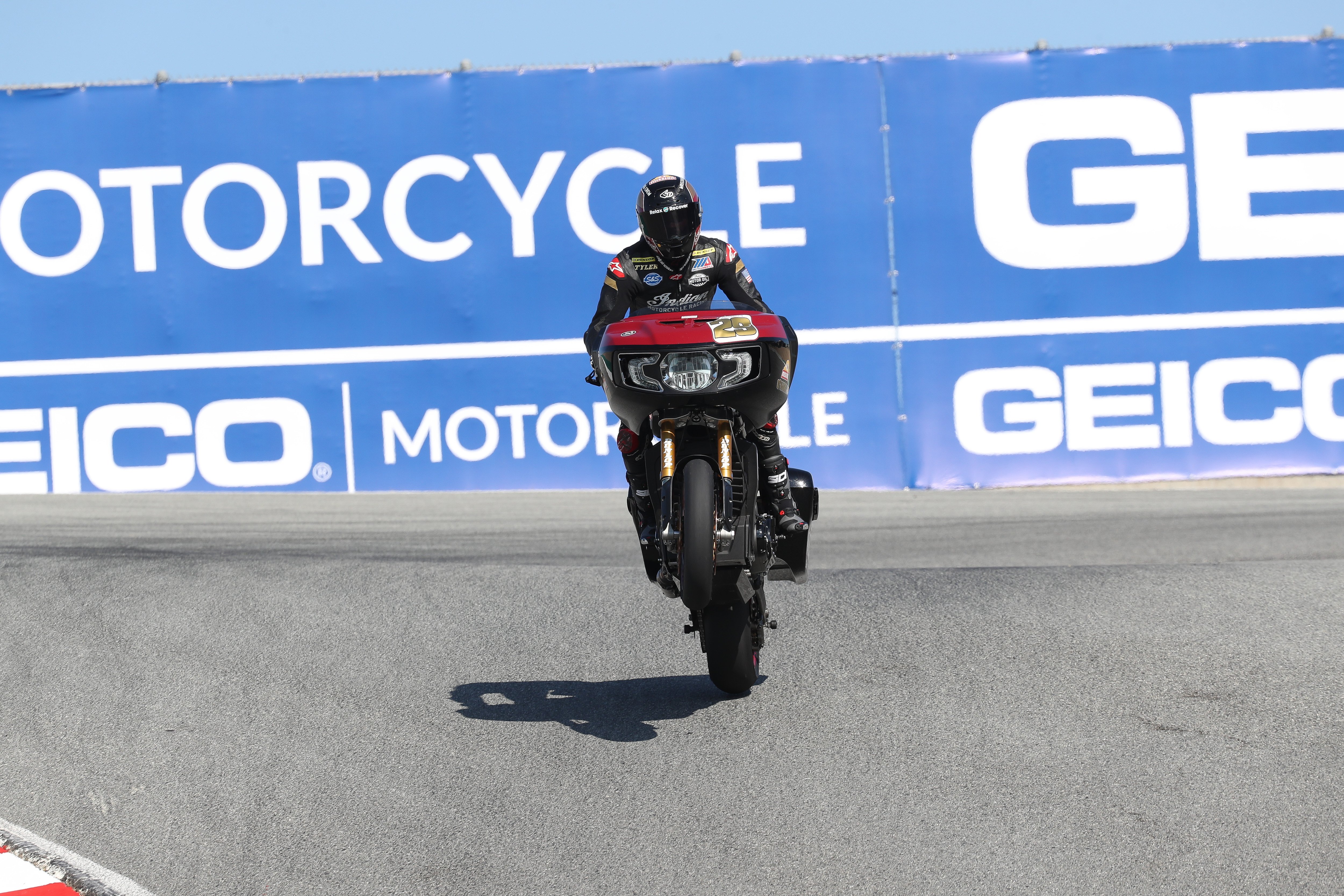 Practice would go well as the baggers took to the track, some for the first time and others with fresh equipment. Factory Harley rider Wyman only had to finish 7th to clinch the Championship, but was coming off a broken elbow at last month's Road America event. Add to that the largest grid to date and this race had all the makings of the most competitive KOTB event yet!

By Saturday's qualifying the big bikes were getting aggressive, times were dropping, and even the Superbike guys had to stop and watch. Overheard in the pits: "Those guys are nuts, that bike has to weigh twice as much as mine, what is wrong with them?". Probably all true, but that did not stop the crowd from going ballistic every time the baggers hit the track. For the record, touring machines greatly outnumbered sportbikes in the parking areas with a healthy mix of Indian and Harley baggers.

Tyler would put the S&S Indian Challenger on the pole, Saturday. Pushing hard enough to slide into most corners and eventually grinding the frame into the asphalt, causing a low side crash on the last lap. A rare mishap for the laser-focused O'Hara. Luckily neither Tyler nor the bike saw any real damage, and the S&S crew had him and the Indian sorted in a few hours. The fast lap time would stand, and Tyler would start on the pole for the main on Sunday.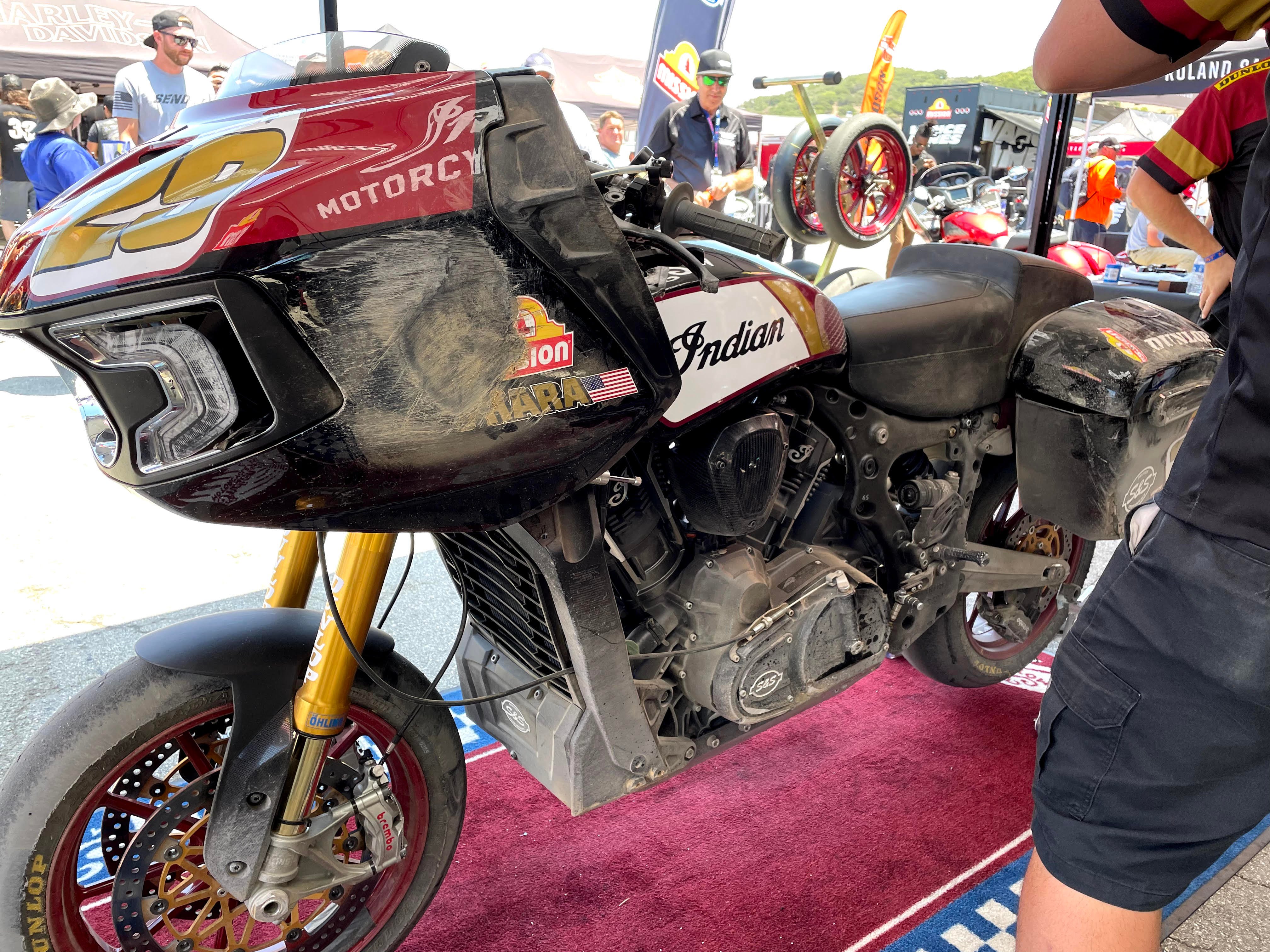 A midday main would follow a first-of-its-kind Roland Sands Super Hooligan race, and even shared a few riders (Frankie Garcia, Patricia Fernandez, and Ben Bostrom amongst others) causing a bit of a scramble as racers switched bikes between classes.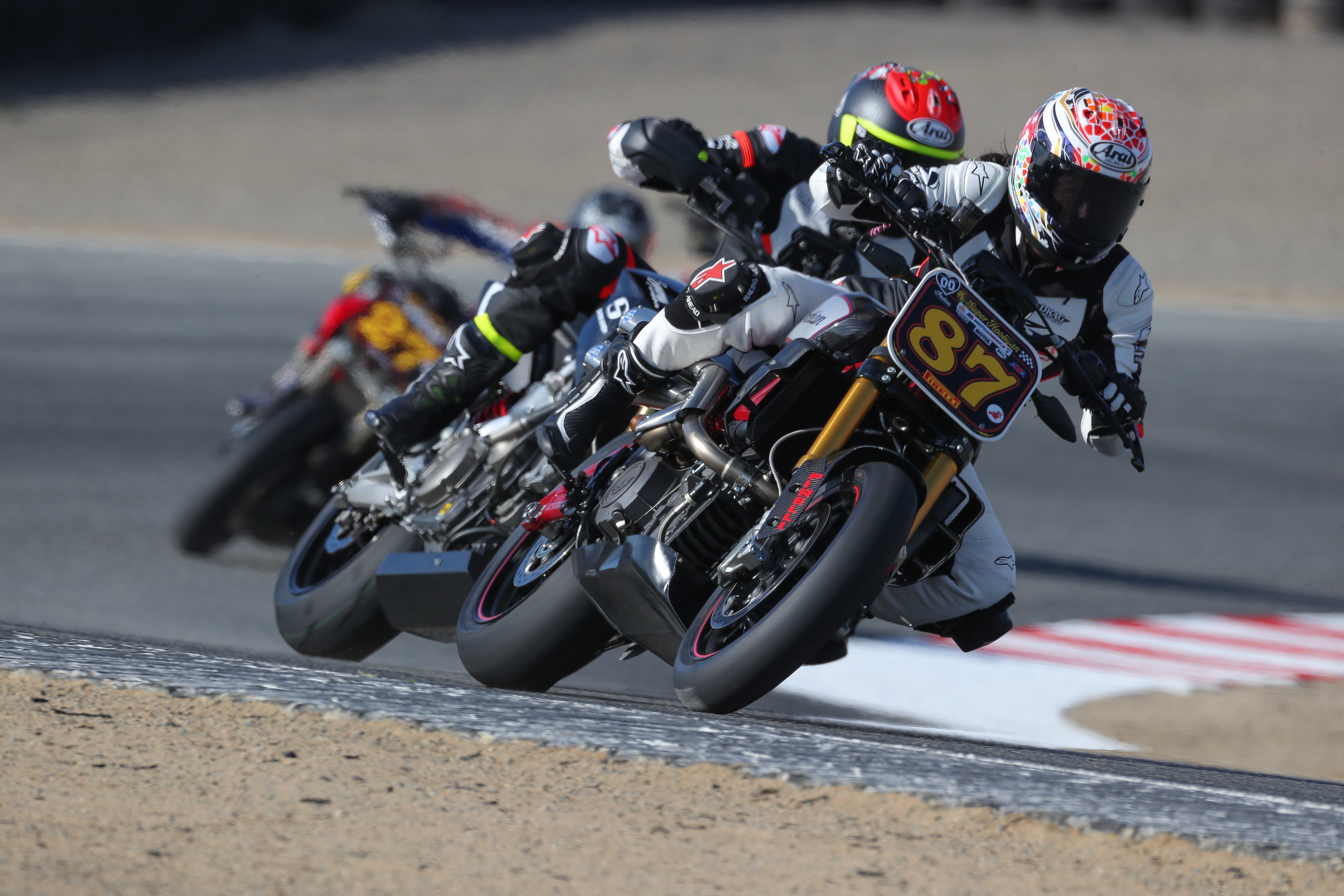 The flag dropped on the main with a record-setting grid count and the deafening roar of angry V-Twins unlike any before it. For those of you old enough to remember, imagine a dozen VR1000's at full noise.

The carnage began almost immediately and saw Taylor Knapp exit the track in a cloud of debris. Taylor had been hanging it out all weekend, and the gods of gravity were now asking for their tribute of leather and carbon fiber. No prisoners would be taken today, and despite his recently plated elbow, Wyman was blisteringly fast. The factory HD had put down a 1:31 lap time by lap two, but the top half dozen guys were within eight-tenths of a second away from him.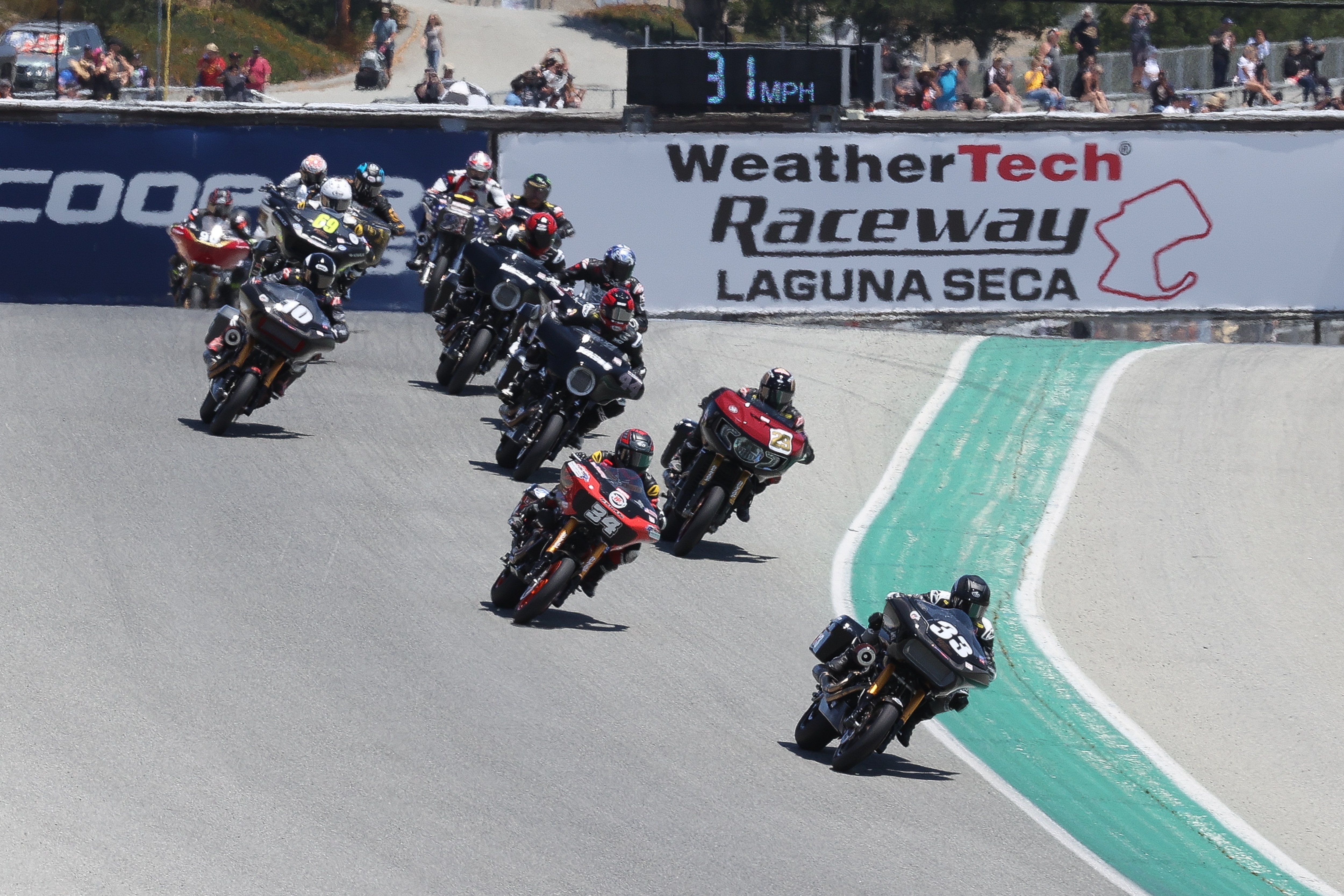 The real battle ended up being for second between O'Hara on the Indian and Barnes on the DTF/Hoban Brothers Harley. These guys had battled it out a few weeks back in Utah at the BRL event, and neither was interested in third place. The pack was soon pushing lap times four seconds faster than the inaugural race last year. The Indian/Harley rivalry was even hotter with Frankie Garcia and Patricia Fernandez on Challengers surrounded by carbon fiber Road Glides.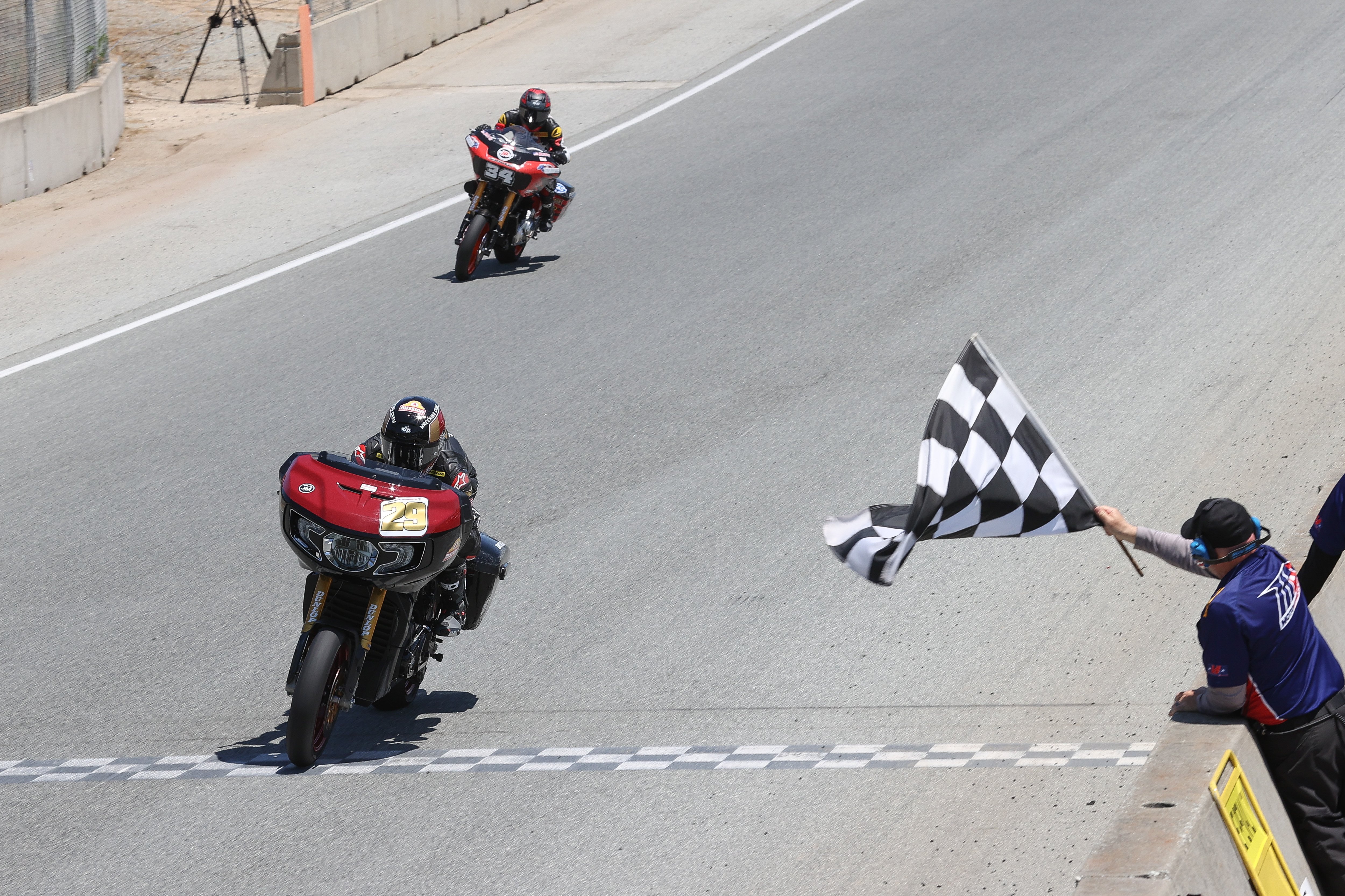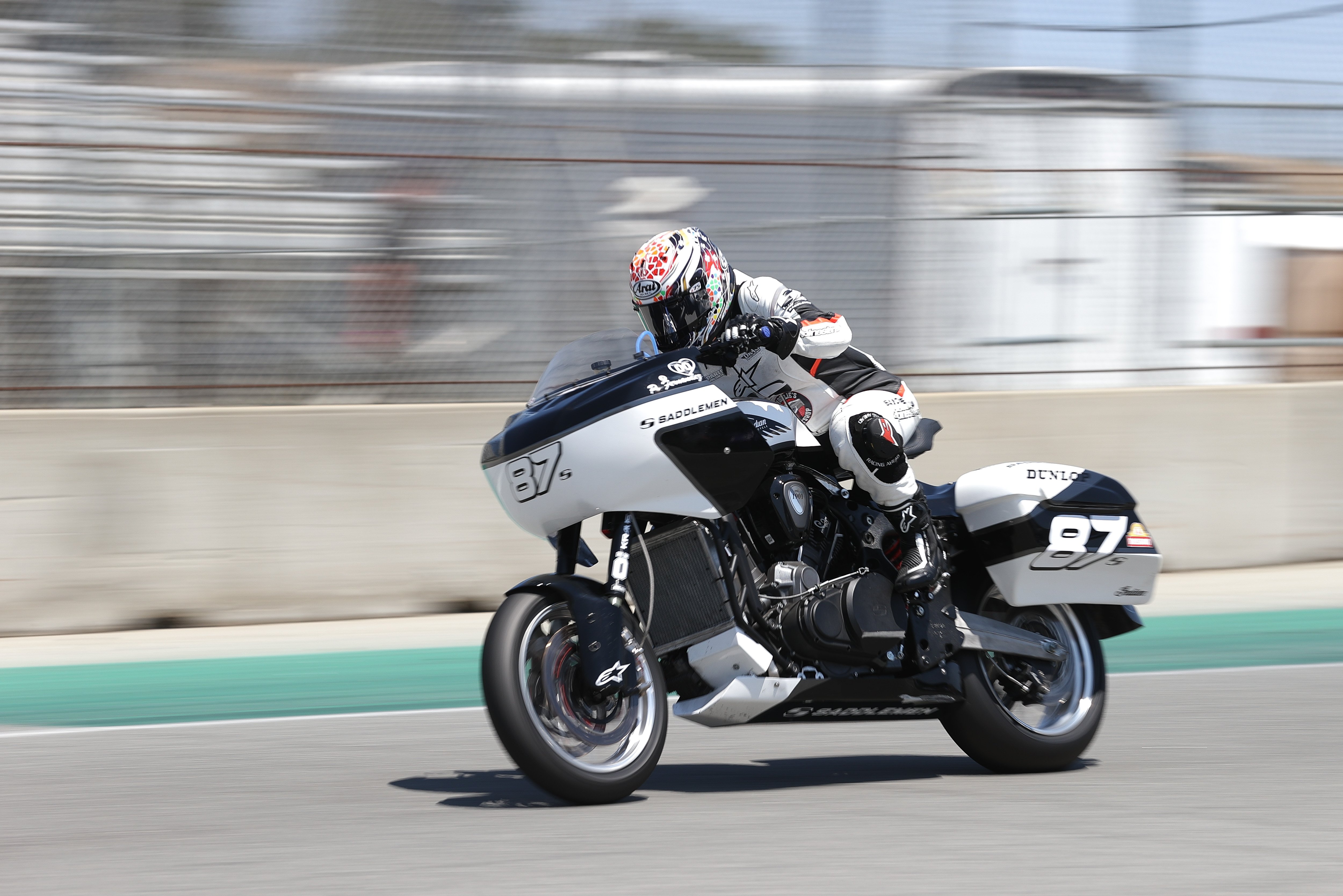 The eight-lap race would end with Wyman in front, followed by O'Hara P2 and Barnes P3. The Challenger of Patricia Fernandez came in P8 and Jiffytune's Eric Stahl in P10. If you recall, Eric lost his bike and gear to a rig fire before the RA event, and S&S, as well as Harley and a ton of others, helped get him back on the track (we said the series was action-packed, right?).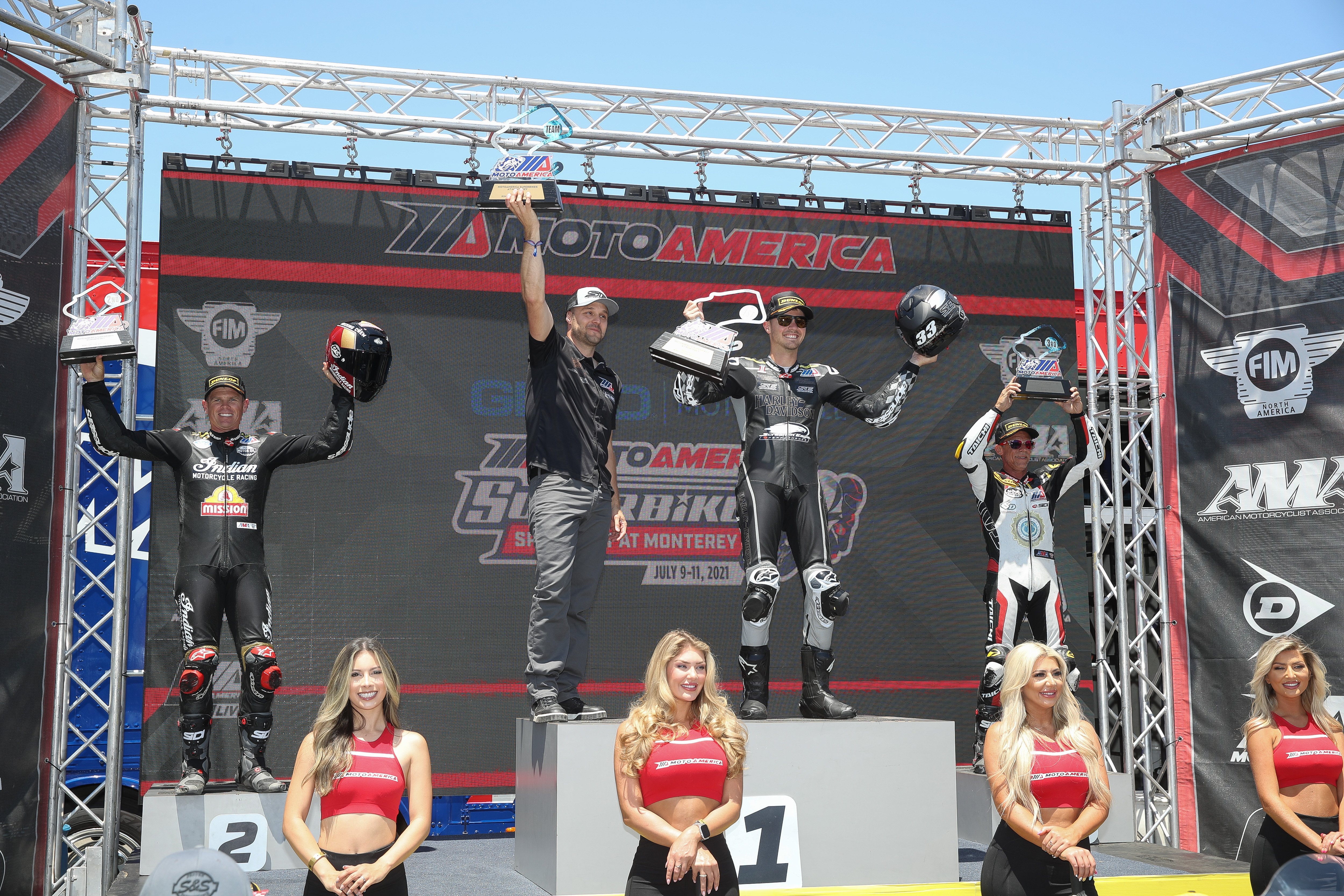 Congrats to the Harley team for a solid win, and we're looking forward to next year's KOTB!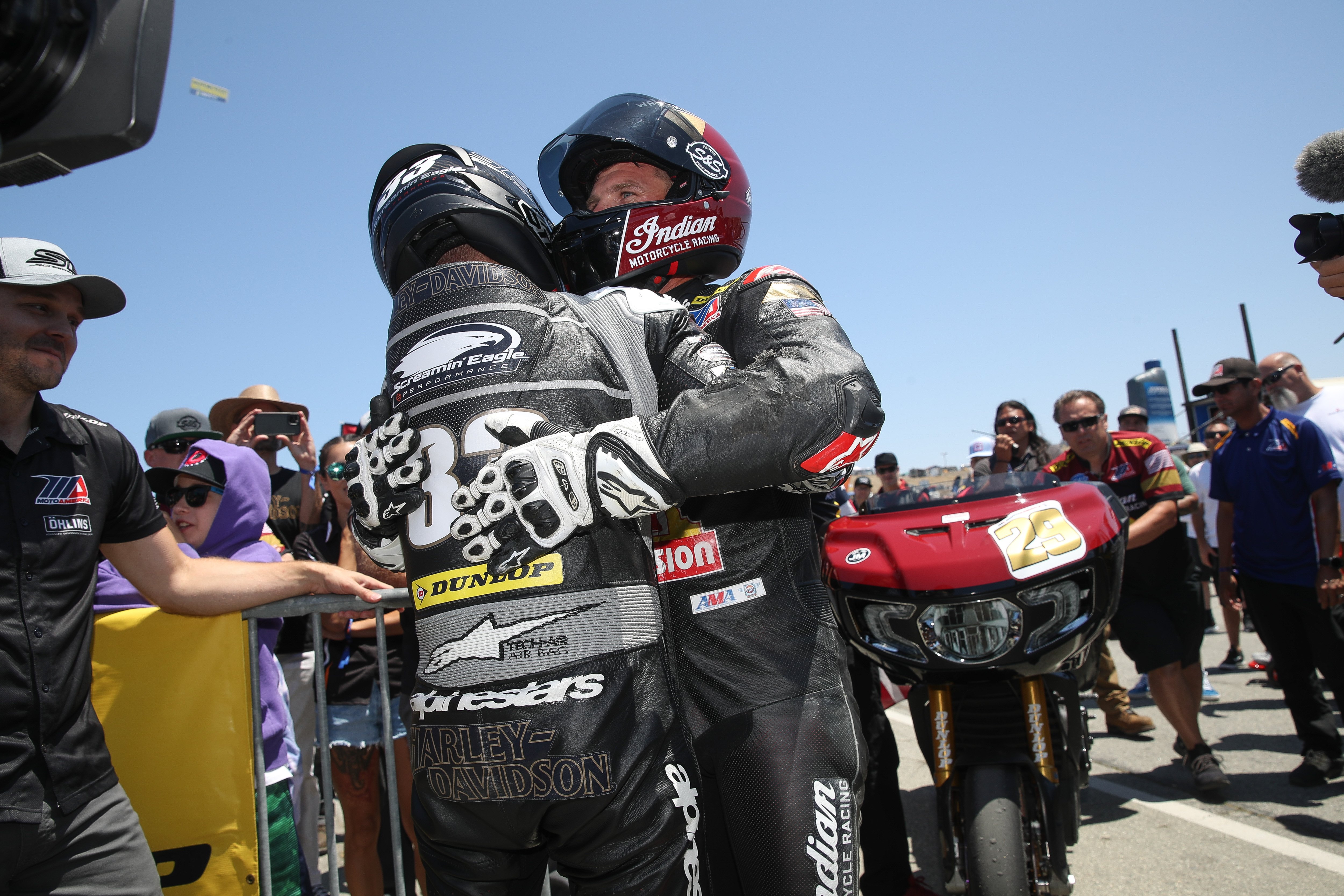 Results for Laguna Seca