Every year, we roll out to the desert of Nevada for this little oasis right on the Colorado River - Laughlin. Situated 90-ish miles south of Vegas, and about an hour above Lake Havasu sits a little town made up mostly of casinos.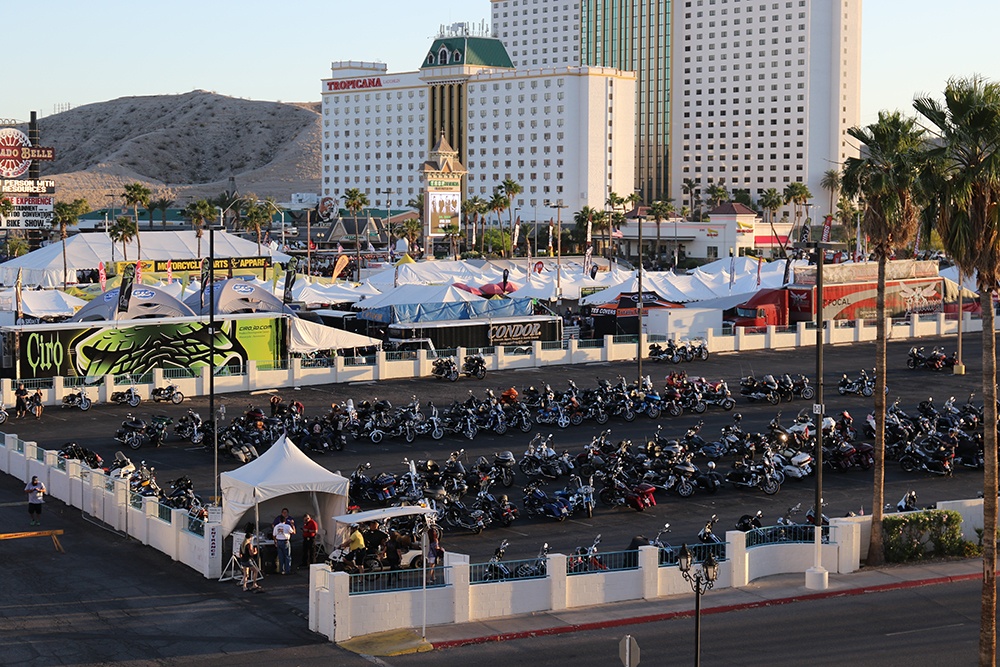 As you make your way under the "Welcome to Laughlin" archway stretching across Main St, you come up on a number of casinos lining the river. If you pulled into the Edgewater Casino, you might have spotted our brand new setup, looming over the white tents surrounding it.

We set up our brand new tent - a giant inflatable setup that provides welcome shade in the hot sun, and a little change of pace from the normal big-rig setup you usually see at events. We did exhaust and intake installs all weekend, from Mini Teardrops to full new 50-state legal exhaust systems.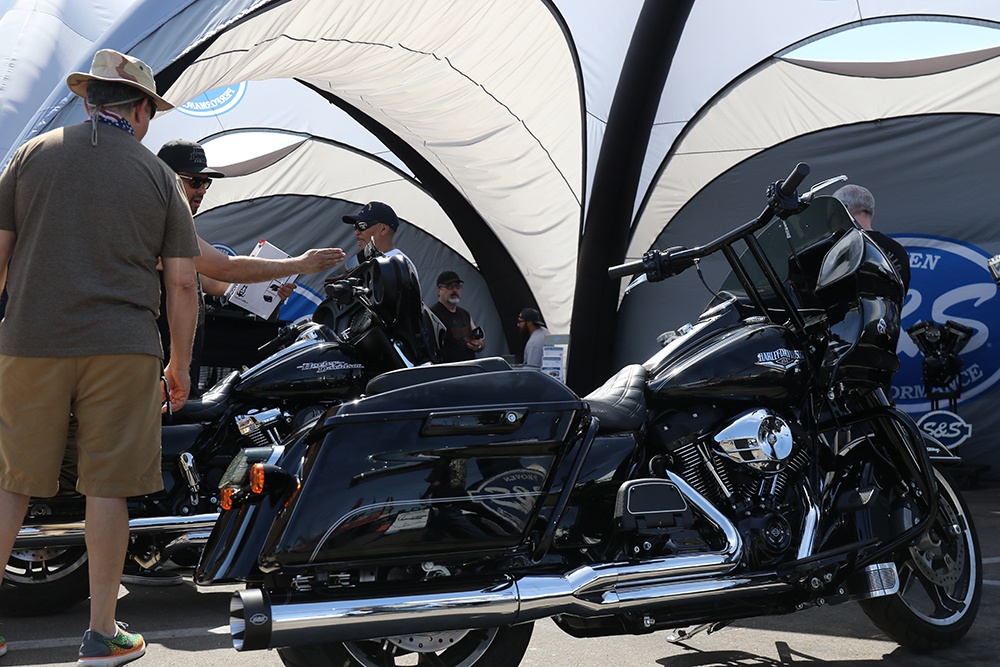 Mk45's and an Airstream Cover on one of our display bikes
Just part of our line up...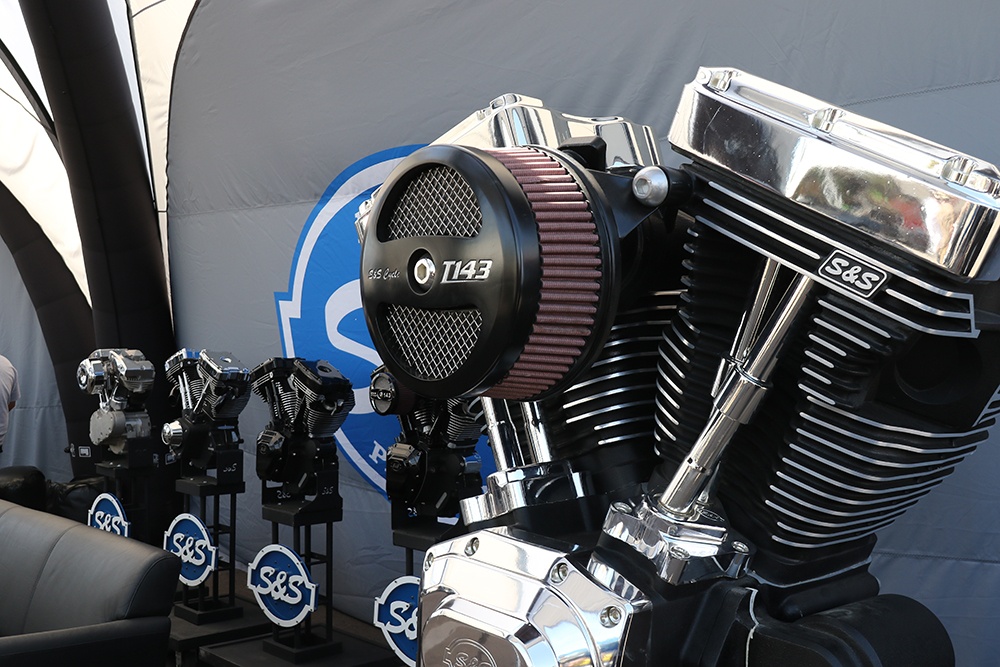 You didn't realize the T-143 was that big, did you?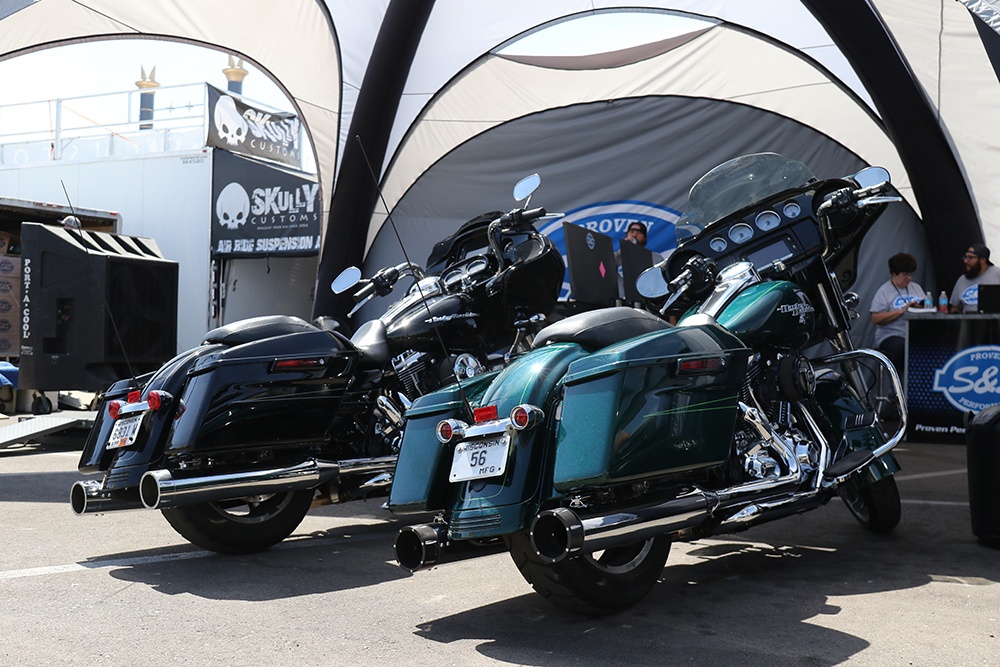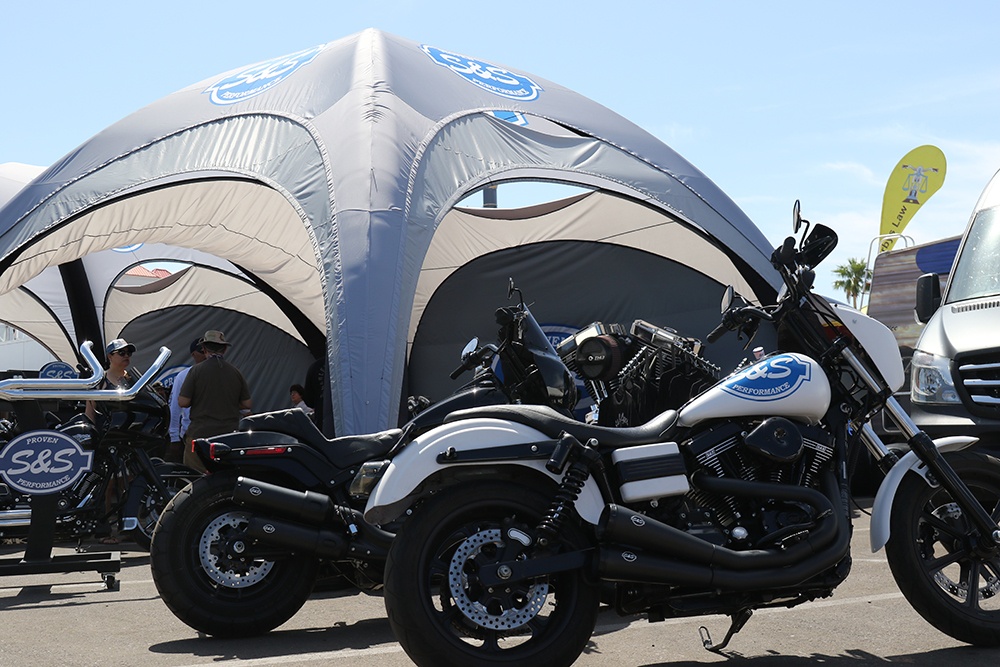 Edgewater is a great bike show venue, with J&P Cycles, Performance Machine, Burly Brand, and more. Right next door at the Colorado Belle was the Party Zone, including some smaller grassroots companies and shops like Speed King's Cycle, Danny Wilson of Buddy Stubbs brought up the M8 powered HD® FXR®he's building, Rundlett Performance & Machine, Zero Hour, Tobacco Motorwear, First Mfg Leathers and more!
So many great bikes came out, from RPM's 143" powered HD® Road King®, to Eric Forbes' killer 111" HD® Dyna®.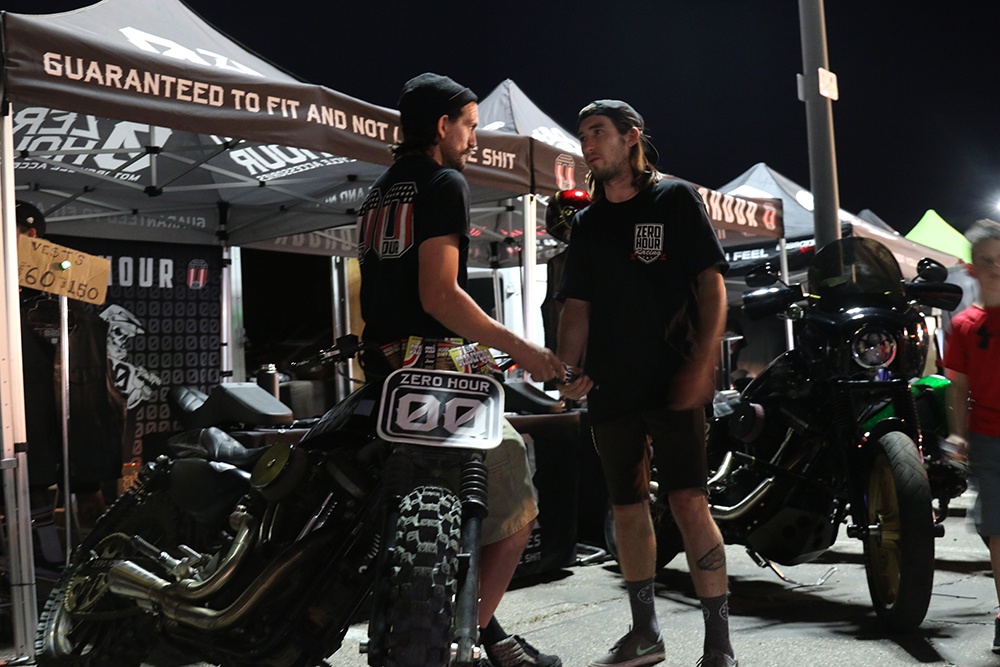 Zero Hour had a cool setup with Thomas' Dirtster, which is about to get our 1250 Hooligan Kit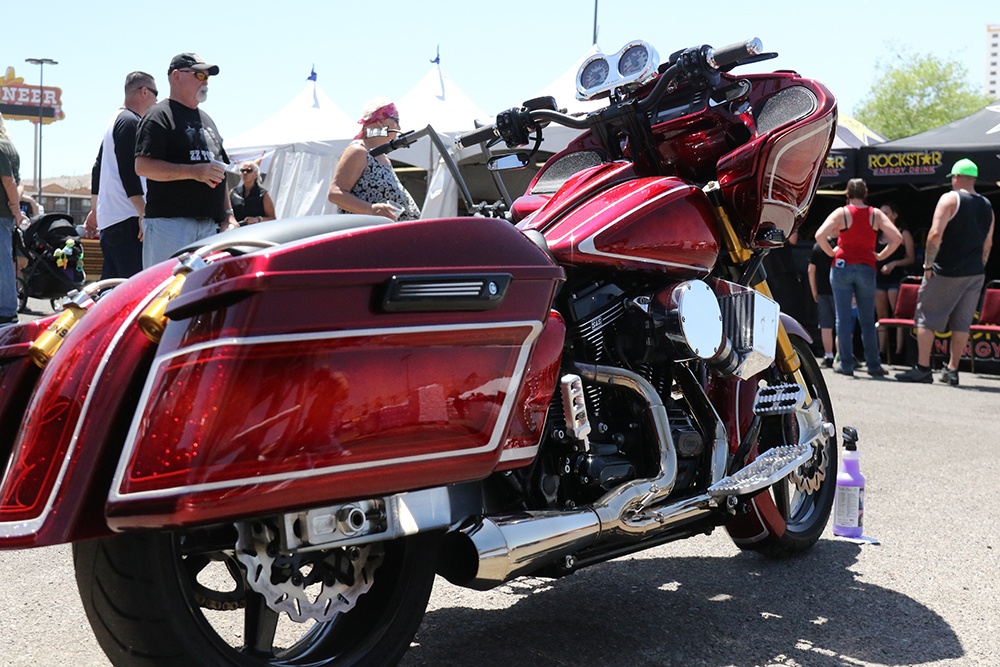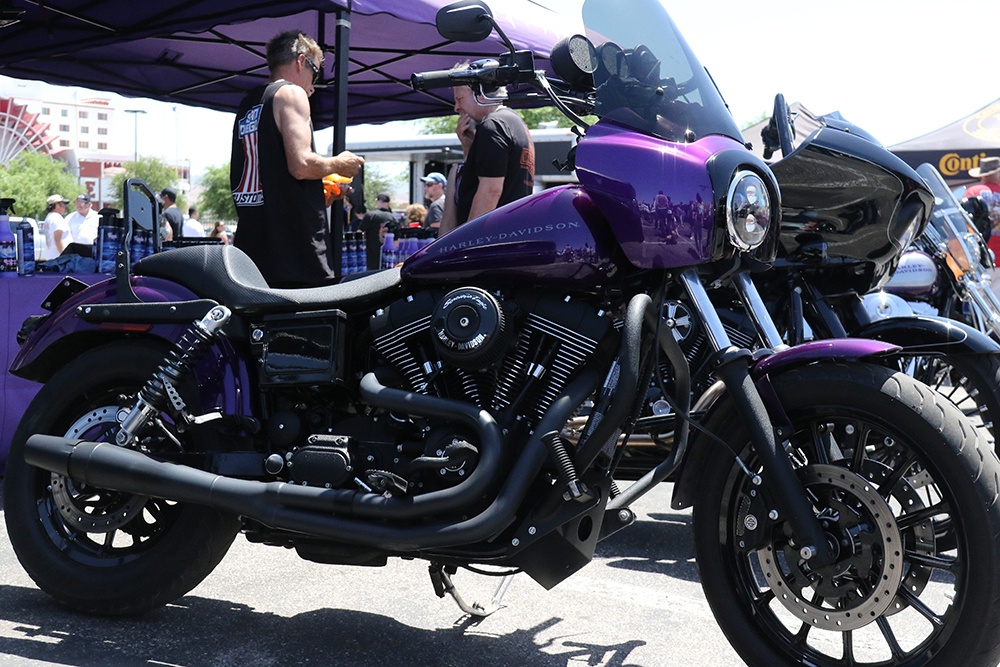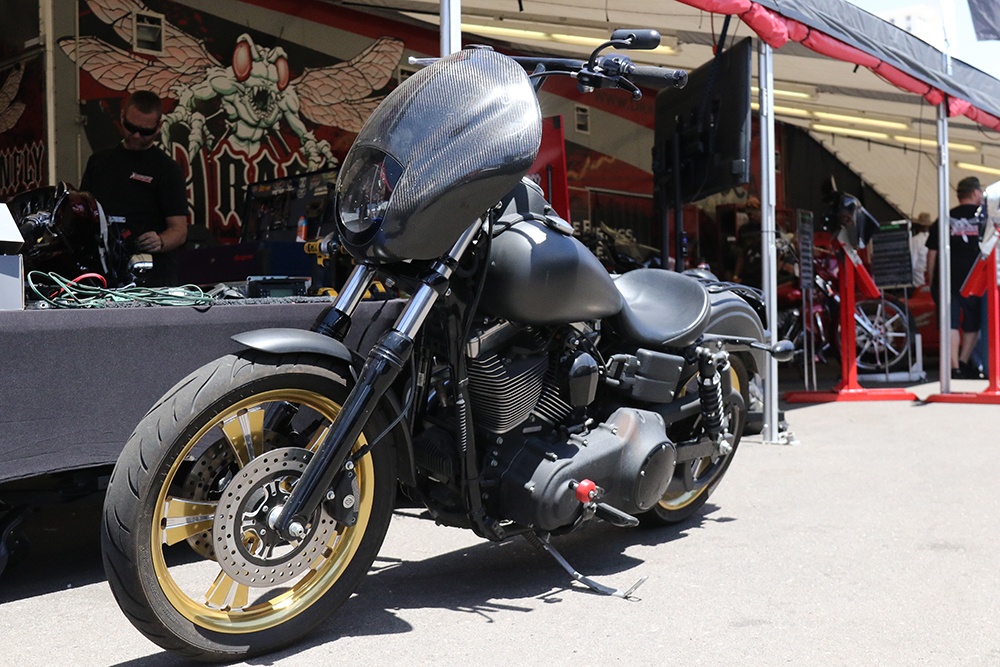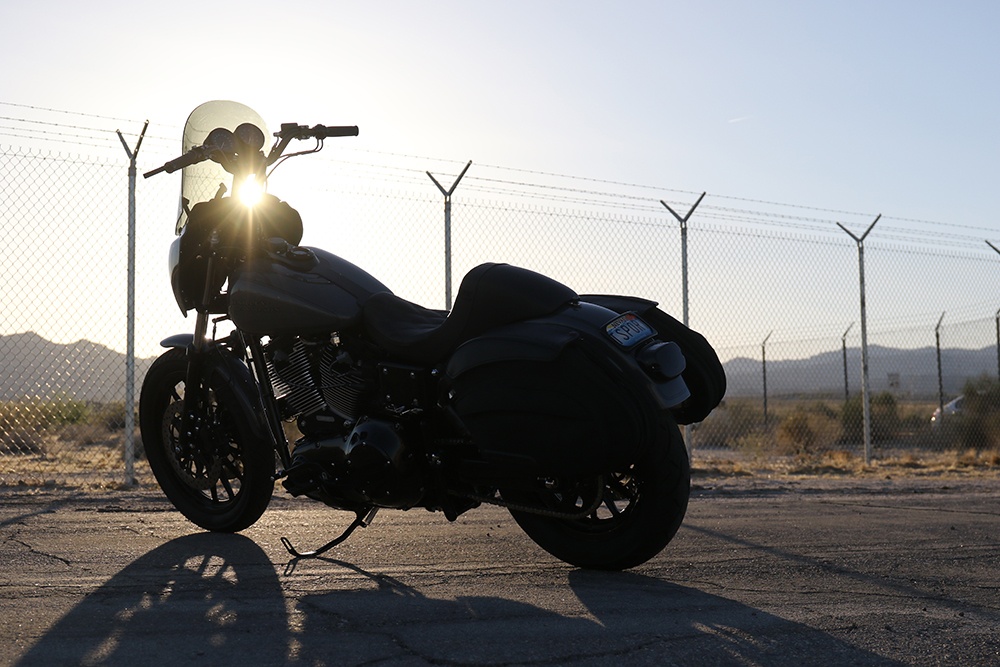 DJ Eric Forbes' 111" Dyna® - stay tuned for more on this bike!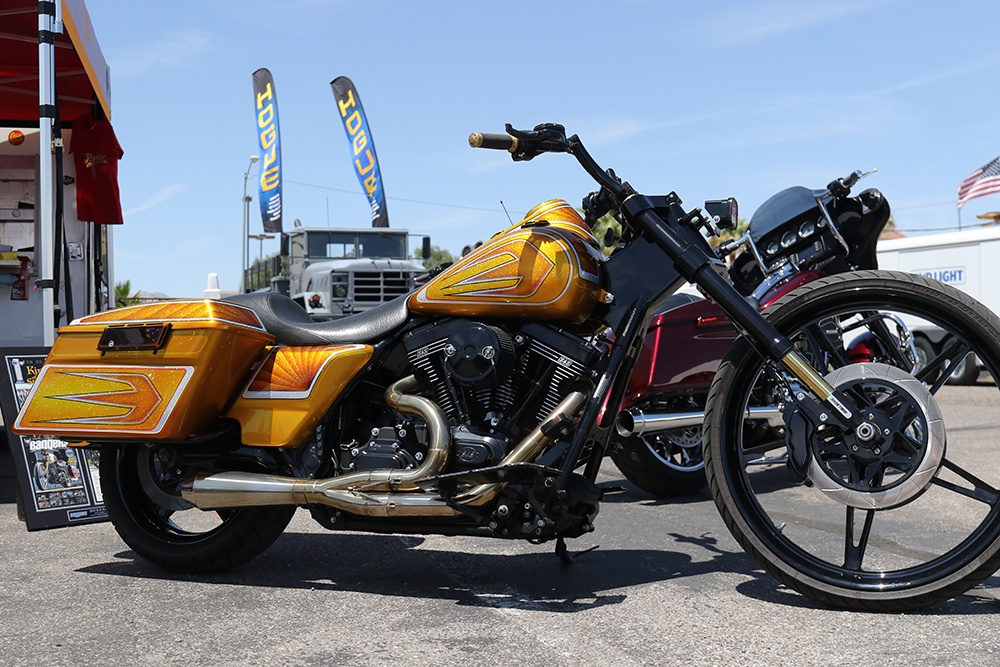 Josh Rundlett's 143" Road King®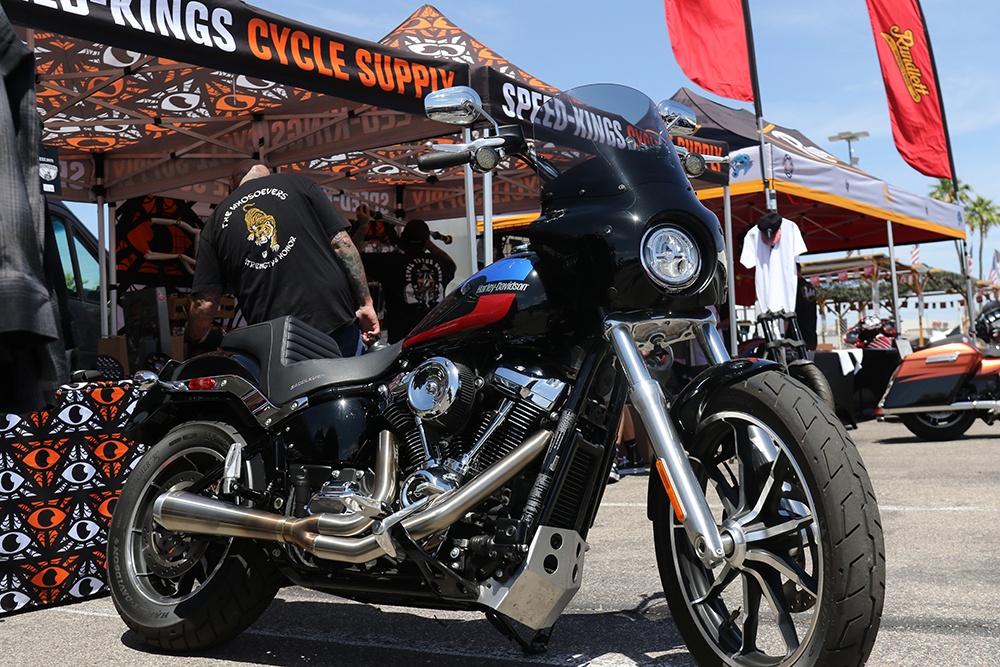 Speed King Steve's Softail® with Stealth Air Cleaner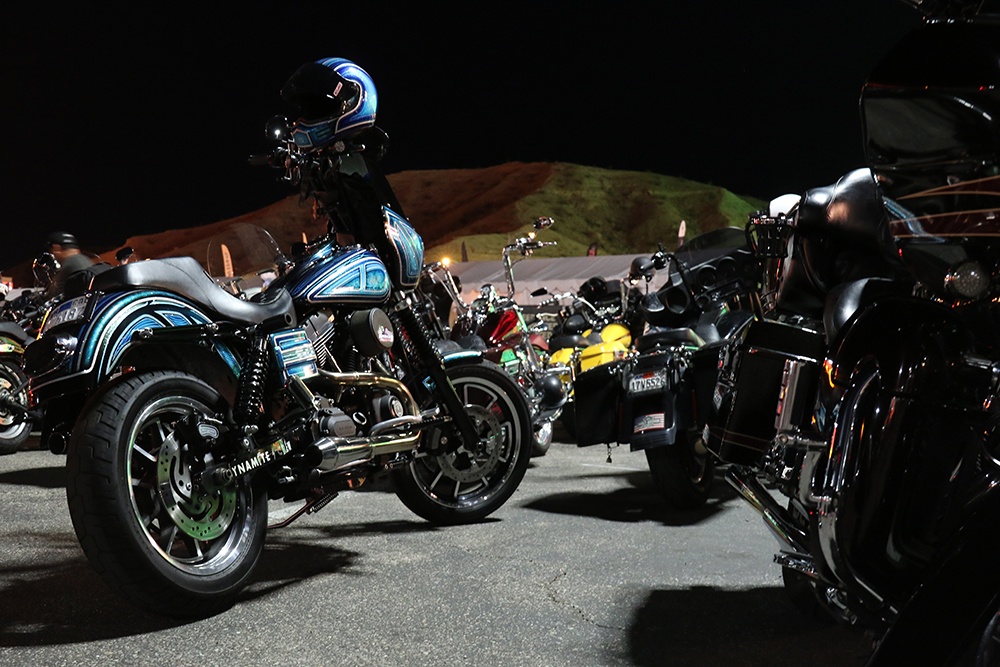 Up at the Riverside Casino was some fun too - the Victor McLaglan Motor Corps Drill team - these guys aren't a wheelie-stunt show, but a precise drill team riding a range of bikes - from foot-clutch shovelheads on up! They balance precariously stacked in human pyramids, doing handstands on handlebars (I can't even do that on solid ground!). My friend Megan M. is newer to the team, and after watching the show she snuck me on in to try some stunts myself - which was probably one of the coolest things I've gotten to do!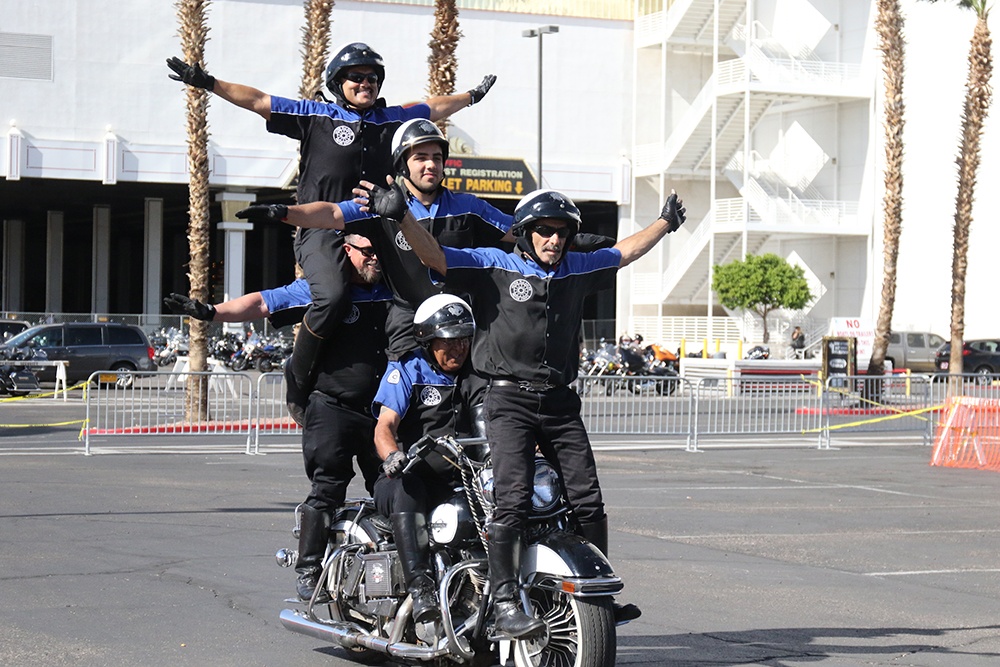 The Victor McLaglan Motor Corps does some really cool stunts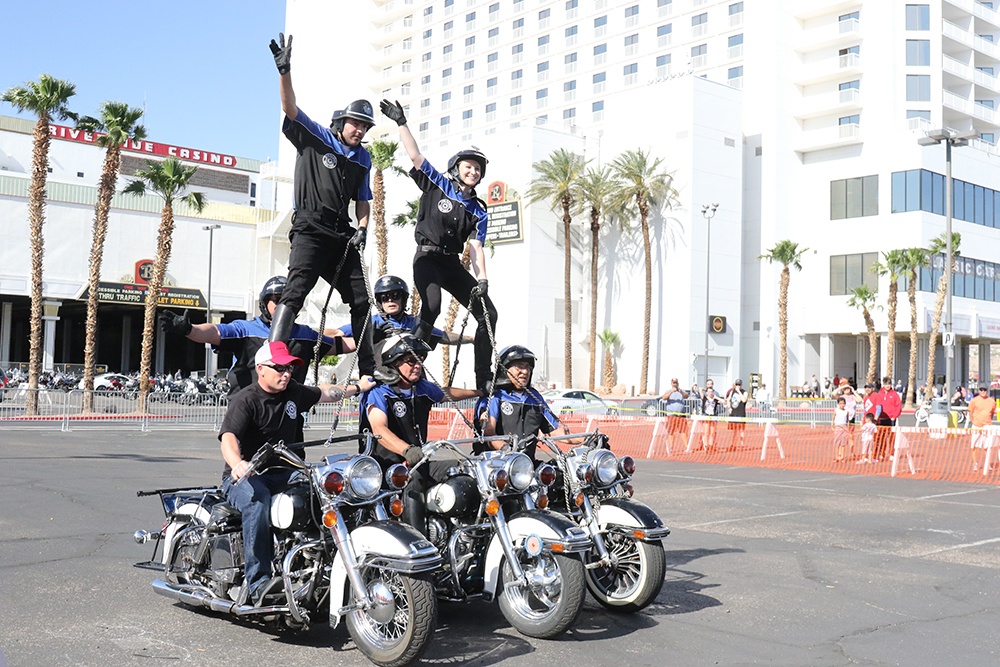 That's Megan up there on the top right of the pyramid! And all on foot clutch shovelheads, too!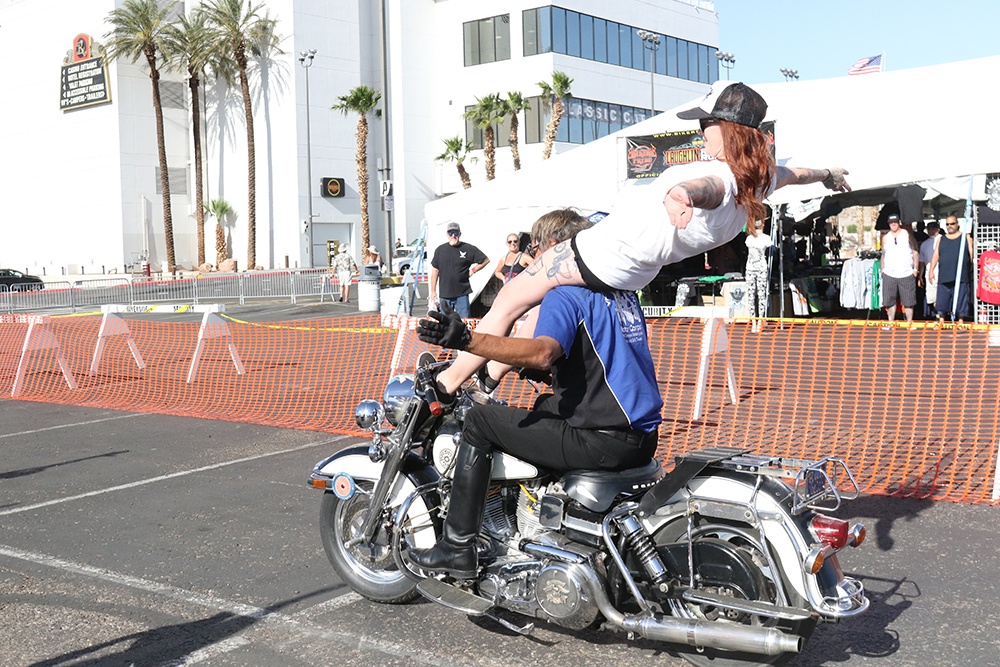 I got to try the "Layback" stunt with the McLaglan crew!!
Laughlin has always been a fun rally, out in the warm desert surrounded by great rides - like the old mining town of Oatman, Arizona - filled with burros left behind from gold mining days, live gunfights and even cooking an egg on the asphalt. Up over the hill is Kingman, Arizona, which is also set on Route 66, full of all the kitsch you could want.

Don't forget that it's situated on a river, and the casinos provide both great food, a break from the heat of the day, and a chance to go home a little richer than you arrived!
Definitely consider adding this one to your roster, especially if you live out on the west coast!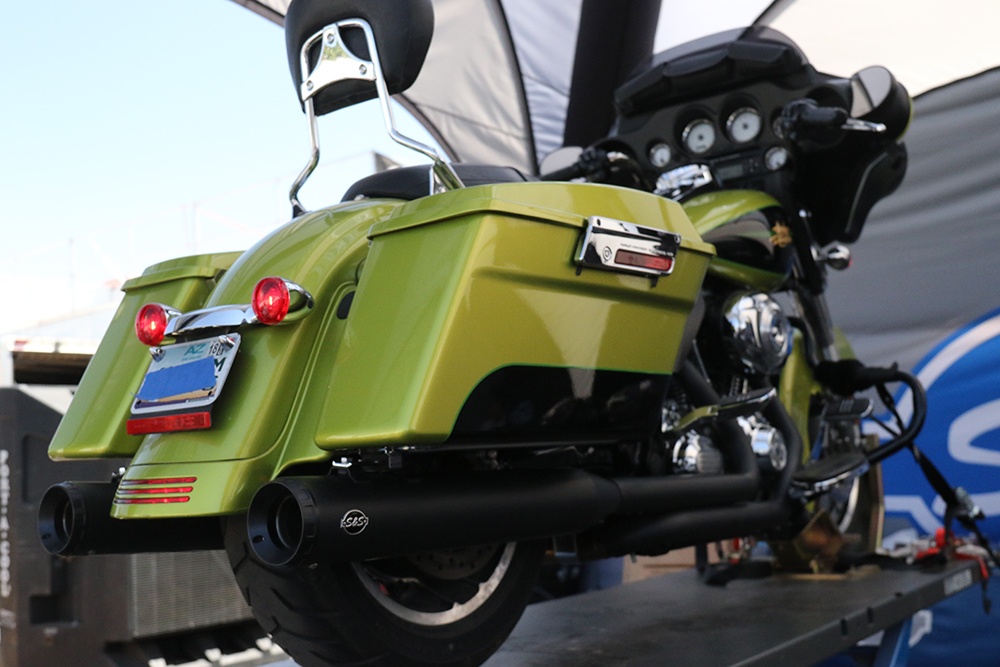 New Grand Nationals on this bright bagger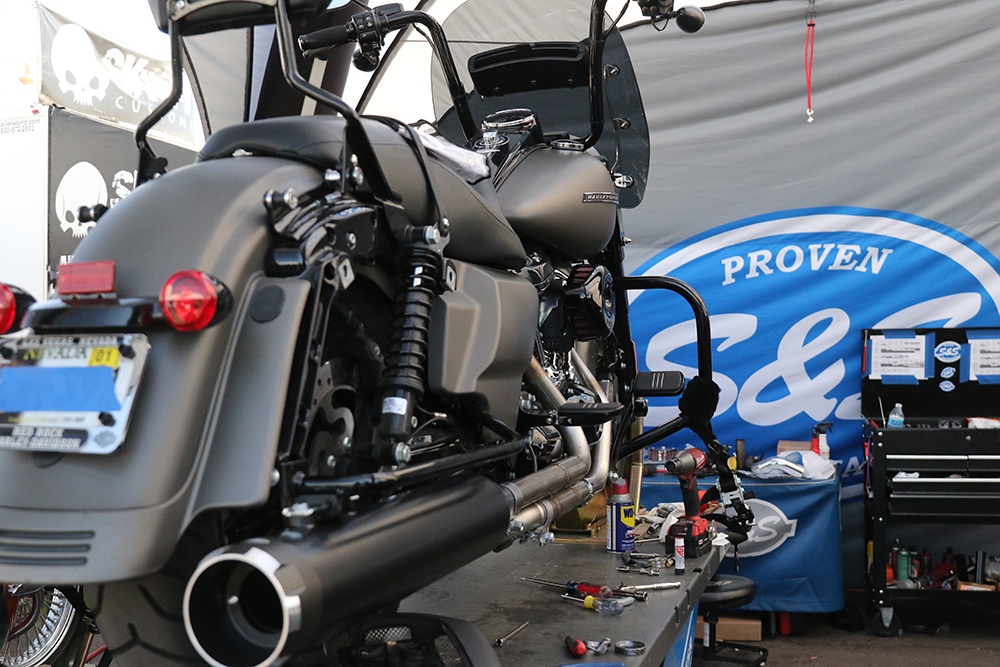 New Mk45's anyone?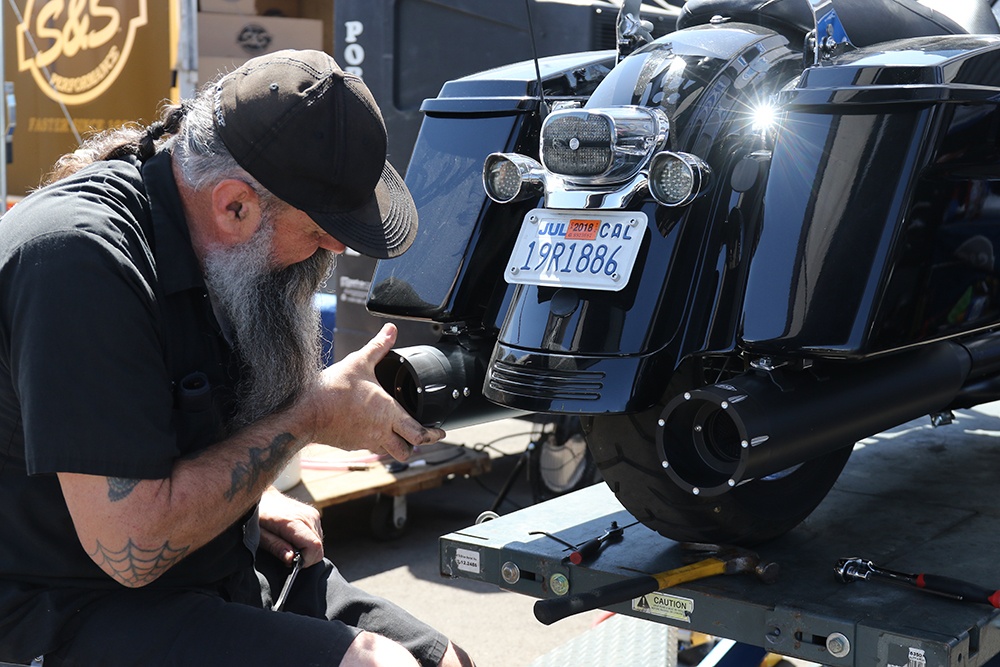 Our guy Scott finishes up some exhaust
Check out our recap video too -