Daytona Bike Week.

Have you ever been?

I have. It's my third year hitting this rally - and despite being younger than the average demographic, it's one of my favorite rallies.

After a long, cold winter in the Midwest, the idea of Florida is illuminating. Warm weather, sunshine, the beach, and bikes. SO. MANY. BIKES.

So I set sail (well, by sail I mean hopped on a plane out of snowy Wisconsin) and flew down to Daytona. When I got there, I headed straight to Destination Daytona to pick up my ride - the "work truck" per say, a Street Rod™ 750. Not too shabby for a company vehicle! Although it's mostly stock, it's equipped with a Stealth intake and Grand National exhaust, giving it a few extra ponies. Being that I ride a 1200 Sportster® myself, I was pleasantly surprised that it's quite responsive to the throttle and kept up with Florida highway speeds just fine. (If you've ever ridden the highways there, you know what I'm talking about, it's like everyone is a NASCAR driver! ..but I'll refrain from posting my actual top speeds, to avoid self incrimination here.)

This is gonna be a lot of words, but I'll tell you a little about each show I attended, and I'll title them just in case you want to skip around.
SOUTHEAST FXR & DYNA DAY at Ace Cafe, Orlando, 3/10

The first of it's kind at this rally, I rolled on over to the Ace Cafe to check out what seemed to be a great show in the making. Put on by Giselle Levy and Jordan Priebe, both hardcore FXR fans, they really brought out the crowds. Killer builds from Barnstorm Cycles, Pop's Garage Fab, Spadafora and more. I recognized many of the builds from Instagram, and the #fxrfriday hashtag. Really, the FXR is noted to be one of the Motor Co's best bikes, and it showed.
I can't even count how many were S&S powered, the V111" being incredibly prominent at the show! It ran most of the day, with warm clear weather and the sun shining over the bikes, and the stunt show from EastCoastin' and the Ives Brothers. Ace Cafe is an incredible restaurant and a great setting for a show, and the food is killer! Word is this show is moving closer to Daytona next year, so don't miss it!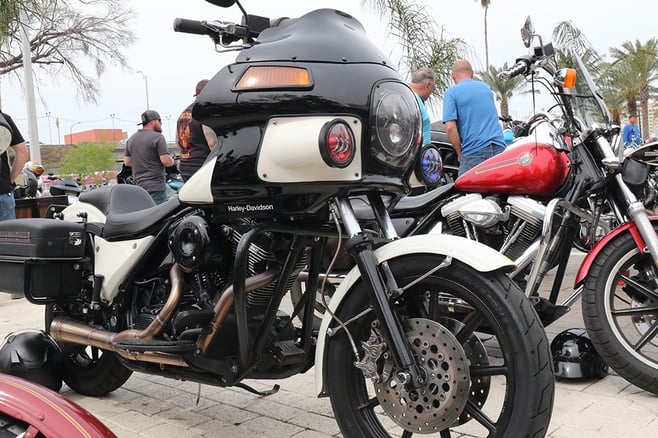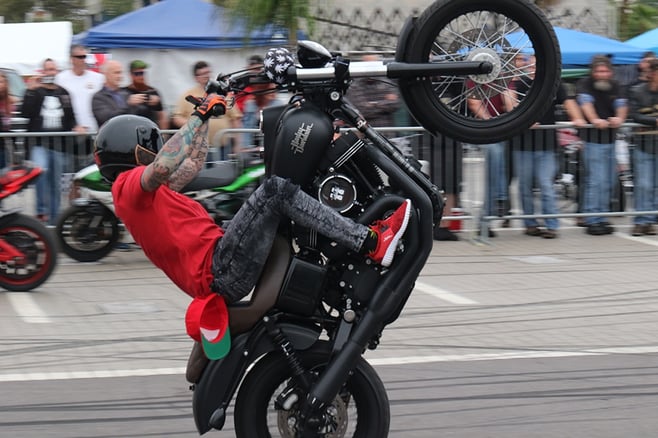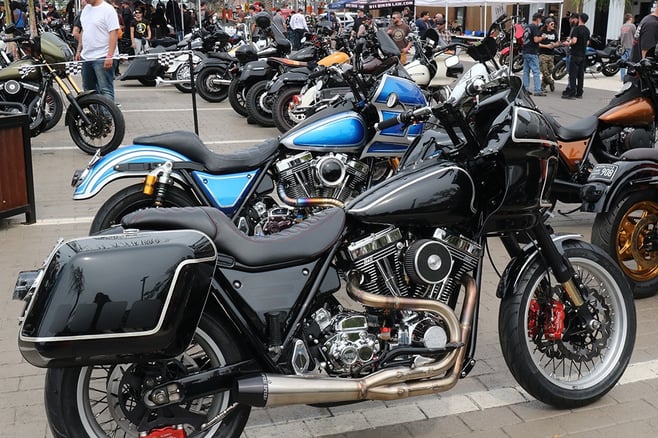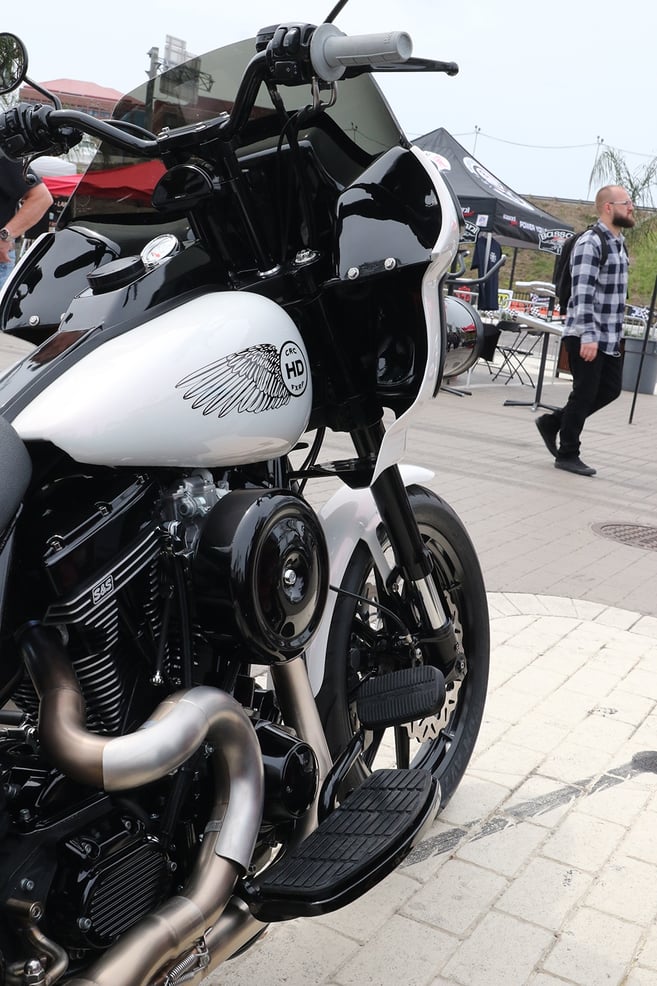 MAIN STREET, Daytona Beach

Main St is a sight to see. It's really hard to put it into words! Busy bustling shops and bars line both sides of the road, from A1A to the bridge. Every biker rolls slowly down the road, showing off their bikes, revving, and often playing music. There are plenty of places to hang out, check out live music, and chat with the bartenders. It can be quite overwhelming and a total sensory overload. Don't miss out on at least checking it out, if you can find a spot along the road to watch everyone roll by, do it!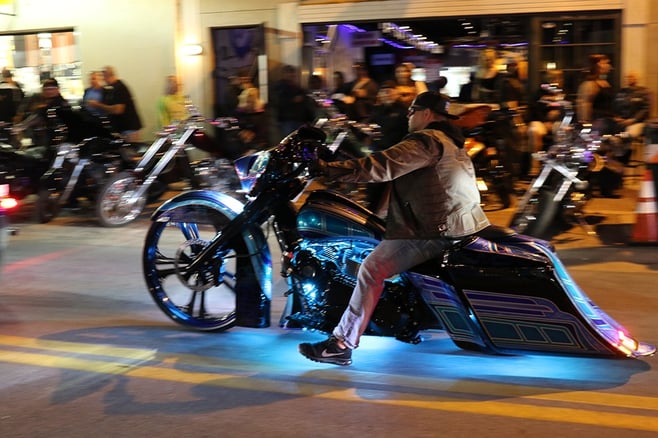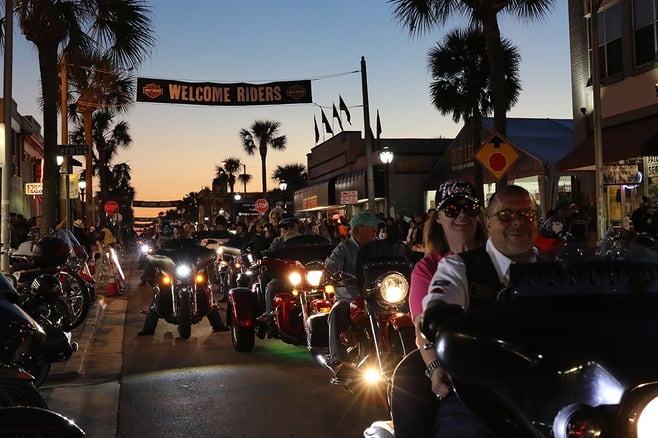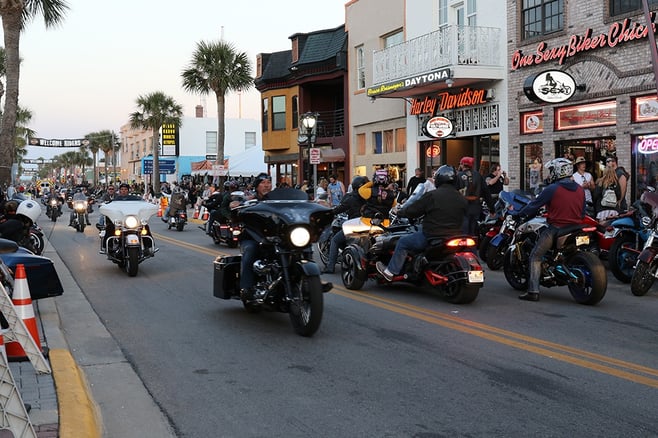 DESTINATION DAYTONA, Rossmeyer's Harley Davidson® Dealership, Ormond Beach

Destination Daytona is where S&S sets up each year, doing exhaust and intake installs at our truck. It's also one of the largest HD® dealerships, and an incredible complex of things to do. From getting installations done, to buying a new motorcycle, to having a drink and some food, to hitting the J&P Store for some aftermarket goodies, you can do it all.

One of the coolest things this year for live entertainment was the stunt shows - Rhett Rotten's Wall of Death and the Urias' Globe of Death. Both death-defying, 100 plus year old style shows, that are truly an incredible talent to watch. I got up close and personal with both, and let me tell you, it's no joke being inside the wall or up next to the globe!

Did I mention you can stop by the S&S truck to chat with our guys about any of our products and how we can make you faster?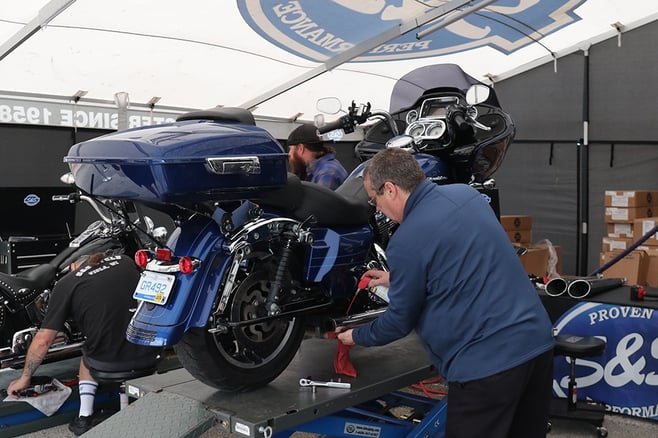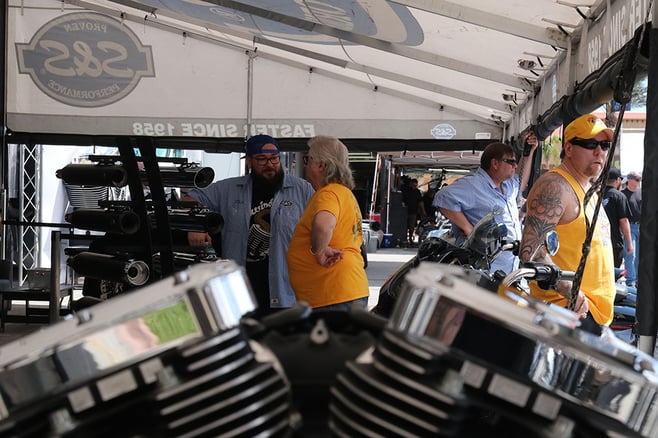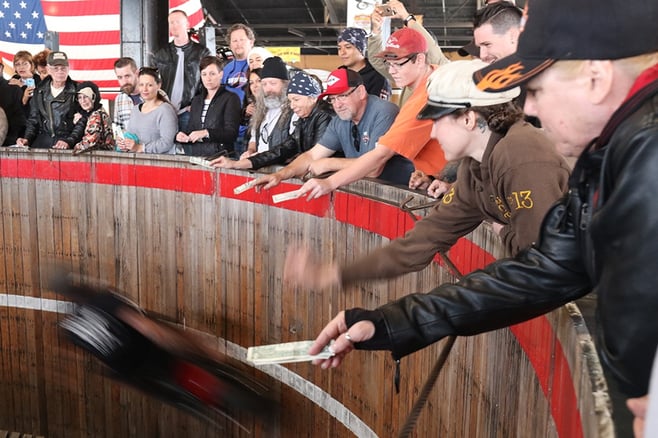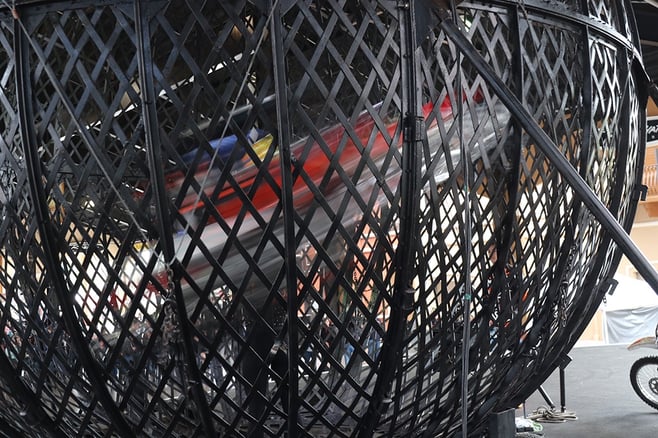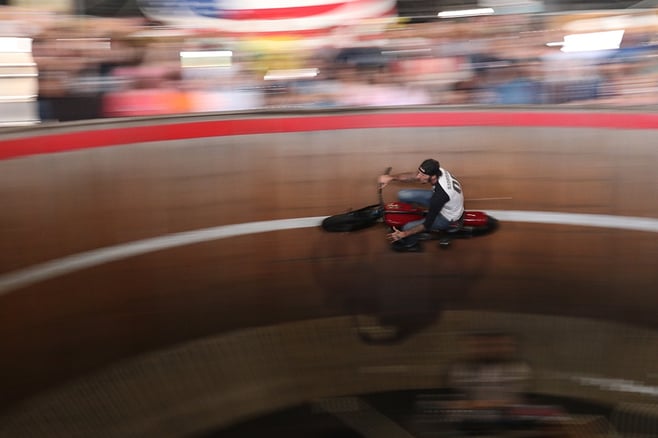 CHOPPERTIME at Willie's Tropical Tattoo, Ormond Beach, FL

Willie's shows are infamous for being among the best - choppers literally jam packed into the tiny front parking lot of the tattoo shop. I do not think they could be parked any closer without actually touching! And some of the best bikes come out for this, I personally spotted great builds from Blings Cycles, Mad Pen Cycles, Chaos Cycles, Forever Two Wheels Maine, and so, so many more. They served up great BBQ and cheap libations, all making for an incredible show. Willie's gets so so packed that it's best to get there early to check out the bikes and stay late to watch them all roll away. Don't blink, you might miss something!! I'll let the photos speak for themselves here.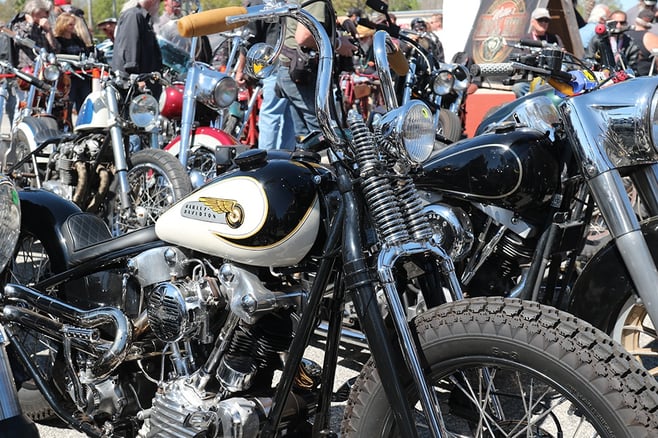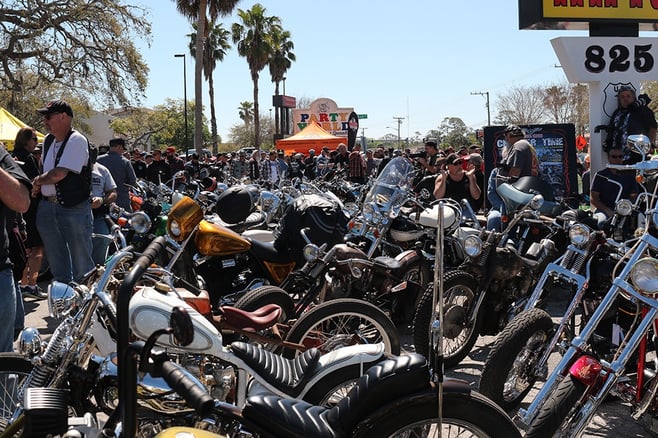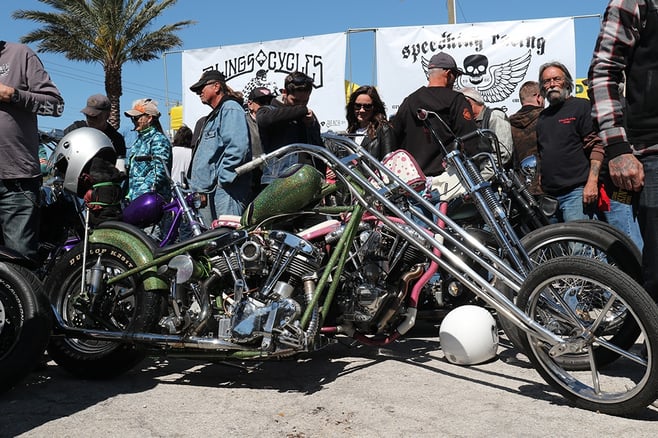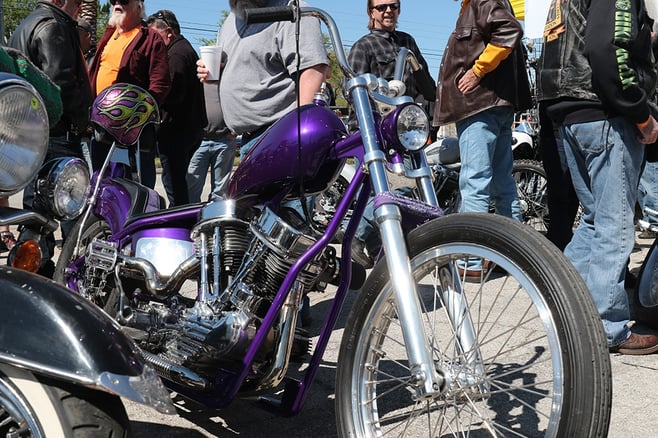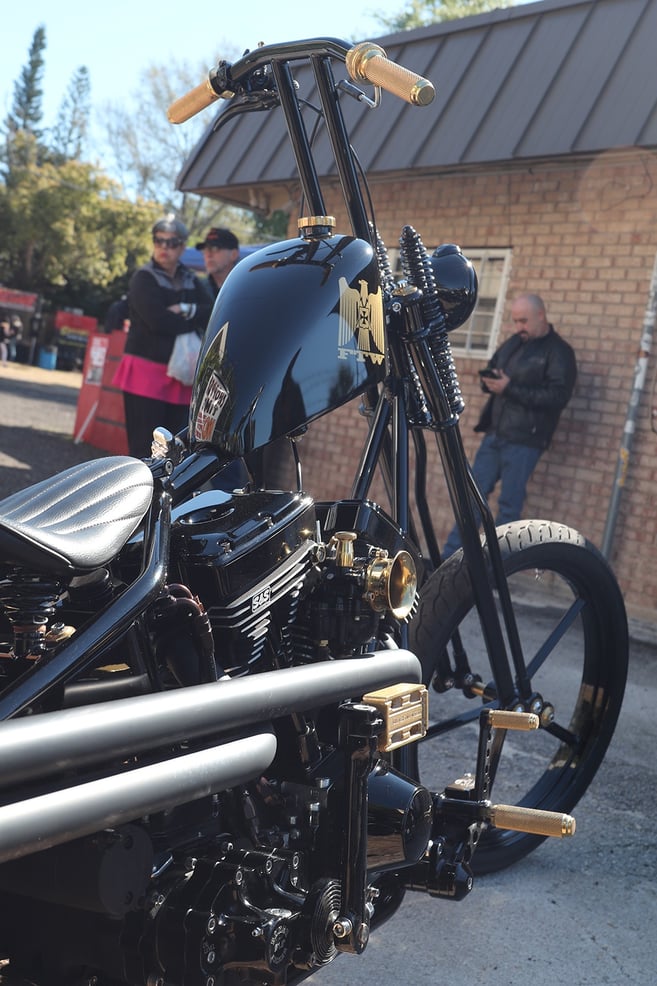 AMERICAN FLAT TRACK RACES, Daytona TT, Daytona International Speedway

Flat Track has become quite the hit as of late, with the Indian® Motorcycle vs. Harley Davidson® rivalry really stirring the pot. Bikes ride along what's generally a flat, oval track, and as the riders come into the corner they slide forward on the seat, nearly over the tank, throw their left leg out, and attempt to break the back tire loose to slide easily and quickly around the left corner.

I had a media pass, allowing me a different perspective than the crowd as I stood on the inside of the track. It's exhilarating, being within feet as the bikes rip past, and being able to smell the dirt, warm rubber and exhaust. Sometimes it can be sketchy, as things happen on the track, bikes break, riders rub and bang bars and sometimes go the wrong direction. There were quite a few mishaps this year as it was the first race, and it was also a TT track. What's a TT? It's a track that's NOT flat, it usually has a jump, and/or a right turn, sometimes throwing the riders for a loop as they attempt to adjust to the new obstacles.

You may have spotted quite a few S&S logos on the track this season, from our exhaust on the Indian® FTR750s, ranging from the Wrecking Crew (Mees, Baker and Smith) to many privateers attempting to go for the gold on their privately owned FTRs. We also recently began manufacturing exhaust for other flat track bikes, including twins and singles. Each class had someone S&S equipped, making the race exciting (and hard to photograph!)

But hopefully, you watched it live on fanschoice.tv - just like you can ANY of the American Flat Track races!

Oh, and just for good measure, did I mention how cool it is to stand down on the actual track at Daytona Speedway? That NASCAR racetrack is a LOT more angled than you think.. now if they'd only let me ride around it..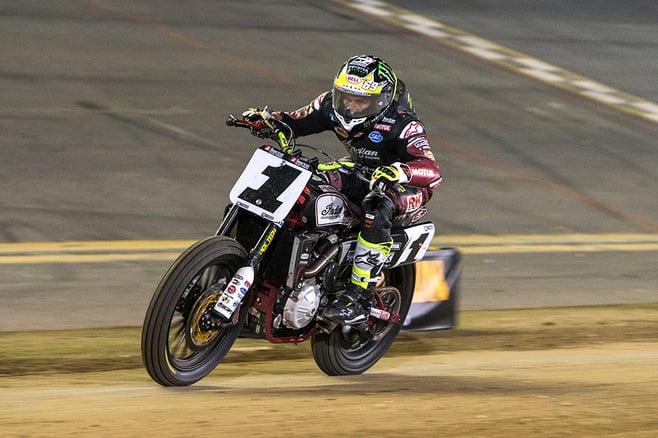 Jared Mees picked up the 2018 AFT season where he left off the last one, battling hard for the top spot on the box and keeping the Indian win streak alive.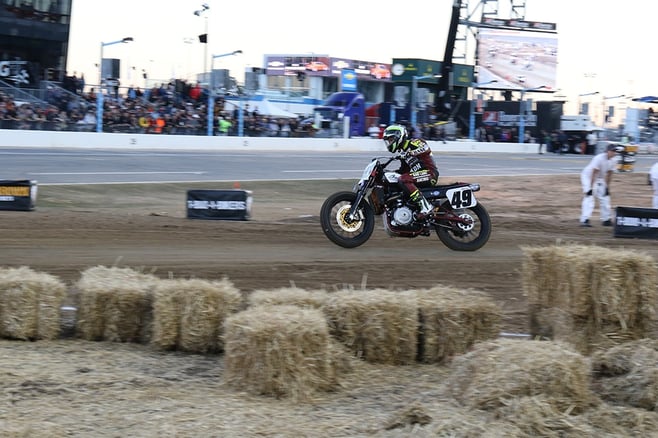 Chad Cose on his privateer Indian® FTR750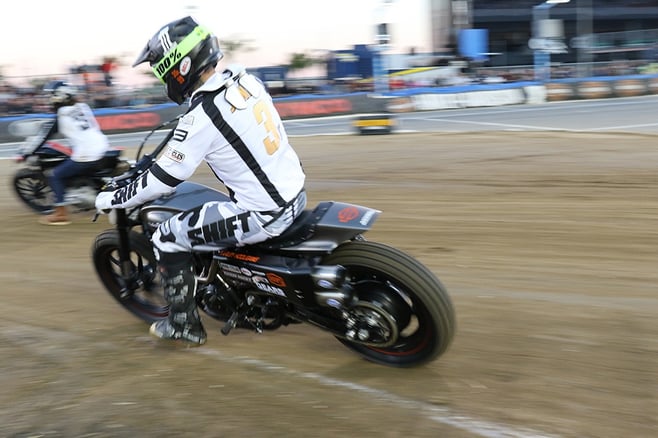 Hooligan rider Scott "T-Bone" Jones on his XG750 with left side S&S exhaust.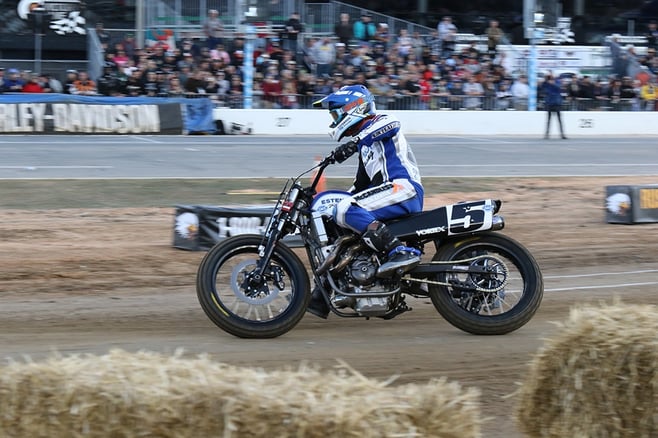 Jake Johnson of Estenson racing also has S&S flat track pipes.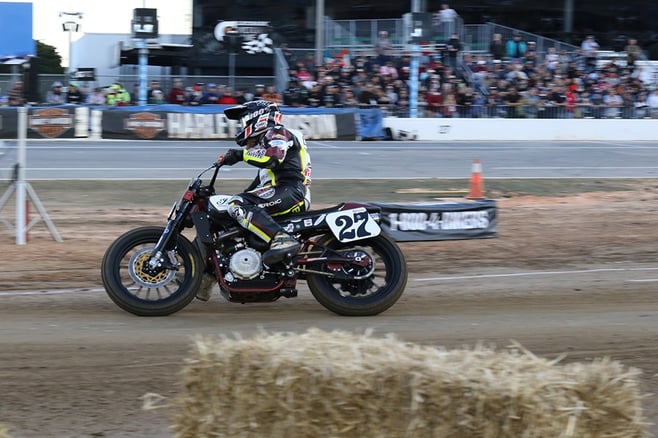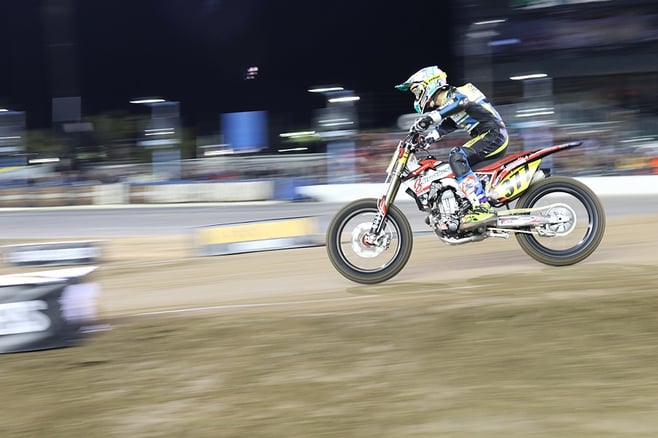 Ferran Cardus in the singles class, also rocking S&S exhaust!
BILTWELL BASH at ROBISON MOTORCYCLES

One of my favorite shows of the year, at one of my favorite shops. Robison has been around for what seems like forever, and unfortunately they are retiring and closing the shop. So the bash was a proper sendoff to an institution.

Each year, Biltwell and Robison throw the bash, bring out a ton of great bikes, and did I mention FREE CATFISH lunch? Oh, and free drinks. That definitely makes for a fun show. This year seemed to bring out a ton of classic panheads, which I definitely love! Even a Servi-car came out to hang out. Bikes line the road alongside Robison and come in to enjoy the party. Inside, there's everything from tools you can borrow to wrench on your ride, to a stocked parts room, and of course some killer vintage Robison merch!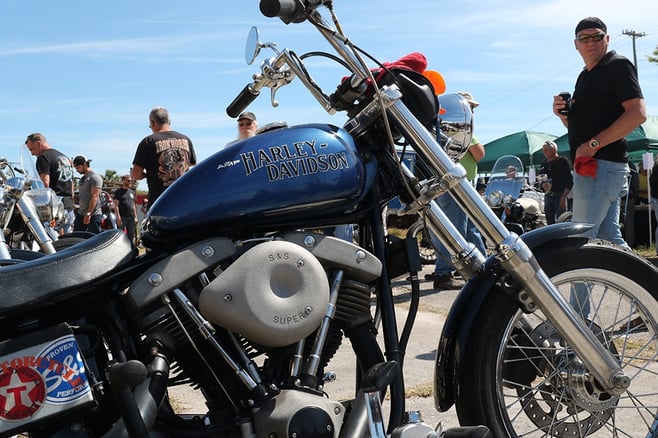 A personal favorite shovel out at Robinsons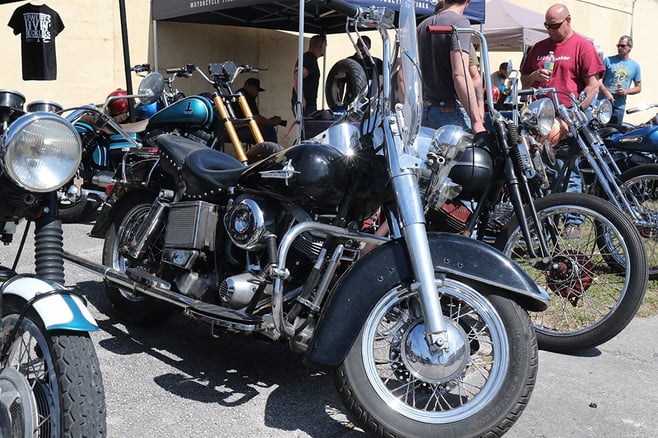 Biltwell Bash brought out a bunch of great bikes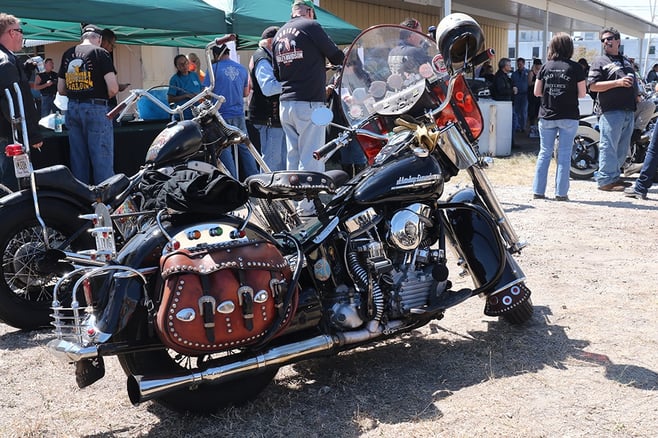 Full Dressers were in supply at the Biltwell Bash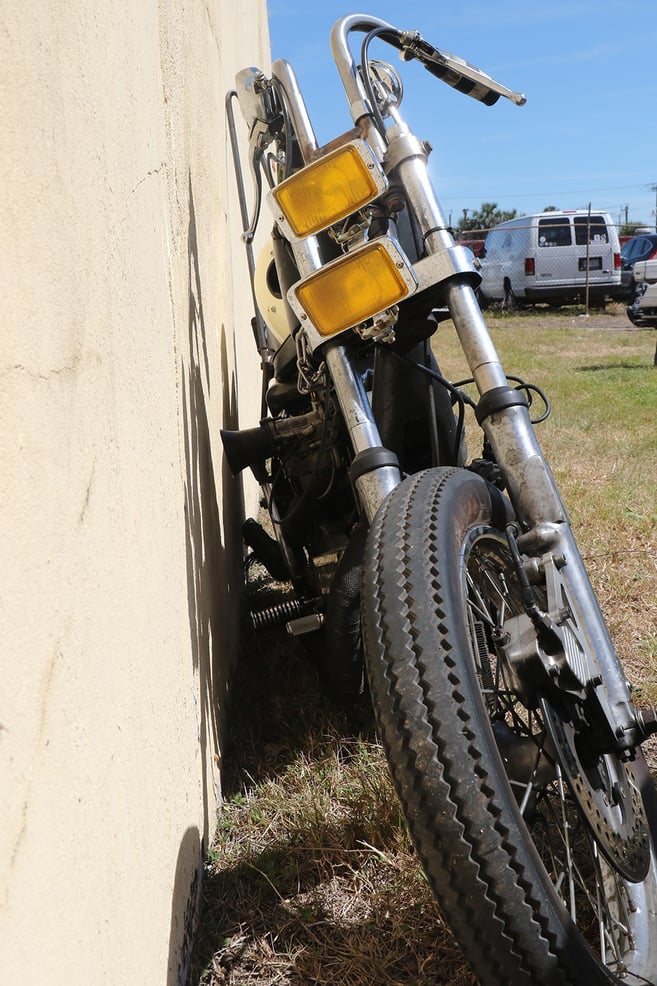 Who needs a kickstand anyway? Check out that cool carb...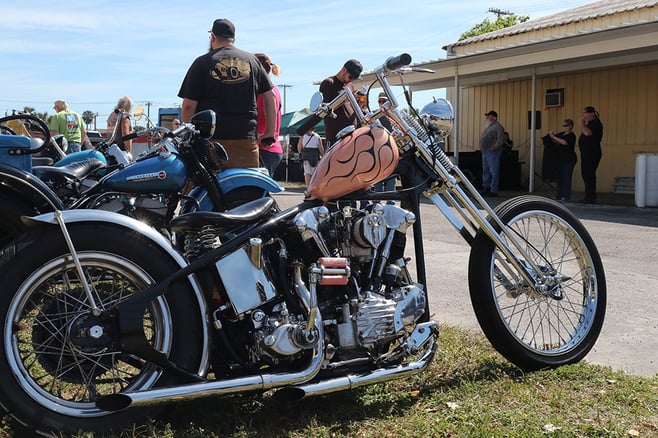 BOOGIE EAST, Annie Oakley's Saloon, Ormond Beach

Boogie East is in it's second year, taking place close to Destination Daytona at Annie Oakley's Saloon. A great venue, with plenty of shade, live music, and of course, killer bikes. I spotted a ton more incredible builds, and some great vendors. Lee Bullock was selling his artwork, amazing watercolor portraits of custom bikes, along with a few other vendors selling everything from tees, to metalflake to motorcycle parts.

Definitely don't miss Boogie for the chance to relax in the shade and get the time to stare at details on some of the bikes you've followed on the internet!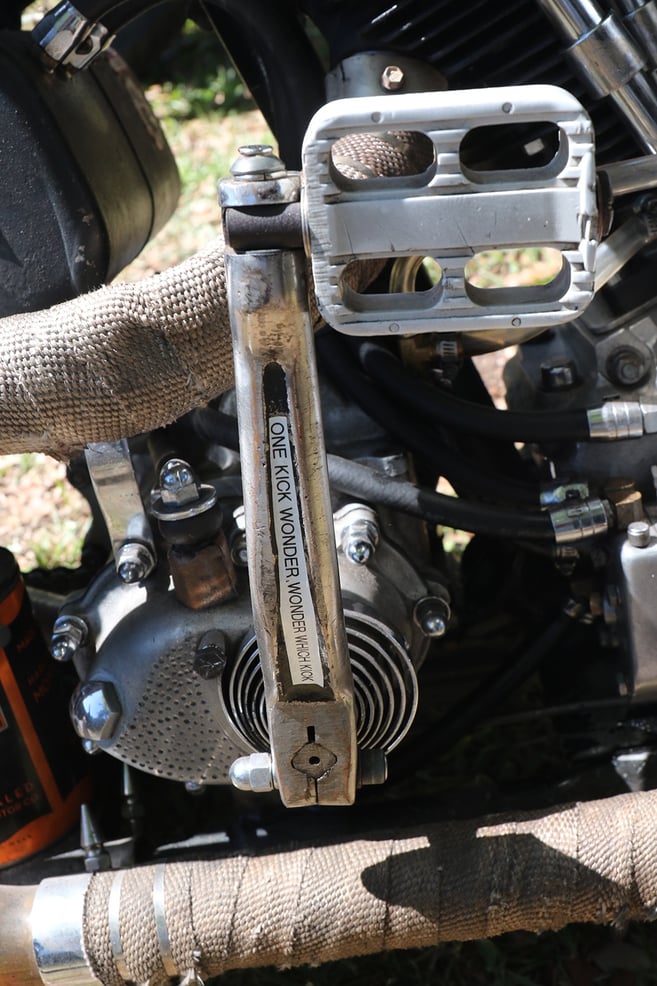 One kick wonder, you say?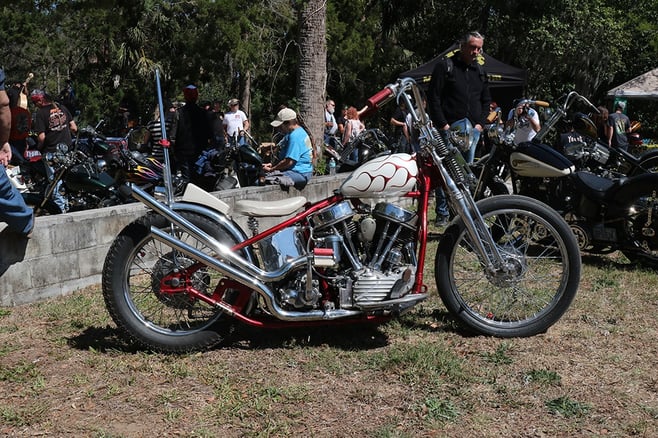 A personal favorite from Boogie East, this is my favorite stance.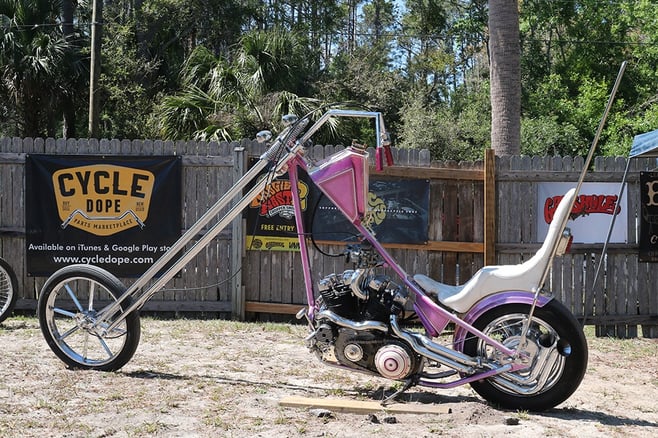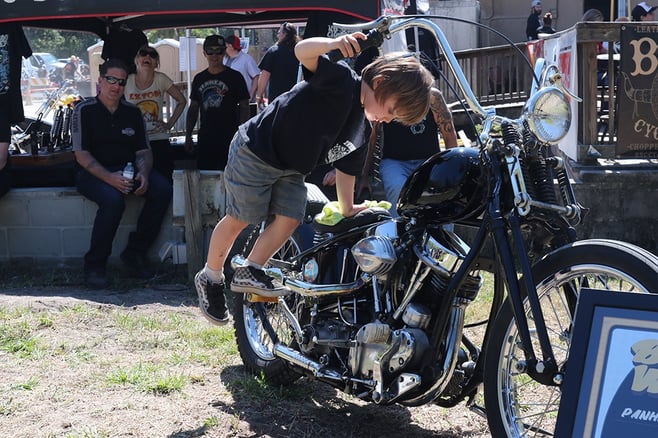 Teach 'em young, -No School Choppers little guy thinking that maybe if he can kick it, he can ride it!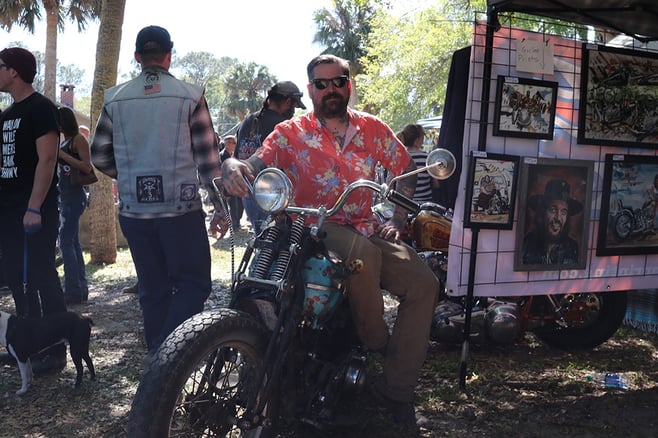 Lee Bullock with his killer ride and even more incredible artwork.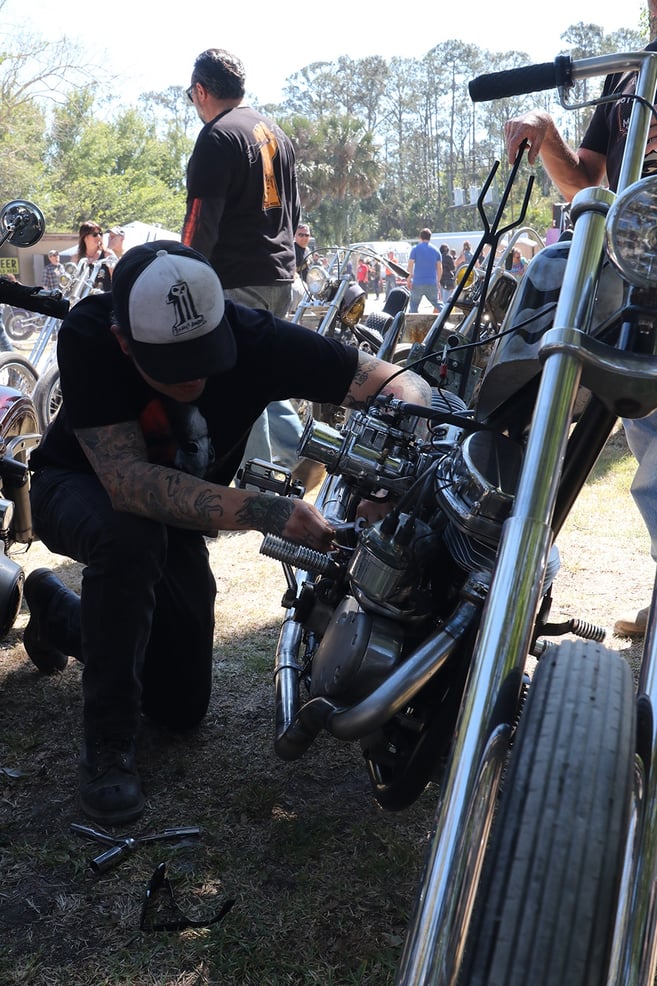 It's not a chopper show unless someone is wrenching on their bike!
Other Things to do in Daytona

Don't forget, Daytona is one of the few places you can drive or ride along the beach. Now, keep in mind, you're going to want to give your ride a nice bath after this as the salt is bad for your bike, and sand gets EVERYWHERE. Always. But, how often can you ride on the beach?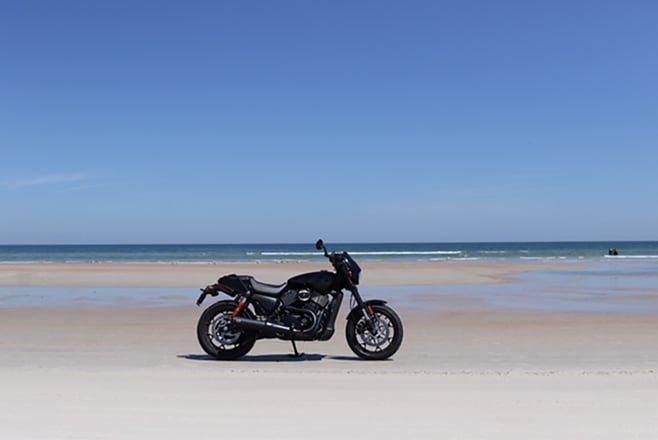 Don't forget the Ormond Beach Loop, probably the prettiest ride in the area!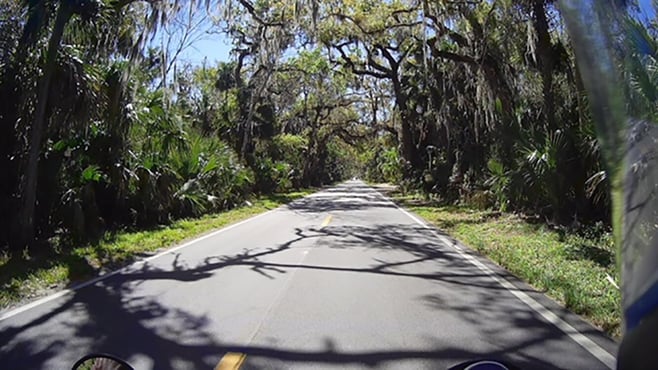 The Iron Horse Saloon has some great Steak Tips, and along with live shows, has a Wall of Death - the California Hellriders, featuring a favorite of mine, Sandra, a female Wall rider. Don't miss this show or the awesome setup the Horse has!

I spotted Gloria Struck out and about doing book signings - if you don't know who she is, you should. Gloria is a long time rider (over 75 years) an original MotorMaid, and all around incredible lady. She is in her 90's and still riding, and I'd say that's something we can all admire!

There's a bunch more shows around Florida, we hope to see you there during Biketoberfest or next year for Daytona Bike Week!