Story by Matt Polito
Andrew Hines cruised to his sixth win of the season in the NHRA Pro Stock Motorcycle series at the Toyota Nationals at The Strip at Las Vegas Motor Speedway with a final round victory over defending series champ Matt Smith.
Smith, at the event where he wrapped up his 2013 national title, could not hold off Hines, who now looks to be the inevitable 2014 Mello Yello champion. Hines, who has led the points in 13 of the 15 races run so far this season, now has a 92-point lead over his nearest competitor – Harley-Davidson® teammate Eddie Krawiec. Despite the strong showing, Smith has been mathematically eliminated from contention from the championship.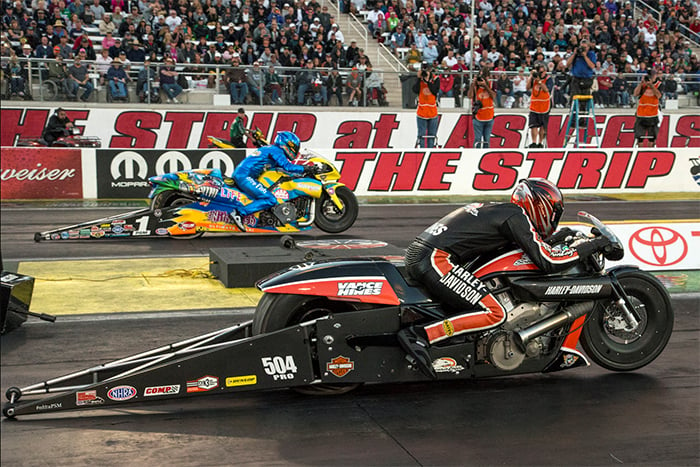 A wild turn of events happened at the track on Friday morning when Angelle Sampey suffered a gruesome injury when a starter cart rolled down the trailer ramp and hit her in the ankle. She received 20 stitches and made the first two qualifying passes on the Star Racing Buell®, which put her outside the field with 7.12 elapsed time.
She was later deemed unable to compete, putting in jeopardy her string of qualifying for 184 consecutive races she entered. There was a possibility of the team putting a substitute rider on the bike, thus voiding her runs, but they could not work it out. Sampey, a three-time NHRA PSM champion, came out of retirement to join Star Racing and former crew chief George Bryce when Michael Ray left the team following Indy.
Speaking of Ray, the Texas rider put his own independent team together with funding from long time backers Gottspeed Racing and Gruene Harley-Davidson. Ray has his own Matt Smith Racing-built Buell and will be supplied S&S motors and tuning from MSR for the rest of this year the 2015 season.
The new venture hit the ground running at Vegas with Ray leading qualifying going into the final session with a 6.899 elapsed time. Ray improved to a 6.883 in the final session, at the top speed of the meet 195.79 mph, but fell to third on the final qualifying sheet as Hines took his first pole since the 2012 finals with a 6.856. Smith took the second spot on his Nitro Fish Buell at 6.882.
Ray broke during his burnout in round two giving number six qualifier Katie Sullivan a free run into the semis on her Suzuki® for her first semifinal appearance of the year.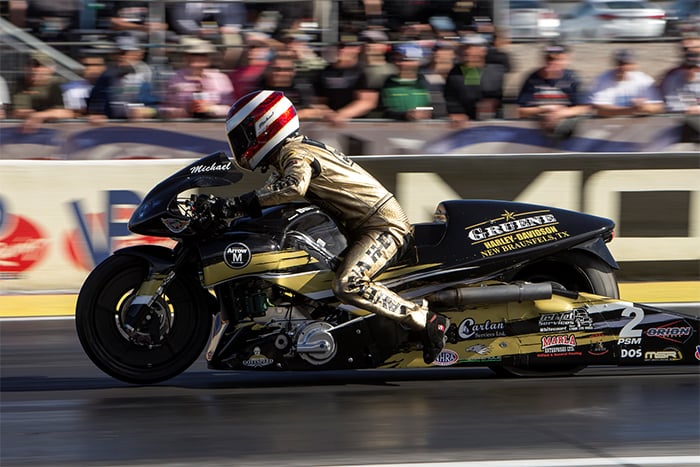 Smith beat Sullivan in the semis with Hines taking out the Suzuki of St Louis winner Jerry Savoie.
Smith got the holeshot in the final and led Hines at half-track but the Harley rider was able to get around him, 6.955 to Smith's 6.971, with a win margin of .008 seconds. It was Hines' 38th career victory.
Hines now has the inside track to get his first championship since 2006. Still, he noted that he would not be conservative going into the finals at Pomona, saying, "I don't want to play defense. I'm going to go on the offense."
Krawiec would have to gain the maximum qualifying bonus points to have a shot and qualifying has been his game this year, taking the number one position a series-leading nine times.
Hines knows he can lock it up on Saturday before eliminations even begins.
"I don't want to give up any bonus points during qualifying," he said. "I want to keep it over 80 points so we can roll into Sunday with the championship basically mathematically locked up."
Hines currently has three championships as does his brother and crew chief Matt who won three consecutive championships in 1997-1999. One more would give him four, one better than his older brother. The late Dave Schultz holds the mark for most NHRA PSM championships at six.
The 2014 NHRA Mello Yello season wraps up at the Auto Club Finals in Pomona, CA, November 13-16.