Story by Matt Polito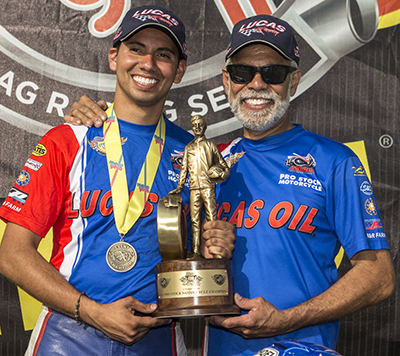 Just a week after the NHRA saw it's first husband and wife Mello Yello Pro Stock Motorcycle final, the sport had it's first father-son PSM final when Hector Arana, Jr. took the win over his dad a the O'Reilly Auto Parts Route 66 Nationals in Joliet, IL.
"We won this race together," said Hector Jr. who brought his Lucas Oil S&S-powered Buell to the winner's circle for the first time since Sonoma of last season. "We race as a team. It's been a dream to race my dad in a final. We have been working toward it for four years."
For the past few races, Arana Jr. has been just a bit behind the performance-leading Harley of Eddie Krawiec. Krawiec scored his fourth-straight, number-one qualifying performance at Joliet, running a 6.872 at 194.86 mph, and while he had the quickest lap of each qualifying session, Arana Jr. had the second best bike in three of the four sessions.
Arana Jr. has also qualified second to Krawiec for the third race in a row.
"It always seems like it's me and Hector Jr. battling it out," said Krawiec at the conclusion of qualifying in Joliet.
Over the last year Arana Jr. has consistently had one of the quickest bikes in the field but more times than not a small miscue or mechanical malfunction takes him out of competition.
At Joliet the tables turned when Krawiec's V-Rod had a throttle position sensor go bad, forcing him to maintain a high idle when staging in round two against Epping winner Angie Smith.
Krawiec red-lit against Smith in round two as Arana Jr. took out Krawiec's teammate, points leader Andrew Hines and Arana, Sr. got by defending series champ Matt Smith on the MSR Buell.
Both father and son made their first finals of the season when they advance in an all-S&S semifinal round with Arana Sr. beating Angie Smith and Arana Jr. taking out Shawn Gann.
The elder Arana got a .007 holeshot advantage off the line in the final but Hector Jr. powered by him and took the win light 6.925 to 6.946. It was his eighth event title in 14 final round appearances.
"We had two solid Buells out there," said Hector Jr. "The Harleys are strong and that is what motivates us."
His dad has not won an event since his championship in 2009 but he had no problem losing this one.
" I wasn't nervous for the final," said Hector Sr. "I was calm. I felt like I already won."
"It's what we needed," he continued. "This makes us want to work harder. We will polish and fine-tune these S&S motors so we can consistently beat the Harleys."
With the win Hector Jr. maintained his third-place spot in the Mello Yello championship points and closed the gap on points leaders Hines and Krawiec.
The Route 66 Nationals is the second event in a three-race swing that concludes in Norwalk, Ohio next weekend at Summit Motorsports Park on July 3-6.