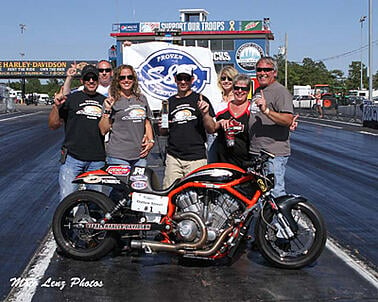 It was the largest turn out so far this year for the AMRA as sportsman and pro racers alike packed into the gates at Rockingham Dragway Thursday night. Even mother nature's little trick of raining Saturday morning didn't stop the event as Rockingham track crew went to work drying at stellar pace.
With a awesome track for the riders, Gregg Dahl had his sights set on winning the S&S Outlaw Street class with his GMS Racing Engines backed machine as he set a world record with his low E.T. and fastest speed of the weekend with a 8.586 at 160.98 mph making him the first street legal Harley in the world to make a official 160 mph pass!
Gregg backed up world record in the semi finals when he matched up with Ken Miller. Ken rocketed off the line with a .077 reaction time but Gregg motored around him to take the stripe running 8.604 at 159.68 mph making his world record valid!
Greggs weekend would come to an end when his bike stumbled coming off the line to the hands of Nick Gonatas Jr. Nick's reaction time of .054 gave him the jump as he motored his way to the win running 8.648 at 154.16 mph.
Congratulations to both riders! Gregg with an amazing world record and Nick with the win in Rockingham NC!