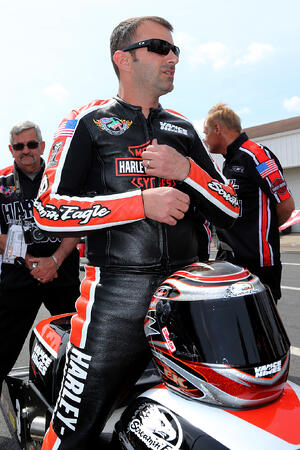 Story by Matt Polito
Eddie Krawiec dominated the NHRA Summit Racing Southern Nationals at Atlanta Dragway, coming from the pole to win his first event of the season. Krawiec faced his Harley-Davidson® teammate, number 2 qualifier Andrew Hines in the final that took place on Monday following persistent rain on Sunday.
The bikes were back in Atlanta after a one-year layoff. And while they were typically greeted with hot and muggy conditions, the 2014 edition saw cool, overcast skies with periods of rain. Although the rain postponed racing activities, the cool air made it fast, fast, fast. In fact, track records were set for both elapsed time and speed in all four professional categories.
Krawiec led the way. Off the trailer the three-time series champion set the track record with a run of 6.852 seconds at 195.17 mph. In the final session on a rain-delayed Saturday, he re-set the mark to a 6.796 at 196.62 mph.
Second to Krawiec on the qualifying sheets was Hines at 6.833, John Hall on this MSR S&S-powered Buell at 6.860 and the Suzuki of Jimmy Underdahl at 6.861. In all, 10 of the 16 qualified bikes were running S&S power.
Rains became persistent on Sunday and delayed the start of eliminations by more than eight hours. Even then, with only five pairs of Top Fuel Dragsters making laps – and Bob Vandergriff Jr. getting out of control and putting his dragster on two wheels – the NHRA decided the track conditions were not up to their safety standards. They pulled the plug and decided to try again on Monday.
Krawiec's dominance continued during Monday's eliminations where he held the low elapsed time of every round of eliminations while bumping his track speed record to 197.54 mph.
The four Suzuki's in the field went out in round one leaving the Harley team and a half-dozen Buells.
In the semifinals, Hines took out Hall on the MSR Buell and Krawiec beat Michael Ray on the Star Racing Buell.
In the final, Krawiec got the holeshot over Hines and pulled away, taking his 22nd overall win 6.806 to 6.860. It was a special win for Krawiec as his first-ever NHRA Pro Stock Motorcycle win came at Atlanta Dragway in 2009.
After being shut out of the winner's circle for the first 10 races of 2013, the Harley-Davidson team is back in the groove with Hines winning the previous event in Charlotte, NC and now Krawiec taking Atlanta.
"We're happy to be back and winning," said Krawiec.
Krawiec is 10 points behind Hines in the early-season championship standings. The Harleys are followed by the Buells of Hall, Scotty Pollacheck, Hector Arana Jr. and Michael Ray. Buells account for seven of the top 10 entries.
The next Pro Stock Motorcycle event is the Toyota Summernationals in Englishtown, NJ, May 29 – June 1.