Last week at the BUB International Motorcycle Speed Trials at the Bonneville salt flats, there was much to see.
Customers of S&S hit the salt and came away from it with new land speed records! First up was Jay Allen of the Broken Spoke Race Team. You may know him as the bandana wielding owner of the original Broken Spoke Saloon in Sturgis. Jay came to BUBs with his FXR, powered by an S&S® V124 engine built by Jeff Lange of Different Strokes. The heads were B2 heads ported by Rob Schopf of Rob Schopf Performance. Jay broke not 1, not 2, but 3 land speed records within the two weeks of BUBs. (actual numbers coming shortly when released).
Next up is veteran land speed racer, Wink Eller. Wink broke the old record of 167.335 mph in the A-PF 3000 class with a run of 169.558 mph. He also worked with Jay Allen of Broken Spoke Racing to help him set his three records. Some time during the meet Wink sustained a pretty bad cut on his leg, and proceeded to stitch it up by himself so he could race the next day. There's a video of the stitchery on YouTube, but be warned, it may be hard to watch if you have a weak stomach! Wink took Jay's bike for a run and qualified at over 192 mph, but due to bad weather did not have the opportunity to back it up. He vows he will be back in October for the world finals.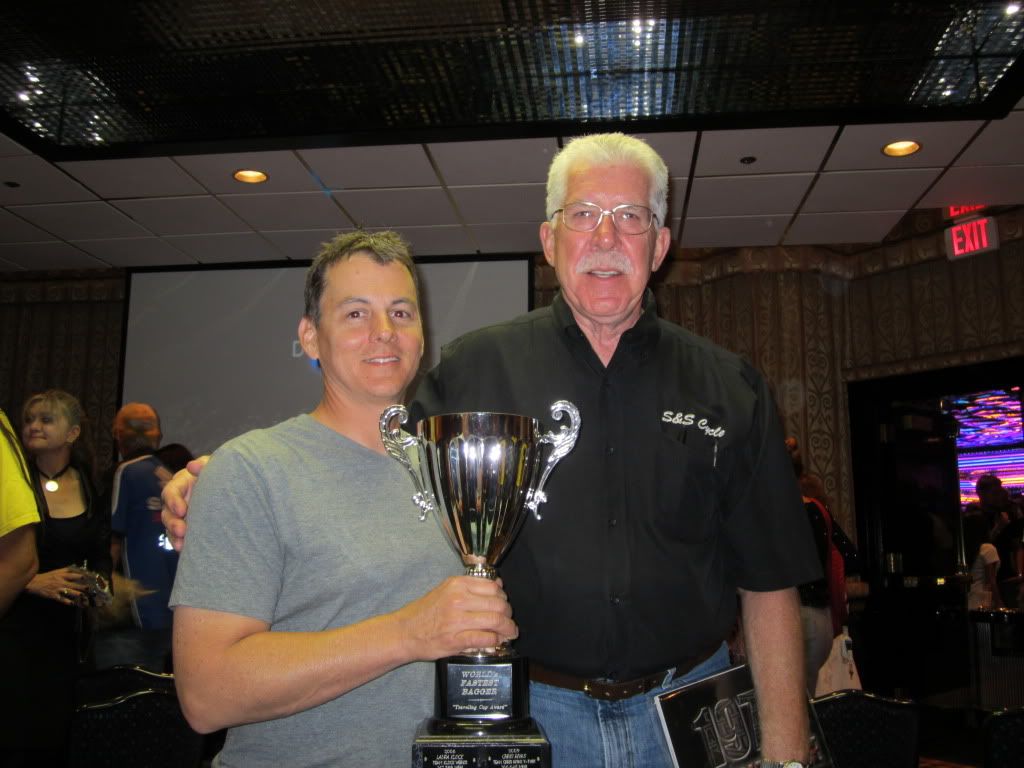 Last but not least is Chris Rivas. The quest to find the 2011 World's Fastest Bagger is officially completed, and the award goes once again to Chris Rivas of Chris Rivas V-Twin in Fresno CA. Chris, riding the newly upgraded "Aero Glide" designed by Carl Brouhard Designs, completed the timed mile with an average speed of 195.036 mph to turn in the fastest measured mile ever on a Bagger. Thanks to a special appearance by S&S Cycle's Executive Chairman & CEO George B. Smith, after a 20 year hiatus, some very smart tuning decisions were made in order to accomplish what some thought to be impossible. Even though exit speeds are not a part of the official times, it is now clear that a 200 mph lap on a Bagger is very attainable. Not only is the body design unique, The Aero Glide motorcycle also has several very unique features such as a naturally aspirated 240 HP S&S Powered 167 cubic inch Twin Cam that button starts, thanks to the S&S Easy Start Camshafts designed by the engineers at S&S Cycle.
*More from George below
2011 Return and Recollections
By: George B. Smith
Driving across Utah, headed for Wendover and the Bonneville Salt Flats, with my wife Connie, a wave of emotions and thoughts flooded through my mind.
Twenty years ago, at the 1991 BNI Meet, I had been here with Dan Kinsey, Floyd Baker, Uncle Sid (Smith), and the rest of the S&S team with Tramp III running nitro in the APS 2000cc fuel class. We set a 226MPH record but were not satisfied. Dan and the Tramp had been clocked at over 239MPH and we knew it could run faster but it drove through the clutch on our last attempt. We packed up and took the long drive back to Viola, Wisconsin and proceeded to make modifications so we could return to the late fall USFRA meet and go 250MPH or better. We reloaded the trailer and got as far as Wyoming when the snows came and the meet was called. The dejected crew returned to Wisconsin and unfortunately, Tramp III ended up in the S&S Museum never to return to the Salt.
I thought back to my first trip to the Salt with my Dad just after joining S&S. We were running three Harley street bikes testing S&S parts with Warner Riley doing the riding. It was my first opportunity work with Warner that began our motorcycle work relationship which has lasted all these years. I developed a passion and respect for "the great white dyno" as the ultimate test bed for horse power, longevity, and handling. Painfully, that was the only trip I enjoyed with my Dad because he unexpectedly passed away.
The heavy responsibility fell on those who remained at S&S Cycle after Dad's passing. With me and Floyd Baker assuming the lion's share of R&D and product designing, enter Denis Manning into my life. He called and asked if S&S wanted to collaborate on a Bonneville project. What better way for me to get my feet wet and learn about go-fast-parts then to work with Denis! The collaboration between Denis and S&S Cycle was not new. In 1970 Denis, Warner, and my Dad worked with Harley to set the motorcycle world land speed record at over 265MPH. After talking it over, I called back Denis and said yes under one condition—that Denis collaborate with S&S to design a conventional motorcycle Bonneville racer. He agreed. And work began on what we called Tramp III.
Thinking of all the time I had been away from the Salt brought pangs of guilt as I rationalized reasons to explain my absence. In 1992, Ma died and the family was dealing with her loss. The following year, I began to get involved in designing the first Harley drag bike to go 200MPH in the quarter mile. I quit S&S daily operations in order to work on this and other R&D projects. The thought of a blown nitro S&S powered V-twin "Harley" drag bike to be the first in the 6's and over 200MPH became my passion. Andy Gotsis and Steve Rominski would develop the chassis working with Sandy Kosman and I and S&S would do the engine. Our relationship with the late Elmer Trett proved invaluable as Elmer coached us on the fuel system among other things. We missed being the first bike to run in the 6's by a month or two but in May of 1995, at Richmond, Virginia, Andy Gotsis on the S&S blower bike was the first Harley to crack 200 in a quarter mile. The bike was a hit and coined "the loudest bike on the planet." I still have people come up and ask about that bike.
The blower bike project was replaced by helping Dave Feazell run S&S engines to win the number one plate in the AHDRA Pro-stock class. We did that in 1997 and again in 1998. The AHDRA project gave way to interest in the NHRA Pro stock motorcycle class where there was growing effort to develop competitive V-twins to liven up the competition. But at that time S&S was gearing up to build complete engines for the growing custom bike chopper craze in the U.S., so I was not able to get the funding necessary to develop a special purpose NHRA pro stock motorcycle v-twin engine. When Harley entered the fray in 2001, the Board approved the project. Work began in earnest using what I and S&S had learned over the years including experimenting on projects with Dave's invaluable help. The first production prototype was completed by August of 2003 and was enclosed in a chassis that George Bryce and I had developed with Sandy Kosman's expertise doing the fabricating and body work. The engine was 60º V-twin, in line cylinders (forked rod), 4 cam pushrod, two valve head motor patterned after the Sportster engine. Always being Harley guys, it was logical from an S&S stand point to use Buell bodywork. The bike debuted at Columbus, Ohio NHRA national event in the spring of 2004, qualified number two, and received the NHRA Best Engineered Vehicle award. The S&S Buell enjoyed great success winning the first national event in Las Vegas 2004. Since then, over 30 S&S Buells have been produced, winning championships on three continents including the NHRA in 2007 and 2009. Today, about half the NHRA qualifying field is comprised of S&S powered Buells.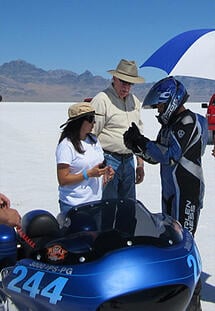 So what do me and S&S do for an encore? Back to the Salt! As Connie and I drove into the pits at the 2011 BUB all motorcycle world land speed trials I wondered who would be there besides Denis, Warner, and Chris Rivas—who I had been helping with his S&S powered world's fastest bagger project. I must admit I was a little nervous but that feeling disappeared in a hurry when I talked to Denis, Warner, Chris, John Yeates, Jay Allen, Wink Eller, Sam Wills and many many others. I helped Chris set a new bagger record of 193.9— thrilling! Attending the awards banquet on Thursday night was a humbling experience as S&S's contribution to Bonneville land speed racing was warmly recognized with John Yeates and his wife Dexter presenting me with a copy of a new book recognizing the 1970 Harley record achievement which was autographed for me by three of the crew in attendance in 1970— Dennis Manning, Warner Riley, and John Yeates. My return to Bonneville was a very intense and satisfying experience for me and I'm thankful to all for making me feel so welcome. I'll be back next year!