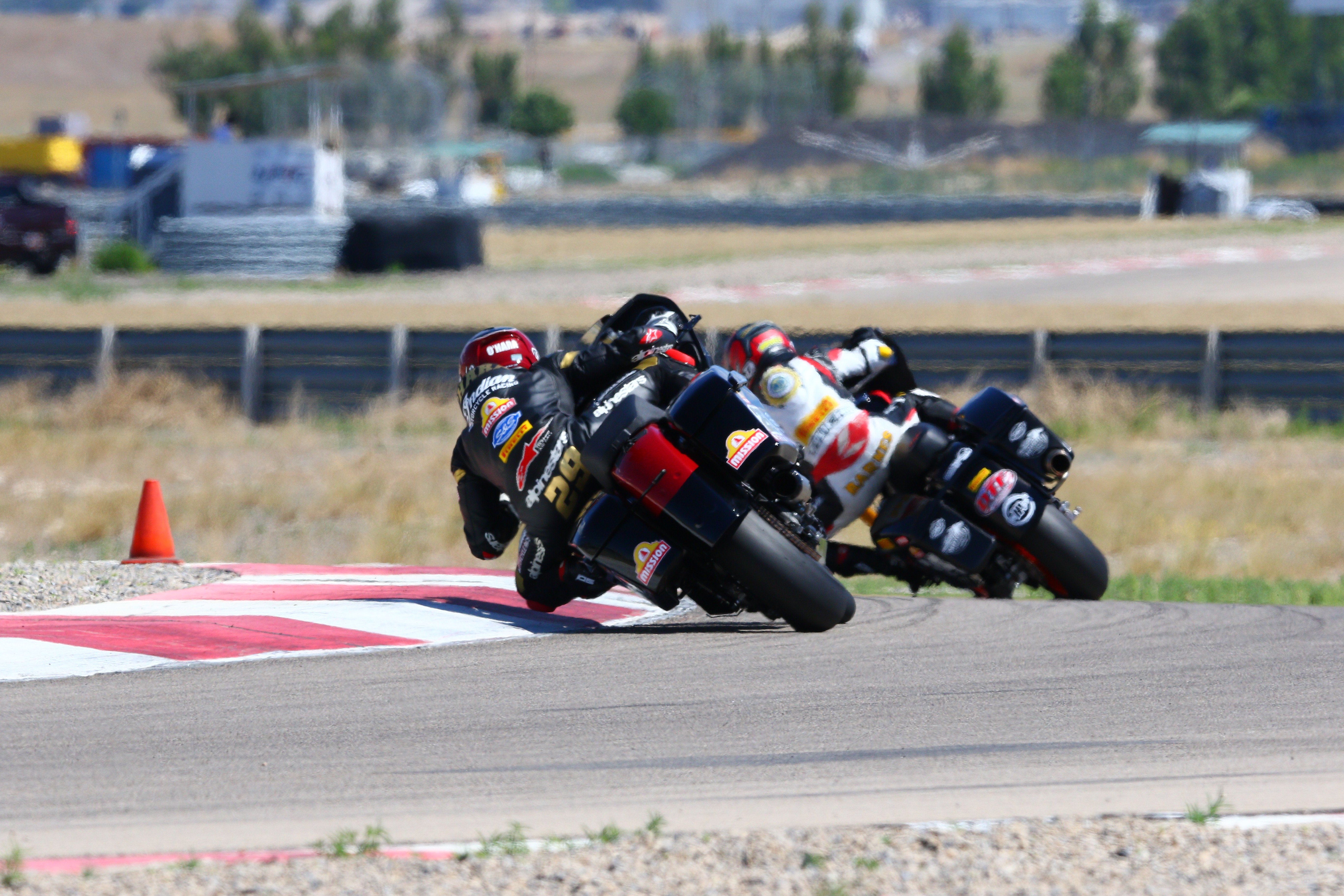 Motorcycle racing is rumored to have been born right around the time the second motorcycle was built. We'd be hard-pressed to argue that and S&S itself can trace our lineage to two-wheeled competition (it's a good story, we'll re-tell it here soon).
That shared passion for performance is what brought us and many other brands and riders to participate in this past weekend's Bagger Racing League. In case you had not heard, the BRL was a V-Twin only road race held just outside of Salt Lake City, Utah.
Wait, what? V-Twin only road race? Is that a thing? What about the Gixxer guys? Won't they be mad? For those of us that lived through both the 883 class in the mid-'90s and the ill-fated XR series, an entire weekend devoted to just big bikes felt more like a high-horsepower fever dream than a proper event.
To prove it was indeed real, riders came from around the country, many of them brought an enthusiasm that far exceeded their track experience, but every one of them left the Utah Motorsports Campus a better rider with newfound confidence and respect for fast V-Twins. To ensure everyone was "up to speed" the BRL folks even held an impromptu riding school Saturday morning. Every rider had the opportunity to see significant track time before the main events. The more sorted racers could also be overheard coaching the first-timers, and egos seemed to have been checked at the gate.
In fact, a grassroots level of cooperation permeated the paddock. Regular announcements over the PA included requests for parts, expertise, and at one point, an entire engine. Teams were seen swapping tools, and most stayed well into the night after Saturday's qualifying to ensure everyone would make it to the main event on Sunday.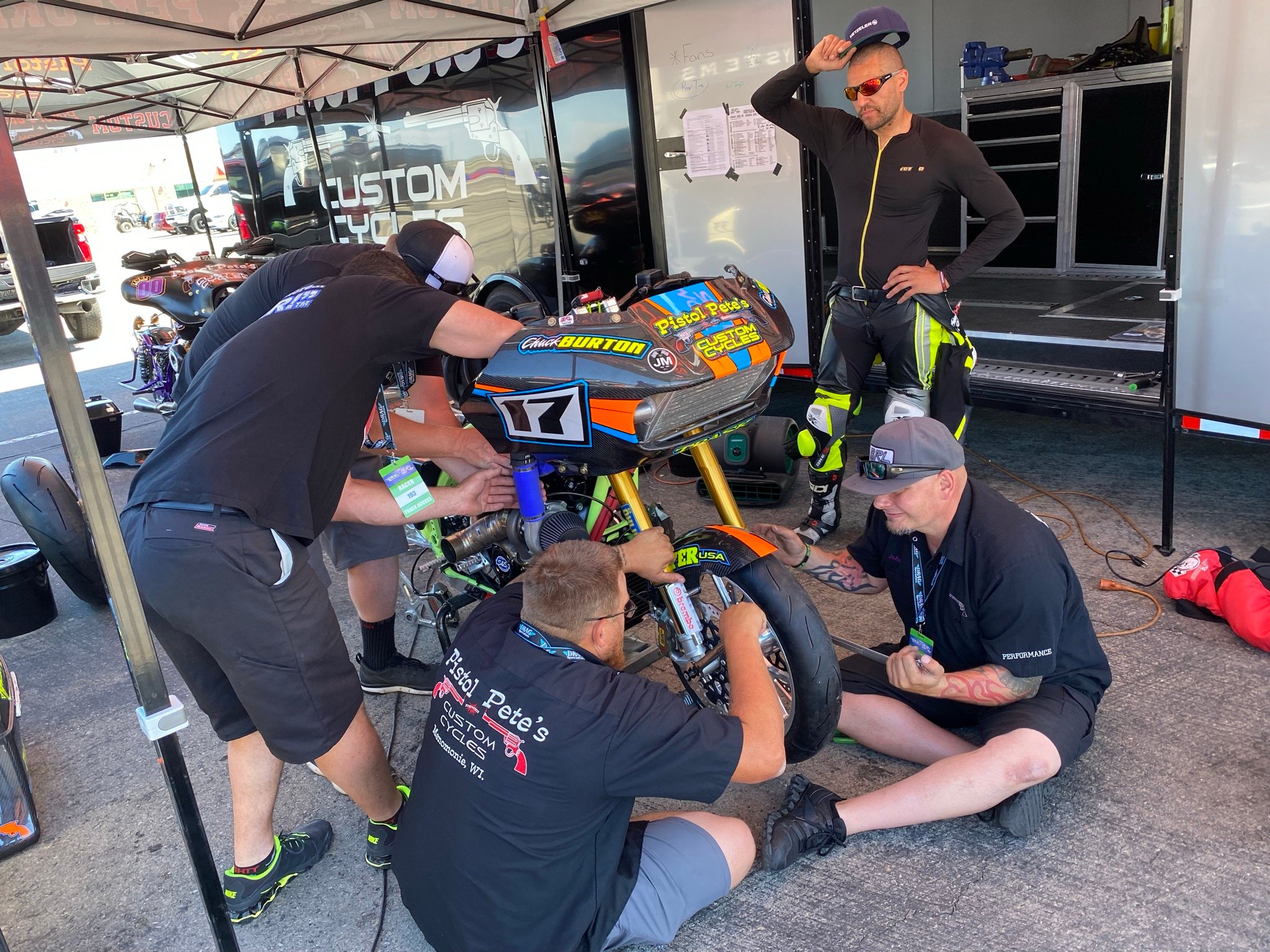 Tech Inspector and Dynojet guru Dan Berkes shared "This is the most well-behaved and respectful group of racers I've ever worked with." Then, as if on cue, a rider walked in and politely asked if he should bring his bike back to tech after having gone down. Although much of the niceties were left in the pits once the racing began, we did not witness a single instance of unsportsmanlike behavior. Racing solely because it's fun? Weird.
This wasn't about a National points program or appeasing sponsors, but rather a passion for performance, an opportunity to work with people and companies you believe in. It was about building a bike and seeing what it will do on a legitimate race track. The Bagger Racing League provided all of that in a sun-drenched Utah package.
The Classes
In reality, the Bagger component of the name is not entirely accurate as the most hotly contested class was made up of Dynas and new-gen Softails. Though let's not forget the surprisingly fast Hooligan group composed entirely of angry-sounding Sportsters.
To better understand the BRL event, it may be best if we walk through these new-to-the-world classes as each represents a unique segment of the performance V-Twin space.
Beginning with the Hooligan class. Inspired by the similarly named Flat Trackers and focused on the popular Sportster platform, this one ended up being a mix of converted flat track machines and XR1200s. If you're not familiar with the XR, it was produced from 2008ish to 2013 and unfortunately never saw substantial sales. For those in the know, it is arguably the fastest and most capable Sporty ever made (Sorry Roadster guys). Rules for the class limit bikes to Sportster or Buell models with a max of 1250CCs.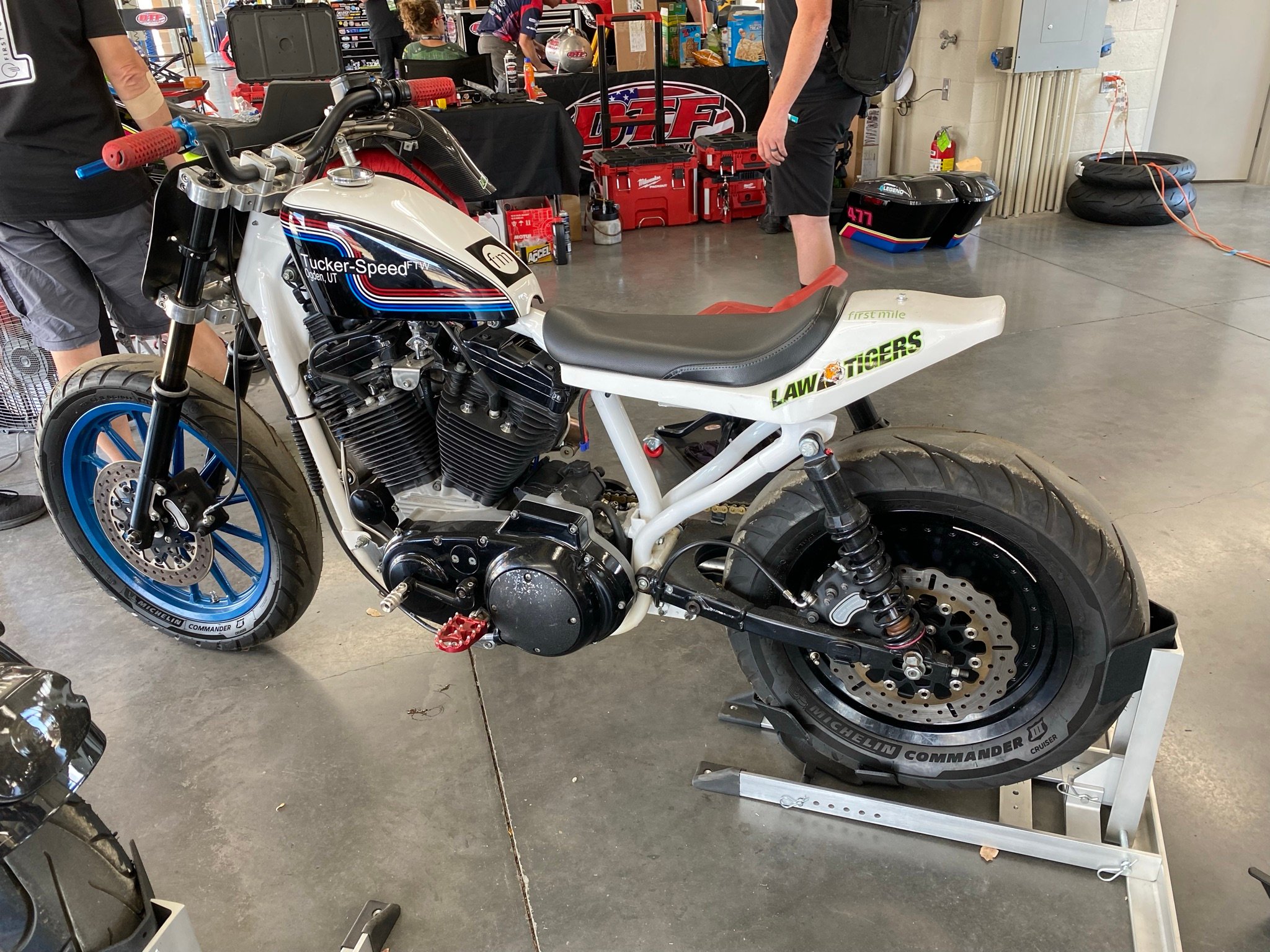 Flat track phenom Benny Carlson took the win in a decided fashion with times that eclipsed the rest of the grid by several seconds per lap. Other notables in the Hooligan class included HD dealer principle Brandon Quaid out of California and Black Hills Harley's keeper of the Sturgis chaos Mike Maloney, amongst others.
Next up, we have the hotly contested Big Twin class. This is a catch-all for the Dyna and modern Softail machines and had the largest grid of the weekend. The variety of machines was amazing! Full faired bikes rolled up against purpose-built 124" Softails and a handful of Dynas. Each machine was a testament to the builder's unique vision, and no two looked even closely similar. That may change as time goes on and the teams sort out what works best, but it was fun to see the crazy levels of engineering and creativity. Roland Sands brought a freshly built Indian Chief to the event with MC wordsmith and Pikes Peak warrior Rennie Scaysbrook on board and ruled the weekend. A solid showing for a brand new build (likely the very first "race" Chief ever!). S&S-powered Kruesi Originals M8 placed second, with Sean Ungvarsky on board. Others in the class included perennial performance brand, Speed Merchant, and professional one-wheelers Clayton Braun and Ravi Savage.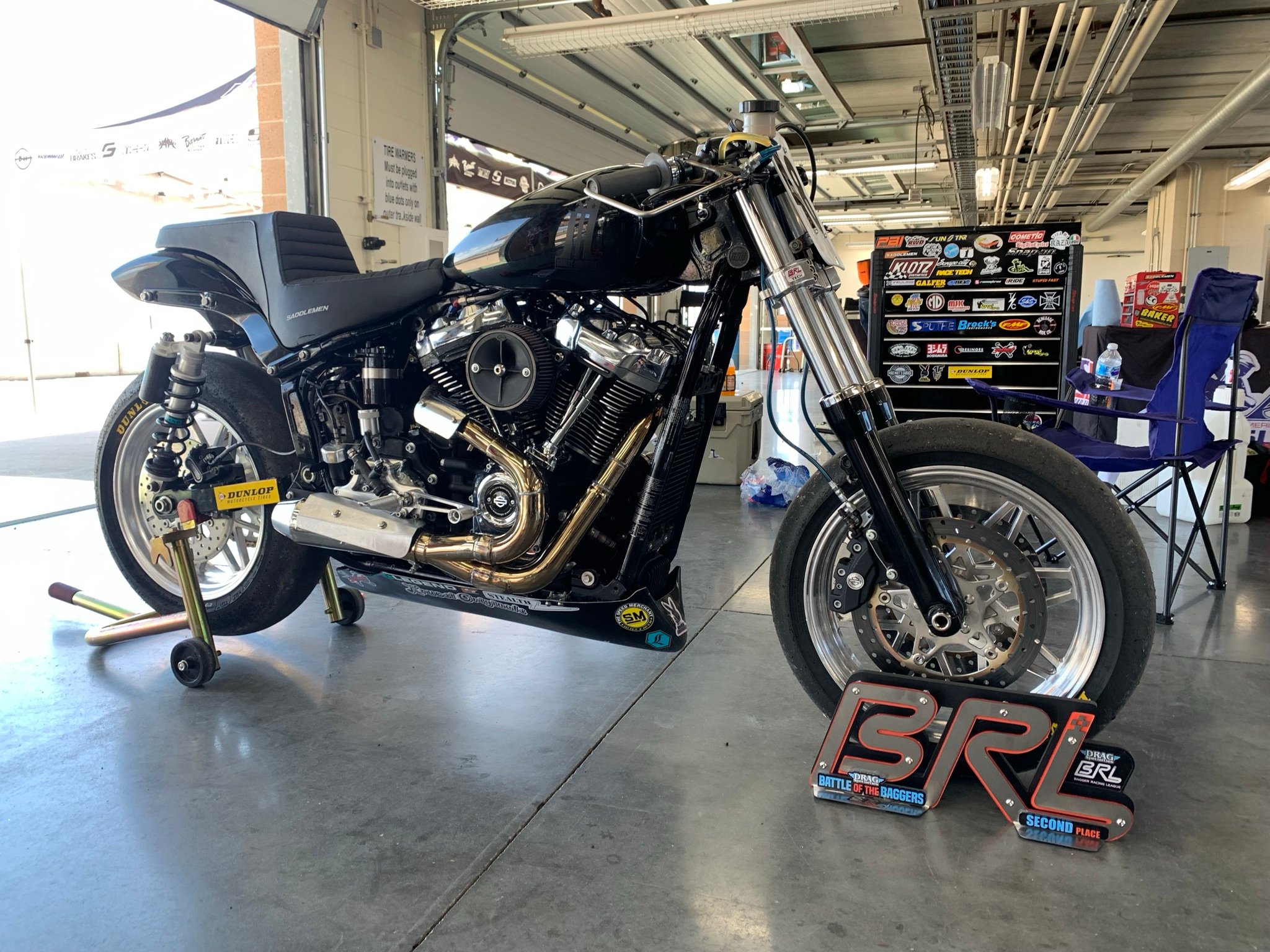 One of the surprise highlights of the event was the Pro Stock Bagger group. This class involves arguably the heaviest motorcycles to ever grace a road race course and, in many cases, riders that can say the same. Based on full faired touring machines, the class was designed for the less experienced rider (although many of these guys looked pro-level fast!) and made up of both shop and garage-built bikes. The underdog was certainly Lucky Speedshop's carbureted Twin Cam (spoiler alert, he finished top ten).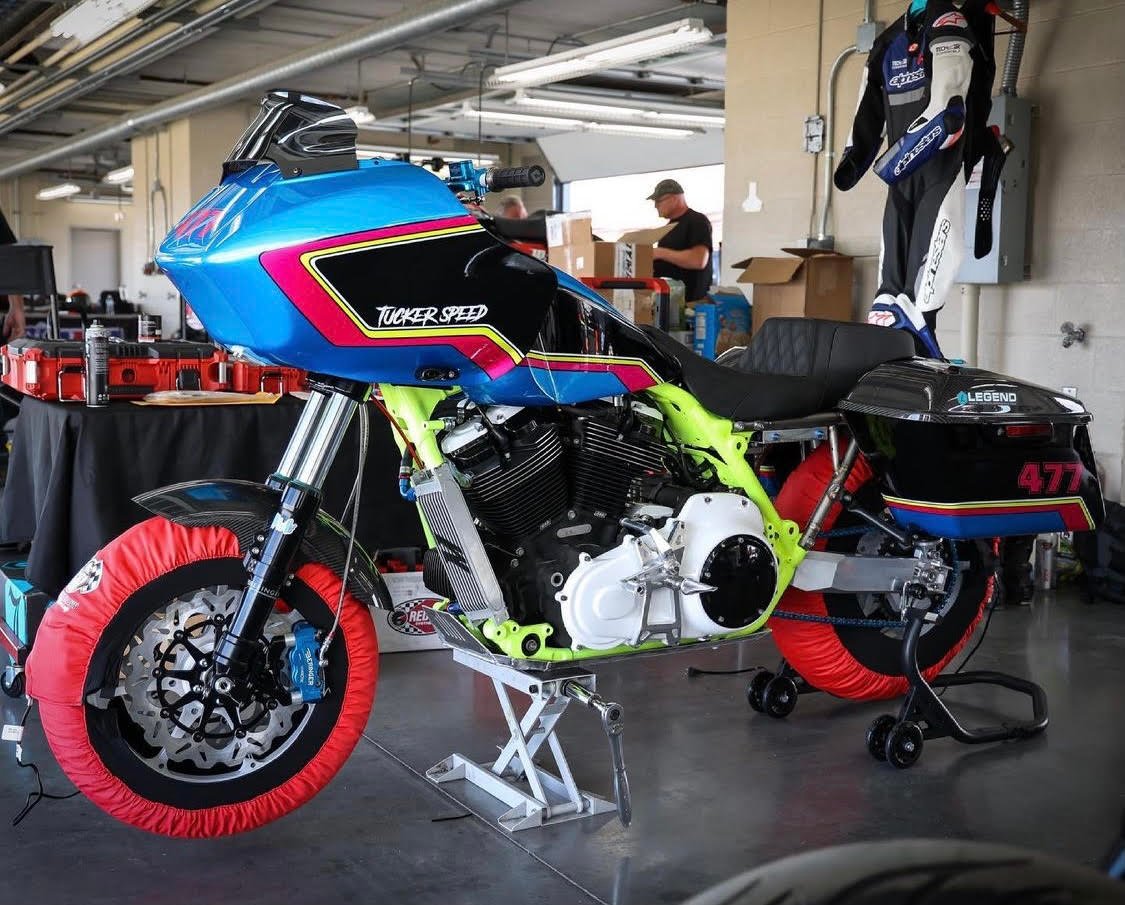 Hooligan winner Benny Carlson was right back on the track for the Pro Stock Bagger race, supported by Suburban HD out of Milwaukee and laying down countless fast laps. Industry stalwart Chris Rivas converted his personal bike to a track machine in a rumored handful of days and came out from California to contest the class as well. He pulled solid times before exiting the track and putting it on the trailer. Pretty sure Chris is a grandfather, and word on the street is we will see him back on the track in the future. Benny went on to take the win twelve plus seconds ahead of his nearest competitor. S&S-powered Tony Tucker from Tucker Speed Motorcycles pulled fourth behind Wheelie Pig, Logan Lackey, and Oleg Piankyh on top of the Performance Machine Twin Cam.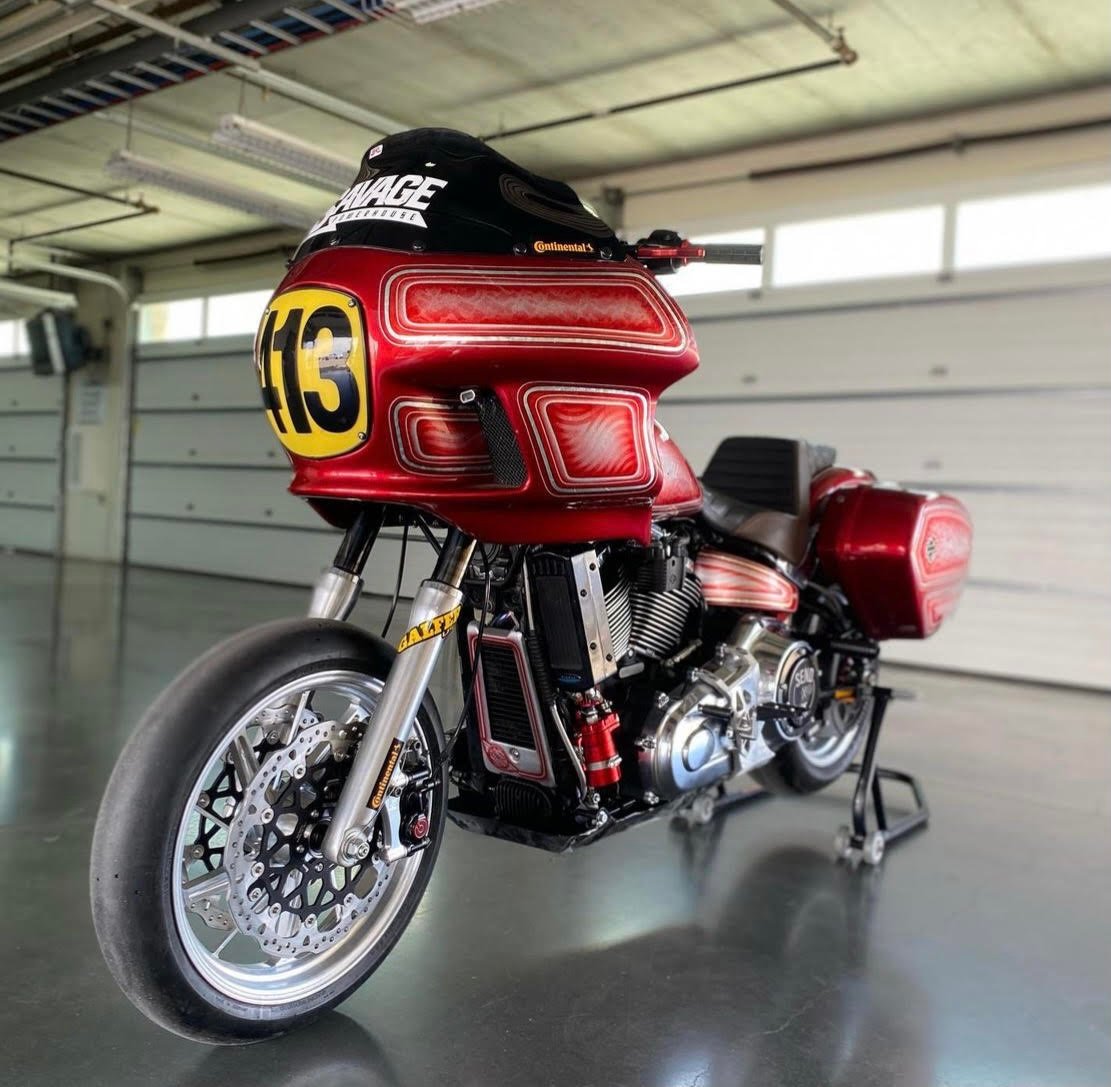 That brings us to the Bagger GP class, a derivative of the MotoAmerica King of the Baggers grid created by some of the same guys running this series and consisting of top-tier machines and equally experienced riders. Wait, was that THE Ben Bostrom? Did flat track hero Jake Johnson just walk by without the tell-tale clank of a steel shoe? Their ten-plus second faster lap times were a sure testament to the depth of the talent pool. The Saddleman crew brought out a pair of bikes piloted by power couple Patricia Fernandez and Cory West to keep it extra interesting. A stacked grid for sure. Our own Indian Challenger mounted Tyler O'Hara came out shooting and put down a 1:39 second lap time, a solid five seconds faster than most of the field. DTF and Hoban Brothers sponsored Micheal Barnes brought his extensive road race experience to the grid, and he and Tyler diced all weekend. A true battle of the brands saw Indian and Harley trading tenths of a second every lap from practice to the main, with Tyler eventually pulling a 1:38 but unable to get around Barnes in the end. Look for this battle to resume at the King of the Baggers final in Laguna Seca on July 10th & 11th.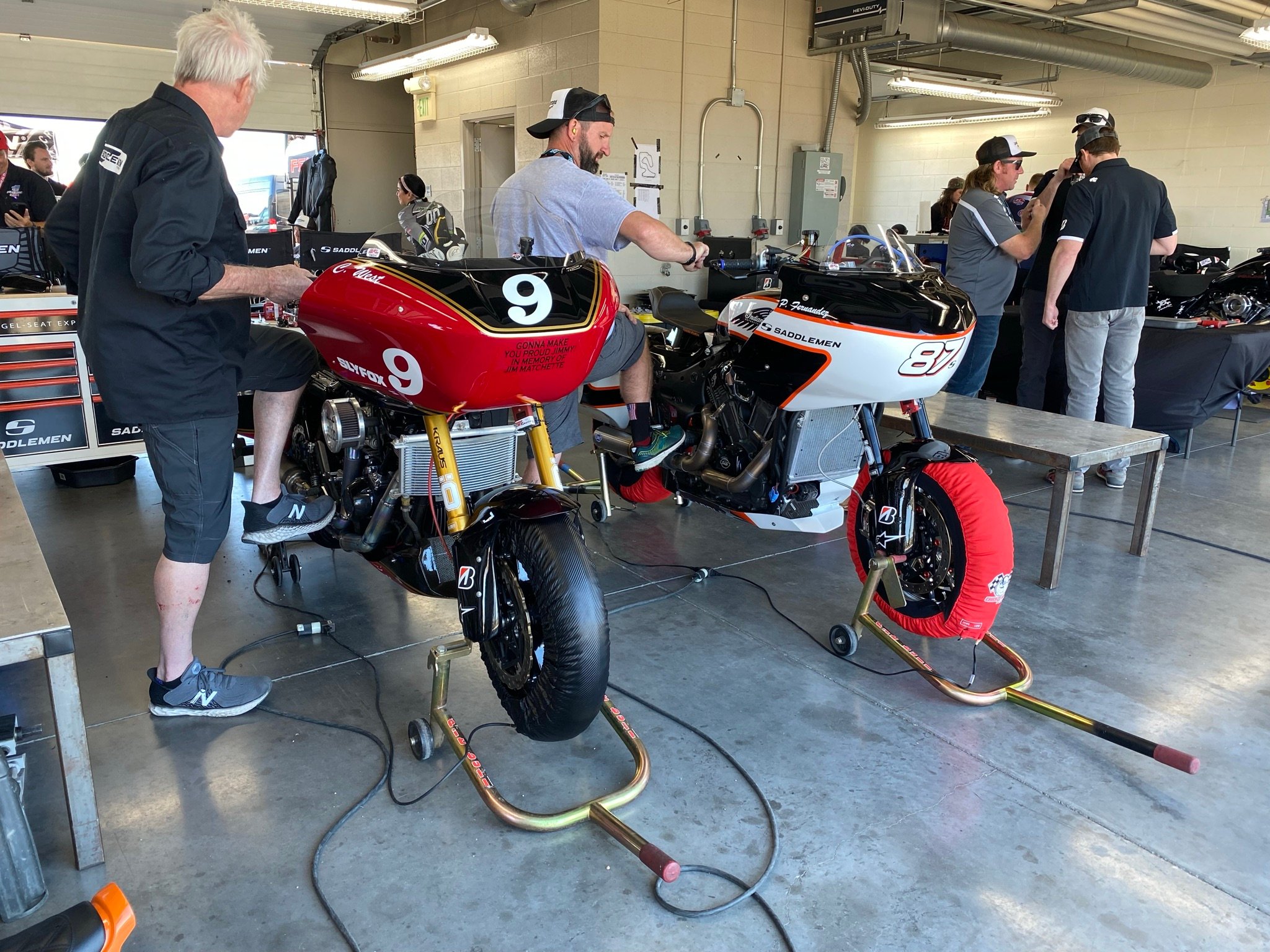 The rumor mill says the BRL crew is planning several more of this style event throughout the year, and we're looking forward to seeing what each of these builders and racers brings to the track at the next one.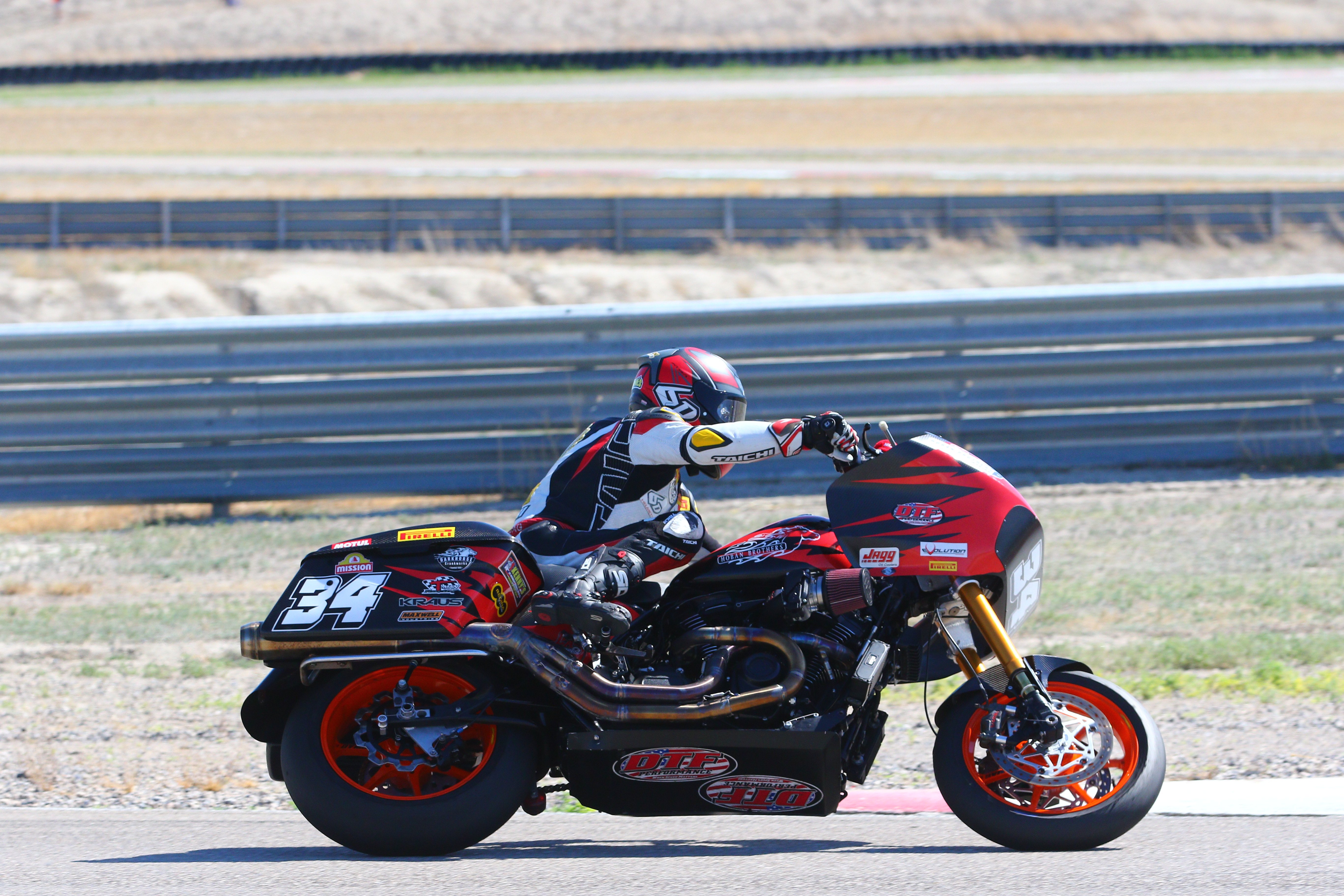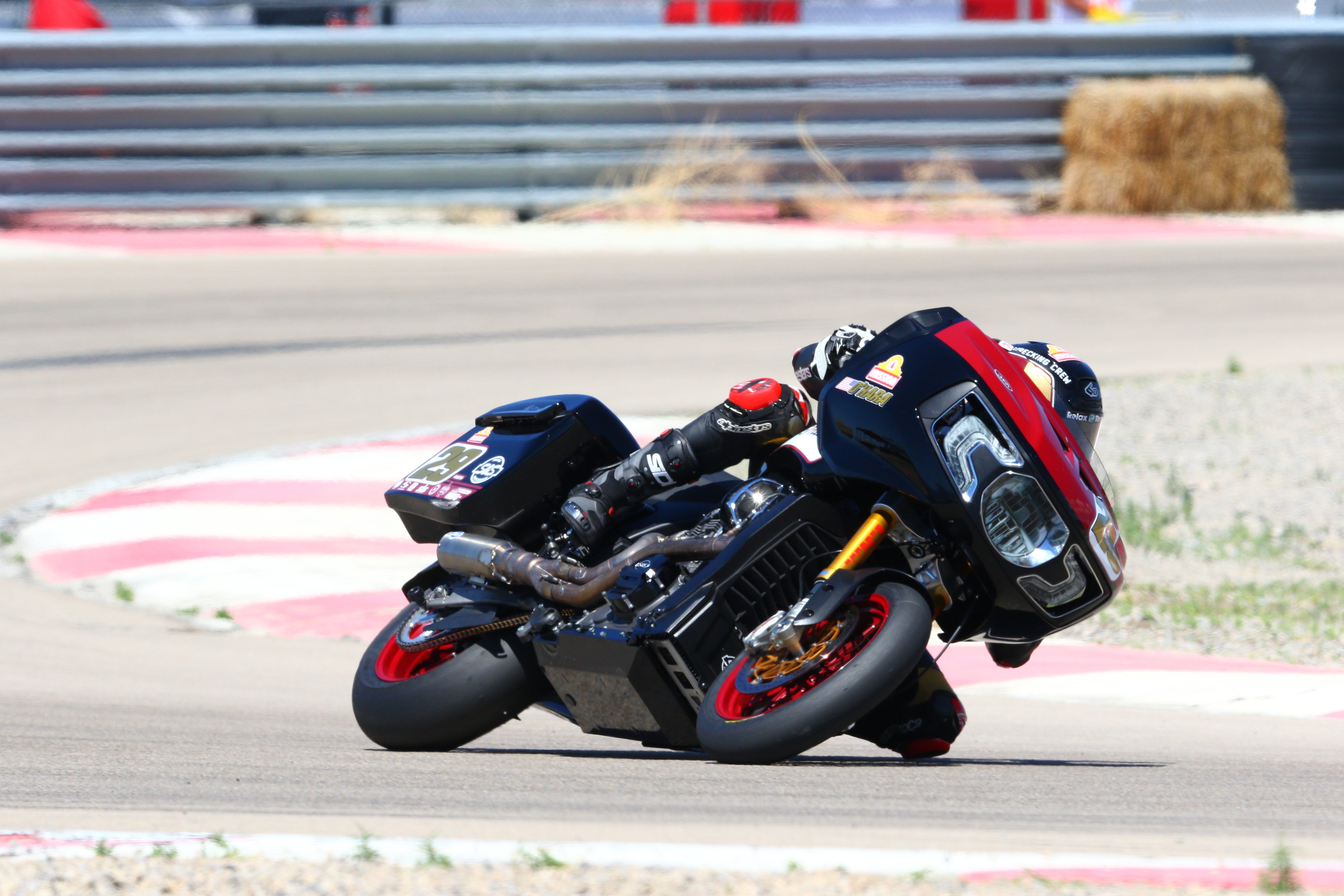 Stay tuned for more info!