story by Matt Polito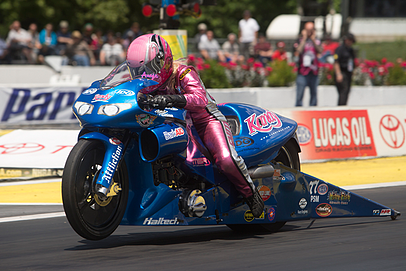 S&S power returned to the winners circle in historic fashion in the NHRA Mello Yellow Pro Stock Motorcycle series when Angie Smith won over husband Matt Smith in the first-ever husband-wife pro final in NHRA history.
"When it's your day, its your day," said Angie following her victory at the Auto-Plus New England Nationals in Epping, NH. "I'm really tired of dusting all of [Matt's] Wallys. I at least want to dust one of mine at the house. Now I have one, and I'm good with that."
Angie was groomed for motorcycle drag racing when she competed in the wild and unpredictable Outlaw Pro Street class in southeastern racing series, eventually winning the SEMDRA class championship in 2003. Her first foray into NHRA Pro Stock Racing came in 2004 under the wing of George Bryce. It would be 2008 before she ran her first full NHRA season with future husband Matt Smith.
Since that time she had made nine semifinals but has never advanced to a final. Her breakthrough could not come at a better time as she just recently secured a sponsorship deal with Kandy Magazine.
Her win at New England marked the first time an S&S-powered bike has made an NHRA winner's circle this year. The season started with Steve Johnson's dramatic win on his Suzuki and was then followed by three straight wins by the Harley-Davidson® team of Eddie Krawiec and Andrew Hines.
For a time it looked like the Harley boys might make it four in a row. Krawiec took the #1 qualifying spot on Saturday with a 6.794 second elapsed time, just edging out Friday's leader, Hector Arana Jr. on the S&S-powered Lucas Oil Buell.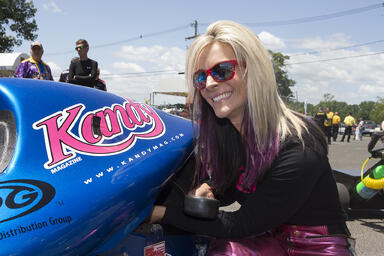 Angie qualified 8th at 6.87/194, steadily improving as qualifying went on.
"I am making better laps on the bike," she said. The last two races I've struggled with my riding. Now that sponsorship is secured, me and Matt have been focusing on my riding. We have been analyzing video and working on fixing all the little things. We have seen improvement on the track."
She had a first round bye when Jimmy Underdahl withdrew his Suzuki after blowing up a motor in qualifying. It could not have come at a better time as her throttle position sensor broke on the run, slowing her to a 7.06 elapsed time.
"I was there for the taking," she said. "They always say you need one break to win a race. That was mine."
The next round was the breakthrough moment: beating 3-time champ Eddie Krawiec on a holeshot. Angie cut a .003 light and her 6.896 elapsed time was enough to beat Krawiec's quicker 6.862.
"I owed Eddie," she said. "I raced him a lot and he's beaten me a lot. I actually feel like I contributed to his championship two years ago when I beat Hector [Arana] Jr. in Vegas and Eddie went on to win the championship. Eddie came to me after my win here and said I did a great job. That was really classy of him."
Next she outran Hines, 6.90 to 6.92, to make her first-ever final round.
"After I won the semi, I was watching Matt's race," she said. "Hector Jr. had the bike to beat and when he had shifting problems I was so relieved."
In the final, Matt got the jump off the line as Angie, who had been sharp on the tree all day – pulled a dismal .238 reaction time. Matt's bike went lame at half-track and Angie was able to take the win.
"I was really afraid of redlighting in the final," she said. "I was cutting double-0s which are very close to redlights and I was so pumped up for the final I knew I could easily go red. I grabbed the clutch lever as hard as I could."
"I can't thank my whole team enough," she said. "I could not have done it without every single one of them."
She also gave a shout out to sponsor Kandy Magazine and associate sponsor BarkAID.
With her win, Angie becomes the fourth female to win a NHRA Pro Stock Motorcycle event (the others being Angelle Sampey, Karen Stoffer and Peggy Llewellyn) and the 14th woman to win in any pro class in NHRA competition.
The win moved Angie into the top 10, now in the 8th spot. Harley riders Hines and Krawiec remain one and two.
New Hampshire marks the beginning of three straight weeks of NHRA national events. The series continues with the O'Reilly Route 66 Nationals in Joliet, IL June 26-29.