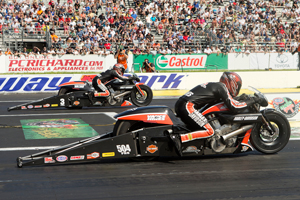 By Matt Polito
For the third race in a row Harley-Davidson® teammates Andrew Hines and Eddie Krawiec met in an NHRA Pro Stock Motorcycle final. For the second time in those three races, Hines has come out on top of his teammate.
Hines claimed his 34th national event victory to extend his points lead in the Mello Yellow championship when he beat Krawiec at the final of the Toyota Summernationals at Raceway Park at Englishtown, NJ.
Englishtown has always been a place where records are set when the weather participates and the forecast, calling for mild, partly cloudy days, looked to set the stage for possibly the first 200 mph pass for a Pro Stock Motorcycle. Englishtown has seen such history before when Kurt Johnson eclipsed the six-second barrier in a Pro Stock car in 1994.
Englishtown is also a special place for Krawiec. He was the track manager at E-town for years as he was working his way up through the sportsman ranks in the motorcycle drag racing scene before being tapped to join Andrew Hines at the big show. Coming back to Englishtown adds a little extra pressure. He always wants to do well in front of family, friends and former employers.
Disappointingly, one of Friday's late-day sessions was cancelled when strips of asphalt were coming up at mid-track. You know the traction is good when the race cars are pulling up the racing surface.
Krawiec led early qualifying at 6.801 seconds at 197.80 mph. In the second session he lowered the mark to a track record 6.747 seconds at 198.90 as Hines moved in behind him at 6.778 seconds at a barrier-tickling 199.23 mph – the second fastest speed ever recorded for the class.
Hector Arana Jr. on the S&S-powered Lucas Oil Buell was able to break up their strangle hold on the top spots, placing second 6.772/198.12 mph.
With Sunday forecast to warm up, the sports first 200 mph run would have to wait for another event.
Krawiec, Arana Jr. and Hines were the only racers to run 6.70s on raceday. They all made the semifinals along with reigning series champ Matt Smith on the Nitro Fish Buell.
The Harley riders advanced to the final and ran a spectacularly close race: .002 seconds apart at the start, .009 seconds apart in elapsed time and only .26 mph difference in speed.
Hines and Krawiec now lead the points battle followed by the Buells of John Hall, Arana Jr., Scotty Pollacheck, Michael Ray and Matt Smith.
The next event on the NHRA Pro Stock Motorcycle is Auto Plus New England Nationals at New England Dragway in Epping, NH June 19-22.