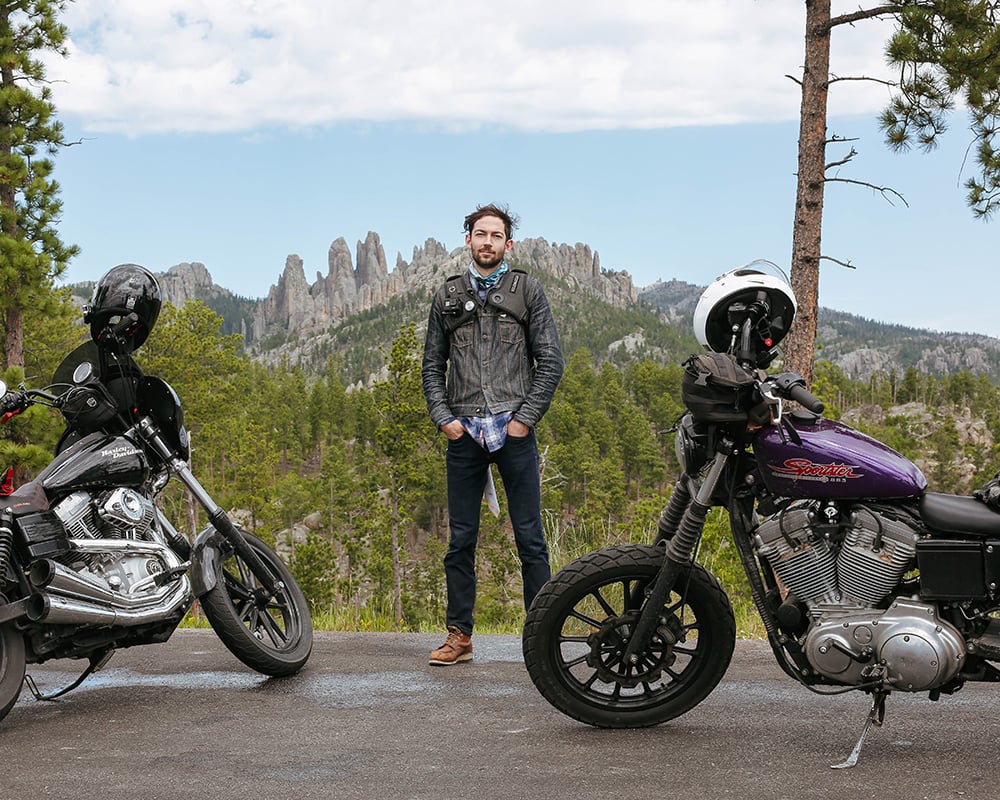 Did I ever plan on riding an older Sportster on what would be the longest ride I have ever personally been on? No…but that's where the sense of adventure kicks in! My name is Cody and I'm the media guy here at S&S and this is my account of my first trip to Sturgis!
I really didn't know what to expect other than a cornucopia of motorcyclists basking in the essence of well…"biker culture". I pictured the Harley bike night at the dive bar in town; maybe multiplied times a hundred, creating arguably, the biggest annual motorcycle rally in the US (at least that's what the images I've seen seem to show). The Black Hills of South Dakota, known to be some of the best roads in the Midwest certainly make it more enticing. (Spoiler: They were!)
I had just wrapped my Sportster build, adding S&S Cycle 2-2 high exhaust, a Stealth Mini Teardrop air cleaner kit, quickee pushrods, and a 1200 Hooligan Big Bore kit with 482 cams. My original plan was just to use it to bomb the local backroads, but a trip to Sturgis was hard to pass up.
Customizing a Sportster (Hugger model no less) was a fun challenge because I am 6'3 so that meant raising the suspension close to 3" and a higher handlebar/riser combo was a must. Although I'm kicking myself now for selling the highway pegs that came on the bike, overall it turned out to be a comfortable and extremely capable vehicle to cruise to Sturgis. Only holding ninety-ish miles per tank also meant ample time for stretching the legs hourly which definitely helped with fatigue but nonetheless, there's no better feeling than passing twenty guys on baggers on your little purple hot rod of a girl's bike going down HWY 90.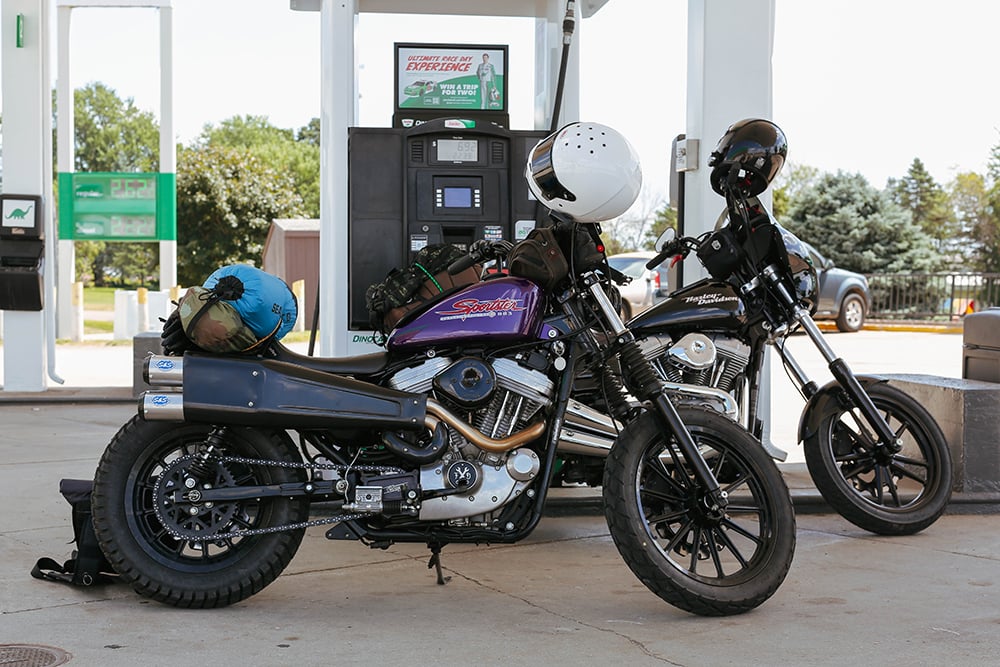 We broke up the ride into two days camping in Sioux Falls along the way. The first day, weather was in our favor and we reached camp with plenty of daylight left as we setup our tents, chowed on some burgers, and cracked open a cold one as the sun began it's descent behind the surrounding greenery. The fire crackled illuminating the last remnants of the day as we covered the highlights of the ride (no one ran out of gas!)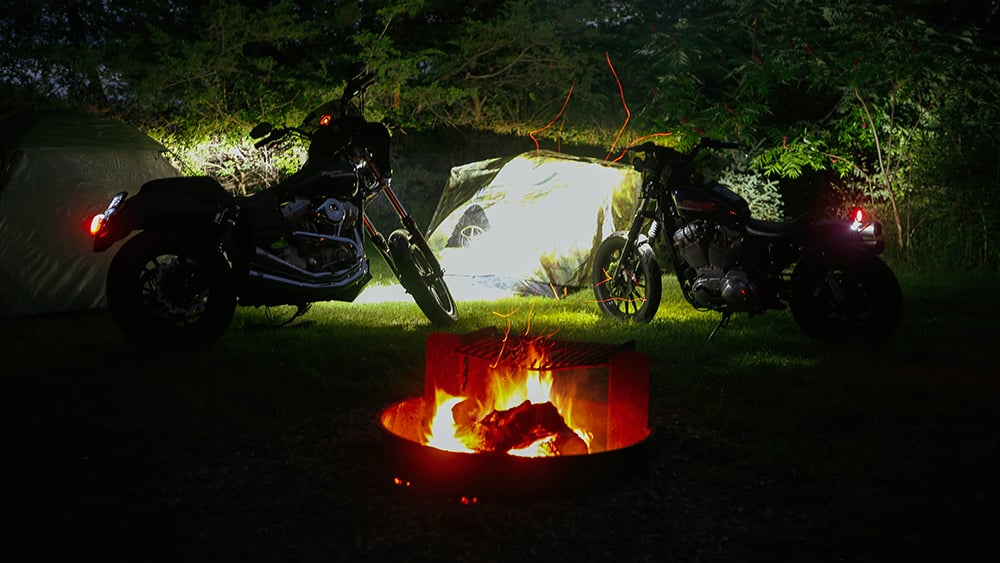 The next morning didn't start as planned as the weather gods let loose a surprise storm. We packed back up expecting the worst but hoping for the best as the clouds miraculously began breaking up. We mounted our steeds and embarked back on the open road…but not before tracking down some ridiculously good coffee about fifteen minutes from camp. If you know any of the boys in marketing, proper caffeination is a high priority whilst traveling. The rest of the ride went smoothly as weather alternated from a light rain to downright sweltering as we hit the Badlands. Not Sturgis proper, but it felt gratifying to reach our display and the rest of the S&S team in Rapid City.
The following day was spent bouncing between the truck setup at Black Hills Harley-Davidson and the Buffalo Chip and no sooner than we got to the Chip did it start dumping rain. In typical South Dakota fashion, it soon cleared up and we were able to enjoy some offroad vehicle mayhem on the outskirts of the Chip and stop by the FXR Show & Dyna Mixer/Bell Brawl Stunt Show going on simultaneously. It was a field of gleaming FXR's and Dynas, many of which were sporting S&S parts and we soon trailed off to peruse some other bike varieties in Michael Lichter's Motorcycle's as Art show. We still had some time before the day's race would start so there was only one choice of what to do next…zip line over the Buffalo Chip of course!!!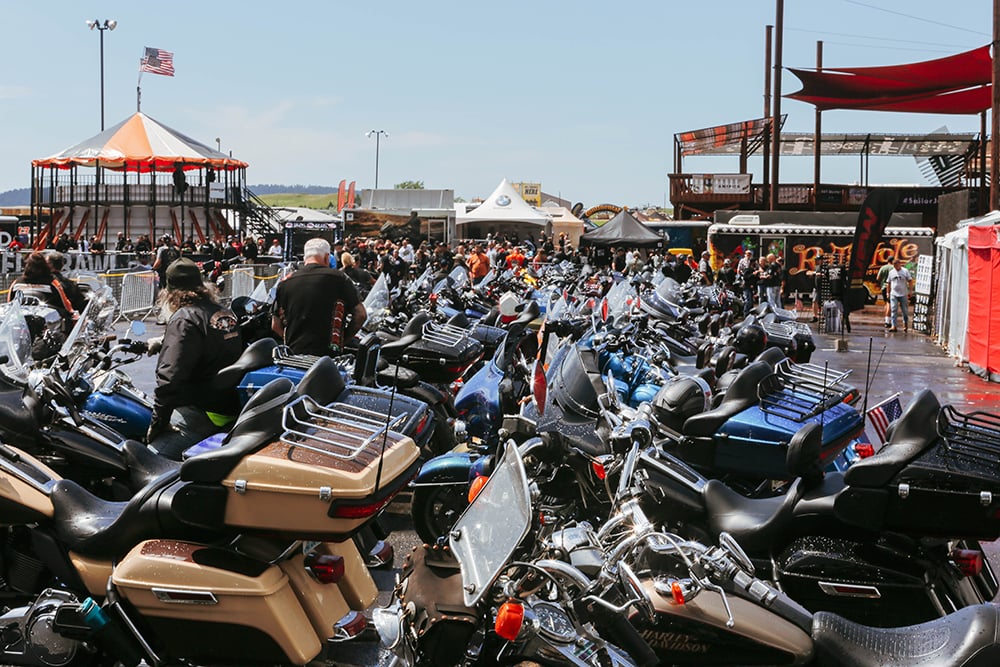 The sun began to fade into twilight as the American Flat Track singles and Twins took to the Buffalo Chip TT Track. This was the first official AFT race I got to shoot so I definitely had a great time capturing the professionals doing their thing going around the track and look forward to the next time I make it to one of their races.
My last day in Rapid City was the one I was most excited for which was the sight seeing (a rare opportunity if you work in the industry)! We head out in the morning only to get as far as the highway before getting pummeled by rain which meant a quick stop in the closest gas station along with some other fair weather riders to take shelter. (Note to self: invest in rain gear)… Forty-five minutes or so later, weather cleared up and we were still damp but on our way! First up was Custer State Park where we connected to the infamous Iron Mountain Road, cruising through beautiful Needles, and eventually passing by Mount Rushmore! Even the large amount of people out couldn't take away from the fact that the riding was incredible and some of the best roads I have had the pleasure of cruising on. We made our way to Deadwood which was the most populated spot we had been to yet and took refuge at the Pump House Cafe for lunch and eventually embarked to tackle Downtown. Indian Motorcycles had a very cool setup and we waded through the sea of Sturgis inhabitants to check out other vendors stationed along Main street. It was mighty hot so we headed back to the Black Hills HD area to meet up with the rest of the S&S crew, grab dinner, and settle for the night.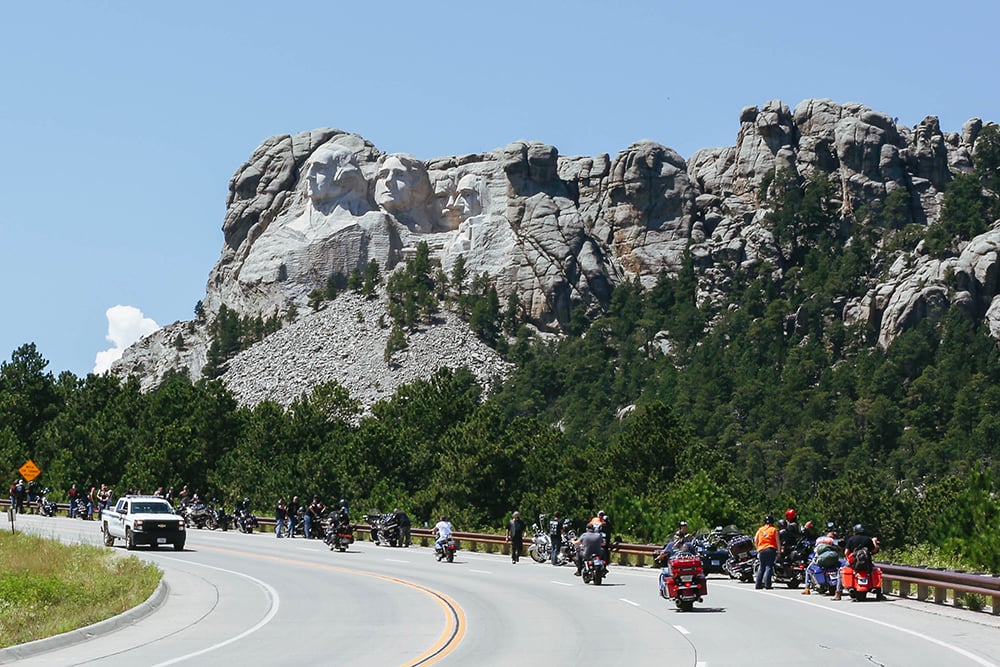 All in all, I had a blast seeing the spectacle we know as The Sturgis Rally and can't wait for next year and more riding in the Black Hills of South Dakota. 2020 will be the big 80th Anniversary of this event and should be an epic party! Who knows, maybe I will be there on a black Street Glide wearing a leather top hat…Until then, keep the shiny side up BROTHER!
Before ya go, make sure to check out our video and image gallery below!